Introduction to Soft Skills
Every organism that exhibits life always had certain skills and led a life utilizing those skills to the maximum extent possible. Similarly, human beings came up with a wide range of soft skills and hard skills.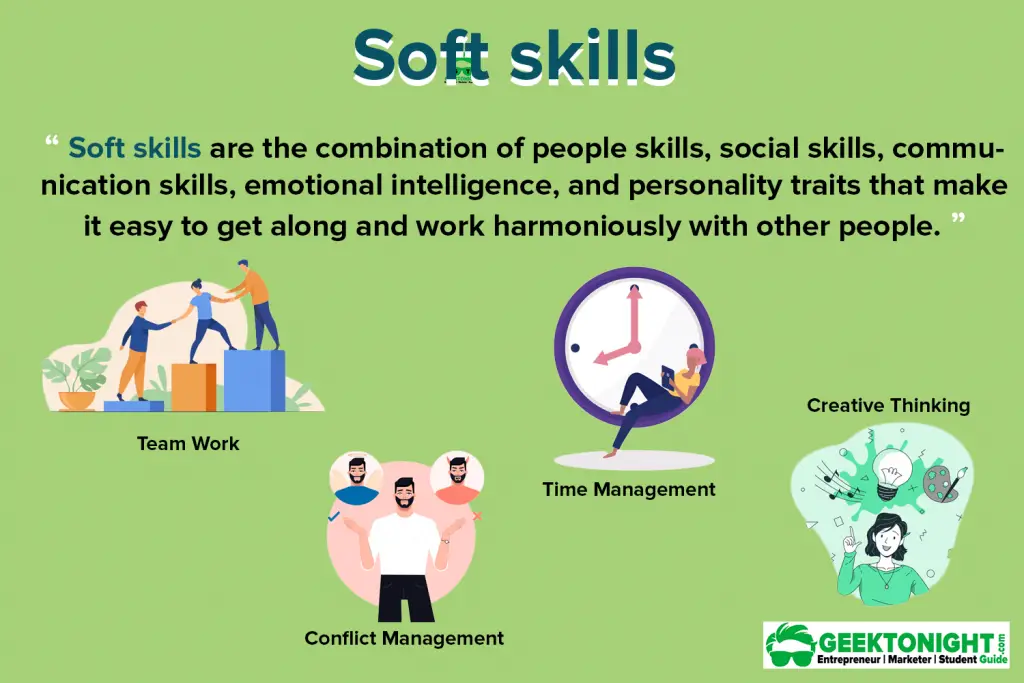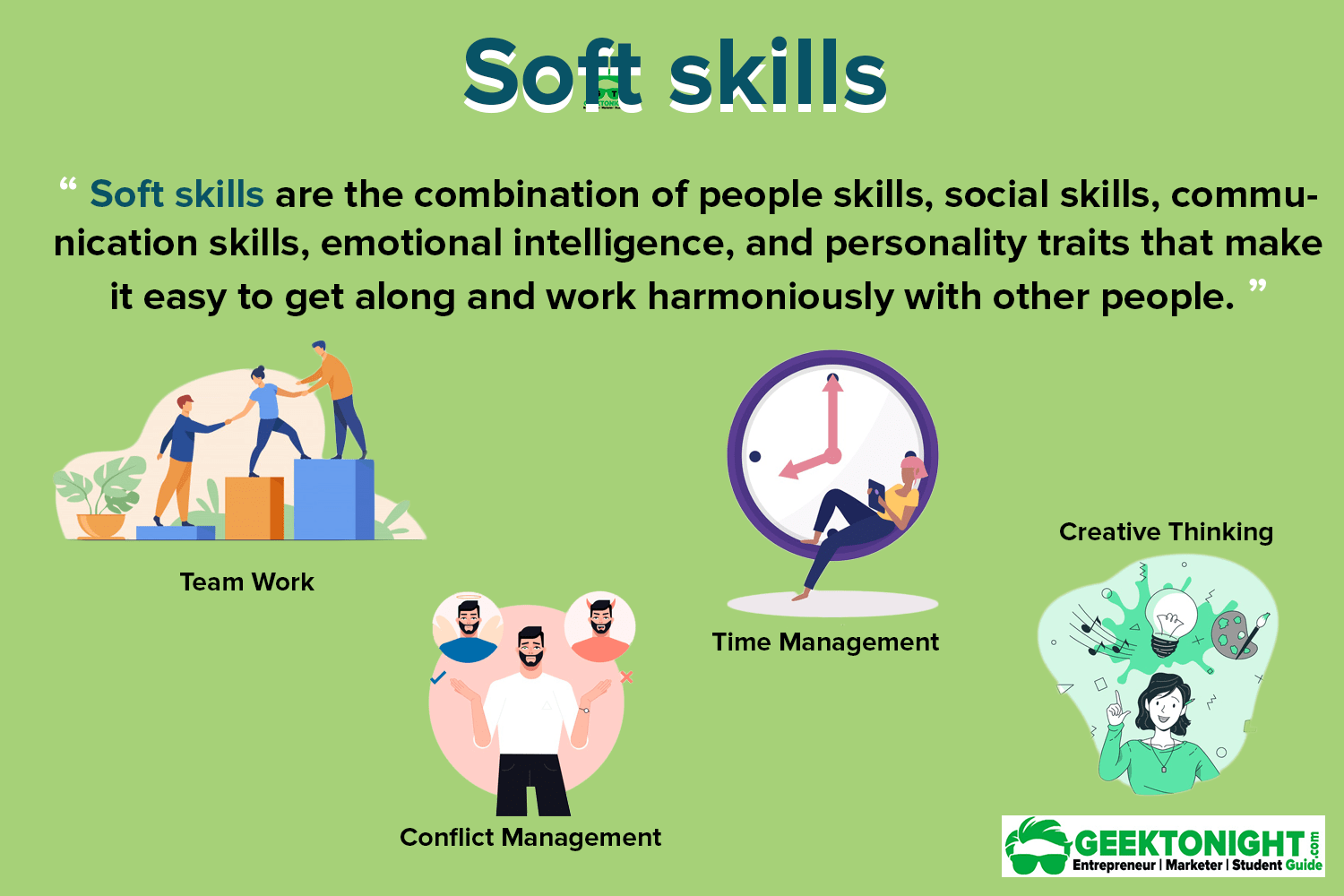 In addition to skills, humans possessed creativity, curiosity, passion, and a purpose for life. In the meantime, as civilizations passed humans acquired cultural diversity and individual differences. As to manage, groom, and attain higher standards of these soft skills, the system of education came into practice.
Till 19th century, the schooling system was just to mould these existing skills, organizing them well and converting them to Employable Skills. The rapidly changing technologies and the emerging world turned up a number of opportunities. These changing circumstances also changed work culture and work ethics.
In the existing 21st Century these existing skills are never moulded rather than given an opportunity to think beyond boundaries. Thus at last the unbounded minds found the wonderful solutions by growing inside out and acquired new skill sets.
What are Soft Skills?
Soft skills is a term often associated with a person's Emotional Intelligence Quotient, the cluster of personality traits, social graces, communication, language, personal habits, friendliness, managing people, leadership, etc. that characterize relationships with other people.
Soft skills are also known as non-cognitive skills. These skills are not cognitive; it means no issue of memorization, attention, planning. These skills are to be absorbed from the environment, cannot be taught in classrooms. Everyone should learn from the workplace and develop according to the requirement.
These are termed as "Front-Wheel Skills". It helps a person to direct his career and life. Just understand the hypothesis of bicycle functioning, though the impetus of motion provided by rear wheel but the ultimate navigation and proper usage of motion gained is attained only with the help of the front wheel. These skills are to navigate a person and steer the future in the right direction.
According to researches conducted in Harvard and Stanford Universities, only 15% of your career success is provided by your hard skills, whilst other 85% by so-called soft skills. "Soft skills get little respect but will make or break your career" (Peggy Klaus).
It has been given great importance to these skills because cognitive abilities can be learnt in a course of time by staying strict to academics and institutes, but it has to be attained from experiences. These skills cannot be imbibed into a person until unless they don't feel the sense of the importance of these skills at the workplace.
A common perception of most of the humans had proven that these skills are toughest to develop and most of the people faced challenges while working on these skills. As these Non-Cognitive Skills can't be taught, these are needed to be developed in the course of time by interacting and understanding the environment in which a person dwells.
---
Types of Soft Skills
What are Soft Skills Types? Below are listed some basic types of Soft Skills
Communication Skills
The skill to speak appropriately, confidently with a wide variety of people is communication skills.
According to the situation and workplace, it may vary from person to person. It is the medium that helps to pass the information from one to another. There are various modes of communication such as; face to face, telephonic, print media, digital media, signs, and signals.
On a large scale, most of the institutes training management graduates and students concentrate their valuable course time for focusing on this aspect. This is a game-changer; a candidate with well-groomed communication skills will never face challenges in executing his task. The only reason is a good communicator makes the team, clients, and organization to understand his view in a much clear image.
In a broad note, these skills are not only related to language but there are various critical aspects needed to be understood and developed.
Some of the vital and core elements under communication skills are:
Facial expressions
Gestures
Body Language
Understanding emotions and feelings
Selection of words according to the audience
In order to improve communication skills, one needs to start using nonverbal communication much effectively.
The reason behind it is that nearly 50% of communication mostly done through the nonverbal mode and it's the best way to connect the listeners or audience.
The majority of what a person conveys is communicated through physical cues. Try to take regular feedback from peers and managers to improve.
Interpersonal Skills
Interpersonal skills are the skills a person uses to communicate and interact with others. Interpersonal skills are sometimes also referred to as people skills or communication skills.
Some of interpersonal skills are:
Persuasion
Active listening
Assertiveness
Delegation
Decision making
Leadership
The term "interpersonal skills" is used often in business contexts to refer to the measure of a person's ability to operate within business organizations through social communication and interactions. Interpersonal skills are how people relate to one another.
To be an outstanding leader with higher chances of success, interpersonal relations with the people is a vital node. It's all about the way a person effectively interacts with others. A set of techniques and proper behavior is adopted by most of the high edged professionals to maintain interactions with employees and clients in order to attain maximum productivity. It clearly states the ability of an employee to work well with others.
In the present diversified world, there are many candidates facing various challenges in their workplace due to poor interpersonal skills. Lacking interpersonal skills is one of the most alarming reasons behind not getting promoted to leading positions in the organization. Ultimately ends up working in the same position for years; it's also similar in the case of business even. The growth of business gets stagnant due to poor interpersonal values.
Understanding your work environment better eases your work

To cultivate interpersonal skills

one needs to acknowledge other's expertise
show a positive attitude towards peers
try to appreciate their good qualities and practice empathy
Problem Solving Skills
Problem solving skills are a set of skills that helps you to identify the problem and solve it in the easiest way possible. Better the problem-solving skills we have, the better our life would be. Problems may arise in various shapes and forms.
Some of the key skills are:
Analysis & Research
Team building
Good communication
Creativity
The challenging task to solve a problem is the best opportunity to display the skills and to conquer self. Problem-solving is mastered by previous experiences. So as fast as one starts throwing self to the problems and facing them with bold strength, it enhances the chances to become a leader. A person requires a growth mindset to solve any problem.
The most vital aspect is that a problem can't be solved if a similar approach that created the problem is being used to solve the problem. Until unless a new approach is not employed the problem's severity remains the same and leads to degradation of performance day by day. It can be developed by real-life experiences. A person should possess a huge amount of patience to understand the problem and find out the remedy.
There are some steps to learn problem-solving:
Understand the problem
Identify the reason
Re-examine well 
Proper evaluation 
Execute the new plan
Leadership Skills and Teamwork
It's a well-known fact that a leader with the utmost leadership skills and a good supportive team can only lead the team to a successful path. Dealing with the workplace challenges of team members is also a vital aspect of leadership.
Some of the important leadership skills are:
Honesty
Integrity
Grit
Delegation
Dependability
Mentoring
Optimism,
Giving proper feedback
Leadership is an element blend of various skills and ultimately it is the integration of all the experiences of a person from childhood to the present day. The glimpses of leadership are seen from the tender age of a person, such as some instances of leading school teams in sports and organizing events in college or school.
The core part of leadership skills is the mentoring ability of a leader and preparing the team to execute the duties outstandingly well.
The great leadership attributes are reflected in armed forces, that's why veterans are considered as great leaders. The influencing ability of a person discloses the command over the team and the understandability of the leader. Teamwork is all about the adjustment in the various kinds of diversified workforce elements.
A great leader works on better cooperation among the teammates to extract out the quality work in time. Some dangerous instances of failures are encountered, and then the real mettle of the leader comes on to the trial. A wise and gritty leader will never run away or leave the ground but stand with his team in critical times.
Emotional Intelligence
Everyone one of us is greatly aware of Intelligence Quotient (IQ) but we hardly talk about Emotional Quotient (EQ).
Emotional Quotient (EQ) is the ability of a person's emotional intelligence. This reveals a candidate's ability to understand and communicate the emotions of self and others too.
It mainly consists of:
Self-awareness
Self-Management
Empathy
Social skills
Motivation.
Read: What is Emotional Intelligence?
Adaptability
Adaptability skills are skill sets that encompass a person's ability to adjust to changes in their environment.
Some of the Adaptability Skills are:
Ability to Learn
Persistence
Resourcefulness
Curiosity
Adjusting to the work environment and being on a productive track irrespective of changing grounds is adaptability. It's the core quality of a person that unfolds the resilience of the person and gives a proper insight into the flexibility and real inner strength. The most adaptable candidate is always preferred at any workplace or business sector.
A person who is exposed to great challenges and difficulties is going to be highly adaptable and vice- versa. Adaptableness can be attained by maintaining a growth mindset. Instant benefits need to be sacrificed for the ultimate and big results. Sometimes diversified mindsets and ideologies at the workplace may lead to conflicts, need to be addressed, and responded accordingly instead of reacting.
Work Ethics
Work ethic is an attitude of dedication that a person displays towards the job. A strong work ethic is very important to be successful in any career. It is basically a set of values based on some basic ideas of discipline and sincerity.
Some of the work ethics skills are:
Organizational skills
Respect
Transparency
Teamwork
Cooperation
Accountability
Professionalism
Ethics are absorbed into a character and these are similarly reflected in every place trespassed. The development of ethics had a great influence on the environment and society.
In the same way, every workplace follows some of the core work ethics which are the core pillars of that organization. The way a person abides by the ethics reflects the integrity of the person.
As soon as you get into the organization explore the work ethics from peers and try to imbibe them into your character as soon as possible to have the utmost results and swiftly elevate the career.
Some of the common work ethics at the workplace are:
Integrity
Sincerity
Discipline
Respecting others
Being considerate
Cooperative
School plays an important role in imparting these qualities at a tender age.
Initiative and Dynamism
Initiative is the capability of being resourceful and coming forward to start work without waiting for others to start. It is the core quality of a leader. It requires self – confidence and great determination.
Dynamism is the skill that defines the great energy and force of an individual. A dynamic leader carries charisma and easily connects with everyone.
A person who takes an initiative is one who knows the situation and resource utilization in a much better way. This skill of a candidate will elevate that person to unforeseen heights of life.
Dynamism is all about the grasping power of a person. A dynamic leader will sense the fault at an earlier stage and try to get resolved at its minor effect.
This skill is majorly developed after understanding your abilities and attaining self-confidence. Dynamism enhances the ability to be much flexible and jump on to a backup plan whenever required clearly reflects the dynamism of a person.
Organizations are always on a hunt of dynamic people, as they are proven to be more successful than others. Quick decision-making skills will really make a person much dynamic. This skill can be attained by self-assessment from time to time and by analyzing the events happening around in day to day life.
All the above-mentioned elements cover most of the soft skills. These skills are highly interrelated with each other.
So under exhibiting any one of the above skills may affect some other skills too. It's much preferred that one should need to understand better his skill set and develop the rest to attain overall growth in business and job that is pursued.
---
Importance of Soft Skills
Why Soft Skills? Soft skills are highly important at every stage of work-life, as it reflects the personal attributes of a candidate. These personal attributes elucidate, how well the person can interact with others.
These skills become more important as a person upgrades to leading positions because these skills help to form good relationships with people and develop trust.
Self

: An awareness of the characteristics that define the person one is and wants to become.



Opportunity

: An awareness of the possibilities that exist, the demands they make and the rewards and satisfaction they offer.



Aspirations

: The ability to make realistic choices and plans based on sound information and on self– opportunity alignment.



Results

: The ability to review outcomes, plan and take action to implement decisions and aspirations, especially at points of transition.
In order to SOAR students need two things:
Academic Roots: Discipline-based knowledge and understanding


Academic Wings: The ability to enhance that knowledge and understanding with awareness (self and others), critical thinking, reflective practice.
In order to provide effective feedback to the team members, a manager should have good soft skills. This will help you to easily trace out the problems and fix the problems.
Some people, who get promoted only on the basis of excellence at the job but lack soft skills, face huge problems, and ultimately lead to the downfall of career.
---
Benefits of Soft Skills
What are Soft Skills Benefits? Below are listed various benefits of Soft Skills:
Improve the productivity of the workplace.
Fewer chances of encountering risks.
It helps to increase the business on large scale.
The workforce will be highly self – confident and less stressed.
Enhance employee retention.
Reduce the situations leading to conflicts.
Improve customer satisfaction by utmost customer service.
---
How to Develop Soft Skills
Soft skills are developed from real-life experiences. There are certain strategies to improve soft skills if a candidate finds it difficult to observe from surrounding people and the workplace. 
One should develop a learning mindset and learn something from everyday life.
Read, observe, and expand knowledge and understanding.
Take the opportunities to practice, whatever is learnt.
Get into a habit of self-reflection and self- assess regularly.
Understand the feedback received and work on it.
Start thinking wider and give up narrow mindedness.
Try to be first, rather than to be best.
Never get disturbed by getting preoccupied with life events at the workplace.
Business Communication Notes
(Click on Topic to Read)
---
Reference
Business Communication: " K.K. Sinha, Golgotia Publishing Company.
Business Communication: "M.K. Sehgal, Vandana Khetrapal, Excel Books.
Essentials of Business Communication: Rajendra Pal, J.S Korlahalli, Sultan Chand & Sons.
---
Go On, Share & Help your Friend
Did we miss something in Business Communication Tutorial or You want something More? Come on! Tell us what you think about our post on What are Soft Skills | Business Communication in the comments section and Share this post with your friends.
[simple-author-box]