To survive and outperform the current competition, having a strong Product Strategy is essential for any organization. As the demand for product managers continues to rise, the chances of getting a job with product strategy skills have also increased. Organizations are heavily favoring individuals involved in product development for their strategic thinking, management, and all-around skills that help in improving the product.
To become an effective product strategist, it's important to have a combination of skills from both a product manager and a marketing manager. With that in mind, we have compiled a list of the five best product strategy courses that will help you acquire and develop these skills and more.
With the knowledge and expertise gained from these courses, you will be able to identify, create, and launch successful products that meet the needs of your customers and the goals of your organization.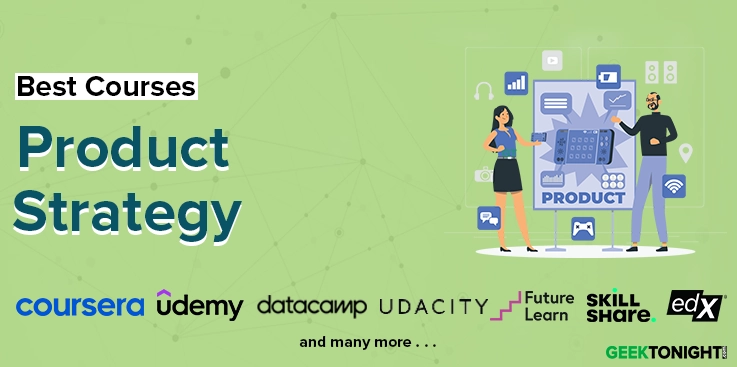 Our product recommendations are unbiased and based on an independent review process. We may receive a commission for links to recommended partners. See our advertiser disclosure for more information.
---
Best Product Strategy Courses, Certification, Tutorials, Training, Classes Online
Udacity's nanodegree product manager course facilitates content that includes a generalised overview of developing a product strategy that is compelling and holding some ground on its own against rising market setbacks and competitions. It will entail you with skills that are present in famous world leaders and product strategists to help you effectively and efficiently manage or develop a product.
Course Instructor
The instructors of this course are very successful and highly intellectual people in the product management world such as Anastasia Root and Yuva Murugan being Product Managers at Google and Alex King – Product Manager at Uber. With being qualified, the teachings provided the instructors makes learning product strategy an easy job.
What You'll Learn
This Nanodegree is a comprehensive program consisting of four courses that provide a detailed roadmap for individuals who aspire to become successful product managers:
Product Strategy for Product Managers This course will teach you the essential skills to identify the most pressing problems to solve by conducting market research, defining your target users, and evaluating market size.


Product Design This course will guide you through the entire process of taking an idea from concept to development. Using design-thinking methodologies, you will explore various ideas and converge on a single idea that shows the most potential.


Product Development This course focuses on developing the critical soft skills required to manage the product development and execution phase effectively. You will learn how to collaborate with cross-functional teams and perform essential activities that occur during the development process.


Product Launch In this course, you will learn how to create a comprehensive launch plan, identify potential risks, and develop strategies to mitigate their impact on your product launch. By the end of this course, you will be able to execute a successful product launch and ensure that your product is well-positioned for continued success.
Pros & Cons
Pros
Technical mentor support
Career services – Github portfolio, LinkedIn profile
Flexible learning program
Key Highlights & USPs
Learn Product Strategy at its best by identifying and researching market problems, creating vision and strategy for your team to follow.


Gain the skill of developing an idea from seed by giving it a concept, exploring various aspects, mapping out the process, creating storyboard, prototype, user research and finally bring together the final product idea.


Learn to pitch a product vision which is very essential to gain funding during the initial stages of product strategy.


Determine delivery launch process, risk analysis, pricing policy, customer management system among many other things.


This course also helps you in LinkedIn profile optimization, Github Review and resume support to showcase your credibility online.


Get lifetime access to this course and its materials, complete it in your own time with technical mentor support, career services etc.
Who is it for?
This product strategy framework course provides a comprehensive overview of a product's life cycle, from launch to delivery to customers. It is an ideal course for beginners who have little to no knowledge of how to manage and promote a product to make it successful among the target audience.

Duration: 4 Months – 10 hr/week
An online product strategy course that teaches you digital product manager skills of developing and managing an online product strategy, managing sales & marketing and other digital operations. This course is a specialisation course consisting of five courses that take you through a rigorous journey of learning modern product management while also teaching you the new various aspects of handling new advanced digital tools.
Course Instructor
This digital product strategy course is offered by the University of Virginia with instructor being a faculty in Darden School of Business, Alex Cowan. Alex is an entrepreneur, intrapreneur with 'Digital' being one of the key areas of interest for him. Mr. Cowan has been able to gather around 356,769 students through his 19 courses and excellent teaching style on Coursera platform.
What You'll Learn
This digital product management certification program comprises of five courses:
Digital Product Management: Modern Fundamentals This course is designed to guide you through your learning journey, equipping you with the necessary skills and perspective to effectively manage your product. It covers modern

product management

methods that enable you to focus your work, manage new product development, explore new product ideas, and optimize existing products.


Agile Meets Design Thinking: In this course, you will discover how to prioritize what is most valuable to the user in the early stages of the process, by emphasizing testable user stories and developing a cohesive team perspective.


Hypothesis-Driven Development: The course will guide you on identifying appropriate questions, selecting suitable methods, and conducting sufficient testing to minimize wastage and achieve optimal outcomes in user engagement.


Hypothesis-Driven Development: The course will guide you on identifying appropriate questions, selecting suitable methods, and conducting sufficient testing to minimize wastage and achieve optimal outcomes in user engagement.


Managing an Agile Team: The primary objective of this course is to assist you in refining your team's focus, defining success, and implementing agile practices.
Pros & Cons
Pros
Flexible learning schedules and deadlines
Certificate on Completion
Financial Aid Available
Coursera Labs
Cons
Familiarity with software development
Key Highlights & USPs
Learn hypothesis-driven development helping you to increase the value of your products so that more customers buy from you.


Develop your own business model canvas, a very important step which includes starting your revenues, cost, value proposition, market etc.


Learn Product Idea Generation process by applying the modern product development methods to the process.


Get into studying qualitative & quantitative analytics helping you to understand your customer, demand, UX analytics and much more.


Learn to analyse your stakeholders environment to successfully derive information to act upon.


You will get a chance to solidify your knowledge on the topic by engaging in a Hands-on project, quizzes, exercises and with its completion of the course get a Coursera verified certificate for your CV.
Who is it for?
A beginner-level course that offers individuals a full experience from new product development to managing customers and teams. Overall it teaches learners to implement the modern approaches of product strategy to get a good start in maintaining and developing their brand.
Rating: 4.8/5
Students Enrolled: 50,967
Duration: 5 Months – at 3 hr/week
The reliance on digital technology has increased exponentially for quite some time now with that it is obvious digital transformation is also on the rise. This digital product strategy course has five courses that will provide you with diverse knowledge to be a better leader of your organisation and lead your company in this digital age of business to grow your organisation as well as yourself as a leader.
Course Instructor
This course is brought to you by Boston University with offering a bunch of the best highly qualified instructors', names like including Kristen J.McCormack, Darrell Griffin, N. Venkat Venkatraman, Matthew J. Reis, Varun Nagaraj, Marshall Van Alstyne, John W.Byers, Chris Dellarocas, Sandra Deacon Carr, Notion R. Joglekar and Lloyd Baird all have various work backgrounds helping you to shape your personality by giving you various inputs.
Pros & Cons
Pros
Comprehensive Curriculum
Industry-Relevant – Endorsed by TechMahindra and Fidelity Investments
Key Highlights & USPs
Learn the leadership qualities of the digital age to maintain and manage manpower, relationships, handling virtual teams, personal growth and development.


Understand the three players and phrases of transformation that will help you in maintaining your competitiveness in today's business landscape.


Get to learn the skills of performance management and various approaches like lean, waterfall and agile development, risk mitigation strategies, go-to-market strategy etc.


Conceptual knowledge of Integration of traditional and digital business models and how machines can help your organisation's human talent.


Learn customer need assessment to find their problems and develop a product that is best suited to meet their expectations.


Be entitled to receive a MicroMasters program certificate after completing all five courses, the content of the courses will be accessible for lifetime use.
Who is it for?
An expert level course that teaches learners versatile skills to manage product development strategy, people & team management, and most importantly it solves the transformation problem of leaders from traditional business to digital mindset and helps in adopting various strategies to excel your business in the digital conduct.

Duration: 9 Months – at 4-7 hr/week
Kellogg product strategy course offers you a 360° view of what product strategy is involving every internal & external stakeholders, factors, various stages, legality and everything that comes with the role of a product strategist. The course consists of eight modules all going in unison with each other to form a very articulate content on this in-demand topic.
Course Instructor
This Kellogg product strategy class course includes the luminary, Mohanbir Sawhney as the instructor who is also Associate Dean for Digital Innovation at the Kellogg School of Management where he has gained experience of 28 years. The instructor holds a Ph.D in marketing from the Wharton School and is also known for writing books, articles, being management consultant, professor among many other things
Pros & Cons
Pros
Practical Curriculum
Group enrollment available
Flexible payment available
Key Highlights & USPs
Learn the skill of identifying the market and your product potential to make strong decisions regarding product introduction and product mix of your company.


Get to know and use the principles of agile development to distribute the sense of accountability, teamwork among groups on which you don't have direct authority.


Learn and apply conceptual knowledge such as Discovery Hypothesis framework, situation wise business model practices, 'jobs-to-be-done' framework to evaluate product opportunities.


Enhance your knowledge on topic by taking various exercises, applications and real life industry examples of companies such as Apple, Microsoft etc. that will give you good experience in applying the learnt concepts.


You will get a course completion certificate from Kellogg Executive Education along with lifetime accessibility to the course and its materials.
Who is it for?
This product strategy program is meant for individuals managing a business or leaders who have to deal with product management. The key objective of the course is to serve intermediate learners with some basic knowledge of product strategy to solve their product development related problems and give them a more logical and professional approach towards solving the errors in their products.

Duration: 2 Months – at 4-6 hr/week
This edx product management fundamentals course gives you mastery on the topic of Product Life Cycle i.e. the four stages of a product such as introduction, growth, maturity and decline. It further goes deeper into how product management is essential for a company to be successful, various duties of a product manager and analysing the market etc.
Course Instructor
It is a course offered by the University of Maryland (UMD) and University System of Maryland (USMx) and taught by the instructors of the said universities with names including such as John Johnson, Cait Von Schnetlage and James Green. The instructors serve as a perfect trio for teaching this course as they have combined experience in product management, strategic management and entrepreneurship.
Pros & Cons
Pros
Endorsed by – Softek Enterprises
Limited interaction with peers and instructors
Cons
Lengthy: Can take up to 6 months
Key Highlights & USPs
Learn how to find your target segment full of customers who are there for your business and how to target them effectively.


Includes a leadership module focusing on building your decision making skills so that your decisions are based on facts and not fiction.


Learn to develop and design a positive user experience for your customers to gain more loyal customers faster and economically.


Conflict management skill to handle the most of the ferocious moments in the workplace easily.


Take a deeper dive into the fundamentals of product management, various marketing challenges, mistakes to avoid and the structuring of your 4ps of marketing.


Achieve a professional course completion certificate at the end of the course along with lifetime accessibility to its material.
Who is it for?
This is a beginner level course with content that is easy to understand and follow. A course that helps learners to easily translate their ideas into something that is desired by your customer base in a way teaching you the most desirable skills of an ideal product manager.

Duration: 5 Months – at 2-3 hr/week
---
FAQ
Is product strategy a good career?
Yes, Product Strategy is a good career. But the definition of a 'good career' might differ to individuals; for some, a good career means a dream job while for some it means getting paid well.
Whatever is the case, product strategy is indeed a good career offering interested individuals to work with one of the important teams in an organisation. The career deems to be a good choice or a good scope for individuals as it provides good salary and challenges for those people who are driven by challenges.
The proof is the statistics of salaries for individuals who have a similar skill set corresponding to the skills of a Product Strategist. Average product manager salary stands around $119,000 yearly while average yearly salary of a new product level manager is around $85,000+.
How do you learn product strategy?
Learning product strategy can be done in 2 ways. The first way will be to take a formal management course such as BBA after high school and choose 'product' related subjects to gain fundamental knowledge relating to product management.
This same can be carried forward to postgraduate degree in any similar field like MBA with product management as specialisation or at least a subject in the curriculum.
And the second way will include you taking on online courses that offer full product development experience specially specialisation courses or masters courses that include A to Z of product strategy and management.