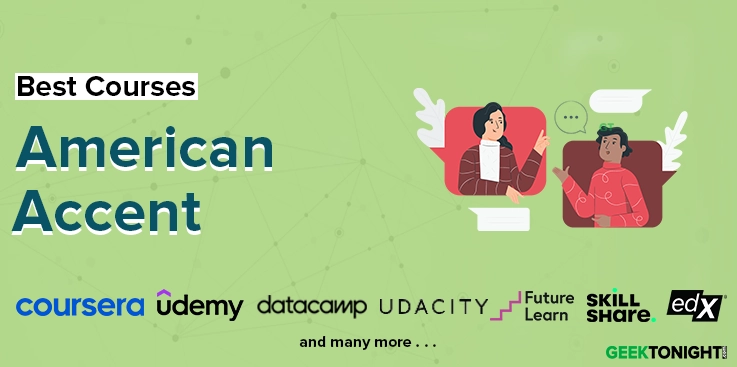 Do people misunderstand you when you speak American English? Are you frequently asked to repeat your words? Do you feel embarrassed when speaking to Americans in English? The answer to all your questions is yes. Then, focus only on your Accent. Non-native speakers face difficulties in making conversation with an American accent. Initially, it's challenging to understand what your American friends are saying. You can improve your capabilities of speaking and comprehending English accent.
So, this article has prepared a list of the best American Accent courses and certifications. You can review each training program by checking their USPs and feedback. Enroll in the best suited that fulfill your needs.
---
Best American Accent Courses, Certification, Tutorials, Training, Classes Online
This American Accent Specialization helps to practice consonants and vowel sounds. Also, you will learn the aspects of the music of English, such as intonation, stress, and connected speech. You will get a clear pronunciation and other people will understand what you are saying. It offers the best way to improve the accent by practicing dialogues and other interactive exercises. You can also record your speech and analyze it to find out how authentic your spoken English is.
This Coursera English Pronunciation Specialization was designed by the top instructors from the University of California. Hele Nam and Meg Parker are experienced tutors who help you master a skill. They will analyze your speech quality and share tips to improve your pronunciation.
Key Highlights & USPs
Learn tricky consonant sounds by practicing an effective technique called shadowing. 


Practice all the vowel sounds of American English. 


Improve listening comprehension and ability to communicate more clearly. 


Provide access to the lectures, graded quizzes, assignments, and practice exercises. 


Get the final self-reflection project to apply what you've learned in all the lessons. 


Allow accessing videos and readings to work on your skills.
Who is it for?
This free American Accent Course is accessible to everyone. But, you should have at least an intermediate knowledge of English grammar. So, you can understand the basics of making an American accent smoothly. By the end, your accomplishment will be recognized by a shareable certificate from Coursera. You can enroll for free to build one more skill.
Rating: 4.8/5
Students Enrolled: 24,756
Duration: 4 months, 5 hours/ week
Udemy is one of the highly recommended course learning platforms. It is also the prior choice of learners to enhance their knowledge. If you have a problem speaking English with an American accent, take the best American accent courses from Udemy. It will teach how to communicate clearly and effectively in American English. There is a wide range of American English Courses available for non-native speakers. You will gain the confidence to speak with American employers, clients, co-workers, and friends.
All the 20 Online American English Courses can cater to the different levels of learners. Instructors will focus on building your knowledge of the rhythm and melody of American English. Learners will get to practice and discuss topics when they face difficulty.
Key Highlights & USPs
Learn how to stress a syllable or word in a sentence


Able to speak American English with Accent Training. 


Master pronunciation to use in real-world situations. 


Improve your conversational skills to talk with local people.


How to use and understand the American Accent.


Get access to downloadable resources, practice exercises, and articles.
Who is it for?
Learning the basics is easy with Udemy American Accent Courses. Whether beginner or intermediate, there are various courses available to choose from as per your preferences. However, you should have basic knowledge of English. While taking any American course, remember to complete all the assignments and lessons to get awarded a certificate.
Rating: 4.5/5
Duration: Self-paced

Valid till: 30th September
Learn how to harness and hone your accent through full-proof drills. Additionally, several technical aspects will be covered to improve your accent and build your confidence. In this American Accent online course, you will learn an advanced Technique to maintain a perfect accent in all situations. It will help you speak naturally without thinking. This English accent course helps you focus on your speech or presentation skills. You will get the tools to speak English with an American accent.
Learners will get tutored by the best American accent coach, Ashwin Gore. He has taught professionals from all fields, such as Entertainment, IT, Business, Management, Marketing, Promotions, etc. He had handled clients from Game of Thrones, The Walking Dead, Roadies, Dumbo, Independence Day 2, Pirates of the Caribbean, The Bastard Executioner, Proof, Star Wars: Phantom Menace, etc.
Key Highlights & USPs
Practice the technical elements of the American Accent to become a natural American speaker.


Learn important techniques for using accents in any situation. 


 Fast, efficient, and precise learning of the Accent.


Get a perfect standard American accent by improving your English pronunciation. 


Able to communicate and understand native speakers. 


Gain full lifetime access to 2 downloadable resources and video clips.
Who is it for?
No matter what your field is, this American Accent Pronunciation Course will help you improve your pronunciation. From IT and business professionals to actors, hosts, and voice-over artists, the lessons are useful for all those who need an accent for presentations, meetings, or phone calls. You will receive a certificate of completion for what you have learned.
Rating: 4.5/5
Students Enrolled: 6.4K
Duration: 2 Hours
Speaking English with an American Accent

[Effortless English]
This American Accent Training Course will quickly improve your pronunciation. You can learn tactics to develop an American accent that understands by your American friends or co-workers. With this Spoken English Course, you will speak English with confidence. This best American accent training course is ideal if you have problems with specific sounds.
AJ Hoge is the author of this Effortless English Course. He has trained students, corporate leaders, government officials, etc. The Effortless English Training Program teaches you how to speak English effortlessly. He hosts The Effortless English Show, which has over 40 million downloads worldwide.
Key Highlights & USPs
Your pronunciation will improve when you practice every day.


Become more clear in your speech. 


Pronounce those complex English sounds while speaking during normal conversations.


Able to develop a clear North American accent. 


Build a communication skills to attract job opportunities, 


Get audios and videos to practice and improve your reading speed.
Who is it for?
This online English course will help you improve your American Accent if you have bad pronunciation skills. With basic English knowledge, you can enroll in this course. It will help you pronounce words, phrases, and sentences. Furthermore, you will improve your English-speaking skills with this accent training online.
Rating: 4.4/5
Duration: 30 days
FAQ
What is an easier British or American accent?
Compared to American English grammar, British English grammar is a little more complex. Differences between the two are small, but they have a significant impact. Also, British (Irish, Scottish, and Welsh) accents are harder than American accents.
Which English Accent is the hardest?
The Great British Accent is the hardest to imitate. If you want to improve your British Accent, take the best British Accent Courses. Pronouncing the British Accent can be difficult for the first time. But, it is not tough to learn how to make British sounds.
Can I learn the American Accent in 30 days?
You can achieve clarity and confidence in speaking an American accent within a month. You can improve your Accent as you progress through the American accent course. It is best to opt when you have time to learn something new.
Concluding Thoughts
American Accent is easy to get by developing excellent pronunciation skills. By the end of each course, you will learn how to pronounce the difficult sounds of English. Also, it is a productive way to use your time and money well. You will not have to be embarrassed or feel stupid when speaking American English. No need to repeat yourself for other people to understand. So, Enroll now to get the best deals from popular learning platforms.