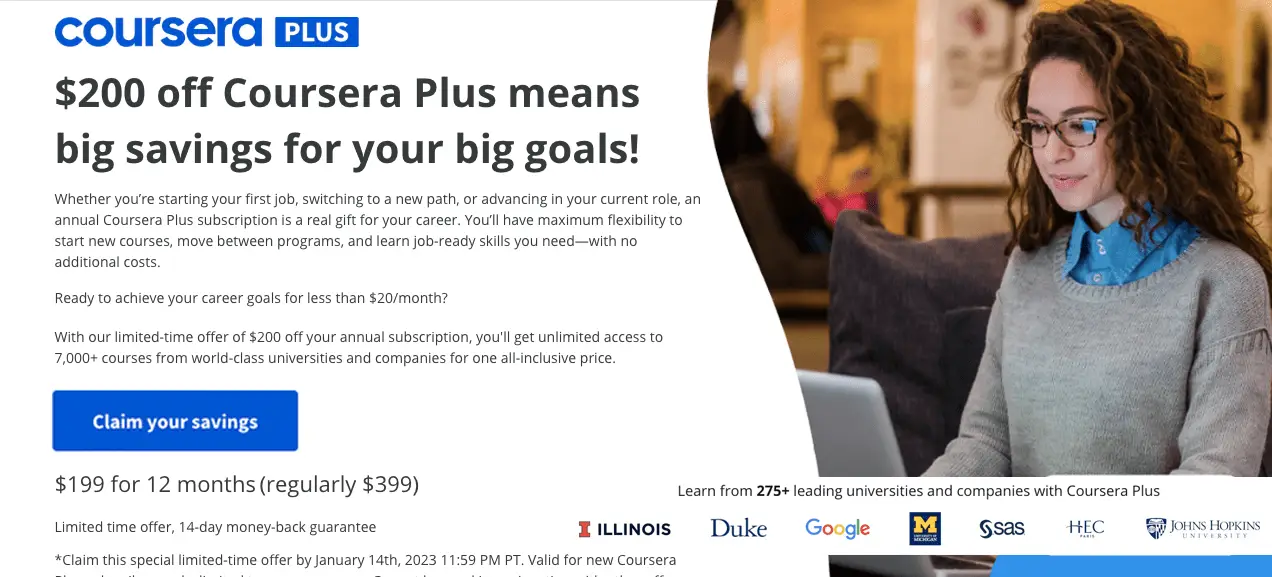 Individuals who like to dip their toes in or are already involved in carrying out research, studying data, statistics, analytics, and are also having an interest in the marketing field are the ones who will find Marketing Analytics as a great choice of career.
Moreover, do not worry if you don't know any of the aforementioned things or what analytics is and how to learn it, as today we have created a list of best marketing analytics courses containing the top 9 courses on the internet from where you can learn marketing analytics and start your career as a Marketing Analyst.
With a projection of 28% annual job growth in this field, learning analytics can never be a bane in the coming years. Scroll down to find out the course for you:
---
10 Best Marketing Analytics Courses, Certification, Tutorials
Data Analysis is a vast topic, and this marketing analytics course helps you to integrate the data analysis skills you learn here into studying your marketing performance to derive your helpful insights. Become competent in collecting, analyzing, making marketing models and share your results with Google Analytics, Data Studio, Excel, and Tableau.
Udacity marketing analytics course comes with high intellect mentorship in the marketing and data analysis field. The instructor team includes a well-diverse group of data scientists, software developers, marketing executives, and a digital marketer. Instructors' names include Brad Btesole, Josh Bernhard, Dana Sheahen, Mat Leonard, and Anke Audenaert.
Key Highlights & USPs
You will get to experience real world projects that will teach you the most desirable current industry skills.


Learn marketing analytics to create brief accurate analytical reports by evaluating business metrics.


Gain expertise in Google Analytics to channel your company with immense growth.


Know how to collect, organise and create valuable information from data while learning the skill of handling spreadsheets.


Get lifetime access to this course and complete it in your own time with technical mentor support on all of your projects, on your resume and also on your linkedin profile.
Who is it for?
It is one of the best marketing analytics certification courses for beginners that provides learners analytical solid skills and knowledge that one can use to advance in their careers or apply the learned skills in data analysis, data science, and marketing analysis to get a high paying job.
Managing your marketing data can save you from any deviations that are happening or could happen in the future. This online marketing analytics course aims at providing you with a better understanding of customer data that will not only boost your sales but will also help you in making sound future business & marketing decisions.
This University of Virginia marketing analytics course on Coursera is developed at the Darden School of Business and has Rajkumar Venkatesan as its instructor. Rajkumar's areas of expertise include Marketing Analytics, Marketing Metrics, and Customer Relationship Management. His experience is what speaks into this course.
Key Highlights & USPs
Learn to define a brand's architecture, value, personality and the relation between brand value and marketing efforts.


Get to know your customer lifetime value and tactics for customer retention & conversion.


Learn to carry out successful experiments to find out your best outcome in every decision you take.


Find out various tools for measuring brand and customer assets.


This marketing analytics course with certificate comes with a flexible learning schedule & deadlines, quizzes, and lots of real examples of companies.
Who is it for?
With this marketing analytics for beginners course, you will learn data analysis and pick up the skills that can ensure you some good tactics to expand your customer base and take advantage of marketing analytics to boost up your revenues that can drive your company to new heights, also put your hands on systematic allocation of resources for efficient working.
Rating: 4.7/5
Students Enrolled: 281,628
Duration: Approx. 16 hours
Marketing Analytics Certification by Berkeley – University of California

[edX]
This marketing analytics tutorial course will train you to develop the skills required to make marketing decisions that give you instant results. The course emphasizes improving & increasing your marketing analytical capabilities and knowledge with best industry practices that make you ready for an entry-level marketing analyst job position.
The author of this best online marketing analytics course is an award-winning writer of marketing & business textbooks, Stephan Sorger. Sorger has held prominent roles in various companies like NASA, Oracle, and 3Com. He is an active professor and has teaching experience of more than ten years at the University of California Berkeley.
Key Highlights & USPs
Learn analytical strategies to enhance your company's Return on Investment (ROI).


Carry out a comprehensive analysis of trends, price, promotion, market segmentation.


Learn to create full fledged budget scheming for multiple campaigns to increase the profitability of the firm.


Get to know various techniques and tools to overcome your company from real world situations and difficulties.


Identification of a Customer Wants in/from your product.


Come across different sales and distribution channels to capture your customer segment's attention.


Get a shareable MicroMasters certificate upon completion of the program.
Who is it for?
In this intermediate-level marketing analytics edx course, learners will learn skills that one can apply to find and excel in new careers as Product Manager, Marketing Manager, Marketing Operations Manager, etc., and can get quite good exposure to overall marketing analytics analysis and solve the problem of setting effective prices.
Duration: 4-5 Months at Approx. 5 to 7 hours per week.
Udemy deems to provide simply put the best marketing analytics programs on its platform with rich resources that help learners post-course. It offers varieties of great courses such as Google Analytics Certification, Google Tag Manager Training Course, SQL for NEWBS, Marketing Analytics: Stand Out by Becoming an Analytics Pro! Etc.
With Udemy marketing analytics courses, you also get great well rounded, and well-experienced instructors to guide you at every step of your learning journey. Instructors like Daragh Walsh, Anil Batra, David Kim & Peter Sefton, David Tanaskovic, and many high-rated authors have their course on Udemy.
Key Highlights & USPs
Learn to answer Google official analytics exam and successfully pass it.


You will get to learn courses on analysing marketing analytics in both digital marketing and the traditional form of marketing on Udemy.


Define your customer base, study their behaviour and make data-based decisions.


Learn to build a company's forecast model from zero.


Create a sales funnel that is interest driven which provides various actionable steps to relate to your customers better.


Each of the courses offered on Udemy comes with a shareable completion certificate and tons of resources, articles and sources to refer to post course completion.
Who is it for?
With access to the Udemy platform, you get courses of all levels to learn from, one having problems in metric decision making, reading of data, or anything related to analytics can get their questions answered here due to its vast availability of various analytics courses.
Duration: at your own pace
To be an expert, you need to have your base knowledge strong, and this online marketing analytics course is specially developed with the said purpose, which will help you to build your foundation in this statistical background so that you can learn to apply analytics knowledge and techniques to study your own business.
Essec Business School has brought you this marketing analytics class, led & instructed by the Professor of Marketing Department, Arnaud De Bryun, who has over 35k students and has achieved an instructor rating of 4.73/5.
Key Highlights & USPs
Learn R – The efficient programming language for statistical data computing which is cross platform compatible.


Gain in-depth knowledge on Segmentation, such as Hierarchical segmentation, selecting right number of segments, segmentation variables and calculating customer's frequency, monetary value and recency.


Learn to calculate the future value of your customers so that you can plan your strategies keeping them in mind.


Form your scoring model or customer score, which highlights the buying possibility & the value of the purchase of customers from your firm.


At the end of the course, achieve a certificate and lifetime access to this course and its resources.
Who is it for?
Coursera's this course provides you with a beginner-friendly foundational base environment to learn and implement analytical strategies to help you to find & analyze various aspects relating to customers, market, industry, and your organization.
Rating: 4.6/5
Students Enrolled: 37,356
Duration: Approx. 6 hours
How a business performs is also linked with how strong a presence does it have online, and this Coursera digital marketing analytics course helps you to analyze and study your web analytics in order to utilize opportunities that going digital brings with it. This course serves as the 1st part of a two-part series course and contains the core information on digital marketing analytics.
The digital marketing analytics course is brought to you by the University of Illinois, with Kevin Hartman as the instructor. He has gained over 187,521 students through his five courses on Coursera with achieving a dashing rating of 4.56 out of 5.
Key Highlights & USPs
Learn to make use of precise analytical tools & techniques that give you results.


Study the ways customers interact with your brand on different social media channels and organize them to get actionable insight from the data collected.


Learn various complex marketing measurements models and concepts to develop your strategic marketing plan.


Gain the core motivations behind studying & collecting marketing data by professions of the field.


Complete this course at your own pace and get access to it for a lifetime along with its resources and earn a certificate at completion.
Who is it for?
The course is of beginner level that makes the content of this digital marketing analytics online course easy to learn and understand. After completing the course, anyone, whether a manager, business owner, website owner, will be able to scrutinize analytical & statistical tools that are right for their business.
Rating: 4.5/5
Students Enrolled: 114,949
Duration: Approx. 20 hours
Marketing Analytics Executive Education Program

[Wharton University of Pennsylvani]
Enroll in this marketing analytics online program to improve your decision-making style and base it on a more analytical and functional approach that will help you to make smarter decisions. The course involves various concepts and theories from Modern Marketing Science as well as Advance Marketing Science and, most important of all, learn to utilize your customer data to the fullest.
The faculty of this course includes names such as Eric T. Bradlow, Raghuram Iyengar and Ryan Dew. All of them are perfect to be teaching this course as they have combined experience in Analytics and marketing, thus ensuring top-class learning from all-rounder faculty.
Key Highlights & USPs
Learn to make use of the latest technologies & statistical tools for data analysis, designing new products and predicting customer demands.


Combine marketing analytics with artificial intelligence in your data analysis process.


Create your own price tactics to best suit your products after experimenting with each price variation.


Learn Multi-Touch Attribution method of marketing measurement and conjoint analysis to study the customer value towards different attributes of your offering.


Live faculty sessions, real life examples, case studies, assignments and 'try it activities' to engage in you keep coming for more.


Be entitled to a certificate after successful completion of this marketing analytics class which also allows flexible payment.
Who is it for?
This marketing analytics online program can be of grave help to complete beginners with its inclusion of problem-solving content topics that can prove to be beneficial to anyone from expert to 'just starting' learners as they can learn to about navigating and maintaining privacy laws and avoiding any ethical drawbacks that can come your way.
Duration: 6 Weeks – at 4-6 hrs per week
The importance of knowing your insights is acknowledged in every twist & turn that your business makes. This marketing analytics Coursera specialization course takes you on a deeper level to understand your valuable insights and gives you access to six courses that are interconnected, which will help you to study and implement your marketing analytics learnings thoroughly.
This Emory University data analytics course is instructed by Associate Professor of Marketing at Goizueta Business School, David Schweidel. David has experience consulting eBay and Hp laps and has garnered over 50,521 students through his six courses.
Key Highlights & USPs
Learn uncertainty evaluation and come up with outcomes to counter any setback in marketing analytics.


Perform regression analysis for finding out the marketing data which matters to you the most.


Develop forecasting tools through Excel to gain in depth knowledge of customers' future behaviour.


Learn to conduct surveys for understanding and finding out valuable business data and converting survey data into useful and dependable insights for your decision-making process.


Earn a completion certificate after finishing all six courses plus hands on project from this specialization course.
Who is it for?
This Coursera data analytics specialization course is created for intermediates which helps individuals to gain profound knowledge in data management. Course takers can apply the learnings from this course to their business or profession to create a support system based on their data analysis for easing their business decisions.
Rating: 4.3/5
Students Enrolled: 15,655
Duration: Approx. 7 months with 2 hours each week
---
FAQ
How do I learn marketing analytics?
Learning analytics is no easy task, let alone learning marketing analytics. There are various acclaimed resources available online to study and pursue marketing analytics in detail.
The professional route to learning marketing analytics includes an individual to complete their Bachelor's in relevant subjects like Business Analytics, Business Statistics, Marketing Management etc., as these subjects include basics of marketing analytics. Doing MBA in any of the said subjects can provide you with expert knowledge in marketing analytics.
And other ways include doing an online Marketing Analytics course which is full of real-life projects and certification that can add value to your resume.
What do you learn from marketing analytics?
Marketing Analytics is a vast field that contains anything and everything related to analytics that can benefit a marketer in making day-to-day business decisions. A student of marketing analyst goes through the matter of data analysts and learns about various methods to professionally collect, organize, store and use the data for deriving valuable insights.
In Marketing Analytics, one will learn about the aspects of data collection & utilization and infuse them in marketing operations such as for measuring customer's needs & wants, customer lifetime value, forecasting trends, sales funnel, distribution channels, to study your competitors as well as your company among other things.