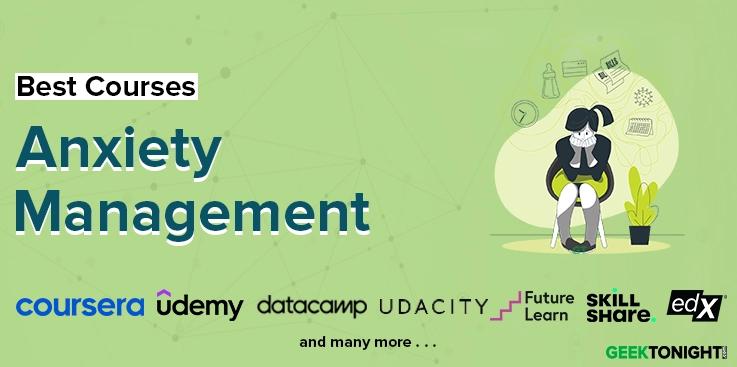 With increasing uncertainty around the world, mental stress is rising among working professionals as well as the unemployed. People working from homes and offices are highly susceptible to increased anxiety due to workload deadlines.
Our product recommendations are unbiased and based on an independent review process. We may receive a commission for links to recommended partners. See our advertiser disclosure for more information.
In this article, we have listed the Best Anxiety Management Courses & Certifications, where you can learn how to manage anxiety, fear, or stress.
---
Best Anxiety Management Courses, Certification, Tutorials, Training, Classes Online
Overcome Panic & Anxiety Attacks is one of the best free courses for Anxiety Management. Offered by Udemy, this course is among the most effective ways you can manage panic attacks and anxiety. You will learn about CBT and why it is a fast, effective, short-term therapy for anxiety. The past is explored but not dwelled upon. The aim of CBT is to turn you into your own therapist and teach you skills you can apply to any difficulties that might arise at any time in the rest of your life. This course was created by a group of dedicated Professional Cognitive Behavioural Therapists and Psychotherapists with extensive training and years of expertise working both in the private sector and for the British National Health Service.
It is designed by Robin Hall, who is a therapist, artist, and piano teacher with over 300,000 students online. His goal in life is to share my passions and to make whatever seems complicated easy and believes we all have a great capacity for learning.
Key Highlights & USPs
Understand why panic and anxiety arise and what is keeping them going


Learn skills that will enable you to deal with any anxiety or panic attack


Understand why it is possible to be completely free from panic attacks


Become fluent with skills that will prevent your panic from coming back in the future


Practice the best ways for recovery and how to maintain recovery
Who is it for?
This course is ideal for people who want to overcome their fear of nervousness and anxiety. It will work for anyone no matter how long they have had anxiety.
Rating: 4.5
Students Enrolled: 28,853
Duration: 7hours 21min
Beat Anxiety Forever With The "R.A.I.N. Switch Technique" is one of the top-rated free courses for anxiety management. Offered by Udemy, this course was created in a unique way to teach you everything you need to know about using the R.A.I.N. Switch Technique, which keeps you from making the same anxiety mistake over and over again. It is explained step-by-step in easy-to-follow videos and printable guides. Learn how to reduce stress and anxiety in your life, how to conquer your worst fears, and how to feel relaxed and calm all day long without relying on medication or alcohol.
It is created by Steve Pavilanis, who is an award-winning author and former anxiety sufferer. He wrote his award-winning book A Life Less Anxious in 2009 to share with others exactly how he did it. Since then his teachings have grown into this program on Udemy and have taught several students how to deal with anxiety.
Key Highlights & USPs
Find the "Off-Switch" for your racing thoughts and feel back in control within 14 seconds


Get past fears of certain situations (Driving, Workplace, Crowds)


Deal with health anxiety and worry over physical symptoms


Feel calm and relaxed all day (Without Medication)


Create long-lasting change and prevent relapses
Who is it for?
Anyone struggling with panic attacks and feeling out of control can take this incredible course. It is also helpful for those who have made progress with their anxiety but need help preventing relapses and establishing long-lasting change.
Rating: 4.0
Students Enrolled: 17,848
Duration: 3hours 2min
The emotional Intelligence course offered by Udemy is one of the best-selling online courses for dealing with anxiety and fear. This course will give you the tools that you need to develop emotional intelligence so you can recognize negative emotions (such as anxiety) while they're happening, identify the triggers that cause the emotion, and overcome the emotion. Learn how to get out of your head and become the observer of your emotions as they happen, so you can avoid being hijacked by your own brain and feel in control again. In other words, you will take your power back from anxiety, stress, and negative emotions.
It is designed by Joel & Natalie Rivera, who are professional speakers and trainers. They have served over 700,000 students from 200 countries and territories. Its mission is to provide tools that empower people to ignite their dreams, unleash their potential, and fulfil their purpose.
Key Highlights & USPs
Stop your emotions from spiralling out of control


Feel resilient and capable of handling life stressors


Stop racing thoughts and calm your anxiety


Develop mindfulness by focusing on the present moment


Feel confident and in control of your emotional state and your life
Who is it for?
It is suitable for those who experience anxiety or worry and want to prevent and de-escalate these emotions. It is also helpful for people wanting to take control of their thoughts, avoid negative, compulsive thinking and silence their inner critics.
Rating: 4.4
Students Enrolled: 49,876
Duration: 6hours 47m
The anxiety and stress course offered by Udemy is one of the top-rated online courses for anxiety management. This course will be using 100% practical tools and techniques to help you overcome stress and anxiety. It covers everything you need to do: saying 'No', managing your time, removing toxic people, understanding your natural personality strengths and weaknesses, meditation, self-talk, and overcoming fear or guilt. It gives practical tools you can use right away to feel calm and happy.
It is created by Chris Croft, who is a Management Trainer, Speaker, and Author. He is one of the UK's leading trainers and provides a wide variety of courses designed to involve, inspire and motivate people of all levels. He has trained some 87,000 people and enjoys a 94% rate of repeat business.
Key Highlights & USPs
Become calm and confident at work and at home


Take back control of your mood and your time


Stop letting others intimidate you or take over your life


Discover how your weaknesses can be personality strengths


Find it easy to say no, delegate, or be assertive
Who is it for?
Anyone feeling overwhelmed with anxiety at home or at work, including people coping with high levels of stress can take this amazing course. It may also be helpful to those who struggle to say no, work long hours, or procrastinate.
Rating: 4.7
Students Enrolled: 16,939
Duration: 2hours 10m
Anxiety and Depression Courses offered by FutureLearn are an amazing resource for managing anxiety. Learn to beat anxiety and depression with these free online mental health courses from FutureLearn, examining the best way to improve mental wellbeing. These are easy to learn and implement, and provide practical ways to deal with anxiety and fear. In every step of these courses, you can meet other learners, share your ideas and join in with active discussions in the comments.
Key Highlights & USPs
Identify the most common stereotypes surrounding anxiety and depression


Learn how behavioural activation works to target specific features of depression


Apply the basic principles of behavioural activation


Reduce your workload by prioritizing tasks and overall efforts


Understand how you can improve your self-confidence
Who is it for?
These courses are aimed at anyone who faces challenges of stress or low self-esteem at home, work, or any other public place. It is also helpful for people who are struggling with anxiety, depression, or fear.
How I Overcame Social Anxiety is a top-rated online course for learning anxiety management. Overcome social anxiety, stop seeking approval and become more confident with help of this amazing course. It will guide you through all the common causes of social anxiety and explain exactly how to overcome them. Whether you want just a little more confidence and to like yourself better, or if you are suffering from a full-on social anxiety disorder, you will greatly benefit from the lessons provided in this course.
It is taught by Tobias Atkins, who is a best-selling author and coach. His book, "How I Overcame Social Anxiety & How You Can Too" reached #1 on Amazon, and his self-improvement articles have been featured on huge blogs such as Lifehacker, Lifehack, and Pick The Brain.
Key Highlights & USPs
Learn exactly what it takes to overcome social anxiety and build confidence


Get out of your comfort zone and go after what you want


Be more assertive and get what you want without coming off as weak or arrogant


Get people to pay attention to you, respect you and take you seriously


Feel comfortable and confident in your own skin
Who is it for?
Anyone who wants to overcome social anxiety, grow their confidence, improve their self-esteem, find their ideal partner, and earn more money should take this course.
Rating: 4.4
Students Enrolled: 11,224
Duration: 8hours 7m
How to Stop Worrying & Overcome Anxiety is an amazing course for managing anxiety and fear. Offered by Udemy, this course will be teaching you how to dramatically reduce your worries and get rid of anxiety. Eliminating fear, anxiety, and depression is one of the best things you can do for your mental, emotional and physical health. Give this course a chance to help you relieve your worries and live more peacefully by enrolling today.
It is created by Ken Wells, who is an international trainer, teacher, and coach. He is the author of 25+ courses and coaching programs covering topics such as online course creation, sales, and marketing, personal transformation, meditation, mindfulness, and spirituality.
Key Highlights & USPs
Identify the source of worry and avoid the problems created by worrying


Stop negative thought patterns instantly and change your emotional state at will


Learn to choose healthier responses to life's challenges


Lower your heart rate and blood pressure in minutes


Establish a solid morning routine that leads to more confidence and composure
Who is it for?
It is ideal for people struggling with excessive worry and looking for all-natural solutions. It is also helpful for those who want to get rid of anxiety, depression, or fear. It is, however, not for people that are severely medicated or who have advanced mental health issues.
Rating: 4.3
Students Enrolled: 6,207
Duration: 1hours 48m
---
FAQ
What are the best ways for managing anxiety?
Some of the best tips for coping with anxiety are:
1. Be physically active
2. Avoid alcohol and recreational drugs
3. Quit smoking, and cut back on drinking caffeinated beverages
4. Use stress management and relaxation techniques
5. Get enough sleep at night
6. Eat a healthy diet
Can anxiety be cured naturally?
Untreated anxiety can get much worse with time and cause more stress in a person's life. However, anxiety is highly treatable with therapy, natural remedies, lifestyle changes, and other medications. A person may need to try several combinations of therapies and remedies before finding one that works.