In today's rapidly changing business environment, the need for effective business strategy has become more important than ever. The role of a business strategist has also gained significance as companies strive to make informed and strategic decisions to stay ahead of the competition. According to the research conducted by Zippia, the employment of business strategists is projected to grow 8% from 2018 to 2028.
To meet the growing demand for skilled business strategists, there are a variety of courses available to help individuals learn the principles and frameworks of successful business strategy. These courses cover topics such as analyzing the competitive environment, identifying growth opportunities, and developing and implementing effective strategies.
In conclusion, with the employment of business strategists projected to grow significantly in the coming years, taking a business strategy course can be a valuable investment for those looking to advance their careers in this field. To help you get started, here are some of the best business strategy courses available: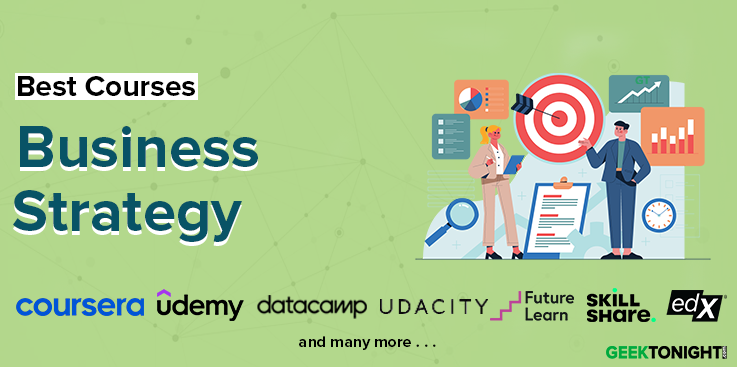 Our product recommendations are unbiased and based on an independent review process. We may receive a commission for links to recommended partners. See our advertiser disclosure for more information.
---
Best Business Strategy Courses, Certification, Tutorials, Training, Classes Online
In order to make decisions that successfully help you to translate your business goals into reality, this business strategy specialization program provides you with five different courses that are well versed in the formation of advanced strategies to help you to increase the profits, performance, and overall growth of your company.
Course Instructor
This Coursera business strategy specialization course which is offered by The University of Virginia will be taught to you by a triad of teachers from Darden School of Business having 10+ years of teaching experience consisting of Michael Lenox, Jared Harris, and Scott Snell.
What You'll Learn
This specialization course combines of 5 Courses:
Foundations of Business Strategy: Enhance your strategic thinking capabilities by delving into the analysis of the competitive landscape and proposing optimal firm positioning strategies to create value. Acquire a deep understanding of the fundamental frameworks and theories.


Advanced Business Strategy: This course will equip you with a comprehensive set of analytical tools to assess strategies from various angles, such as competitive dynamics over time, corporate strategy across industries, international strategy across geographies, and non-market strategy across institutions.


Business Growth Strategy: Acquire a toolkit to analyze, evaluate, and propose actionable growth strategies for organizations to enhance their value while avoiding common growth obstacles.


Strategic Planning and Execution: This course will equip you with the tools and skills to navigate the challenges of strategy planning and execution successfully. You'll gain an understanding of the critical elements of strategy execution, including analysis, formulation, and implementation.


Business Strategy in Practice (Project-centered Course): This course allows you to integrate concepts and knowledge from the four prerequisite courses in the specialization. You'll conduct an analysis of the organization's current state, identify strategic challenges, explore potential strategic options, make recommendations on the best path for the organization, and develop an Executive Summary.
Pros & Cons
Pros
Coursera Labs – Hands-on projects included
Certificate on Completion
Flexible learning schedule and deadlines
Financial Aid Available
Cons
Lengthy: Can take up to 6 months
Excludes career services
Key Highlights & USPs
Learn business strategy to evaluate industry evolution and unseen opportunities to expand your business.


Develop your strategic thinking ability to analyze your firm's competitive positioning.


Get to know how much diversification is good, stakeholder management, value creation, internationalization strategies to find opportunities to enter foreign markets, and direct investment.


Learn strategy analysis, formulation, and implementation, keeping the government in mind.


Experience doing a capstone project to put your theoretical knowledge into practical use and get tips from experts for the successful execution of your theoretical knowledge.


Receive a certificate upon completing the course, finish it at your own pace with interactive videos & reading materials available to you for a lifetime.
Who is it for?
The online business strategy course is tailored for beginners seeking to enhance their strategic management skills with expert content. It covers a comprehensive range of topics, including competitor analysis, strategic planning, and critical thinking. It equips learners with the mastery of strategic business management, allowing them to implement effective strategies in their organizations.
Rating: 4.8/5
Students Enrolled: 55,825
Duration: 6 Months – 2hr/weeks
Business Strategy from Wharton: Competitive Advantage

[edX]
Industry competition is very normal, it becomes a problem when your competitors are having an advantage over you in the market that you want to enjoy. That is why this business strategy online course teaches you to come up with various strategies that can help your venture to improve its position by using various frameworks and tools in the shared marketplace.
Course Instructor
The instructor of this course is Nicolaj Siggelkow, who has expertise in competitive strategy analysis and has run strategy workshops for 500 companies helping them to create their own competitive strategies. He has co-written 'CONNECTED STRATEGIES: Building Continuous Customer Relationships for Competitive Advantage' along with Christian Terwiesch.
Pros & Cons
Pros
Free with Optional Upgrade
Cons
Prior Knowledge in a similar field
Can get certificate only if taken 'Verified Track'
Key Highlights & USPs
Learn about the limits restraining your strategies and overcome them.


Identify the core and secondary activities that make up your organization and study their relationship with each other for efficient organizational work.


Identify different customer segments and what drives them to buy the products that you sell.


Get to know the factors that stand in your way of restraining your organization's overall growth.


Gain the skill to estimate your current and future strategic environment and form up a strategic plan that gives results.


Be entitled to a shareable completion certificate, lifetime access to course material, edx support, and graded exams and assignments.
Who is it for?
This Wharton business strategy online course is for intermediates having a bit of knowledge of basic business concepts. Upon completion, learners will be in a position to study and make changes in their current business strategies and implement various frameworks to stay on top of their competition.
Students Enrolled: 45,586
Duration: 6 Weeks at 3-4 hours per week
Udemy business strategy course is not the one to be missed, the course specifically focuses on the proper and efficient execution of strategies thus being a roadmap course for business strategy execution. It contains thirteen vivid sections having combined sixty nine lectures, all having the primary goal of providing the learner with tools and tactics used in smooth plan execution.
Course Instructor
Creator and instructor of the course, Lawrence M. Miller, is the best-selling author on Udemy who has 40+ years of experience consulting various companies. He has accumulated 161,953 students through 17 courses that have garnered him an instructor rating of 4.5.
Pros & Cons
Pros
Pleanty of courses
Reference + Post-course completion material available
Certificate on Completion
Accessibility is good compared to other platforms
Key Highlights & USPs
Create an agile plan of action for implementing and achieving strategic business goals.


Learn to bring together the senior management team, design team, and implementation teams to work on the same page for achieving working excellence.


Identify your organization's culture and bring the necessary changes needed there.


Look at the financial aspect of your business and evaluate your assets and liabilities while learning about the five forms of capital.


This course comes with 30 Day Money Back Guarantee, a completion certificate, ten downloadable resources, and lifetime course access.
Who is it for?
Expert level course in business strategy that is most suitable for leaders who are responsible for making major decisions and future management of their business. This business strategy class will help leaders to analyze current culture, the sense of bringing the right amount of change in it, and making organizational opportunities to align and adapt with each other.
Rating: 4.6/5
Students Enrolled: 15,634
Duration: 18 total hours

Valid till: 30th September
LinkedIn Learning business strategy courses are simply put the best all round courses in strategic management of business. Developing the best strategies is essential, so is noting down the progress that you are making or not making towards your strategic goals. This platform offers courses like Business Development: Strategic Planning, Strategic Planning Foundations, Creating a Business Plan, Digital Strategy, and more that will help you to compare your business performance to the efforts that your business puts in.
Course Instructor
This platform offers excellent content with excellent authors, industry experts names including such as Meridith Powell, Mike Figliuolo, Anil Gupta & Haiyan Wang, Peter High, Benjamin Gomes-Casseres, and several other highly intellectual authors.
Pros & Cons
Pros
Wide Range of Courses
Flexibility
Certificate on Completion
Cons
Limited Interactivity
Short Courses
Key Highlights & USPs
Learn in depth about two faces of competitive advantage that are an onstage and backstage advantage.


Get to know Swot Analysis and various strategic filters and what they are used for.


Gain the knowledge of digitizing your value chain and the physically present goods and services, and learn how to use Artificial intelligence in gaining Competitive Advantage.


Learn to do an external environment scan for the future position of your business.


Build your go-to market strategy, revenue model, pricing strategy, branding & marketing your product.


Get a LinkedIn Learning certified certificate to improve your CV/Resume, exercise files in every course, project files for lifetime access.
Who is it for?
LinkedIn Learning Platform provides learners with a wide variety of courses that are developed for all levels and especially for those who are constantly on the run due to their busy schedules. Learners have the option to finish courses at their own pace and can apply the strategies learned here to their own businesses to increase their efficiency and effectiveness.
This Business Strategy course teaches you the value of having a strategic mindset as a leader and how it affects every business decision that you make. This business strategy specialization program contains seven courses that are developed to make the base of your leadership style strong with various conceptual knowledge to develop your negotiation, coaching, feedback, and conflict management skills.
Course Instructor
The University of Illinois has brought you this business strategy program with a well experienced panel of instructors names, including such as Jeffrey Loewenstein, Denise Lewin Loyd, Elizabeth A. Luckman, Michael Bednar, E. Geoffrey Love, Deepak Somaya, Joe Mahoney, and Jeff Flesher.
What You'll Learn
This strategic management specialization program consists of six courses and a hands-on project in which learners can apply the knowledge gained from all the courses into a practical learning experience:
Leading Teams: Developing as a Leader This program will push you to grow as a leader by delving into the concept of leadership, evaluating essential competencies for modern leaders, enhancing self-awareness to make effective and ethical decisions, establishing strategies to cultivate trusting relationships, and formulating a plan for personal leadership development.


Leading Teams: Building Effective Team Cultures Embark on this introductory course to delve into the concept of establishing efficient team cultures. This program explores various aspects of team culture that underpin successful teams.


Designing the Organization: This program equips you with theories, principles, and frameworks to facilitate the creation of more efficient organizations.


Managing the Organization: The aim of this course is to enhance your managerial skills by providing a deeper comprehension of the intricate challenges and complexities that arise in organizational management.


Business Strategy: This course focuses on educating you about the process of creating, capturing, and retaining value in organizations, which is essential for achieving sustainable competitive advantage.


Corporate Strategy: This program delves into how corporations generate, retain, and capture value, moving beyond the scope of managing a single business line.


Strategic Leadership and Management Capstone: In the capstone project, you'll utilize the skills and knowledge acquired throughout the program to create a strategic plan for leadership and management in a real-world business context.
Pros & Cons
Pros
Graded Programming Assignments
Coursera Labs available
Certificate on Completion
Financial Aid Available
Cons
Lengthy: Can take up to 8 months
Key Highlights & USPs
Learn leadership skills and encourage all of your teams to work coherently with each other to achieve an organizational goal.


Create a strategic plan for the organization's rules, standards, regulations, processes, and practices and analyze pitfalls of ethical and decision making nature.


Study principles of management and apply them in your daily workings of the business.


Get to know various organizational structures and establish a framework to know when to put the structures into practice.


Interactive learning through a capstone project, quizzes, graded assignments with peer feedback, programming assignments, and much more.


Earn a shareable certificate of specialization and every seven individual courses.
Who is it for?
This certification course is designed for individuals with little to no experience in business strategy. Its aim is to equip learners with the necessary skills to effectively lead teams towards achieving specific objectives. Participants will gain a comprehensive understanding of strategic decision-making, as well as learn how to create sustainable competitive advantages to capture value in the marketplace.
Rating: 4.8/5
Students Enrolled: 76,839
Duration: Approx. 8 Months – 3 hr/week
---
FAQ
How can I learn business strategy?
In simplest words, Business Strategy is all about the different strategies or moves that a business makes to achieve a set of goals.
Learning business strategy includes individuals to tackle the main two components, those are strategic management and business operations. One can start to learn business strategy by learning the business first, and for more expertise in business strategy doing a Bachelor's or Master's with a business subject as a major would be advisable.