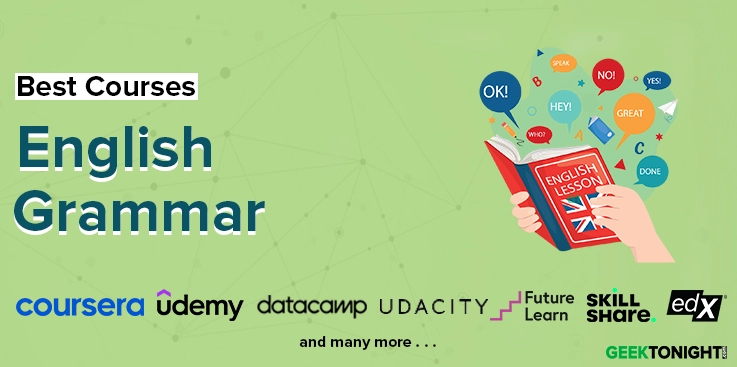 Do you feel hesitant while speaking in English? Do you have trouble using English Grammar accurately? Learning proper English Grammar is important for talking and writing English effectively. Grammar is the power of almost any language. It helps us to understand sentences and paragraphs precisely. It is the core of a language that helps people to communicate freely and without hesitations.
If you also want to improve your English grammar, this is the right place to start. Today, I'll discuss and review the Best English Grammar Courses and Certifications. The list comprises the most reviewed and highly-rated Grammar Courses to enroll in now.
Our product recommendations are unbiased and based on an independent review process. We may receive a commission for links to recommended partners. See our advertiser disclosure for more information.
---
Best English Grammar Courses, Certification, Tutorials, Training, Classes Online
If you are looking to improve your English, this Udemy English Grammar Course is the best option. You will learn the grammar structures to sound more like a native speaker. The English Grammar Launch Program includes lectures, listening and speaking practice lessons, and MP3 downloads to learn English. Each section of this grammar course focuses on two or three target structures to understand and speak English properly.
Anthony Kelleher is the creator and instructor of this Intermediate English Grammar Course. He is the founder of Sir Education School that has taught thousands of students to speak accurately. It is designed to focus on students learning English as a second language. This Course can help you in achieving the score in English.
Key Highlights & USPs
Master speaking English more confidently.


Develop a deeper knowledge of the target structures.


Understand Spoken English as well as speak fluently.


Able to produce the target structures accurately.


PDF transcripts, online updates, and Mp3 downloads to sharpen the grammar.


Get unlimited access to 8 hours of on-demand video, 1 article, and 38 downloadable resources.
Who is it for?
Anyone can take this English Grammar Udemy Course to achieve the goal of upgrading the English language. Whether you want to master English grammar or improve your listening skills in English, this English online course is right for you. Upon completion, you will earn a certificate to showcase your intermediate expertise in English Grammar.
Rating: 4.7/5
Students Enrolled: 89,860
Duration: 8 hours
Grammar and Punctuation Course is the ideal one for you to learn about tools for good English writing. It will help you to review your English Grammar. You will learn the writing skill and get assignments to practice. This English Grammar Online Course provides enough video lectures to practice your Grammar and punctuation daily. In the end, the Coursera Instructor will ask and discuss what you have learned.
This English Grammar Specialization is designed by three experts, namely Tamy Chapman, Brad Gilpin, and Helen Nam. Tamy Chapman is the instructor and conducts international programs at the University of California. Helen Nam and Brad Gilpin help you in writing essays and using grammar rules properly. It's easy to access this course when you are thinking about learning something new.
Key Highlights & USPs
Learn about the basics of grammar and punctuation.


How to use verbs and conjunctions in sentences accurately.


How to write sentences in four different types. 


Develop knowledge of where and how to use commas in a sentence. 


How to create parallel structure and sentence variety. 


Free access to 14 video lectures, 26 readings, and 16 quizzes to practice thoroughly.
Who is it for?
This Best English Grammar Online Free Course is the first course of the Academic English Specialization. Anyone can kick start learning academic English with a little English knowledge. It is a free course to utilize your time to improve your English writing skill. Upon completion, you will receive a shareable certificate with proper graded assignments and feedback from the instructor. Enroll now to enjoy the self-paced learning option.
Rating: 4.7/5
Students Enrolled: 626, 674
Duration: 17 hours
Are you looking for the Best English Grammar Online Course? Take a look at the Udemy English Grammar Category, where you will find courses to learn English of different levels. There are many courses for Beginners to start from basics to advanced English. In the beginner course, you will study tenses and sentence structures. English Grammar learners can access courses related to English pronunciation, writing, business English, vocabulary, IELTS, communication, and more.
Each course is taught by native English experts and fluent speakers. An experienced instructor will focus on improving your English to an advanced level. By the end, you will become a master of the English Language and proficient in speaking, writing, and listening to English.
Key Highlights & USPs
Detailed and Thorough English Grammar Lectures.


Understand the usage of verbs, tenses, and sentence structures.


Master the skill of pronunciation and communication fluently.


Learn English from A1 to C1 level and also for IELTS.


Grammar Classes for English Teachers for learning TEFLs Essentials.


Get unlimited access to hours of video lectures, quizzes, and downloaded materials.
Who is it for?
There are no prerequisites to start learning English Grammar. You should have free time to work on English every day. You can do any English Grammar Course Online at your pace. If you are willing to learn English, there's no need to spend even a single penny. After completing any course, you will earn a certificate to showcase your English skills.
Rating: 4.5/5
Students Enrolled: 2,174, 634
Duration: Self-Paced

Valid till: 30th September
Free Grammar Classes Online [edX]
If you are willing to master your English, these edX English courses are the best ones. You can creatively improve your grammar skills. Free Grammar Classes will provide you with proper English grammar lessons, where you understand the parts of speech, interjections, tenses, verb tenses, action verbs, complex sentences, and more. It will develop your writing skills which help with completing an essay without any help. Business English Courses are also available for professionals to enhance their English for establishing business relationships at the global level.
All the edX English Courses are designed to increase your knowledge of grammar and check grammar while sending emails or writing essays. Instructors will help you with the English Grammar tools to master the grammatical concepts and syntactic strategies. It helps in building a comprehensive knowledge of grammar to work efficiently.
Key Highlights & USPs
Learn the basics of grammar with introductory courses. 


Gain knowledge of Grammar rules and guidelines to communicate properly.


Understand how to use tenses, auxiliary verbs, indirect objects, complex sentences, and more. 


Advanced English Courses to build careers as a writer, publisher, book editor, speaker, and English teacher. 


Develop a strong sense of Business English to win clients and grow your business overseas. 


Get study materials to work on learned skills and enhance for a better future.
Who is it for?
There's no bar to attending these online English Grammar Courses. You can take these English Grammar Online Classes Free to begin a career path as an English expert. You get recognized by a shareable certificate after completing each course. Many courses are self-paced, which you can start from today. Enroll for free!
Skillshare gives you a chance to explore the grammar classes as per your requirements. You will get the English courses to master native English writing skills, speaking skills, grammar rules, and more. Most of the English courses focus on strengthening English skills at different levels. Online Grammar Courses are available at your fingertips. You need to register yourself at Skillshare for learning English from A1 to IELTS Pro+.
SkillShare online classes are the best for both professionals and refreshers. Experienced English Instructors will help in improving your overall English with classes. Creators will enhance your abilities to become a pro in English.
Key Highlights & USPs
Learn English from Beginner to Advanced Level


Able to write and communicate in English properly.


Improve the speed of your reading and writing. 


Learn business English grammar for meetings.


Get free access to short lessons, hands-on projects, and assignments.
Who is it for?
There is no academic background needed to take English Grammar Courses. Skillshare is one of the best e-learning platforms to learn something new or add a new skill. You can easily learn about a variety of tools, software, and topics related to any language and subject.
Rating: 4.5/5
Duration: Self-paced
---
FAQ
How can I learn English by myself?
Anyone can learn English by themselves. Also, technology has made learning English Grammar so easy. Multiple platforms and apps are available to enhance your vocabulary, grammar, and speaking just sitting at home.
There are some quick steps such as reading magazines and books, listening to English songs and content, and practicing English through writing and speaking every day. If you need expert help, Enroll yourself in one or two online English courses.
Where can I learn English grammar?
Grammar is a powerful part of every language. It is tough to grasp at your first lesson. Without understanding proper Grammar, you can't learn the language. This case is the same with English, where you should have proper grammar skills to write and communicate accurately.
I have mentioned the top five e-learning sites to learn English Grammar. You can enroll in any one of the Best English Grammar Courses Online for free too.
How can I improve my vocabulary?
Improving vocabulary is so easy when you have so many resources available. You can read newspapers and books to learn new words and their meanings. You can try English vocabulary courses from popular websites such as Udemy, Skillshares, Coursera, and more. You can also practice your vocabulary by using them in sentences.
Learning English Grammar is an easy task. You have to follow some rules and know target structures to create sentences. Pronunciation is also a key part of speaking English fluently. All the mentioned English Online Courses with certificates can make you a pro in English Grammar.
This article reviewed each course that is popular among learners. I hope you may find a suitable specialization in English Grammar. Thanks for reading!