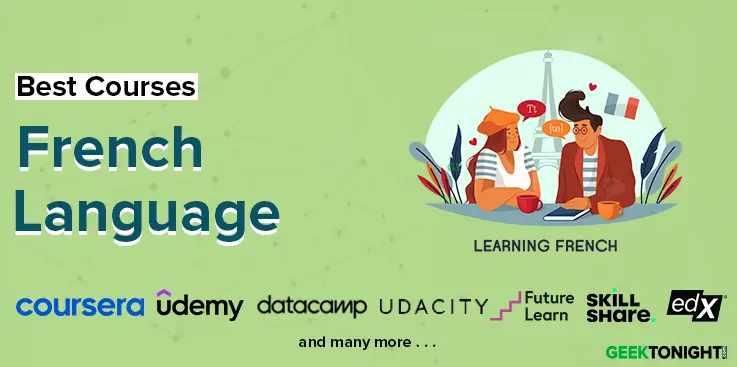 Around 275 million people in the world speak French as an official language in 39 countries. It ranks in the list of the top five most spoken languages in the world. Learning a new skill can help you grow professionally. While developing a linguistic skill, you can gain the greatest degree of intercultural competence and understanding.
You can learn French using any traditional textbook, while others go for the language app. Some people choose private tutoring services by spending extra chunks. Another approach is the Best French Courses Online with Certification from popular websites. Online classes can be fun and present you with one-on-one group lessons to build skills required for work and travel.
Here is the list of the Best French Courses and Certifications to kick start your journey in learning French.
Our product recommendations are unbiased and based on an independent review process. We may receive a commission for links to recommended partners. See our advertiser disclosure for more information.
---
Best French Language Courses, Certification, Tutorials, Training, Classes Online
Learn the most famous language of all time with Udemy. This French Course brings you a simple way to learn the french language in just three minutes. It is a short French language course to build language skills. You will make sentences effectively. It will quickly become a habit when you learn French daily for three minutes. The Online French Language Course will trick your brain into memorizing and becoming consistent with speaking French comfortably.
Kieran Ball is the language tutor and creator of this three-minute French Course. He has prepared the method to speak fluently. Over 130,000 people took this Udemy French Course from 200 countries. In the end, you can make sentences in French everyday situations using a simple and fun method.
Key Highlights & USPs
Able to understand the french language when speaking.


Gain the knowledge of building your own sentences after the very first lesson.


Develop vocabulary and phrases to use while speaking to the local people.


Get to use grammatical and pronunciation of the French language.


Understand the structure of the French language


Learn to give opinions in French and descriptions of things in French


Learn to Greet the locals and order food/ drinks in French


Get unlimited access to 4.5 hours of on-demand video, 24 articles, and 12 downloadable resources.
Who is it for?
This Best French Language is for beginners who want to speak French simply. There's no prior experience required to learn this beautiful language. It is fun to gain a new language skill when you are busy. Upon completion, You will receive a certificate to showcase your skill and add to your resume.
Rating: 4.67/5
Students Enrolled: 54,977
Duration: 4 hours
You can Sign up Here

Valid till: 30th July
Free Online French Lessons [The French Experiment]
Speak fluently with the best online french courses on the French Experiment. It offers a huge learning guide to learn french. You can take Free Online French Lessons to start from the basics. Take any lesson to learn how to ask questions in French. You will get a series of French lessons to teach vocabulary and phrases.
It ensures speaking french confidently and talking to the local people of French-speaking countries. It is the best way to learn french. This Free Online French is the best way to learn French. It also offers a 7-guide to navigate with a wide range of tools and advice for learning french.
Key Highlights & USPs
How to learn French grammar, vocabulary, and pronunciation.


Get to improve your reading and listening.


Work on French production and writing skills.


Learn to greet family members and talk about your family in french.


Understand how to use french idioms and expressions.


Get tools to use your core learning method in French.
Who is it for?
Learning French for Beginners Course is an exciting opportunity. You don't need to have any experience to take this series of Online French Lessons. With the completion of all the lessons, you can introduce yourself in French and make conversations with people.
Rating: 4.5/5
Duration: Self-paced
Kickstart your learning French Language Journey with Udemy Courses! It offers you a wide range of Top French language Courses to learn about the French language and culture. French is a romantic language among all the languages. You will gain the basic knowledge of the French Language for travel, work, and study. Some French Courses Online provides you with the fast French learning method to build speaking, reading, and writing skills.
Native French Speakers and Tutors will help to master spoken French. They will emphasize learning conversational French and help to build a foundation of knowledge.
Key Highlights & USPs
Learn how to communicate in French in different situations


Master the basics of French for work, travel, and study.


Understand how to speak, read, and write with 80 lessons.


Learn perfect grammar, pronunciation, and vocabulary with native speakers.


Improve your level of French from A1 to C1


Get access to downloadable resources, articles, reading materials, and hours of video lessons for a lifetime.
Who is it for?
Learning the French language and its history & culture can add a new skill to your resume. Whether you are a complete beginner or almost fluent in French, you can learn something from one of the Online French Courses with Certificates. It will save your money on overspending on private lessons. Take an online class at an affordable rate. In the end, get a certificate of completion to showcase your skill.
Rating: 4.7/5
Students Enrolled: 902,118
Duration: Self-paced
Learn French in just 5 minutes a day [Duolingo]
Are you searching for a free platform to learn French? Duolingo is the best language app to learn French for free. As you know, French is the second most popular language in the world. Millions of people speak French from around the world. Duolingo created a French-language Course to teach you.
The app is designed to cater to every student from different parts of the world and makes it easy for learners to achieve personal and professional goals. In the end, you will visit any french-speaking country and sound like a French Native Speaker with all your learned skills from Duolingo.
Key Highlights & USPs
Build on-site language skills with natural approaches. 


Enhance your communication skills in real-life everyday situations.


Able to apply learned knowledge about French Culture in conversations. 


Learn basic phrases, vocabulary, grammar, and greetings. 


Improve your French vocabulary and pronunciation to express yourself in simple sentences.


Assess your acquired skill by joining in the discussions and sharing your experience in French.
Who is it for?
There are no prerequisites for taking this Beginner French Language Course. If you are willing to learn French, this Free French Course is best suited for you. While using the app, you can ask a few questions to know your level and end goal.
Rating: 4.5/5
Students Enrolled: 9.47 million
Duration: Self-paced
Online French tutors & teachers [Preply]
Preply brings an ideal platform to find the right private French tutor suitable for you. A qualified teacher can help you to learn this language with ease. It provides an effective and efficient way to learn to speak French. You can set your schedule to take lessons with an online French teacher.
Whether you're an entrepreneur who wants to build language abilities or a Student to explore more educational opportunities, this best online French language program helps you go beyond grammar and vocabulary. You can book your private French tutor to get a perspective on how to use French naturally in conversations.
Key Highlights & USPs
Learn French one-on-one tutoring through video calls.


Tailored French lessons to teach beyond Grammar rules and vocabulary.


Able to understand how native speakers use the French Language.


Private French tutoring is available to help the students to reach their goals.


Freedom to find a virtual French teacher as per your budget


Get a 100% money-back guarantee If you're not happy with the course.
Who is it for?
If you want to jump into a new linguistic experience, this best Online French Course is perfect for you. You can make progress at your pace and learn in a relaxing environment. Preply team will assist you throughout the online course and help you achieve your goals.
Rating: 4.6/5
Duration: Self-paced
Learn Beginner French for Global Communication: Language Level 1 by King's College London [FutureLearn]
This Beginner-level French Course will build your confidence in speaking French for work and travel. You will learn the fundamentals of written and spoken french. It also covers a wide range of vocabulary used in daily life situations and offers a syllabus on grammatical progression. This FutureLearn French Course includes access to King's multilingual learning personnel via a weekly 50-minute webinar in small groups. Also, you will get practical support throughout the course and allow students to join the QnA session.
Jerome Bertherat is a Native French Speaker with 20 years of teaching experience in French. He did MA from the Université Blaise Pascal, Clermont-Ferrand (France) in International Trade and Modern Languages. Cyril Bastanes has almost 9 years of experience in teaching French language modules and postgraduate-only classes. These instructors will develop your linguistic skills and knowledge to become a French learner.
Key Highlights & USPs
Learn the basics of the French language and build a range of vocabulary.


Gain understanding and get familiar with everyday expressions.


Learn to use vocabulary in a predictable situation


Able to produce short and  simple texts.


 Unnderstand the French culture, everyday life, and current issues in the country/countries.


Allow to read, assess, analyze, and engage in evaluative thinking using given criteria.
Who is it for?
This Learn French for Global Communication Course is designed for graduate professionals with no prior knowledge. By the end, you can master the art of listening, speaking, reading, and writing skills in French. You do not need to declare your undergraduate degree to do this Postgraduate from King's College London. Upon completion, you will earn a digital certificate of attendance.
Rating: 4.7/5
Students Enrolled: 24,682
Duration: 3 months, 12 hours/week
FAQ
Can learning French get you more job opportunities?
Indeed, one of the most popular employment sites, found in a survey in 2019, in which French was the second most important skill that prospective employers look out for. Being Multilingual can bring you more opportunities and be sought by the companies on this language skill.
Can I learn French in six months?
Yes, you can become proficient in speaking French in six months. However, it will not be that easy. Learning French in six months requires full dedication and motivation to achieve your end goals. If you can devote 30 hours to learn French, you may get better with time but won't reach that native fluency.
Can I learn French by myself?
Yes, you can learn French by yourself. However, having a french tutor can be very helpful. It will develop a better understanding of how to speak French in everyday life situations and gain command of techniques to speak confidently. Under the guidance of a Native speaker or teacher will correct your mistakes and change them.
Wrapping up!
With the above sites, you can attend a French class from the comfort of your home and office. However, the best way to find a suitable course is to check all the key features and reviews. Online courses can keep you motivated and focused. The shared list can be helpful to get you started and become an independent learner in French.