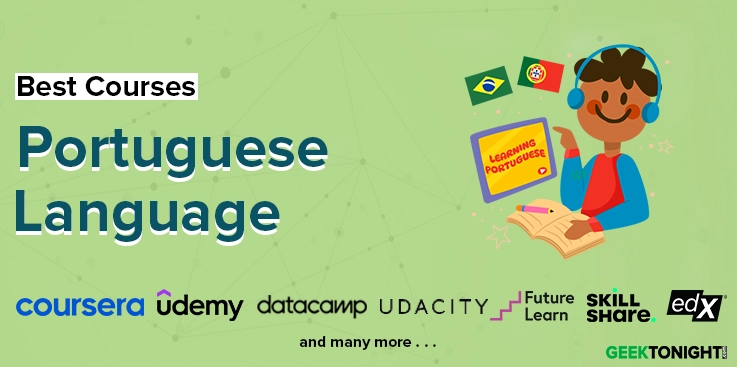 Are you traveling to Portugal or Brazil? You should know how to speak the Portuguese language. Over 600 million people speak Portuguese in the world. This language is the second romance language after Spanish.
This sixth most spoken language has the potential to attract huge numbers of people around the world. It is growing fast and gaining popularity among English speakers. It shares 89% of vocabulary and grammar with Spanish.
Do you also want to learn this language? I have prepared a list of the Best Portuguese Courses with Certifications. You can start your journey of learning Portuguese with a free Portuguese course as a beginner.
---
Best Portuguese Language Courses, Certification, Tutorials, Training, Classes Online
Learning Portuguese is now easier than before. This Udemy Portuguese course is perfect for the complete beginner. You will learn how to speak Portuguese in three minutes. This intensive Portuguese course will teach you how to build sentences. In each lesson, you will gain a tiny bit of Portuguese. You can practice the words and phrases to build language skills. It will make you proficient and confident enough to use Portuguese.
Kiera has created these online courses and written books to make language learning accessible to all. These courses were developed to teach languages with no hassle. She has created three series of language courses available in Spanish, German, and Italian.
Key Highlights & USPs
Learn to speak Portuguese confidently.


Build a strong vocabulary of words and phrases to use in actual conversations.


Gain a deep understanding of the Portuguese language structure. 


Able to create basic sentences in Portuguese.


Use grammar and pronounce words correctly with ease. 


Able to greet locals in Portuguese while traveling.


Get access to 4 hours of on-demand video, nine articles, and eight downloadable resources.
Who is it for?
This Portuguese language course will enable you to speak Portuguese quickly, whether you plan on traveling or living in a Portuguese-speaking country. Even if you have no basic knowledge, you will master this language. You will receive a certificate to showcase your learned skills after completion.
Rating: 4.8/5
Students Enrolled: 7000
Duration: 4 hour

Valid till: 30th September
3-minute Portuguese has a series of courses for beginners. This Second Chapter will help you ‌improve the knowledge that you've learned in Course 1. You will learn to use various language structures to communicate in different situations. This Portuguese online course will help you learn unfamiliar and combine those words to make your sentences. At last, you will become more than just a traveler or person from a different country.
Kieran is a UK-based language tutor who has been teaching all the languages to online students. Her online classes ‌teach students Portuguese with easy and effective methods. She has created this series of courses for students from different countries and backgrounds.
Key Highlights & USPs
Learn some question phrases you can use in lots of situations


Learn some verbs and ‌add unique structures to your language


Learn some time phrases, money phrases, and mealtime phrases to add more details to your Portuguese


Learn to tell the time in Portuguese


Learn how to book a taxi in Portuguese


Get to grips with Portuguese pronunciation


Understand the structure of the Portuguese language


Free unlimited access to 11 articles and nine downloadable resources.
Who is it for?
This Portuguese Online Course is best suited for those who completed the 3 Minute Portuguese – Course 1. You should know some words and phrases to take this course. It needs no other prerequisites to enroll. Also, with completion of this Portuguese course for beginners, you will get a certificate to recognize your skills.
Rating: 4.6/5
Students Enrolled: 3040
Duration: 5 hours
Learn something exciting with this Brazilian Portuguese course is right for you. Have you felt bored while learning a language? However, this Portuguese Online Course will teach Brazilian Portuguese through colorful, short, and fun videos. Learners will not require any translation to learn this native language. Anyone can learn the Portuguese language effectively through examples, images, and videos
Luciana Ribas is a Brazilian native teacher and creator of this Brazilian Portuguese Language Course. She has been teaching private classes for the last 20 years. Portuguese Today is a platform to teach Portuguese with animated and colorful videos. She introduced the direct method to focus on speech instead of translation.
Key Highlights & USPs
How to greet, say thanks, farewells, and apologies.


Learn to introduce yourself in Brazilian Portuguese.


Ask questions using what, how, which, where, and who.


Learn over 100 vocabulary words in Brazilian Portuguese.


Able to count numbers from 0 to 1000. 


How to describe daily tasks to people.


Able to use expressions and pronounce words comfortably.


Gain lifetime access to 12 articles and over three hours of video content for study.
Who is it for?
This Portuguese online course is suitable for all learners, irrespective of their age and academic backgrounds. All you need is the willingness to learn to speak Portuguese. Learning Portuguese can help you make friends with Brazilians and look for jobs in Brazil. If you finished the course, get the certificate of completion with your resume.
Rating: 4.3/5
Students Enrolled: 2,000
Duration: 4 hours
Learn Portuguese in just 5 minutes a day: For free

[Duolingo]
Do you want to spend a cent on learning Portuguese? Then, Duolingo is an affordable solution for Portuguese online. With this free language learning platform, you can practice reading, writing, and speaking Portuguese. Duolingo provides bite-sized lessons and fun videos, which are 100% free to use. It also presents tailored lessons to help you learn at the right level. You can build your skills with engaging exercises and practice by playing with characters.
Key Highlights & USPs
Free tools to improve reading, writing, and listening skills in Portuguese.


Practice all the grammar rules with game-like lessons.


Offer personalized learning features to create a private space for learners.


Get Duolingo Plus to boost your language skills faster.


Able to speak like a native speaker at the end of the course.


Get free access to all the lessons for a lifetime.


No hidden fees or premium content for learners.
Who is it for?
Duolingo is the most trusted mobile platform to take any course. They designed this free Portuguese online course for English speakers. Except for this, there are no prerequisites to meet to enroll in. You will ‌speak like native speakers. Your reading and listening skills will be recognized with a certificate from Duolingo.
Rating: 4.6/5
Students Enrolled: 2.74 million
Duration: Self-paced
BBC offers you the simplest way to improve the Portuguese language. You will learn everything from the alphabet to cultural facts about Portuguese. This Free Portuguese Course is a perfect guide to teaching how to speak Portuguese. You will get the head-around tongue twisters and phrases in Portuguese.
As a beginner, you can start with the alphabet and words. In the end, you can speak the basic Portuguese sentences confidently. BBC has created this Language Portuguese Course for learners. It is a quick way to understand essential phrases, vocabulary, and grammar in Portuguese.
Key Highlights & USPs
How to meet and greet people.


Able to shop, book hotels, and order food while traveling in Portuguese-speaking countries. 


Get 11 videos and clips to improve your pronunciation and conversation skills.


Learn ten revealing facts about Portuguese.


Find out about carnival, music, and football and read transcripts in Portuguese


Get online lessons with audio, games, vocabulary, grammar explanations, and exercises
Who is it for?
These Free Portuguese Lessons are created for everyone. You don't need to spend any money on taking courses. Visit this website and start learning the basic Portuguese language. No previous knowledge is required to learn about Brazilian culture and Portuguese. You can listen, read, and download the chapters for the future. It is an excellent website to start your journey of learning Portuguese.
Rating: 4.5/5
Duration: Self-paced
You can Sign up Here
FAQ
How can I learn Portuguese quickly?
All the courses which I have discussed help you learn Portuguese quickly. Duolingo and other language learning apps are a convenient way to understand Portuguese. You can watch videos or read children's books in Portuguese. TV series and movies with English subtitles are also excellent resources to train your brain with language skills.
Is Portuguese difficult to learn?
Learning Portuguese is not that difficult to learn. Like any other language, it also takes some time to learn and practice Portuguese. There are a lot of phrases and words that are connected with expressions. It takes almost one year to achieve proficiency in Portuguese.
What are the 8 Portuguese-speaking countries?
Several independent countries and regions now use Portuguese as their official language: Angola, Brazil, Cape Verde, East Timor, Guinea Bissau, Macau, Mozambique, Portugal, & Sao Tome, and Príncipe.
Is Portuguese useful?
Portuguese is a useful language in the world. Over 5% of the world's population speaks Portuguese. It is a complete language in terms of vocabulary and grammar. This language is much more similar to English. So, you don't have to make much effort in learning it.
Let's Sum Up
Portuguese is not the hardest language for English speakers. Anyone can learn Portuguese to survive in Brazil, Portugal, and other Portuguese countries. This article has shared five top Portuguese courses to boost your Portuguese skills. Free language courses are ideal to enroll in when you have time to improve your knowledge. If there's any course left to mention, write ‌it in the comment section.