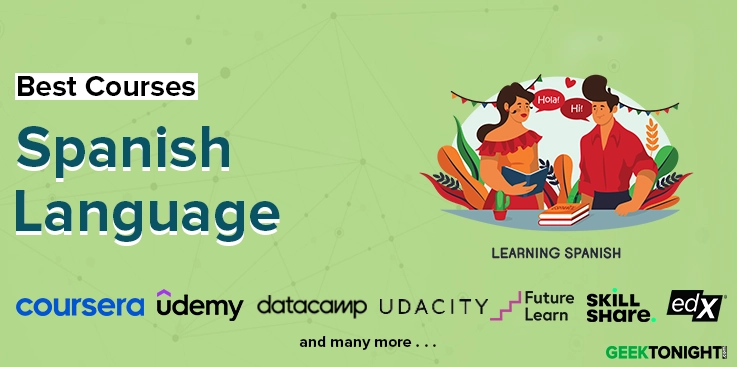 Do you also think Spanish is an attractive language when you see people speaking this beautiful language? As you know, it is the third most spoken language, and 500 million people speak Spanish every day around the world. No wonder! It is a charming and rich-class language with great linguistic history. But, you might have a lot of questions – from where to start with learning Spanish by yourself.
So, we have put together all the Best Spanish Courses and Certifications in a list for you.
Now, Spanish can open new opportunities and give you a new perspective to connect people with confidence. There are many advantages of being bilingual or multilingual, which help you grow personally and professionally as a Global person.
Our product recommendations are unbiased and based on an independent review process. We may receive a commission for links to recommended partners. See our advertiser disclosure for more information.
---
Best Spanish Language Courses, Certification, Tutorials, Training, Classes Online
You can Spanish in just a few weeks. This Complete Spanish Course will help you speak non-stop Spanish. You will learn how to use basic Spanish in a matter of hours. It will allow you to produce thousands of phrases for everyday use. You don't need to memorize tiresomely or lengthy grammatical explanations. This Spanish Course Online offers you a step-by-step guide to forming increasingly complex sentences without pen and paper. It will engage you to speak Spanish from beginning to end.
Peter Hanley is the instructor and creator of this Spanish for Beginners Course. He has created the Method for teaching the Spanish language to thousands of learners using effective methods. Peter has over 25 years of experience in using sped-up learning techniques.
Key Highlights & USPs
Build a solid foundation for speaking Spanish.


Able to produce and speak thousands of complete phrases correctly.


Understand how to use basic Spanish for different contexts.


Improve your pronunciation by practicing constant repetition. 


Learn to imitate the Spanish Language as a Native Speaker.


Get unlimited access to 4 hours of on-demand video, 21 articles, and 23 downloadable resources.
Who is it for?
This Comprehensive Course is the best way for learning Spanish for beginners. You don't need to have any prior knowledge of Spanish. Non-native speakers can enroll now to learn basic Spanish as fast as possible. This Online Spanish Course will brush up your Spanish easily. Upon completion, you will receive a certificate of completion from Udemy.
Rating: 4.7/5
Students Enrolled: 80,092
Duration: 4 hours

Valid till: 30th September
Coursera Spanish Courses are well-versed and designed carefully for all types of learners. It will ensure a convenient way to learn Spanish and build strong lingual skills. Online Spanish Courses make learning Spanish grammar, vocabulary, and pronunciation quickly. It will enable you to communicate in Spanish with people from Job and neighbors. Learning a practical skill can help you build a successful career or get a raise in your salary.
Coursera Instructors are highly experienced and professionals in teaching Spanish effectively. Learners can opt for this Spanish Lessons and Certification Online with ease. Self-paced Spanish Courses offer you the freedom to schedule in-person classes. Experts will engage you with additional practice working on a skill and easily fit into your new lifestyle.
Key Highlights & USPs
Learn Spanish using reading materials and audio clips.


Build a working vocabulary using  Spanish words and expressions.


Learn Spanish speaking skills to communicate while traveling.


Get in-depth knowledge of Spanish usage in daily life situations. 


Practice language with repetition of lessons and recording your audio.


Get free access to graded assignments, video lectures, hands-on projects, and discussion forums.
Who is it for?
All the Best Spanish Courses Online are available for everyone on Coursera. Whether you are a beginner or intermediate learner, You can enroll for Free Spanish Courses online with certificates to fulfill your requirement with no prerequisites. With the completion of the course, learners will receive a shareable certificate to showcase skills they've developed.
Kickstart your journey of learning Spanish with Udemy! A series of Spanish Courses Online are available to make it easier for learners to learn the language. You can memorize spelling rules and improve Spanish pronunciation. After taking Udemy Spanish Courses, You will build your basic sentences in Spanish. With over 180 tutorials and online training courses, Udemy provides the opportunity to become proficient in Spanish irrespective of your current knowledge.
Udemy is the top-rated e-learning platform, where you can learn anything from highly qualified experts. You will develop both the practical and fundamental concepts of the Spanish language. Instructors hast designed the best program to learn Spanish and enhance speaking, reading, and writing skills.
Key Highlights & USPs
Cover Spanish of different levels, including beginner, elementary, Intermediate, and Advanced.


Master the basics of Spanish Speaking by speaking non-stop.


Learn the essentials of medical Spanish to speak with patients and clients.


Practice Spanish lessons to speak and learn 101 common verbs.


How to use Conversational Skills in public, restaurants, and local shops.


Provide lifetime access to video lectures, downloadable resources, articles, and assignments.
Who is it for?
If you are a non-native speaker, you can take this Best Spanish Courses Online to add one more skill to your resume. There are no prerequisites to take any of these Spanish Classes for adults. You need to complete each course to be recognized by the certificate.
Rating: 4.6/5
Students Enrolled: 1.15 Million
Duration: Self-paced
Do you want to learn Spanish quickly? Take this 3-minute Spanish class to learn a tiny chunk of Spanish. You will be able to make sentences and become better after each lesson. Practicing so much will enable you to master the words and phrases. The lessons are practical and effective. You will learn language skills that you can incorporate into everyday life. In the end, it is easy and comfortable for you to speak Spanish whenever you're in a Spanish-speaking country.
Kieran Ball has been teaching foreign languages for over fifteen years. She has created this 3 Minute Spanish class to make learning Spanish easier and accessible to anybody. It makes you able to speak to the locals in Spanish with confidence.
Key Highlights & USPs
Start by learning a few words in Spanish.


Able to build a sentence with no help


Understand how to use different structures for different situations. 


Learn grammar and vocabulary for daily use.


Practice translations from English to Spanish or vice versa. 


Gain access to three projects for memorizing what you've learned. 
Who is it for?
This course is perfect for beginners as it breaks down the Spanish language into tiny chunks that show you how to build back together again in a logical simple to understand way. You can go from knowing no Spanish to speaking fluently in just a few minutes. So, if you want a course that teaches you to speak Spanish you can use in everyday situations using a simple and fun method, then start watching 3 Minute Spanish today.
Rating: 4.3/5
Students Enrolled: 6.7 K
Duration: 5 hours 10 minutes
Online Spanish Tutors & Teachers [Preply]
Are you looking for Spanish private tutors or classes? There's no other better option than Preply. It is an e-learning language platform for private Spanish lessons online, where you get to sit in a 1-on-1 classroom. You can find online teachers and take classes in any language. This platform offers you to apply filters to get a suitable Spanish language tutor for you. Preply is a one-stop solution for learning any language with flexibility.
You get a personalized approach to choosing from 4500+ Spanish tutors. Unlike other online platforms, they will teach you Spanish lessons using speaking techniques, where students get the speaking training. In the Preply Online Spanish Classes, you can ask for replacements for free.
Key Highlights & USPs
Select your tutor as per your budget and timeline.


Check out the tutor availability, their expertise, what level of Spanish they teach,  and feedback from previous students.


 Lessons costs start from around $5 per hour.


Giving 1-on-1 classes creates better value than sitting in a crowded classroom and sharing the attention of a teacher.


Students and tutors can communicate to schedule the classes, flexible curriculum, and set the time for meeting to discuss the questions.


Learn beyond learning grammar, vocabulary, and phrases from Native Spanish Speakers.
Who is it for?
It is the right time to improve your overall Spanish. Anyone can enroll in these Preply Online Spanish Courses and Classes. All you need is to have a good internet connection and a webcam to quick-start learning from a private Spanish Tutor. If you are eager to speak Spanish fluently, think little and enroll now to add a new skill.
Rating: 4.7/5
Duration: Self-paced
edX platform offers you a variety of options to improve your Spanish communication and language skills. Free online Spanish courses are divided into three levels, namely beginner, intermediate and advanced.
You can learn the Spanish language and understand words and phrases and develop strong grammatical skills. You can select any course as per your needs and expertise level. In the end, you can apply for a relevant job or get promotions related to your Spanish skill.
Key Highlights & USPs
Learn to use Spanish for daily life situations and handle different formats of communication.


Build a strong understanding of writing and speaking Spanish.


Practice more with quizzes and assignments to follow along.


Discuss questions and answers with the instructor and work on weaker points.


Prepare for your dream job by enhancing language professionally.


Unlimited resources available for free, such as videos, reading materials, quizzes, and graded assignments.
Who is it for?
Learning Spanish can create new opportunities for you. Anyone can build a new skill for career growth and add it to their resume. You will get the certification If only you paid for the course. You can share a printable certificate to know prospective employers about the knowledge you've gained.
Skillshare brings you the beginner Spanish course that helps with learning basic Spanish. This Spanish class will teach how to use Spanish without memorizing tactics. You can use any language through a carefully designed method. You will learn to pronounce difficult words fluently step-by-step until you are skilled at doing so. This online Spanish class has prepared some tactics for students to absorb sentence structures without realizing it. The method guides you to speak Spanish and helps you achieve this in less time than traditional methods.
Peter Hanley will be your teacher in this Spanish for Beginners Class. He has created EL MÉTODO, which offers a new approach to teaching Spanish for beginners. Also, he will teach how to use language without studying conventional methods.
Key Highlights & USPs
Able to talk non-stop Spanish fluently.


Learn to use thousands of phrases for daily conversations.


Understand how to use grammar and vocabulary. 


Learn to use new words or sentences clearly and precisely.


Build knowledge of how to add a new word in different contexts.


Get 20 video lessons in spoken Spanish and written exercises to practice.
Who is it for?
Not fluent in Spanish? Join this introductory Spanish lesson on Skillshare right away. You now understand that it does use a distinctive approach to teaching spoken Spanish. So if you want to learn Spanish for employment, vacation, and other reasons, why not give it a shot? Spending on learning a new language can help you stand out from the crowd.
Rating: 4.6/5
Students Enrolled: 33,164
Duration: 4 hours
Learn Spanish for Free [Duolingo]
Duolingo is the best language learning app to learn Spanish in just 5 minutes a day. You can achieve reading and listening proficiency by following the game-like lessons. It will help you get one step closer to becoming fluent. This Duolingo Spanish Course will not require any prior experience to start the lessons.
You can cover the topics from scratch and work on your reading, writing, and speaking skills. Learners can adapt to the learning lifestyle of Spanish and practice every day from basics. By the end, Duolingo learners will become good at speaking Spanish as University students after passing five semesters.
Key Highlights & USPs
Get the tailored learning exercises to help you learn Spanish.


An effective way to improve your vocabulary and review your words knowledge.


Get instant feedback to help you improve your listening and reading techniques.


Provide a fun way to unlock new levels through earning virtual coins.


Enhance your Spanish fluency by checking your score as you master new words, phrases, and grammar.
Who is it for?
No prerequisites are required to enroll in Free Online Spanish Classes. Any beginner or intermediate learner can start any language course with just one click. It will save your progress while passing all the lessons and quizzes. Learning Spanish is fun when you enjoy the process. Duolingo is the world's best platform for learning German, Italian, French, Korean, and other languages.
Rating: 4.6/5
Students Enrolled: 27.9M
Duration: Self-paced
---
FAQ
How can I learn Spanish by myself?
There are tons of resources available on the Internet. Learning Spanish is an easy and simple process. You can learn Spanish by reading, watching Spanish movies with subtitles, videos, and taking free Spanish lessons. You don't need someone to guide you with reading and writing Spanish.
However, the best online Spanish classes can help you get command of your new language as quickly as possible. You can choose any of the language learning platforms to be Spanish proficient.
How many years does it take to learn Spanish?
Spanish is a very difficult language to learn. It requires dedication and willingness to understand basic Spanish and work on reading, writing, and listening skills. It takes about a year to learn Spanish.
A person should spend 3 or 4 hours practicing Spanish to get used to sentence structures, words, and spelling rules. But, if you spend only an hour, it will take about 1.5 years to communicate fluently.
Is Spanish hard to learn?
No, Spanish is not a hard language to learn. If you are an English speaker, learning Spanish will be the easiest thing to do. You can build a strong foundation as a Spanish speaker effortlessly. It requires a lot of work and motivation to overcome all the odds.
The English grammatical rules are quite similar to Spanish, which helps you prosper by gaining a firm grasp of this romantic language.
Is Spanish easy to learn for Indians?
Most Indians speak Hindi as their mother tongue, which draws them to try Spanish as their second or third language. Both Spanish and Hindi differ from each other, to write, speak, and read.
However, both languages come from the Proto-Indo-European family, so it makes Spanish similar to Hindi in many ways. For example: in Spanish cupboard is called 'Armario' and in Hindi, " Almaari". Two in Spanish can be pronounced as Dos, and in Hindi, it is pronounced as Do, which is almost the same.
Final Words
Spanish can help you explore more opportunities as Spanish speakers in marketing, healthcare, science, information technology, and engineering. Spanish as a second language or third language can be helpful in career growth and advancement.
Choosing any suitable course can fulfill your requirements and meet the end goals. You can also go for the Best German Courses to build a unique and rare skill. I hope this article was insightful. Thanks for reading!