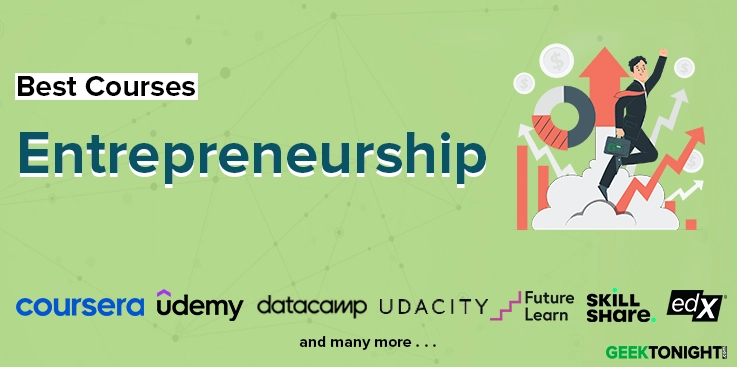 Choosing the best entrepreneurship courses can be a daunting task. However, by keeping a few key factors in mind, you can make the process much easier.
First, consider your goals for taking an entrepreneurship course. Are you looking to start your own company? Business? Enterprise? Or, are you looking to gain skills that will help you in your current business? Second, consider the level of experience you have in business. If you are a beginner, you will want to look for a course that covers the basics. If you are more experienced, you may want to look for a course that is geared towards the later stages of being an entrepreneur.
While there are many different options available, not all of them are the same. In this blog post, we'll discuss the top notch entrepreneurship courses available, based on our research.
Our product recommendations are unbiased and based on an independent review process. We may receive a commission for links to recommended partners. See our advertiser disclosure for more information.
---
Best Entrepreneurship Courses, Certification, Tutorials, Training, Classes Online
An Entrepreneurship specialization program that takes individuals from the basic roots of generating an idea to complete a full fledged business plan that gives solid returns. With this course learners will not only learn to operate a business but also the foundational principles that will help individuals in shaping their entrepreneurial journey. This program has 5 courses dealing in Opportunity Generation, Start-Up planning & launching, Growth Strategies and Financing.
This one of the top online entrepreneurship course is offered by The Wharton School of The University of Pennsylvania with a panel of instructors hailing from the Wharton School itself including names like Lori Rosenkopf, Karl T. Ulrich, Ethan Mollick, Karthik Hosanagar and David Hsu.
Key Highlights & USPs
Learn idea testing and idea prototype development along with learning the basics of entrepreneurship.


Gather knowledge on building teams, hiring people/workers that help in laying a good foundation during early stages of your venture.


Gain some insights on how to formulate business growth strategies helping you in expansion of your start-up.


Understand how to develop a scalable business model and various start-up launching strategies.


After successful completion of the course be entitled to receive a shareable certificate, lifetime access to the course and its materials.
Who is it for?
This entrepreneurship course generally serves as a guide for beginner entrepreneurs helping individuals in identifying the various aspects of entrepreneurship and giving exposure to individuals to numerous initial critical areas of an entrepreneurial path.
Rating: 4.8/5
Students Enrolled: 47,136
Duration: 6 months, 2 hours/week
Another specialization on this list that explores idea generation, advancement, and supporting choices for growing organizations. In this online entrepreneur program students are given assets to figure out how new companies run their everyday activities and how they balance themselves on the line of endurance by adjusting their funding.
The course is brought to you by University of Maryland with instructors being Dr. James V Green, Dr. Thomas J Mierzwa and Michael R. Pratt all from Maryland Technology Enterprise Institute (Mtech) having combined 18 courses on the platform.
Key Highlights & USPs
Learn various methods and concepts for new venture analysis to determine profitability of the start-up idea.


Get the skills to identify the potential of an idea and develop innovative business models.


Gain the skills of Market Research, Value Proposition, Opportunity Identification, Investment identification among many other things. 


Improve our entrepreneurial mindset by learning strategic thinking and decision making.


Go through the process of funding and master the techniques of getting funded.


The course comes with a shareable course completion certificate along with practice exercises & readings in each module helping you to understand the module in a better way. 
Who is it for?
An online entrepreneur certification course that helps individuals in incorporating a research based planning process for products. The course is perfect for individuals trying to build a team who want to learn the holistic functions of being an entrepreneur.
Rating: 4.7/5
Students Enrolled: 34,205
Duration: 5 months, 3 hours/week
In order to be a successful entrepreneur, there are a few things you need to know. In this entrepreneurship course online as the name suggests you will learn those few essential things of Entrepreneurship that will take you on a long road if you follow it ethically and also help you to be successful in whatever you start.
The instructor of the course is MBA degree holder David Standen from the University of California. David is an experienced entrepreneur, business professor, coach and trainer. On Coursera the instructor has a 4.71 rating with 263,878 students from 7 courses.
Key Highlights & USPs
Learn the process of entrepreneurship and learn to calculate risk and uncertainty.


Understand how to apply entrepreneurial approaches to your own business


Experience some of the beginners problems/challenges that a new venture faces.


This entrepreneur course comes with videos, lectures, readings and a Hands-on Project for you to actively get involved in. Also, get a certificate in the end.
Who is it for?
The course is a part of the 'Career Success Specialization' program on the platform and is aimed towards helping new business centric people who want to learn how to take the business from zero to unimaginable heights.
Rating: 4.6/5
Students Enrolled: 104,090
Duration: 5 hours
This Coursera Startup Entrepreneurship has four courses that deal with the basics of what starting a business means and how to conduct business operations with efficiency and effectiveness. The program includes various topics relating to market research and evaluation helping individuals to gain important entrepreneurial skill of market condition analysis.
Technion – Israel Institute of Technology brings you this entrepreneurship training program with its Academic Director Prof. (Emeritus) Shlomo Maital and former executive Vice President of Intel.
Key Highlights & USPs
Learn the ZiZoZi method to ignite your creative powers, while using creativity to solve strategic business problems.


Get to know various tools and techniques that can be used in new ventures.


Learn to differentiate your offering in the market compare to others


Most importantly figure out what organizational culture you want and support and build a right team for meeting that culture.


Once completed, this specialization course entails a hands-on project, readings, many quizzes with a flexible schedule and a completion certificate.
Who is it for?
The course is at Beginner's level helping new individuals strengthen their foundations of entrepreneurship. This course becomes very helpful for individuals since it primarily helps them establish a complete understanding of their offering and help them to study the present market as well as future forecast with budgeting.
Rating: 4.8/5
Students Enrolled: 21,550
Duration: 6 months, 3 hours/week
Masterclass in Entrepreneurship by Sara Blakely

[MasterClass]
Courses form MasterClass are very interesting and exciting especially due to the fact that it always includes journey, stories that inspire. In this course you will get to learn about the entrepreneurial process of the author and the various obstacles that came her way.
Sara Blakely, the founder of Spanx and one the most powerful women in the world. In this course she shares her experience of how she left a door to door sales job to create a venture that would take over the American market.
Key Highlights & USPs
Learn how to build brand awareness that  has your targeted audience segment talking about you.


Understand and go through various pricing and positioning strategy


Develop your entrepreneurial mindset and learn to carefully create prototypes for your idea and selling strategies.


Learn through various case studies focusing on Marketing and Positioning and also Spanx's own case study.


Get downloadable instructor's guides with downloadable classes (offline availability) with access on TV, desktop and mobile.
Who is it for?
The online entrepreneurship course is for complete new learners that are not familiar with real life business challenges that come with setting up your own entrepreneurial path.
Rating: 4.5/5
Students Enrolled: 24,682
Duration: 3 hours
It is a specialization course consisting of 6 courses and one capstone project to help learners in getting a good grasp on the topic. This Coursera Entrepreneurship course includes things that are essential for identifying the trends and understanding the product helping in creating a better value proposition for people.
The course is offered by the University of Illinois with Raj Echambadi, E. Geoffrey Love, Jeffrey Loewenstein, Jack Goncalo, Thomas E. Parkinson and Jeff Flesher serving as the instructor for the course.
Key Highlights & USPs
Learn about understanding the stakeholders that affect your business operations and how to keep them in control.


Build and lead product development teams, stating their functions and supervising their working.


Learn how one can plan for bringing innovation in the organization.


Utilize your own creativity skills and foster your team for giving creative inputs. 


Understand the growth parameters of the company and conduct analysis for company growth.


Manage different types of innovation in entrepreneurship and strategically implement various plans that will help you in leading your business.


Get access to this course and its materials for a lifetime, Earn a Coursera verified specialization certificate for our resume.
Who is it for?
This entrepreneurship online certificate course is for absolute beginners and the content offered here is suitable for individuals having no whatsoever knowledge of starting a business. The motive of the course is to help beginners by giving a complete A to Z knowledge of building and monitoring a business.
Rating: 4.8/5
Students Enrolled: 26,122
Duration: 8 months, 4 hours/week
Udemy Entrepreneurship courses offer a plethora of choices for individuals to pick and choose any startup course that is most suited to them. The platform offers topic specific courses like 'The Complete Business Plan Course' as well as a broad entrepreneurial course depending upon the area of business you want to get started into.
Some of the instructors present on the platform are Seth Godin, Chris Haroun, Warren Chalken, Brian Tracy, Guy Kawasaki among many other brilliant names. The authors are having courses with 4+ ratings indicating courses are well perceived by learners on the platform.
Key Highlights & USPs
Learn business tools of Swot Analysis, Porter Five Force Model, Cost Benefit Analysis etc.


Create a perfect actionable business plan and Go-to market strategy for impressing investors.


Understand the fundamentals of business plan pitch, how an individual should start and end business pitches to make the party more interesting and wanting for more. 


Develop the skill of maintaining good relationships with diverse groups of people.


Heavily focus on how to strategically plan, build teamwork, and create solid Vision and Mission statements for your company.


Get free lifetime access to courses along with tons of downloadable resources and a certificate of completion once the course is successfully finished flexibly
Who is it for?
The platform is for any individual who wants to get insights into starting a business despite being a complete beginner or extremely advanced. The best thing about this platform is that it is also having courses on online entrepreneurship i.e. Online business is something that other platforms lack.
Rating: 4.7/5
Duration: Self-Paced

Valid till: 30th September
FAQs
What is concept of entrepreneurship?
The term "entrepreneurship" has become increasingly popular in recent years. But what does it really mean? And what are the essential characteristics of successful entrepreneurs?
The concept of Entrepreneurship refers to the practice of designing, launching, and operating a new business. Beginning a new business is scary considering all the challenges and failures that one has to go through but it has its plus point too. 'The greater the risk the more is the reward' – An entrepreneur has to live their life under this principle of taking risks is the only way to grow.
How can I become entrepreneur?
Well anybody can turn into an entrepreneur regardless of what college major you did or what background you belong from.
The significant thing is despite the fact that entrepreneurs don't have experience, assuming you have any opportunity to work with a start-up just take it!
Prior to beginning your own business assuming that you have even a touch of experience it tends to be exceptionally useful as it helps you in getting a mentor, learning planning and research and networking – something that turns out to be extremely fundamental during the underlying startup stage.