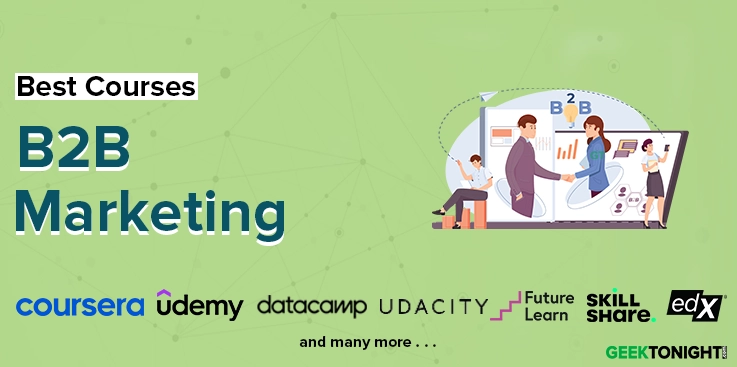 Business To Business marketing is selling your product or services to a business rather than individual customers. And this course list was made with the intention to provide you with the best B2B marketing courses to save your time in scrounging the internet and helping you to start your learning process right away.
Our product recommendations are unbiased and based on an independent review process. We may receive a commission for links to recommended partners. See our advertiser disclosure for more information.
---
Best B2B Marketing Courses, Certification, Tutorials, Training, Classes Online
Business to Business or B2B is something that is in trend and companies are trying to maintain the balance of B2B and B2C (Business to Customer) concepts in their organization. This Coursera B2B marketing course is focused on how the company can do cross-industry + cross country growth. It includes the core B2B marketing fundamentals and various generalized marketing concepts to develop through understanding.
The instructor of this B2B marketing online course is Dae Ryun Chang, a marketing professor at Yonsei School of Business, Yonsei University, Seoul-South Korea. Mr Chang is very versatile as he has conducted various researches, seminars, written many books, is a blogger at Harvard Business Review Online and is also a filmmaker having directed and written two short films. Prof. Chang has seven courses on Coursera through which he has gained 58,921 students and an instructor rating of 4.65 out of 5.
Key Highlights & USPs
Learn how companies in B2B marketing try to achieve CCCI Growth i.e.  Cross Country and Cross Industry Growth.


Get to know the concept of B2B Marketing Mix including components such as Product, Price, Place and Promotion and also learn the 4 W's approach.


Learn the very fundamentals of B2B marketing to strengthen your B2B concepts and gain a proper systematic understanding of how and what makes B2B work.


Go through expert interview videos to gain better understanding of real life scenarios and draw out learnings for implementing in a B2B environment.


Once completed you will get Coursera certified shareable certificate, with course content including graded assignments & quizzes and plenty of reading materials.
Who is it for?
A B2B for beginners course that goes through the basic B2B marketing concepts like Marketing Mix and primarily aims at offering solutions of how businesses can grow out of their industry & borders and increase their revenues.
Rating: 4.6/5
Students Enrolled: 18,260
Duration: Approx. 9 Hours
Udemy B2B marketing courses as well as its various B2B Business Development courses are nothing but pure things of absolute beauty. It is providing various courses that are rich in content along with providing an interactive community where the learner can go and learn from their peers. The platform consists of courses like Digital Marketing B2B: Ultimate B2B Digital Marketing Course, B2B Marketing Strategy, Advanced B2B Marketing & B2B Lead Generation 2022 amongst many other great courses.
The platform not only has great courses but also great instructors to guide the learners in their daily achievements. Authors like Dekker Fraser, Jyra Galosmo, Patrick Dang, Karthick Velusamy, Gustavo Escobar Henriquez etc are having a teaching style that goes into detailed teaching helping you to build a strong understanding of the fundamentals.
Key Highlights & USPs
Learn how to go about generating huge B2B sales from LinkedIn along with learning the strategies of increasing your visibility on the LinkedIn platform.


Develop your skills to generate leads every month from your home + create your ideal customer persona helping you in targeting an audience.


Learn the essential skill of converting the digital lead to real life meetings and sales.


Various tricks, tips and tactics to boost your B2B sales using the means of digital.


Learn  Digital Marketing B2B – how to build an online presence for dealing in business to business concepts.


Be entitled to receive a course completion certificate once the course is finished along with many articles and downloadable resources for your reference.
Who is it for?
The courses are very easy to understand and provide a margin of content that individuals can learn from. Udemy includes various B2B courses also covering the modern or digital aspect of it. This platform is perfect for beginners since they get to choose from a plethora of B2B marketing for beginners courses.
Duration: At your own place

Offer Till: 31th March | $14.99 | AU$19.99 | ₹525 | Rp 129 | SGD 19.99
Getting a sale or selling is the hardest job doesn't matter whether you are catering to B2B or B2C. This B2B sales generation course is entirely focused on creating an automated lead generation machine for your business and along the way showing you some cold emails tactics that will guarantee boost your conversion rate.
Patrick Dang, a Sales Coach and the creator of SalesLegacy.comis the instructor for this B2B marketing tutorial course. The instructor has the vision to make an individual's journey in earning a living from their passion an easier one. Patrick has an instructor rating of 4.5 gained from 45,305 reviews and 133,183 students (across 150 countries) from eight of his courses on Udemy.
Key Highlights & USPs
Learn a working Cold Email method to generate more leads and sales for your business.


Identify a course of action to take in order to get  great desired clients.


Learn A to Z about cold email writing, mistakes to avoid, guidelines to follow, finding companies to email and prospective scheduling.


Develop and craft your 'follow up' for respondents and non email respondents.


Learn the skill of copywriting and incorporate it with your email writing  to increase your email open rate and respond rate.


Get free lifetime access to this course along with full access to its materials including 12 downloadable resources and accessibility on TV and Mobile phone.
Who is it for?
An Email centric lead generation course that is very easy to understand, implement and helps businesses/individuals to gain leads by its proven cold email methodology. This B2B email marketing course also includes sales templates used by top businesses to generate huge sales numbers.
Rating: 4.5
Students Enrolled: 18,659
Duration: 4 Total Hours
Understanding the essentials of B2B business conduct is very important and this course is a very good basic introduction level online b2b course that comes with the motive of teaching learners the general B2B concept, the core fundamentals, various strategies and the very essentials involved in doing a B2B business.
The instructor of this course is Dina Shapiro who has experience as Marketing Consultant, Brand Strategist, Customer & Employee Experience, and developing training programs at major companies. Dina Shapiro is well qualified and is sharing her experience of working through this B2B subject course.
Key Highlights & USPs
Learn to analyze and stay ahead of the trends in Business to Business marketing and find out all the roles that a B2B marketer has to play.


Understand your product offering, your category and accordingly make strategies on how to compete in the category.


Learn the concept of H2H i.e. Human to Human marketing.


Learn formulation of different types of objectives, mistakes to avoid and create & comparing your B2B objectives to a benchmark.


Upon completion of the  course get a shareable LinkedIn Learning certificate, one exercise file and access on through app or website.
Who is it for?
It is for complete beginners who want to learn the B2B marketing concepts as this course takes you through a very simple but effective content that is heavily focused on B2B workings, framing objectives, studying the industry and developing strategies to overcome any limitations of the company.
Rating: 4.7/5
Students Enrolled: 57,716 (Viewers)
Duration: 58 Minutes
This B2B marketing strategy course is heavily focused on generating leads from the LinkedIn platform, it contains various strategies, various ways and the author suggested tools and tips generate a good amount of leads per month. This course is made with the intention of helping you find good converting leads in less time helping you to maintain your efficiency rate.
Another course on this list by the instructor Parick Dang, has thousands of students, 5000+ reviews, a 'Bestseller' Udemy tag that speaks a lot about the general acceptability of this course by learners and the work that instructor Patrick puts in.
Key Highlights & USPs
Learn LinkedIn lead generation through using proper LinkedIn sales and marketing strategies and techniques.


Develop LinkedIn content like Text, Downloads, Videos, Images etc to increase your visibility, for getting warm leads and drive traffic to your site.


Learn LinkedIn outbound lead generations and inbound lead generation for generating business to business leads.


Learn LinkedIn focused social selling techniques, crafting cold LinkedIn messages to capture potential audiences.


The course comes with a completion certificate along with eight downloadable resources and free lifetime access to the course and its materials.
Who is it for?
The course is listed as 'All Levels' indicating the difficulty level is not high and even beginners can take this course to learn from it without any hassle. This course is very particular as it provides a LinkedIn related B2B solution for generating leads, sales out of many other things.
Rating: 4.4/5
Students Enrolled: 21,996
Duration: 5 Total Hours
LinkedIn Learning is a trusted online platform offering tons of certified courses to gain skills from. LinkedIn Learning b2b marketing courses include programs such as 'B2B Marketing Foundations: Positioning', 'B2B Marketing on LinkedIn', 'B2B Foundations: Social Media Marketing', 'B2B Marketing Foundations: Pricing Strategies' and many more.
The authors of the B2B marketing classes include names such as Viveka von Rosen, Ken Rutsky, Luan Wise, Drew Boyd and many more qualified authors.
Key Highlights & USPs
Get to know the social media platforms for B2B marketing and identify the best platform for your business.


Learn to understand and communicate with a business buyer, as knowing mindset would help them to come up with offerings especially customized to meet their needs.


Gain understanding of how to position and set prices of your offering to attract businesses for purchase.


Know how stakeholders act in B2B marketing and to define price, value and cost.


Completing courses from LinkedIn Learning offers you a certified certificate, exercises, quizzes for testing understanding of the topic and accessibility on phone as well as tablet.
Who is it for?
The platform has of all levels but having a pre-basic knowledge of whatB2B marketing programs and how B2B works would be great as the learner can then consume major B2B business courses offered by the site. The course taker can easily get an all-around learning from Digital B2B and traditional B2B marketing point of view.
Rating: 4.5/5
Students Enrolled: 19,489 (Viewers)
Duration: 39 Minutes
The course promises to be much more than any ordinary digital marketing course, in this digital B2B marketing course the learners will uncover how Artificial Intelligence(AI), Mobile, and Cloud Computing has changed the behavioural pattern of customers and companies and how this change has affected the B2B environment.
Mohanbir Sawhney serves as the faculty for this complicated yet simple modern B2B marketing course. Mr Sawhney is a PhD holder in marketing subject from Wharton School of the University of Pennsylvania. Prof. Sawhney has 28+ years of experience at Kellogg School of Management and also is an author, researcher, consultant and speaker on topics including analytics, innovation, and modern marketing.
Key Highlights & USPs
Learn frameworks like '5 Marketing Transformation Lanes' and 'Eliminate, Raise, Reduce, Create' grid or inshort 'ERRC Grid'.


Make your customer journey map and do A/B testing to see what gives you better results.


Take a deeper dive into your B2B customers decision making and see what, where and why they make the purchase.


Learn how to identify  your ideal B2B market audience and segment them using Segmentation Process – Hypothesize, Quantify, Validate/Describe.


Real Life industry examples of companies like AT&T, FedEx, Google + more three brands to learn from.


Gain a course completion certificate from Kellogg Executive Education with lifetime accessibility to the course and its materials.
Who is it for?
The course is for advanced learners or in other words for business managers and leaders who daily deal with B2B marketing decision making. Taking this course will help managers in integrating modern digital practices to attract more B2B customers.
Duration: 2 Months, 4-6 Hours Per Week