Have you heard the popular buzzword – Big Data? Nowadays, it's not difficult to master Big Data and become an expert. In this article, I will discuss the Best Big Data Courses for all types of learners. 
Before you scroll down further, let's learn why Big Data is your career choice. You may not know that even when you are asleep, your smartphones and computers generate data. So, how much data is there in the world? It is estimated that there are around one trillion petabytes, almost unimaginable. 
By utilizing different Big Data techniques and skills, Data Scientists, Architects, and Engineers analyze a lot of data generated daily. Therefore, Big Data professionals are in demand. However, there is a low supply of individuals in this field, which creates excellent job opportunities.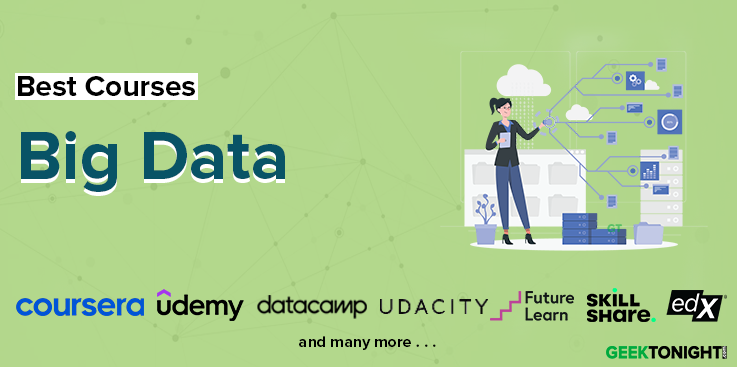 Why is it so essential to learn Big Data?
As real-time data analytics grow, the Big Data as a service market will reach $61.42 billion by 2026. It has increased by 36.9% from 2019 to 2026. Between 2021 and 2031, data scientists are expected to grow by 36 percent, according to the US Bureau of Labor Statistics. Big data engineers earn $109,650 as per Glassdoor. There will be more openings for data professionals in various industries, so it is the right time to become a big data expert and book a seat.  
Whether a beginner or professional, it is easy to learn Big Data by choosing any course from this compiled list of Best Big Data Courses and Certifications. Find the most suitable one based on your preferences and career goals. 
Our product recommendations are unbiased and based on an independent review process. We may receive a commission for links to recommended partners. See our advertiser disclosure for more information.
---
Best Big Data Courses, Certification, Tutorials, Training, Classes Online
Are you curious about how Big Data impacts today's business? This Big Data Certification is for you. Coursera brings you an opportunity to study big data at your home now. You will understand how big data is used to get better insights and present them to data scientists. It will introduce you to big data tools like Hadoop, Mapreduce, Spark, and Hive. This Big Data Coursera Course explains how to ask the right questions about data and explore large complex datasets.
Course Instructor
Data Science Instructors from San Diego University have prepared this Big Data Course for students to unlock value in massive datasets. Learners get to learn the fundamentals of big data in six different courses. By the end, you become capable of applying the skills for the data analysis process.
What You'll Learn
This Coursera Big Data Certificate Program covers all key concepts in 6 courses, namely:
Introduction to Big Data: This course will describe Big Data, its real-world applications, and three key sources. You will learn a 5 step process to structure data analysis using Big Data.


Big Data Modeling and Management Systems: In this course, you will discover different data elements in everyday problems. It is important to understand how to select a data model based on the characteristics of your data.


Integration and Processing: During this course, you will develop knowledge of how to retrieve data and identify when a big data problem needs data integration. By the end, you can execute data integration on Hadoop and Spark platforms.


Machine Learning with Data: This course introduces machine learning techniques for exploring, analyzing, and leveraging data. As part of the course, you will learn how to make machine learning models that learn from data and how to scale those models up to deal with big data.


Graph Analytics for Big Data: In this course, you will gain knowledge about graph analytics and be able to model a problem into a graph database.


Big Data-Capstone Project: You will create an integrated data ecosystem in this capstone project using the tools and techniques from the previous courses in this specialization.
 
Pros & Cons
Pros
Hands-on learning
In-depth and well-structured syllabu
Certificate on Completion
Key Highlights & Learning Objectives
Introduction of Big data and complete knowledge of the core concepts.


Understand how to use big data for collecting, storing, and organizing data.


Learn to execute data integration and data processing on Hadoop and spark platforms.


Understand how machine learning techniques are used to create models and drive data insights for solving problems.


Get an overview of graph analytics to model, store, retrieve, and analyze graph-structured data.


Build a big data ecosystem using tools and methods under the capstone project.
Who is it for?
Take a series of the Best Big Data courses for beginners to learn big data with the help of mentors from top institutions. This Big Data Specialization will equip you with the knowledge necessary to conduct basic investigations of huge, complex datasets and ask the appropriate questions about data.
Rating: 4.5/5
Students Enrolled: 108, 697
Duration: 8 months, 3 hours/week
This edX Big Data Course is a perfect one for beginners. You will learn tools and analytical methods to drive data insights for decision making, gather and organize data at scale. It helps you to develop knowledge of analyzing a massive amount of data. It will teach both the computational and technical skills to upgrade your career. You will develop programming skills for data science, computational thinking, algorithm design, big data fundamentals, and data analysis.
Course Instructor
This Adelaide's Big Data MicroMasters Program was created by instructors from the University of Adelaide. Instructors have years of experience in computer science. This five-course specialization will expose you to more opportunities. Also, it will prepare you for landing an entry-level job.
Pros & Cons
Pros
Build technical and computational skills
Access to Capstone Project
Certificate on Completion
Key Highlights & Learning Objectives
This edX Big Data Online Certificate Program comprises 5 courses to develop technical and computational skills, which are in high demand across industries.


Introduce you to fundamental programming concepts including data abstraction, data storage, and data structures.


How to do computational thinking that includes decomposition, pattern, and recognition.


Know how to extract data-driven information for solving problems and designing algorithms for big data.


How to interpret data and analyze them for gaining data insights to make business decisions.


Understand the Key mathematical concepts which are dimension reduction and Bayesian models.


Develop a firm grasp of analytical tools such as R and Java.
Who is it for?
Unfortunately, this Big Data Course for Beginners is available to everyone from all the countries except Iran, Cube, and Ukraine. There are no prerequisites required to enroll in this course. With successful completion, learners will earn a program certificate to verify that they've excelled in big data and completed the capstone project.
Rating: 4.5/5
Students Enrolled:
Duration: 1 year, 9 hours/week
You can learn about your data network structure and how to spot interacting clusters in a graph that are closely interconnected by taking this big data training course online in graph analytics. In this online Graph Analytics tutorial, you will develop knowledge of how to model, store, retrieve, and analyze graph-structured data. Whatever techniques you've learned, you can apply to analyze datasets for your projects.
Course Instructor
The Graph Analytics for Big Data Online Course is a part of the Big Data Specialization, which is designed by Amarnath Gupta. The instructor, Amarnath, is a director of Advanced Query Processing Lab in San Diego Supercomputer Center(SDC).
What You'll Learn
This Graph Analytics Certification Program consists of 3 modules to help you understand analyzing data using graphs deeply.

Introduction to Graphs: In this module, you will gain an understanding of graphs and how they are used in everyday life for the first time. By the end of the module, you can create a graph by applying the core mathematical properties of graphs.


Graph Analytic Techniques: In this module, you will learn about those characteristics to analyze graphs with Neo4j, a free and capable graph analytics tool.


Computing Platforms for Graph Analytics:  In this module, we'll give an introduction to these models and frameworks. The purpose of this lesson is to show you how to use GraphX and Giraph to implement whatever you learned in the previous lesson.
Pros & Cons
Pros
Engaging content
Certificate on Completion
Financial Aid Available
Cons
Better examples and practical exercises
Key Highlights & Learning Objectives
Introduce you to the objectives of the course 


Create the first graphs and understand the core mathematical properties of graphs.


Build knowledge of how graphical representations enhance the ability to ask the right questions and answer new Big Data Problems. 


Learn how to analyze graphs using a powerful graph analytics tool called Neo4j.


Get an introduction to models and frameworks created specifically for graph analytics. 


Enjoy lifetime access to 40+ videos, 20+ readings, and 7 quizzes to work on what you've learned.
Who is this for?
This Graph Analytics for Big Data Course is designed for those who are curious to know how to perform analytics over the graph. With the completion of this course, you can build a  model of a problem into a graph database and perform analytical operations over the graph in an efficient and scalable manner.
Rating: 4.7/5
Students Enrolled: 228,412
Duration: 12 hours
This Google Cloud Big Data Course will introduce you to Big Data capabilities and features. You will get an overview of Google Cloud and a detailed view of machine learning and data processing. It will help you become more flexible in using big data solutions on Google Cloud. One of the best free Big Data courses for learning Google Cloud Big Data and Machine learning Fundamentals.
Course Instructor
This Google Cloud Training has been helping millions of organizations to empower their employees to serve their customers and build innovative business solutions. It is also a part of multiple Professional Certificate Programs, and you can pursue other programs under the specialization after completing this course.
What You'll Learn
This Google Cloud Big Data And Machine Learning Program is divided into 6 sections to guide you how to perform Big Data. 
Introduction to Topic:This section will introduce you to the Big Data and Machine Learning fundamentals and get an overview of the syllabus.


Big Data and Machine Learning Cloud: You will explore key elements of Google Cloud in this section. Several big data and machine learning technologies and services that assist the data-to-AI lifecycle on Google Cloud are introduced here.


Data Engineering for Streaming Data: This lesson will explain Google Cloud's solution to managing streaming data and how to examine an end-to-end pipeline, including data ingestion, data processing, and data visualization with Looker and Data Studio.


Big Data with BigQuery: In this section, you will learn about BigQuery, Google's fully-managed, serverless data warehouse.


Machine Learning Options on Google Cloud: This chapter will teach four ways to build machine learning models on Google Cloud.


The Machine Learning Workflow with Vertex AI: This lesson will discuss three key phases of the Machine Learning workflow in Vertex AI, including data preparation, model training, and model preparation.

Pros & Cons
Pros
Very engaging and attentive 
Access to hands-on labs and practical exercises
Certificate on Completion
Key Highlights & Learning Objectives
Learn about the basics of how the course is structured.


How to solve the four main big data challenges.


Know how to run recommendation models on Google Cloud with Dataproc and Cloud SQL.


Build your own machine learning model to predict visitor purchases using SQL along with BigQuery ML.


Construct an auto-scaling data pipeline to ingest, process, and visualize the data using interactive dashboards.


Develop skills to drive insights from unstructured data using Machine learning.


Get free and unlimited access to 53 videos, 8 reading materials, and 10 quizzes for enhancing the acquired knowledge.
Who is it for?
The Google Cloud Platform Big Data Course is for those who have a basic knowledge of SQL, Python, and Machine Learning. By completing this Google Certification on Big Data, you can build your own big data and machine learning models with Vertex AI. If you don't have basic knowledge of Python and Machine Learning, check out the Best Python Machine Learning Courses.
Rating: 4.7/5
Students Enrolled: 228,412
Duration: 12 hours
IBM has launched a Professional Data Science Certificate for students. It will introduce you to the fundamentals of data science and machine learning. You will be able to build data science, Python, and SQL Skills. Additionally, you get a chance to create machine learning models and use your knowledge for analyzing & visualizing data. You will learn about the most popular tools such as Jupyter Notebooks, Juyterlab, Rstudio IDE, Git, Github, and Watson Studio.
Course Instructor
IBM instructors and experts from Coursera have prepared this IBM Data Science Course Coursera. Under the proper guidance, you can create a strong portfolio full of data science projects and boost your confidence to land a job. It will provide you with the latest jobs and skills.
What You'll Learn
This IBM Professional Data Science Program is the complete package with 10 Courses that focuses on data science, data analysis, and Machine Learning. 
What is Data Science: This course is all about introduction of data science and its application in various industries. It will describe different paths to start your career in data science.


Tools for Data Science: This course of the specialization will give an overview of the Data Scientist toolkit, which consist of libraries, packages, datasets, big data tools, and machine learning models.


Data Science Methodology: In this class, you will learn the methodology of data science. Next, you will understand how to implement 6 stages in the CRISP-DM methodology.


Python for Data Science, AI, and Development: Start this course by understanding Python basics and how to implement programming logic. You can build proficiency in applying Python libraries. 


Python Project for Data Science: This project allows you to demonstrate your skills in Python and create your own dashboard using libraries such as Pandas, Beautiful Soup, and Plotly. 


Databases and SQL using Python: This Data Science Python Course focuses on analyzing data using SQL and Python. You will create a relational database on Cloud and be able to write SQL statements.

Python for Data Analysis: This course is designed to teach writing Python programs for data analysis. You will develop knowledge about exploratory data analysis using Python libraries.


Data Visualization with Python: Discover ways to implement data visualization techniques and plots with Python libraries. You will determine how to create advanced visualizations such as waffle charts, regression plots, and more. 


Machine Learning with Python: This cover will give an overview of types of machine learning algorithms and how to write Python code for classification techniques.


Applied Data Science Capstone: By completing this project, you can develop proficiency in data science and machine learning. This project requires you to apply data analysis concepts with Python programming skills on real-world data. Also, implement knowledge to evaluate machine learning models for predictive analysis. 
Pros & Cons
Pros
Professional-level training from IBM
Certificate on Completion
Financial Aid Available
Key Highlights & Learning Objectives
Get an overview of what data science is today?


Learn about the data science tools and programming skills for analyzing the data.


Build a solid understanding of data science methodology to tackle real-world problems.


Grasp all the Python basics for Data Science and Artificial Intelligence Development.


Understand how Databases and SQL are used for handling data and work along with Python programming.


Prepare you for data analysis using Python and explore types of data.


Develop hands-on skills using tools, languages, and Python libraries used by Professional data scientists.
Who is it for?
If you are passionate enough, this data science free online course with a certificate is the perfect choice for you. You don't need to have prior knowledge of Computer Science or programming experience. It brings out your potential to have a competitive edge in the job market and get an entry-level position.
Rating: 4.6/5
Students Enrolled: 64,080
Duration: 11 months, 3 hours per week
This Big Data Training Course provides a platform to understand the most popular framework Hadoop for Big Data. You will learn the key aspects of Big Data for managing massive datasets across a cluster using Hadoop Distributed File System and MapReduce. With this Hadoop tutorial, you will be trained enough to write programs to analyze data on Hadoop with Pig and Spark. It is a highly recommended and valuable field to pursue, where you can solve real-world problems using the Hadoop ecosystem.
Course Instructor
Frank Kane, Founder of Sundog Education, has created this Hadoop Certification Program from Udemy to deliver comprehensive hands-on experience using Hadoop. Students become professional data engineers by providing over 25 different technologies in over hours of video lectures.
Pros & Cons
Pros
Great sessions about Hadoop
Real-life examples
Certificate on Completion
Key Highlights & Learning Objectives
This Udemy Hadoop Framework Course includes 12 sections and 105 video lectures to master this cutting-edge technology.


Learn to design distributed systems that manage " big data" using Hadoop and related technologies.


How to use Pig and Spark to create scripts for data processing on a Hadoop cluster in a scalable manner.


Understand how to analyze non-relational data using HBase, Cassandra, and MongoDB and relational data using Hive and MySQL.


Develop knowledge of how clusters are managed by YARN, Tez, Mesos, Zookeeper, Zeppelin, Hue, and Oozie.


Able to Publish data on a Hadoop cluster using Kafka, Sqoop, and Flume.


How to consume streaming data using Spark Streaming, Flink, and storm.


Get access to 14 hours of on-demand video sessions, 7 articles, and 2 downloadable resources.
Who is it for?
Data Engineers, Programmers, Data Analysts, and other professionals are eligible for this Big Data Training. You should have basic programming experience and familiarity with the Linux command line. After completing this Hadoop online tutorial, you will gain marketable skills that help you to get high value jobs in popular companies such as Facebook, Amazon, and more.
Rating: 4.6/5
Students Enrolled: 142,390
Duration: 15 hours
This Big Data Udemy Course offers a must-learn opportunity for learners to dive into the world of hottest technology in Big Data: Apache Spark 2.0. Big companies and organizations like eBay, Amazon, NASA, Yahoo, and JPL use Spark to extract information. You will learn how Spark works best when using the Scala Programming language. It is prepared to help you with mastering the art of transforming data analysis problems as Spark problems.
Course Instructor
Apache Spark with Scala Course was designed with the guidance of Frank Kane, who has experience of 9 years working at Amazon and IMDb. He founded Sundog Education to help students establish a highly scalable career in data science, big data, and machine learning. You will also become knowledgeable of running code for analyzing gigabytes worth of information.
Pros & Cons
Pros
Clear and comprehensive
Well-structured and easy-to-follow curriculum
Enjoy access to course materials
Certificate on Completion
Cons
Need additional Spark streaming examples based on real-world situations
Key Highlights & USPs
Take this Apache Spark Online Training Course on Udemy, which includes 10 sections and offers access to 65+ video lectures.


Learn the art of framing big data analysis problems as Apache Spark scripts.


How to optimize Spark tasks through partitioning, caching, and other Hadoop techniques.


How to traverse and analyze graph structures using Graphx.


Develop distributed code using the Scala Programming language.


Gain knowledge of building, deploying, and running spark scripts on Hadoop clusters.


Determine how structured data can be transformed using SparkSQL, Datasets, and Dataframes.


Provide full lifetime access to 9 hours of on-demand video, 20 hands-on examples, and 3 articles to become a pro.
Who is it for?
This Udemy Big Data Hadoop and Spark is for software engineers interested in expanding their skills to participate in big data processing on Hadoop clusters. Having programming experience would be beneficial. By the end of the course, you'll be able to run code that quickly and efficiently analyzes gigabytes of data in the cloud.
Rating: 4.6/5
Students Enrolled: 76, 097
Duration: 9 hours

Valid till: 30th September
Are you interested in knowing how to tame Big Data using Apache Spark? This Big Data Tutorial Udemy will elaborate and teach how to apply the concepts of Spark and Python programming language. You will develop foundational knowledge on how to scale larger datasets using Amazon's Elastic Mapreduce service. While taming big data, you get to spend most of your time with the instructor in analyzing and running codes. You can do this at your pace and on your schedule.
Course Instructor
Frank Kane and his enterprise, Sundog Education, created this Big Data Online Course with Certification. His vision is to provide students access to pursuing valuable careers. This course aims to offer a platform for students to explore machine learning and data analysis concepts.
Pros & Cons
Pros
Clear explanation of Spark 
Excellent content and process-oriented approach
Certificate on Completion
Cons
Not so in-depth 
Pretty outdated
Key Highlights & Learning Objectives
This Udemy Big Data with Apache Spark Tutorial includes 8 sections to guide how to analyze large datasets on Hadoop with Python.


How to use Spark Dataframes and structured streaming in Spark 3.


Learn to use Amazon's Elastic Mapreduce service to run your code with Hadoop Yarn.


Able to install and run Apache Spark on a cluster.


Determine how Spark's Resilient Distributed Datasets process and analyze large data sets across CPUs.


How to implement iterative algorithms such as breadth-first-search using Spark.


Understand how Spark streaming helps in data processing in real-time.


Get full lifetime access to 7 hours of on-demand video, 3 articles, and 23 downloadable resources.
Who is it for?
Taming Big Data with Apache Spark requires programming skills and experience in software development. If your job involves software development or data processing, this Udemy Big Data Free Course is the right choice for you. If you have never written a single program, I suggest you take the Beginner Python Courses to develop programming knowledge.
Rating: 4.6/5
Students Enrolled: 66,514
Duration: 7 hours
Learn how to use the latest Big Data Technology – Spark along with the object-oriented programming language. Spark increases the ability to process huge data sets and analyze them all together to solve problems for big companies like Google, Facebook, Netflix, Airbnb, NASA, etc. This Big Data with PySpark course will teach how Spark Dataframes are used with the Spark 2.0 syntax. You will also cover topics like Spark SQL, Spark Streaming, and gradient boosted trees.
Course Instructor
Jose Portilla, a professional instructor and trained in Data science, created this Spark for Big Data Course. He also added a crash course for learning basic Python. Having Python knowledge would help you in learning advanced concepts related to machine learning and Spark. You'll get plenty of exercises and mock consulting projects to improve your skills.
Key Highlights & Learning Objectives
This Udemy Spark and Python for Big Data Course includes 18 sections to understand how to use Spark with Python for analyzing data.


Learn to use Spark and Python together to analyze Big Data.


How to classify customer churn with logistic regression and use spark with random forests for classifications.


Create powerful machine learning models using Spark's MLlib library.


Setup Amazon Web Services EC2 for Big Data Analysis.


Build a spam filter using Spark and Natural Language Processing.


Understand how to use Spark Streaming to analyze tweets in Real-Time.


Unlimited access to over 10 hours of video lectures, 4 articles to read, and 4 downloadable resources.
Who is it for?
If you know Python or any other programming language, this Python for Big Data with PySpark Course is suitable for you.  You will acquire foundational knowledge in Spark and PySpark. With completing this Spark in Big Data Analytics Program, you'll feel confident listing Spark and PySpark on your resume and ready to jump into the world of data science. Check out the best Python for Data Analysis Courses to broaden your perspective towards the data science field.
Rating: 4.6/5
Students Enrolled: 86,867
Duration: 11 hours 35 minutes
Become industry-ready with the Best Big Data Courses and Certifications that explain and develop the ability to answer big data questions. It is the best way to improve the performance of your business while making data-driven decisions.
All the courses are mentioned as per their reviews and popularity among students. I hope this article was insightful. You'll get an idea of which course can help to dive into the world of Big Data. You can also write down in the comment section If I missed any course to mention in the list
---
FAQ
Is Big Data easy to learn?
It is easy to learn and code for big data technologies. When you dive deep into Apache projects and other Big Data Software, your practical skill will also improve. However, it is difficult to master big data in a few weeks or months. If you are eager to learn the art of Big Data, it will be possible to achieve mastery of this hottest technology.
What should I study for Big Data?
You need to study programming languages including Java, Python, and C ++. To master Big Data, You should learn Apache Hadoop, Apache Spark, Hive, Machine Learning, Data Mining, Data Visualization, SQL, and Data Structures & Algorithms.
Is Big Data a good career?
Yes, Big Data is a good career with plenty of options in diverse industries like IT, finance, government, manufacturing, and more. This cutting-edge technology will explode even more in the next five years.
It is a rewarding career to pursue that can expose you to the multi-billion dollar industry. You can get lucrative jobs and high-paying positions as an engineer or analyst.
Does Big Data need programming?
Knowing how to code is an essential skill in Big Data. A Data scientist or analyst has to handle and manage hundreds of trillion amounts of data every day.
Without learning any programming knowledge, you will not be able to conduct numerical and statistical analysis on massive datasets. I suggest you pick a language and invest your time learning one of the popular languages like Python, Java, R, and C ++.
What jobs use Big Data?
If you train yourself in Big Data, You will be the most knowledgeable person in the job market. Big Data Jobs are wide open in diverse fields. The majority of these positions require professionals with the right expertise.
Here are 10 Big Data Careers: Big Data Engineer, Data Architect, Data Warehouse Manager, Database Manager, Business Intelligence Analyst, Data Scientist, Data Analyst, Database Administrator, Data Modeler, and Database Developer
Is Big Data the future?
Big Data is an exponentially growing field with tons of exciting opportunities for fresh minds. It has already become important for organizations to tackle continuously growing datasets and use that stored data for extracting valuable information.
Businesses are spending millions of dollars just on cloud clusters to collect, manage, and analyze their big data.