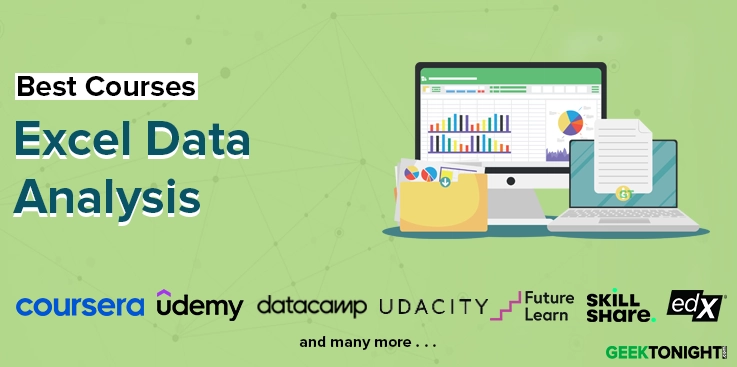 It would be an understatement to say that most big and small businesses, corporations, and enterprises rely on Excel for their daily operations. Excel is a powerful analytics tool for organizing raw data into an understandable format.
It goes without saying that mastering an 'excel data analysis' program is a valuable skill that gives an individual the edge to score over others. So, if you are stuck in your professional career, trying to upskill for your current position, or even starting your venture, then this list is for you.
We present you with a comprehensive list of online courses and certifications available in Excel Data Analysis. We believe in the philosophy of 'one size does not fit all;' therefore, the following list is structured to cover an array of such courses. So, pick the one for you and 'Excel!'
Our product recommendations are unbiased and based on an independent review process. We may receive a commission for links to recommended partners. See our advertiser disclosure for more information.
---
Top 9 Excel Data Analysis Courses, Certification, Tutorials, Training, Classes Online
These are our picks for the best excel data analysis courses and classes:
This Microsoft Excel Course from Udemy is a complete package from the beginners to the advanced level. The course includes 4 different sections (introduction, intermediate, advanced, excel macros, and VBA), each addressing a particular level. This Data Analytics Course will effectively lead to your transition from a beginner to an advanced excel master.
The powerful Analytics course is crafted by Kyle Pew, a Microsoft Certified Trainer (MCT) and a certified Master Instructor, active in the consulting industry for more than 10 years and teaching on various computer applications such as – the Office Suite, PowerPoint, Outlook, and many more.
Key Highlights & USPs
The course will take you from A to Z of Excel, beginning with the basics for a solid foundation and gradually progressing on to intermediate and advanced levels.


Build your skills to create and audit Excel spreadsheets with bulk data sets, automate your tasks, and create dynamic reports with clean formulas.


Master the most essential and sought-after Excel functions such as SUM, AVERAGE, INDEX, IF, VLOOKUP, and a lot more.


The course extensively covers Excel PivotTables, ADD-IN, POWER PIVOT, MACROS, and VBA.


More than 15 hours of on-demand video, lifetime access to 37 downloadable resources, and a certificate of completion are the key features of the course
Who is it for?
This Excel Analytics program is designed for everyone, from beginners to advanced users. The course will take you through 4 different levels (beginner, intermediate, advanced, macros, and VBA) and gradually build your skillset based on your level of proficiency. Even if you do not have any prior knowledge of working with the Excel Analytics tool, you can still enroll in the course and kick start your journey.
Rating: 4.6/5
Students Enrolled: 794,269
Duration: 19 Hours
You can Sign up Here

Valid till: 30th September
The 'Excel Skills for Business' is a specialization program offered by Macquarie University through the Coursera platform that integrates four courses. The program includes Essentials, Intermediate I, Intermediate II, and Advanced course. The Spreadsheet course gives you the flexibility to learn at your own pace. Additionally, Macquarie also offers financial aid and a free option if you do not want certification.
Instructors like Nicky Bull, Yvonne Breyer, and Dr. Prashan S.M. will take you through to the specialization program with their years of learning expertise. Senior lecturers, teaching heads, and directors at the renowned Macquarie Business School, these instructors have all the experience that you would seek to pursue an advanced Data Analytics course.
Key Highlights & USPs
Upon completion, you will be able to design sophisticated spreadsheets, create professional dashboards and perform complex calculations.


Key skills you will learn – Microsoft Excel macro, PivotTables, pivot charts, graphs, lookup table, data validation, etc.


Crafted by experienced professionals, this specialization course is designed to develop advanced Excel skills for business.


35% started a new career after completing this program, and 31% got a promotion.


The specialization also offers a seven-day free trial. You can cancel the subscription within this period without a penalty.


Hands-on projects at the end of every course, shareable certificate, flexible schedule, practice quizzes, assignments with peer feedback are some of the additional benefits offered by the program.
Who is it for?
This is a specialization program to develop advanced Excel skills for business. Designed with a self-paced learning module, it suits working professionals and people wanting to excel in businesses or specific industries. Even if you have basic knowledge of the Excel platform and intend to develop it into a more consolidated skill to position your way ahead of the others, then this Spreadsheet software program is for you.
Rating: 4.9/5
Students Enrolled: 337,423
Duration: 6 Months, suggested pace – 5 hours/week
You can Sign up Here
It is the best budget-friendly Excel course out there, offering just about anything that you can ask for without a dent in your pocket. The Microsoft Excel Course takes you from beginner to expert level in a time-efficient manner. Without a shred of doubt, the range and the versatility of the courses offered by Udemy are unmatched.
With more than 20 years of experience, Todd Mcleod has designed the Excel data analytics course to be tailored precisely to every individual. He is a tenured professor in California and was one of the pioneers in online education back in the '90s. Todd Mcleod has vast experience in multiple disciplines including, information systems, computer science, and online coaching.
Key Highlights & USPs
You will learn Microsoft Excel right from the fundamentals to its most advanced features easily and quickly.


After completion, you will be well equipped with Excel navigation, formulas, functions, charts & graphs, pivots, shortcuts, data tools, and many more functionalities.


As a bonus, the course has a quiz after every video, which is great for self-evaluation.


Affordable cost, great features, and quick learning make this program the most sought-after of all the courses available.


Lifetime access to training through 6.5 hours of on-demand video, 63 downloadable resources, and a certificate of completion.
Who is it for?
This Excel Analytics Program for beginners is for anyone looking to save time and money while trying to learn Microsoft Excel. Beginners will benefit the most from this Data Analytics course and pave their way to the advanced level in no time, that too at a very pocket-friendly price. So, if you are one of those who are just getting started and are a bit anxious about which online Analytics program to choose, trust our words and have a try.
Rating: 4.5/5
Students Enrolled: 109,528
Duration: 6 Hours
The Excel Essential Training Program is one of the best-selling courses on LinkedIn Learning. Right from the basics of organizing simple data sets to performing calculations and formatting techniques, here is everything that you need to get started. This Excel Essential course leaves no stone unturned when it comes to providing in-depth knowledge of the Data Analytics tool.
Dennis Taylor, the instructor of the Excel Essential Training program, has more than 25 years of experience. He is a leading Excel trainer with more than 60+ Excel courses to his name available on the LinkedIn Learning platform. He has authored several spreadsheet training modules and courses.
Key Highlights & USPs
Learn how to effectively manage and organize data, perform calculations with simple functions, formatting techniques for rows, columns, and cells.


On completion, you will be well equipped with building charts and PivotTables, sort and filter data, and working with multiple worksheets.


Learn how to adjust worksheet views, data management features, and printing capabilities of Excel.


Lifetime access to exercise files provides the ease to follow along as and when you need.


Earn a certificate on completion of the course. The course also comes with a one-month free trial feature; within this time, you can cancel the subscription without a penalty.
Who is it for?
The Data Analysis course is an excellent choice for both the beginners and the ones at the intermediate level. It starts with the basics of getting started with Excel and then gradually moves on to formatting, formulas, functions, and many more aspects of the spreadsheet tool. If you are already on the professional social media platform 'LinkedIn,' enrolling in their learning program will benefit you greatly.
Rating: 4.5/5
Students Enrolled: 336,782
Duration: 2 Hours 10 Minutes
Excel VBA data analytics course is one of the best advanced Excel learning courses available on the learning platform of LinkedIn. If you are a higher management employee and further want to scale up your skill to handle complex data sets, then this course has a lot of meaningful insight. The Data Analytics course takes you through a very descriptive journey on the advanced functionalities of Excel.
The Excel VBA course is demonstrated by the experienced developer Curt Frye who is an online course developer, freelance writer, and speaker. Not just Data Analytics modules, the expertise of Curt Frye extends to effective teamwork, personal development, and business storytelling.
Key Highlights & USPs
Master the skills you need to use Excel VBA, which is a very powerful tool for managing files and data.


Learn how to import data with filters, manage workbooks, access built-in functions, and manage repetitive tasks.


Upon course completion, you will be able to create charts, build UserForm interfaces, and manage PivotTables using VBA.


This course is cost-effective and comes at a pocket-friendly price as compared to other advanced online courses.


Earn a certificate on completion of the course. The course also comes with a one-month free trial feature; within this time, you can cancel the subscription without a penalty.
Who is it for?
This is an Excel spreadsheet program that is a perfect pick for advanced learners and corporate professionals looking to automate complex tasks. The program will let you unlock the power and flexibility that Excel offers using Visual Basic for Applications (VBA) code. Individuals exploring greater insights into focused data analysis should opt for this course.
Rating: 4.6/5
Students Enrolled: 11,898
Duration: 3 Hours 41 Minutes
Microsoft Excel Basic & Advanced

[GoSkills]
'Go skills' is well known for its fast-paced online learning programs in every domain, and Excel Data Analytics is no exception to this. 'MS Excel – Basic & Advanced' is their top-rated course. The course is ideally suited for beginners but also includes advanced functionalities such as PivotTables and VLOOKUP. Learn all the basics on your phone as and when you want; there is no need to adhere to a set schedule. Availability on both IOS and Android devices makes this course a perfect on-the-go learning journey for time watchers.
The instructor of the course is Ken Puls, who is a Certified Management Accountant (CMA) and has 13 Microsoft MVP (Excel) Awards to his name. He possesses years of experience in teaching MS office and improving Business Intelligence systems. He is considered an expert in Excel Analytics and Power BI suite
Key Highlights & USPs
Learn right from the basics of Excel navigation to advanced level PivotTables, VLOOKUP, HLOOKUP, indexing, and macros.


Short and crisp bite-sized video tutorials, available on your phone.


Learn with Ken Puls who is a Certified Management Accountant and possesses more than 20 years of experience.


Test yourself along the way with unlimited tests, quizzes, and also get the latest content updates.


Learn on the go and have complete freedom to decide your flexibility.


Earn a certificate on completion of the course.


This program comes with a seven-day free trial after which you can choose from the two available subscription plans.
Who is it for?
This Excel Data Analysis course is an ideal choice for people who want to learn Excel Data Analysis on the go, without restricting to a set schedule. The entire course is split into small and informative videos of not more than 7 minutes each. You do not need any prior knowledge of the Excel spreadsheet tool to enroll in this course. Whether you are a professional, student, freelancer, or just a beginner, you will surely reap the benefits of the Microsoft Excel course.
Rating: 4.7/5
Students Enrolled: More than 51,000
Duration: 5 Hours 21 Minutes (divided into 57 lessons)
Excel Exposure Lesson Guide

[Excel Exposure]
This is a comprehensive program available for free on the Excel Exposure platform. The Excel Data Analytics course of 40 lessons is divided into three sections – 'Beginner,' 'intermediate,' and 'advanced.' This Data Analytics Program caters to the needs of all skill levels. This program is a series of written and video-based tutorials.
The Excel Exposure course is presented online by Ben Currier; with vast experience spanning more than 12 years across different industries, Ben Currier is a true Excel guru. He has specially designed the Excel Exposure program to fit individuals of all skill levels.
Key Highlights & USPs
Learn all the basics and advanced functions of Excel on a video-based tutorial without spending a penny.


You will learn data and time functions, grouping rows and columns, conditional formatting, PivotTables, chart design, and much more.


Videos are categorized and listed as per the skill level for a smooth and efficient learning experience.


Master Workbook is the greatest feature of this program. It gives you practice examples and tons of resources to follow.


It is a self-paced course that suits the schedule and commitments of every individual.
Who is it for?
It is a free Excel online course that is thoroughly designed and is a great choice for anyone wanting to test the waters. The Data analysis course comes with a detailed guide and lesson-wise instructions. On a skill basis, anybody can take this up and have an amazing learning experience. Beginners, intermediates, and advanced learners all can benefit equally, that too without a penny being spent.
Rating: 4.7/5
Students Enrolled: 24,682
Duration: Self-paced
Level: Beginner to Advanced
Another very well-crafted course available for free is LinkedIn learning's 'Data Analytics' program. This course was made available for free by Microsoft in June 2020 on the LinkedIn platform. The course is designed perfectly for the basics of Data Analysis and has been regularly upgraded. Plus, learn productivity-enhancing skills along with troubleshooting tips for the most sought-after Data Analytics program, Microsoft Excel.
Robin Hunts is the instructor of the course and has more than 20 years of experience under her belt. She has focused her entrepreneurial spirit and out-of-the-box thinking on workflows and data management for better decision-making and technical skill development. She begins by defining 'data analytics' and then gradually progresses to show how to perform specialized tasks.
Key Highlights & USPs
The course is ideal for beginners trying to start with the basics of Excel and gradually progressing to more specialized tasks.


The instructor shows how to create workflow diagrams, cleaning data, and joining data sets for reporting.


The course also covers the best practices for data analytics projects, conducting effective meetings, and common mistakes to avoid.


Systematically designed sections, starting with the introduction to the conclusion.


No Video-tutorial is more than 10 minutes long, so it provides greater flexibility and ease of learning.


The course can be downloaded on a mobile device and can be watched without an internet connection on the go.


Earn a certificate of completion upon taking self-assessment tests.
Who is it for?
The Data Analytics program is designed to keep beginners in mind. However, you learn a lot more than just the basics of Excel, like – charts, pivot data, repurposing data, and Excel tips and tricks. If you are an analyst and want to improve your data handling skills or join data and build complex reports, then this is the best Data Analyst learning program for you.
Rating: 4.7/5
Students Enrolled: 566,065
Duration: Self-paced
Level: Beginner
Excel Foundations

[eLearn Excel]
There are a lot of beginner Excel courses available online, however, the 'Excel Foundation' program by eLearn Excel makes the cut because of the way it is designed. Trusted by Microsoft itself, this program breaks down Excel concepts into systematic and easily understandable video modules. It takes a step-by-step approach to learn Excel and provides you with ample time and practice to master the skills.
'eLearn Excel' platform is accredited by the International Academy of Computer Training (IACT). They have an expert panel of online trainers specializing in Excel Data Analysis courses. Their courses are approved and used by Microsoft. The various Analytics programs available on the eLearn platform are written and implemented by expert instructors.
Key Highlights & USPs
The course starts with the very basics of opening and understanding the interface of Excel workbooks, quick access bar, and formula bar.


You will also equip yourself with the concepts of formatting, editing the cells, working with worksheets, and print-to-scale functions.


The course includes 42 lessons with 4.5 hours of on-demand video tutorials.


Downloadable practice files and four online quizzes make the course an ideal choice for self-assessment.


Earn an Excel Apprentice Certificate on the successful completion of the course.


The course comes with a 14-day free trial membership. You can choose the best subscription plan out of the four available.


Surprisingly, the course also claims a 30-day money-back guarantee if the product fails to meet your expectations.
Who is it for?
This online spreadsheet course is very detailed and beneficial for beginners trying to get hands-on experience with the powerful data analytics tool Excel. You do not need any prior knowledge or a specific skill set to start with the course. With a 14-day free trial and 30-day money-back guarantee, you are always in a win-win situation with this course.
Rating: 4.6/5
Students Enrolled: 24,682
Duration: 4 Hours 30 Minutes
---
FAQ
How Do I learn Excel for data analysis?
Excel Data Analysis is a powerful digital skill that has significantly increased in demand in recent years. You can easily learn Excel for data analysis by opting for any of the online courses listed above based on your level of proficiency, commitments, and work schedule. Online learning options work the best if you are a self-motivator and want to set your own goals and objectives.
The above-mentioned list is prepared to keep different criteria in mind in order to meet the needs of all individuals who are interested in learning Excel Analytics online
Is a Data Analytics Certificate worth it?
Yes, a Data Analytics Certificate is absolutely worth the time you invest in a particular course. You can indeed take up any Analytics course just for the purpose of learning a few techniques, however, there is a big difference between performing a simple analysis and calling yourself a qualified Data Analyst.
A Data Analytics Certification will provide you with some of the most in-demand skills in today's business world and make your credentials instantly recognizable. It's important to do your research before investing in a course and find one that corresponds with your budget, availability, skills, and aspirations
What are Excel Data Analyst skills?
Excel Data Analysts have been named one of the most sought-after professionals in the corporate world as well as in the business sector. The key skills that are of utmost importance for any Excel Data Analyst are – Sorting, Filtering, SUMIF functions, PivotTables, Text formulas, IF formulas, Conditional formatting, Charts, Macros, and using VBA lookups.
Excel is not merely a spreadsheet tool, but there are a lot more Analytics functionalities hidden in this powerful tool. Learning a statistical Programming Language along with Excel analysis is often considered a plus point as you move up in your career as an Analyst.
How long does it take to complete an Online Excel Analytics Course?
Be prepared to devote somewhere between one to three months to the course that you choose. Some courses listed above are designed with a gradual pace dedicating a certain number of hours per day, whereas some are designed for a quick span of a few hours, while others are designed to be self-paced programs to fit your schedule and availability.
It all depends upon your work commitments and the skill level you are aiming for. The above list of assorted Data Analytics Courses gives you a lot of options to choose from.