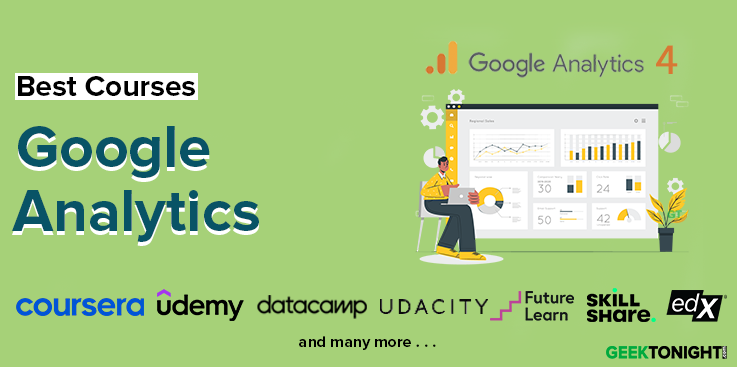 Google Analytics is a great tool that may assist you in better understanding your website traffic and marketing activities. However, learning it might be difficult, especially if you're not a web analyst or a data nerd.
There are a number of excellent online courses available to teach you Google Analytics. We'll present the best Google Analytics courses in this blog article, so you can start tracking website visitors and boosting your marketing strategies right away.
Our product recommendations are unbiased and based on an independent review process. We may receive a commission for links to recommended partners. See our advertiser disclosure for more information.
---
Best Google Analytics Courses, Certification, Tutorials, Training, Classes Online
Analytics simply is very important for digital business or advertising, and even hiring a person for analytics can cost a good fortune so why not equip yourself with this digital marketing skill. This online google analytics course aims at providing good logical analytics content to build you up from ground zero.
The instructor of the course is one of the best sellers on the platform, Mr Daragh Walsh. The instructor has 1,215,457 students from only 16 courses on the platform! Reviews of 219,404 students earned him a 4.5 Instructor rating.
Key Highlights & USPs
Learn the very fundamentals of Google Analytics i.e. How to set it up on websites, advance tips etc.


Get sample exam questions to prepare you for the final official Google Analytics Certification exam.


Certain instructor tips to pass the exam on the first try with flying colours.


After passing the exam learn to attach your Certificate to your LinkedIn, CV.


This course comes with a 30-day Money-back Guarantee, Get full lifetime access & certificate at the completion of this course along with 3 downloadable resources and 14 articles.
Who is it for?
This is a google analytics course for beginners offering busy people, and website owners a chance at learning this short course on how to clear Google Analytics Exam in one go.
Rating: 4.5/5
Students Enrolled: 102,000
Duration: 2.5 Total Hours

Valid till: 30th September
The course has 31 lectures divided into 5 sections and with the help of this Google Analytics Udemy practical, scenario-based training, you can learn Google Analytics quickly and start enhancing the functionality of your websites right now.
This course is also brought by Daragh Walsh, who has helped numerous students in starting their own businesses and careers. The instructor has also offered a 30-day money-back guarantee helping you to try on this course completely risk-free.
Key Highlights & USPs
Learn to install tracking code, filters, and set up Google Analytics accounts and measure your website.


Understand specific tracking of websites to find out what brings more visitors or conversion.


Learn about the demographics of your users to effectively target potential users for your offering.


Learn at your own pace and get a completion certificate, 2 downloadable resources, and 5 articles that you can go back to when you're stuck at any point.
Who is it for?
You will be able to use Google analytics as a potent tool to track the health of your company and spot growth prospects. This Google analytics certification course primarily helps individuals to master the analytical skills that are required to run an online business.
Rating: 4.5/5
Students Enrolled: 39,691
Duration: 2.5 Total Hours
The goal of this course is to introduce you to the Google Analytics tool, and this course will show you how to use the data to advance your company. We'll start with fundamental concepts like how measurements work, a definition of a basic metric, applying sociodemographic information to the analysis of website traffic, UTM parameters, internal site search, and segmenting or optimizing websites for speed.
Pavel Brecik, a Product & UX Director at MallGroup, Web Analyst and Data Evangelist with experience in Web Analytics roles at AVG Technologies. The instructor has an instructor rating of 4.5 from 3 of his courses on the platform.
Key Highlights & USPs
Focus on the uniqueness, bounce rate and time of the website and how to make major changes in each of the sections.


Recognize the most crucial Google Analytics reports and the capacity to make sound data decisions.


Learn what to remember when you are engaged in using Google Analytics.


In the end, get a completion certificate along with 23+ lectures, and 3 downloadable resources for lifetime access.
Who is it for?
The course plays an important part in skill development that will help individuals to provide value to their clients. The course is certainly not like other courses which brush upon the existing knowledge of Google Analytics, this course goes way beyond what is already there on the net and gives extra to the course takers.
Rating: 4.5/5
Students Enrolled: 23,561
Duration: 4.5 Total Hours
From fundamental to sophisticated online analysis concerning site traffic and user behaviour, these courses guide you through SEO and Google Analytics. To attract the correct kind of traffic to your website, the google analytics tutorial courses also feature advice on website marketing and search engine optimization.
The website has 10+ Google Analytics courses and some of the instructors' names include Corey Koberg, Madecraft, Brad Batesole, Dana DiTomaso, Samantha Barnes, Michael Taylor and Amy Bishop.
Key Highlights & USPs
Learn how to debug your analytics setup, build custom computed metrics, and more.


How to draw insights from a large amount of data that is available, including averages, segments, trends, and context.


Identify to construct unique channel groupings, control filters, and interact with segments.


Learn to utilize Google Analytics to create audiences, funnels, user routes, segmentation, and data integrations.


The courses offer a LinkedIn Learning official certificate upon completion that learners can use in their LinkedIn profiles and in their CVs.
Who is it for?
From this platform, learners will get courses of various difficulty levels having a single aim of improving a learner's knowledge of how to construct unique channel groupings, control filters, and interact with segments,
Duration: At your own pace
The use of analytics is sorely underutilized by marketers. They don't know how to improve sales or cut costs. They are unsure of the metrics to focus on and why. That is why this google analytics training course focuses on enhancing your marketing strategy and helping you to be proficient in Google Analytics.
The course is taught by Joe Parys and Nikolai Warner. Joe Parys is a well-known online instructor whose eLearning courses have been highlighted on Udemy, Buzzfeed, CBS News, and numerous other expert platforms. Nikolai Warner – Chief Marketer at Brainiac, he has knowledge of fundamental web development, landing page optimization, and conversion rate optimization.
Key Highlights & USPs
Learn how to increase sales with Google Analytics and how to maintain an efficient advertisement budget using Google Analytics.


Also get to know advanced analytics, a few of the common mistakes made in Google Analytics and how to avoid or correct them.


Gain some practical understanding of real-life Google ANalytics situations and problems through case studies


Get to learn this course with 26+ lectures divided into 7 sections and get a completion certificate along with 3 articles.
Who is it for?
Udemy Google Analytics certification is for those individuals who are looking to implement changes in their marketing efforts to increase their company's performance.
Rating: 4.2/5
Students Enrolled: 20,656
Duration: 2.5 Total Hours
Analytics Academy Courses

[Google Analytics Academy]
Ain't no better way to learn a Google Analytics course than from Google itself! Here on Google's own platform, you will get 6 courses: those are Google 'Analytics for Beginners', 'Advanced Google Analytics', 'Google Analytics for Power Users', 'Getting Started With Google Analytics 360', 'Introduction to Data Studio' and Google Tag Manager Fundamentals. If you like this course then also check out our list of top courses for Google Tag Manager.
The courses on this platform are offered by Google Analytics Academy and provide content that is purely developed by Google to help individuals learn Analytics to the fullest. The names of the instructors are Justin Cutroni, Krista Seiden, and Ashish VIJ.
Key Highlights & USPs
Learn to create measurement plans, storing of data, understand data for insights and generate reports.


Get to know how to personalize channels for greater actionability, discover top-performing website content, and enhance e-commerce performance.


Analyze the data collected through analytics for their audience groups, and channels and draw out meaningful conclusions.


You only become eligible for a certificate after successfully passing each assessment with a score of more than 80%.
Who is it for?
The courses on this platform are incomparable to any other because of the fact that these courses provide Google-certified certificates. The courses on this platform are basically meant for beginners helping them to get an entry-level knowledge for handling analytics of websites.
Duration: At your own pace.
This digital marketing analytics course is different from most the courses as this course also teaches extra things which are very essential for a Digital Marketer. Discover step-by-step how to promote a business online using all the main marketing channels. The course is 12 in 1 meaning it offers 12 topics for learners to test their skills on. A total of 246 detailed lectures are presented in the course divided into 19 sections.
The course is provided by two instructors Rob Percival, and Daragh Walsh. This course marks Daragh Walsh's third entry on this list, so by now, there should be no doubt about taking a course taught by him. On the other hand, Rob Percival is a Web Developer and Teacher, and he has infused two of his professions of web development and teaching together to become a helpful teacher in the web development area.
Key Highlights & USPs
Learn how to conduct market research contributing to checking the validity of your business plan.


Build your own WordPress website within 1 hour and that too without any prior experience in website development.


Learn  A to Z of Digital Marketing including Search Engine Optimization for getting quality traffic, Copywriting for writing copies that sell, Youtube Marketing, LinkedIn Marketing etc.


Go through 'Google Ads' – set up your own account and learn to build profitable ad campaigns.


Also, learn 40+ promotions tactics that help you to increase brand awareness of your App.


This course also includes a certificate as proof of completion and four downloadable resources, and the whole course itself is accessible for lifetime usage.
Who is it for?
The course is listed as an 'All Level' which means that the content is suitable for all learners despite where they stand in their understanding of the topic of Digital Marketing. Once finishing this course the individuals will be in a position to frame and implement marketing strategies while also implementing advanced analytics strategies learnt from this course.
Rating: 4.5/5
Students Enrolled: 687,257
Duration: 22.5 Total Hours
FAQ
What is the use of Google Analytics?
Using Google Analytics, a web analytics service website owners can better understand how their sites are being utilized. It gives you useful information about your site's traffic, like what kind of traffic it is, where it is coming from, and which pages are being visited most frequently. This information can be used to improve your website and make it more user-friendly.
What Google Analytics can track?
Google Analytics can track a lot of things such as:
1. The number of people who visit your website
2. The number of page views 
3. The average time spent on your website 
4. The bounce rate 
5. The number of new and recurring visitors and
6. The sources of your traffic (e.g., organic search, direct traffic, referrals, etc.)
This is merely a brief summary of some of the tracking capabilities of Google Analytics.
What is Google Analytics best used for?
Google Analytics can be used in a wide variety of ways. You can use it to monitor the traffic to your website and observe how visitors use it. Additionally, you can use it to monitor your marketing initiatives and determine which ones are doing the best. You may also use it to monitor your sales and conversions. In the end, Google Analytics may assist you in enhancing both your website and your company.