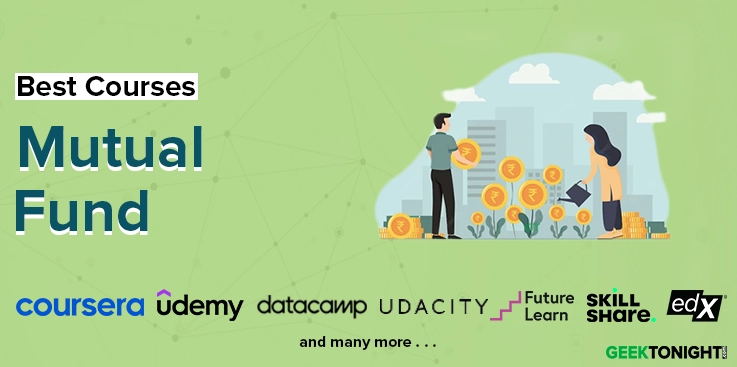 The term 'Mutual Funds' is spreading like wildfire! Individuals and even kids these days are securing their pocket money and investing from a very tender age, and this is a good habit indeed! I mean who doesn't want good money in the future?
But the main concerning thing here is there are many times when people make investments regardless of studying the market and that leads to them losing money where they would have gained a lot. Investing in mutual funds can be a great way to grow your money.
Yet, with so many various courses accessible, it may very well be difficult to tell which one is ideal for you. In this blog post, we have reviewed best mutual fund courses thus assisting you in starting your investment expedition.
---
Best Mutual Fund Courses, Certification, Tutorials, Training, Classes Online
Udemy's mutual fund courses are a thing of beauty with a wide range of options to choose from. The platform easily becomes the go-to place for learning mutual fund investment. Some of the courses offered on this platform includes 'Index Mutual Funds: Lower Cost-Risk & High Return Investing', 'Invest in Stocks Like a Pro Investor by a Pro Investor', 'Basics of investing in Mutual Funds', Mutual Fund from Scratch for Complete Beginners' and Mutual Fund: A Better Way of Investment.
The instructors for these mutual fund courses online are experts at their craft and individuals who have years of trading experience in the stock market some of the names include Steve Ballinger, Chris Haroun, Ram Mohan, Rashmi Musale, Rohit Musale, Rajan Taneja, Jatin Taneja and Amandeep Singh.
Key Highlights & USPs
Learn about various mutual fund comparison tools, research tools and evaluation tools.


Also go through the theory of mutual funds i.e. types of mutual funds and types of markets.


Understand and choose the right Exchange Traded Funds and Index Mutual Funds that are right for you.


Identify how professional investors invest and pick their stocks, what methodologies they follow and their pattern of investments.


Learn Cash Flow and Income statements to get insights before investing.


The courses come with a 30-Days Money-back Guarantee in case you change your mind, lifetime access to the course and a certificate at completion.
Who is it for?
The platform contains courses of 'All Levels' from beginner friendly to Expert but most of the courses on this platform act as mutual funds beginners guide for new learners. Individuals taking up courses from this platform can solve their problem of not having enough knowledge of 'what and how's' of Mutual Funds.
Rating: 4.7/5
Duration: Self-paced

Valid till: 30th September
This mutual funds course is one of the best courses on mutual funds on Udemy. The course helps to get you specialized in picking out the best available mutual funds and hedge funds like professionals investors and portfolio managers. This is a good course involving content that helps you get a generalized idea of what mutual funds and hedge funds are and how you can deal with them like a pro.
The instructor of this course is Prof. Chris Haroun – The Founder and CEO of the Haroun MBA Degree Program. Pro. Haroun is also an author having written '101 Crucial Lessons They Don't Teach You in Business School' which was dubbed as 'the most popular book of 2016' by Business Insider. On Udemy he has 1,224,852 students from 70 courses giving him an instructor rating of 4.6/5.
Key Highlights & USPs
Learn how to determine the ideal time of investing into a stock, the trends that lead to increase in performance of stock.


Use Instructor's created templates and methods that will help you in getting a job in the Hedge Fund Industry.


Learn instructors 8 step investment framework process, mutual fund investment ideas, and learn to read a balance sheet.


Other valuation approaches, including EV/Sales, EV/EBITDA, P/B, EV/FCF, and so forth.


Few tips from the professor on how to nail the Mutual fund and hedge fund related job interviews


In the end, you will get two articles, one downloadable resource, a completion certificate and the course will be accessible to you for a lifetime from your phone or tv.
Who is it for?
This mutual funds certificate course is made for everyone with the aim to help learners in the area of Mutual Funds and Hedge Funds i.e. not just in investment area but also in how to get a job in these fun related sectors.
Rating: 4.6/5
Students Enrolled: 22,504
Duration: 8.5 hours
Coursera Mutual Funds is a program made for individuals going through a curated content that helps in ideal planning of finances for Personal and Family investment. The course has 9 modules all going through the concepts of how to manage your finances to help you meet your future needs.
The course is taught by Michael S. Gutter, a professor at University of Florida. Professor holds a Ph.D. in Family Resource Management with specialization in Finance. Prof. Gutter has a 4.68/5 instructor rating with 1,48,756 students from only one course on the platform.
Key Highlights & USPs
Learn about personal finance, insurance, savings, investment topics and how to do financial record keeping.


The course teaches you to read various financial statements that help you in making your investment decision.


Learn Risk Management helping in fixing deviations or preventing future financial uncertainties.


Go through fundamentals of investments, Mutual fund investing and creating a Personal Plan of Action.


Self-paced course with many practice quizzes, Video lectures and reading material, and earn a shareable certificate once completed.
Who is it for?
This mutual funds certification is for beginners i.e. students, new employees or anyone who doesn't know anything about financial management but wants to start investing in funds. The course can be a good advantage for people in helping them to start their family financial planning.
Rating: 4.6/5
Students Enrolled: 148,756
Duration: 15 hours
FAQ
What is mutual funds in simple words?
This mutual funds certification is for beginnerMutual funds are a type of investment in which companies gather money from many individuals or investors and invest the same pool of money in to buy stocks, assets or bonds. Mutual funds are a great way to invest but it's advisable to understand the basics of how mutual funds work before investing.