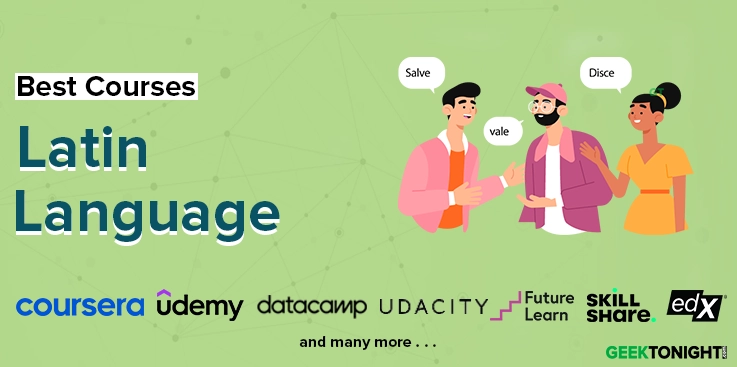 The most obvious reason to learn a new language is for professional and personal reasons. You might want to learn Spanish, for instance, to talk with your local people or friends. But languages such as Latin have no speakers who speak and write this currently. So, why should you learn it?
Latin is an excellent way to learn multiple languages. Polyglots – multilingual people – take Latin to learn any other languages quickly. Also, Latin is the best way to build your strong knowledge of vocabulary. Here you will find a list of the Best Latin Courses and Certifications.
Our product recommendations are unbiased and based on an independent review process. We may receive a commission for links to recommended partners. See our advertiser disclosure for more information.
---
Best Latin Language Courses, Certification, Tutorials, Training, Classes Online
Are you searching for a suitable course to learn the Latin language? So, you have come to the right place. Udemy brings a list of the best Latin certification courses, where you can choose any Latin training course per your goals. Each class will teach language skills, such as reading and writing. A few Latin certificate courses are available to learn the classic text and a long Latin history. Udemy offers more than 30 online Latin courses to help you improve your reading and writing skills.
Udemy has created all the top Latin language courses with the help of language experts. The Latin courses will guide and focus on making students proficient in this language. Also, the instructors have vast experience in teaching students from different countries.
Key Highlights & USPs
Learn reading and writing in Latin.


Memorize a large vocabulary of Latin words.


Master the grammar rules, including noun declensions, adjectives, and verb conjunctions.


Learn classical Latin and study stories from old authors. 


Get access to audio files, downloadable materials, readings, and hours of video lectures to practice.
Who is it for?
Some Latin courses are available to help beginners with the basics of the Latin language. An intermediate learner can choose Udemy language courses according to their knowledge. It is also possible to master the Latin language quickly. You will receive a certificate after completing all lessons in any Udemy Latin course.
Rating: 4.8/5
Duration: Self-paced

Valid till: 30th September
This Latin Online Course from Udemy is packed with a series of lectures for students. You can learn more perplexing concepts of Latin grammar in English. Also, it will help you build an understanding and ability to use Latin grammar. A renowned textbook – Wheellock Latin – was used for creating this Latin Course Online. It will provide a complete description of how to use the sound of classical and silver-age Latin by modern academia. It also includes two classes on the texts used by the American AP Latin exams.
Dr. Lugosch is the instructor of this Udemy Wheellock Latin Course. He has taught all areas of classical studies at the undergraduate and graduate levels. Also, he published some articles on Sophocles, Plato, Aristotle, and Homer. A student can read from elementary Latin grammar to intermediate prose.
Key Highlights & USPs
A thorough mastery of elementary Latin grammar.


Additional insight into English grammar and vocabulary.


Learn adjectives, conjunctions, declension nouns, etc.


Able to read Aeneid from Vergil and Gallic Wars from Caesar. 


Build an understanding of how to read classical Latin.


Gain full lifetime access to 1 downloadable resource, 5 hours of audio clips, and over 9 hours of on-demand video. 
Who is it for?
This beginner Latin Course is for autodidacts and homeschoolers. There is a need for extra help for college students or high school students in traditional academic settings. Students will earn a certificate of completion after successfully taking all chapters.
Rating: 4.7/5
Students Enrolled: 6.1K
Duration: 10 hours
This Classical Latin Course will introduce the first two courses. Students will learn basic Latin grammar and syntax. Also, you will get to memorize vocabulary and individual texts in Latin. Many English words are derived from Latin, which is the oldest language. Learning Latin can help you to understand new languages in the future. Also, you will be able to translate from Latin to English and English to Latin after completing this best online Latin course.
Benedict Atchley has created this Udemy Classical Latin Course for students to study Latin. He has a vast knowledge of the Latin language. With a fondness for the language, he has designed this course to help other Latin learners.
Key Highlights & USPs
Each lesson will be a short lecture of 3-7 minutes


Learn 10-15 vocabulary every day. 


Learn to translate Latin to English and English to Latin sentences.


Improve your language by giving self-test exams every five chapters.


Able to complete translation exercises on your own.


Provide access to 71 downloadable resources, two articles reading, and 5 hours of on-demand video.
Who is it for?
A Latin course is the perfect choice for those who desire to learn new languages and read the manuscripts of ancient historians and philosophers. As this is an introductory course, it is not for those looking for an advanced Latin course. Get a certificate after completing all the exercises and learning each lesson.
Rating: 4.3/5
Students Enrolled: 5K
Duration: 5 hours
Learn Latin Online

[Duolingo]
This free language app can help you learn Latin in just 5 minutes. At Duolingo, each language course offers bite-size lessons based on science. Also, it provides fun elements while studying the Latin language. It is not difficult to read and write Latin if you are familiar with the romance languages such as Spanish, Russian, French, etc. You can build your English vocabulary by learning Latin. Moreover, classical Latin is still the language of science, law, and medicine.
Key Highlights & USPs
Improve your ability to learn other languages.


Learn to read classical poetry and literature in Latin.


Able to understand more about an ancient culture. 


Learn to greet and ask questions. 


Learn how to read and write Latin about food, time, routines, activities, etc. 


Able to study Latin text from daily life around the world, such as assignments, recipes, invitations, contracts, epitaphs, personal letters, etc.
Who is it for?
If you are a beginner, click on the start the course button. It will not ask for any prerequisites to meet before taking this free Latin Course online. You can achieve proficiency in reading and listening skills. After completing seven units, students will master skills similar to University students of the fifth semester.
Rating: 45/5
Students Enrolled: 1.45 million
Duration: Self-paced
FAQ
Is Latin hard to Learn?
No, Latin is an easy language to learn. It is popular to read classical text. The vocabulary of Latin is pretty limited. Four conjugations and five declensions are all there to practice to master this easy language. It also has a limited vocabulary.
However, the Latin verbs have more than one meaning. It can be complicated to memorize them. Some of the parts are the trickiest to get as well. Therefore, it depends on the student, what they are learning, and how much time they are willing to devote.
Is it worth studying Latin?
Latin is an excellent language to learn as a new skill. It helps you build knowledge of European languages. It will boost your existing knowledge in other languages such as German, English, Spanish, etc. In addition, its basic grammar resembles the grammar of other case languages, such as Russian, Sanskrit, and Turkish.
Thus, it makes it easier for learners to learn these languages. It will help in improving your Latin-influenced language. You can also advance your English and improve your vocabulary.
Can I learn Latin by myself?
Schools do not teach Latin. Still, you can learn Latin on your own If you are interested. The Latin alphabet and pronunciation course will help you say more words, even if you don't know their meanings.
Is Latin a dead language?
The oldest language is Latin, the same as Sanskrit and Ancient Greek, which have no native speakers. So, it is a dead language. Latin was so prevalent in western science, medicine, and literature that it may never be considered extinct.
The Final Thoughts
Learning Latin will not just help you get better at reading classical text and old Latin stories. But, it also teaches you new tactics to use in the English language. You will be able to read books with unfamiliar terminology and ace verbal pronunciation. Knowing Latin can help to understand other languages fast. So, enroll in the best Latin courses online now.