With thousands of websites getting registered every single day, the internet is not a monopoly of a privileged few. The best part about Digital Domination is that anyone can start an online website from the comfort of their home. Indeed a benefit for the masses, having an online website is not enough.
You want traffic on your website for your business to boom ౼ and not just any kind of traffic, but the kind that actually is interested in the products or services that you offer. That's where Search Engine Optimization comes into the picture.
Having SEO skills is more than sufficient to add feathers and takes you several steps ahead in your digital journey. So there is no alternative to not incorporate SEO. To save you the time you'd have to research for the best online SEO courses, our team already did that for you. Here are a few of the best Search Engine Optimization courses available online.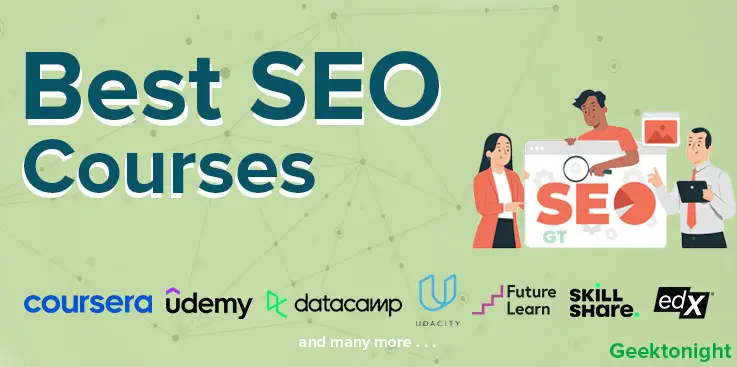 Our product recommendations are unbiased and based on an independent review process. We may receive a commission for links to recommended partners. See our advertiser disclosure for more information.
---
Top Search Engine Optimization (SEO) Courses, Certification, Tutorials, Classes, Training
This online SEO certification course from Coursera is a match made in heaven for anyone who already has a website and wants to curate content on the website to ensure top-notch search engine results. This course goes to the core and goes beyond the norm of SEO practices. This amazing course encompasses real-world skills like Online content development using on-page and off-page optimization, and also incorporates the techniques of optimization based on the target audience.
This online Coursera class is instructed by Rebekah May, head of Organic Acquisition at Fishbrain, and Eric Enge, who is a well-known co-author of the book, The Art of SEO. Both of them are legendary names in the digital domain. This particular course is offered by the University of California, Davis, which is the US's top-ranked research university.
Key Highlights & USPs
Introduction to the foundational elements of how the most popular search engine works and how the SEO comes in picture.


Gain an understanding of search engine algorithms and how they affect organic search results and website rankings.


Learn the ins and outs of optimizing a website, from conducting an initial audit with the help of hands-on activities and learn Mathematical Optimization.


Discover the art of content marketing, a durable and long term strategy to ensure that the content is website is always ranked well.


Get a shareable certificate, a competitive analysis of a webpage and a flexible schedule to complete the course at your pace.
Who is it for?
Although this SEO tutorial teaches concepts from very scratch, it will serve better if users have at least two years of business experience. This is not merely an SEO course, it is much more than that. For anyone trying to build their website and wishes to transform that into a business, can take this course and implement the learnings to get their site rank well, get immense traffic, and reach their financial goals.
Rating: 4.7/5
Students Enrolled: 94,975
Duration: 6 hours per week (for 5 months)
This best online SEO course is the go-to course for learning this valuable skill. This course incorporates the 50 SEO factors on how to reach the top spot on Google search using optimization. The knowledge of Search Engine Optimization, keyword research, and user intent has been well incorporated in the course to give an overall package to the students who enroll in the course. This certification course has it all౼ from brilliant techniques to load your website within a second, to the steps to ensure the best user experience, each angle has been thoroughly elaborated.
This course is taught by Arun Nagarathnam, a top online instructor with expertise in various fields such as Search Engine Optimization, Web Development, Digital Graphic Design, and Animation. He is the king of the online world, and that is pretty much visible from his awesome reviews.
Key Highlights & USPs
SEO Training on 50+ SEO factors to rank 1 on Google Search Engine and understanding why those SEO factors matter in real-time websites on Google.


Do's and Don'ts for ranking one in Rank 1 in Google Search Learn all the 8 Technical SEO factors.


SEO for your website to bring in more organic traffic from Google & other search engines.


Simple and effective techniques to make your website to load in less than 0.5 seconds & increase sales / conversions by 2X.


Get Page speed insights score of up to 100 for both desktop and mobile and concepts about link building.


Get a lifetime access to 10 hours on demand video, 17 articles and 14 downloadable resources along with assignments and a certificate of completion.
Who is it for?
This top Udemy SEO course is suitable for anyone who has their own blog and wants to ensure that they are ranked well for the keywords they desire. Students can take this course and offer SEO services to clients and get a handsome amount for their optimization services. If you already have a WordPress website, then you can comprehend the course in a more efficient manner.
Rating: 4.4/5
Students Enrolled: 77,920
Duration: 10 hours on-demand video
If you have a familiarity with social media, and an intermediate level of business experience with websites, this Advanced SEO Training Program offered by the University of California Davis on Coursera can up your content game above and beyond. This course specifically targets content marketing and social media as a way of stepping up optimization.
This top-notch online course is taught by Eric Enge, co-author of the well-known book "The Art of SEO". Eric is popular for using conventional and under-rated techniques and leveraging them for your business. He does not constrain his courses to keywords, and user intent but teaches how content marketing and management helps you with your organic growth in an escalated manner.
Key Highlights & USPs
Learn Introduction to Advanced Content and Social Tactics to Optimize SEO by exploring the Content Marketing ecosystem.


Social Media's role behind developing a country's online reputation and visibility, which ultimately helps with SEO.


How Influencer Marketing can help with Search Engine Optimization.


The Importance of World Class Content, and its unparalleled role in optimizatio.


Get a LinkedIn shareable certificate upon completion of the course along with an exhaustive 18 hours course.
Who is it for?
If you want a different take on organic SEO using Content Marketing and add value to get a long-term optimized blog, check out this one of the best SEO courses. For anyone who wishes to learn the importance of good content and leveraging the segment of content marketing to get the best search engine optimization, this course does wonders. With a LinkedIn shareable certificate, you add value to your resume which can help you in landing your dream job.
Rating: 4.5/5
Students Enrolled: 52,730
Duration: 18 hours
If you are looking for the biggest bank for your buck, this Linked In course on SEO foundation is here to be yours౼because it's absolutely free, and a must for beginners. This course covers the basics of SEO, and the importance of it and has assignments at the end of each lesson to ensure you can be tested for what you learn. Modern consumers navigate the world through search, and by leveraging that, this course teaches the most important essence of SEO౼ user intent, relevant and specific keywords.
This Search Engine Optimization course for beginners is instructed by David Booth, a tech consultant, Instructor, and Founding Partner of Cardinal Path. David has immense experience in the field, and his course speaks for itself.
Key Highlights & USPs
Define search engine optimization and explore the fundamentals of reading search engine results pages.


Examine the essentials of understanding keyword attributes and break down the steps for optimizing the non-text components of a webpage.


Recognize how search engines index context and explore an overview of long-term content planning strategies and how they can help keep content on your site fresh.


Define your website's audience, topics, angle, and style when mapping out your long-term content.


Identify the steps to take when building internal links within your website and analyze links to ensure they don't result in a negative.


Get a completion certificate, lesson assignments, and a NASBA certificate featured on your LinkedIn profile.
Who is it for?
This online SEO class is specifically for beginners. If you want to learn the art of user intent and optimization, but want to learn the basics before investing in a paid course, you can check this course out. This covers all the basics of the optimization techniques, so after you take this one, you can go for the other advanced-paid courses for a better understanding.
Rating: 4.7/5
Students Enrolled: 124,601
Duration: 2h 38m
Now that you are done with the basics of Search Engine Optimization and need to move to the advanced versions and tactics of it, this advanced online certification course on Search Engine Optimization by Udemy is here to hold your hand. This course is all about winning and dominating the SEO game so that you are so far ahead of your competitors, they deem you invisible. This course is truly unparalleled, in both౼its content and delivery.
The instructor of this certification course is the internet majesty, Peter Kent. Peter is the author of dozens of internet-related books since the 1993౼complete OG. His book includes SEO for Dummies, and Complete Idiot's Guide to the internet, both well known to Digi-nerds. He has helped brands like Amazon, Lonely Planet and has also assisted single-person businesses.
Key Highlights & USPs
Learn how to rank better on search engines when potential clients search for desired keywords in your niche.


Picking the Best Keywords for SEO, preparing your site, and avoiding mistakes that could end up hurting your SEO.


Boosting SEO with Data Markup, and understanding Local-Search SEO.


Understanding the importance of keyword relevance and hoe long tail keywords can do magic with your business numbers.


Finding Places to find great links to your site to add credibility and thus improve ranking. Also learn to use the Google Search Console.


Get 8 hours on-demand video, 45 articles, full lifetime access with a certificate of completion to help with your employability.
Who is it for?
This SEO course with certificate is for anyone who owns, manages, or develops websites, and wants the content to perform better. Web Developers and Web Copywriters who want to create SEO-centric websites for their clients can also benefit from this top-notch course. Business owners can also take up this course, so they can implement SEO on a rainy day, and understand better if they hire someone to manage their SEO.
Rating: 4.4/5
Students Enrolled: 36,632
Duration: 8 hours

Valid till: 30th September
If we are to trust Forbes, it has been forecasted that SEO is going to be an 80 billion dollar industry. This Expert Track Online SEO Course with certification is here to ensure you become a part of that multi-billion dollar industry by launching your own agency. This course is built with a primary focus on marketeers who want to own agencies and turn their label into a multi-figure business legacy. It starts with the basics, and then elaborates various dynamics involved in the search engine optimization world like Local SEO, and using GMB for streamlining website ranking.
This course is created by ClickSlice, a leading SEO agency based in London. They have helped thousands of businesses in skyrocketing their revenue by increasing the visibility of their websites online. Through a Global Classroom, ClickSlice has a team of legends in the digital marketing domain and delivers top-notch content to its students through its comprehensive courses.
Key Highlights & USPs
Build your SEO knowledge and entrepreneurial knowledge to build your own agency.


Use Google My Business SEO to drive customer engagement. Understand how GMB listings can help enhance your website visibility.


Learn to implement local and technical SEO to increase organic traffic for businesses.


The wonderful magic link building does and how credibility helps with optimization. Understand the art of keyword research and building backlinks.


How to get clients and retain them and make a profitable SEO agency.


Complete the course along with real life assessments and earn a certificate validated by the educating organization.
Who is it for?
This Search Engine Optimization tutorial is for anyone looking to learn and upskill and diversify their SEO knowledge to get their website tremendous traffic. Since this course focuses on building a digital agency, it can be beneficial for any aspiring business owner who wishes to run a digital agency. The certificate is valuable and can also be used to apply for jobs in the digital marketing and content editing industry to make the website SEO friendly.
Rating: 4.8/5
Duration: 12-13 hours
This course is a no filler, no fluff, but a very practical step-by-step SEO game plan to get your website to rank better on Google, Bing, Yahoo, and other search engines. This best SEO course illustrates the blueprint of getting ranked on Google's first page. Starting from choosing a domain name Google would love, a hosting account to outrank competitions, to setting up permalinks to kill your competitors, this course has it all.
This course is created by Kent Mauresmo, an SEO, and Web Design Consultant. Kent majored in Computer Information Systems and Business Marketing and uses the amalgamation of the courses he took to add value to his student's lives. The testimonials on his courses paint a clear picture of how much value his courses add. Kent has also co-authored a book "SEO for WordPress, a Beginner's Guide", which is an all-time best-seller.
Key Highlights & USPs
Learn the Blueprint to get your website ranked 1 on Google and other search engines and increase your traffic by 93% and conversions by upto 43%.


Learn to choose web hosting and domain names that eventually helps in getting you rank better on Google and other search engines.


Learn to analyze and audit your entire website for free, and understand different kinds of SEO Techniques.


Dominate your competitions in the search results by learning the art of writing SEO-oriented articles and blogs, or ensuring the articles are SEO friendly when you hire someone to write it for you.


Get access to a 10 hours on demand video, 5 downloadable resources, and a certificate of completion with a lifetime access.
Who is it for?
This "SEO For WordPress" course is meant for small business owners and bloggers that want to get on the first page of Google, Yahoo, or Bing. This SEO course is designed for beginner and intermediate WordPress users. No technical or HTML coding knowledge is required. This course is probably not for you if you're a web developer, HTML coder, or SEO consultant.
Rating: 4.5/5
Students Enrolled: 32,027
Duration: 10 hours on-demand
This online SEO tutorial for beginners focuses on the granular fundamentals for content optimization. This course has an assignment where the users will have to optimize a blog content. Apart from providing the basic knowledge of the SEO Fundamentals, this course ensures the retention is engrained using assignments.
Taught by Rand Fishkin, Founder, and CEO, SparkToro, this certified SEO course is a must for beginners who are overwhelmed about where they should start from. Rand is a well-known name in the online world and is an author of Lost and Founder: A Painfully Honest Field Guide to the Startup World.
Key Highlights & USPs
Learn the overview of the Search Engine Optimization and the perfect strategies to implement them.


Learn to use Google Analytics to measure success and read the date to understand the areas to work upon.


Ranking factors, and debunking myths and misconceptions about the organic growth with the assistance of SEO.


Learn each and every element starting from understanding the audience, keywords, content strategy, and on-page optimization.


Learn how to crawl friendliness and external links and how to make most of SEO with every post.


Get unlimited access to a 1h 30m lecture with downloadable resources.
Who is it for?
This beginner friendly Search Engine Optimization course is presented as a universal course in the world of optimization. So if you own a website or are planning to run a blog, this course adds value in your digital journey. Better SEO translates to abundant traffic, which is beneficial for your business. This course will help you learn one of the most crucial 21st-century skills, and will act as a bonus if you are a content writer who also knows SEO.
---
FAQ
Can I learn SEO on my own?
Yes, you certainly can. With umpteen online free certification courses, SEO can be learned by anyone on their own. You just need to enroll in a course, and give 4-5 hours a week to it consistently.
Most courses are free, so you can start there to get an idea and then after you have tried the free ones, but once you want to dive deeper and learn advanced marketing skills, you can choose any paid course from the list above which suits your needs.
How can I learn SEO strategy?
1. Learn the goal and the basic blueprint as to how SEO works.
2. Master the art of keyword research.
3. Understand the difference between on-page and off-page SEO.
4. Learn to identify various kinds of UX signals.
5. Learn and incorporate link-building.
6. Create SEO-friendly, keyword-oriented content.
Is SEO a good career?
As mentioned by Forbes, SEO is a multi billion dollar industry, and with the pace the digital media is elevating, the career growth in the field of optimization is astronomical. Any kind of business growth is synonymous with its online presence, and it can be leveraged by reaching its maximum target audience.
To help reach a brand to its prospective clients, there is nothing better than to do that organically and with the long-term strategy of SEO friendly content management. These requirements make SEO a high-demand and rewarding career in the present and future.
Where can I learn SEO for free?
There are various platforms that offer SEO courses for free. Various YouTube channels offer free Search Engine Optimization courses. LinkedIn also has brilliant SEO courses free of cost, so you can make most of these platforms and learn the art of optimization absolutely free.