What is Emotional Intelligence?
Emotional Intelligence is all about self-management, self-awareness, and understanding people around. The major aspect of emotional intelligence is relationship management.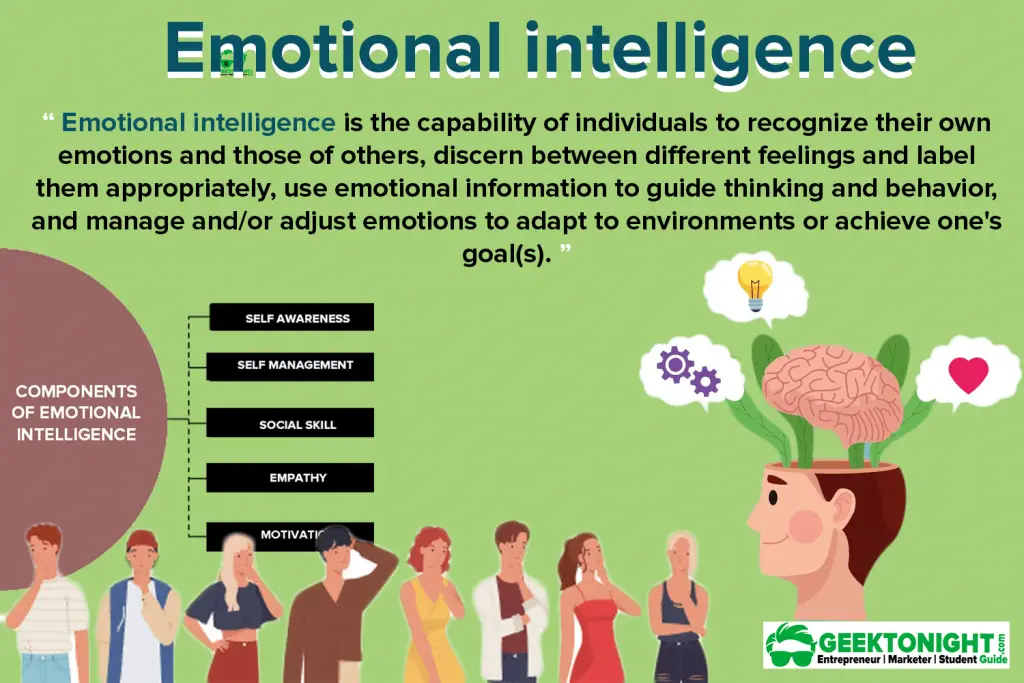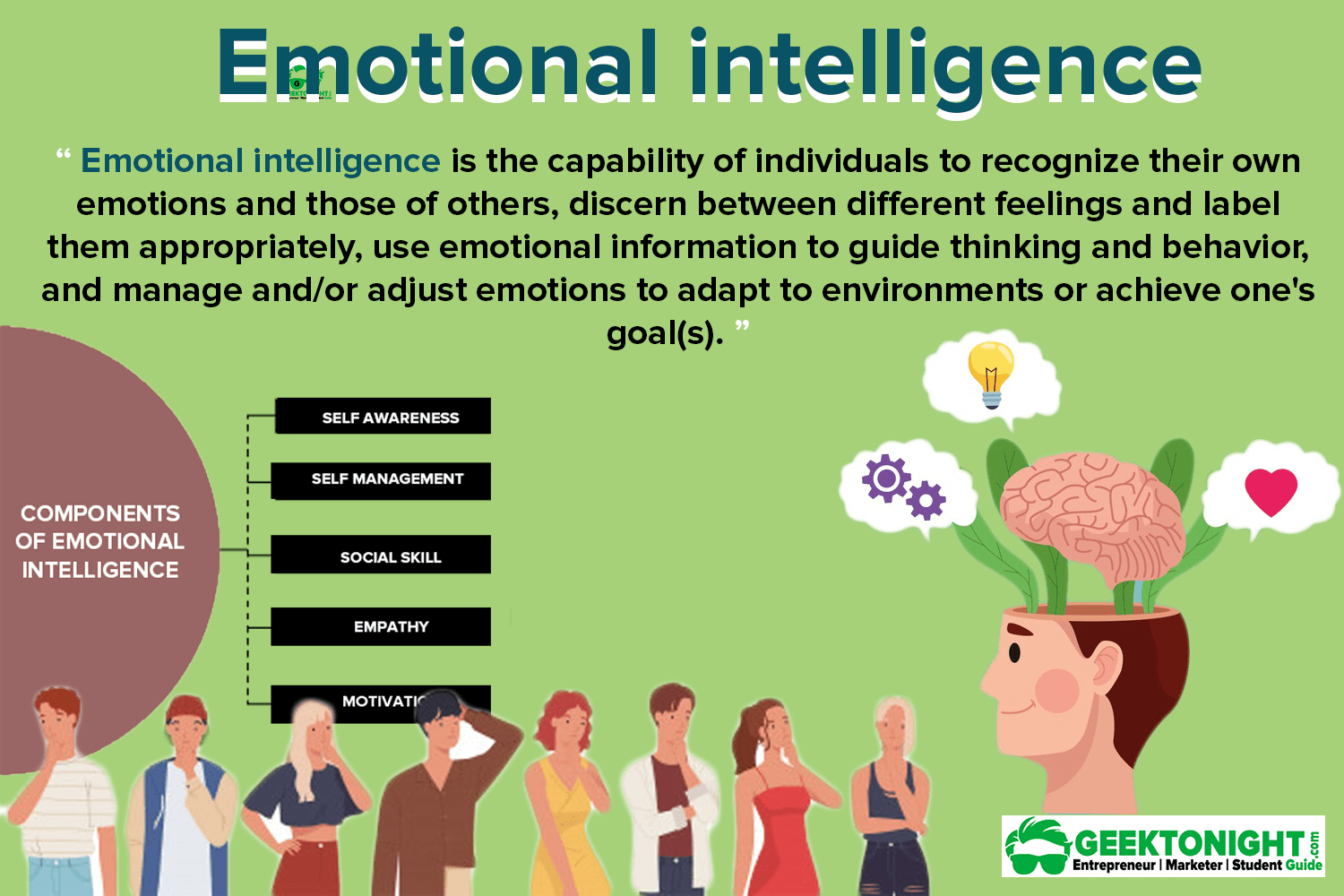 It is about knowing our self better and managing emotions. Well managed emotions always display required responses which help to make the situation prosperous.
---
Introduction to Emotional Intelligence
In this existing sceptical world, every human comes across success as well as failures while working with the diversified ideologies. As far as an employee is a novice, it will be evaluated for his individual performance.
This individual performance is mostly based on the analysis of intelligence and individual hard work that has been displayed during the course of time. Emotional intelligence and soft skills start playing a major role in defining success, as and when one becomes a leader.
The intelligence by which an individual gets into an organization is highly important to scale up and give climb to the career. The amount of success a person achieves ultimately depends on the basis of attained expertise in the relevant field.
As soon as the novice phase starts ripening, every organization expects some new skills, new attitudes, and a new approach. It's the transition phase where the situation demands to learn some of the most vital life lessons. As it's a widely accepted fact that none of the human beings would like to execute the same job for the entire life.
Change and up-gradation of living standards are the great aspects those every individual, it's a sense of motivation for the working people.
Gradually to raise the standards to the utmost level one needs to get elevated in the workplace to the next position. The new roles and new responsibilities would demand some managerial skills to understand different kinds of workforce need that o be handled.
---
Components of Emotional Intelligence
Psychologist and author Daniel Goleman have suggested that there are five components to emotional intelligence.
Below are the components of Emotional Intelligence:
Self Awareness
Self awareness is a basic understanding of one's own personality. It is one of the core qualities that disclose the capacity of the individual to make a self-reflection and monitor self. It also involves self observation of the various functions being carried out.
As a person is self-reflective, aware of the feelings than taking good decisions in crucial times becomes uncomplicated.
As a person begins to understand their own feelings, it enables us to make informed choices. Ultimately the person starts self-assessment of the job that is being executed, as a result, the person feels confident and never hesitates to change the direction in mid-journey. This helps them in taking quick decisions and acc public opinion.
Self Management
Self Management is all about how a person manages emotions. It allows people to control their thoughts and feelings. Basically humans get distressed and disgusted when things are not going our way. But in such conditions are we still able to hold our nerves and remain adaptable, can we still stay focused and motivated.
The ability to remain calm, self-motivated, showing flexibility is related to internal Self – Management.
In the present world, we all are put to go through various states of disequilibrium that is a chance to display the self-management skills, a person who holds the ground and retain the equilibrium is a well-defined leader. Managing fear, anxiety, anger, distrust, and disappointment can be achieved if a person is a well self – managed.
Social Skills refer to the management of relationships and building networks, which ultimately helps to communicate and interact with each other.
It is a major personality trait required to be an outstanding leader. A person who possesses good social skills is always an inspiration for the workforce and can easily motivate the team during tough times.
It helps in building rapport and building better bonds with the team members and various other organizations. It maintains a personal friendship amongst colleagues/work associates.
A great leader with good social skills can always create enthusiasm and make missions get accomplished much accurately. How a leader makes the employees feel plays a vital role in the level of their work execution and commitment.
Empathy
Empathy makes us understand how other people are thinking and feeling. This is a great skill to understand very well sometimes one should get into someone else's shoes. It makes us be aware of someone's feelings and act accordingly. Empathy is a critical skill required to be an outstanding leader.
An impeccable leader always has concerns that how the team members feel, always take care of the employees, always help them in critical situations, and always stand, come forward courageously during failures.
One, who wants to lead the firm to the real path of success and growth, should give full freedom to the employees to show disagreement wherever it's being felt. Disagreements and asking questions always made an organization strong and resilient. A mature leader tries to value the differences and learn from them, instead of eliminating them.
Motivation
Motivation is the willingness of an individual to do something. It drives an individual to the goals and targets indirectly.
Motivation generated externally from others may stay for a very short period but inner and self-motivation makes you much enthusiastic towards the work and duties. It describes truly what we want and ultimately creates a focus to reach the destination.
It helps in discarding various distractions in between the journey and keeps us moving forward. It makes a person strong and works magically to turn a failure into learning. As soon as a person understands the purpose and sense of meaning, work is providing; the person gets motivated, forgetting all the external odds and tries to approach the goals with utmost accuracy.
Motivation keeps the person positive ever and as a leader passes a similar kind of vibes and energy towards his team members. That's the reason motivation plays a key role in becoming a perfect leader.
---
Advantages of Emotional Intelligence
The insight which I tried to provide here, hopefully, would have made you understand the role played by Emotional Intelligence in crafting out an impeccable leader.
In conclusion, I would like to disclose some of the advantages of Emotional Intelligence.
It would strengthen teamwork.

It helps to deal with the conflicts within the organization.

It enhances the effective execution of the duties assigned.

It gives a competitive edge and makes people work for you.

It provides you a distilled wisdom of theory and practical approaches.

It ultimately makes a person much productive and successful.
---
Emotional Intelligence to be an Impeccable Leader
As soon as one becomes a leader, emotional intelligence and soft skills start playing a major role in defining success. Here come the most versatile soft skills, conclusive evidence reveals that soft skills may sound like a quite business but are very much crucial for outstanding leadership and creating the happiest workforce.
Emotional Intelligence is one of the basic qualities required for a person to be a successful leader and ultimately take the organization to the most successful end. A leader has to execute the duty in various dimensions of the work field.
Role of Leader as:
Influencer
Collaborator
Initiator
Supporter
Firelighter
Energizer
Relationship Builder
Game Changer
The roles mentioned above to be played by a leader as per the situation demands and to be successful at all these dynamic roles, leaders should have Emotional Intelligence. The maximum extent to which a leader understands the emotions of his team members always decides the growth of an organization. In order to imbibe or develop Emotional Intelligence, one needs to understand the core elements of it.
The insight which is provided here hopefully would have made you understand the role played by Emotional Intelligence in crafting out an impeccable leader.
---
Business Communication Notes
(Click on Topic to Read)
---
Go On, Share & Help your Friend
Did we miss something in Business Communication or You want something More? Come on! Tell us what you think about our post on Emotional Intelligence in the comments section, and Share this post with your friends.
[simple-author-box]