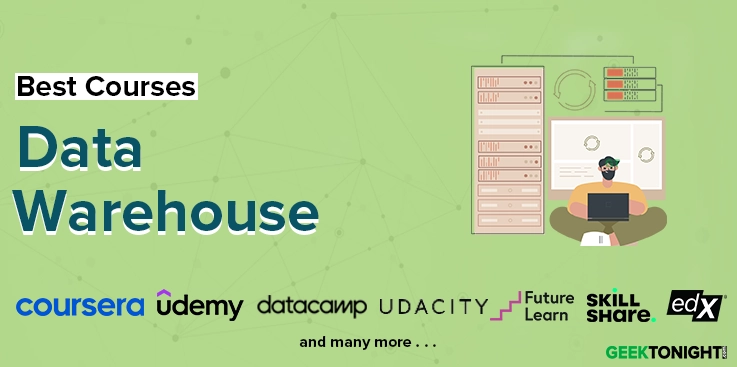 Data warehousing is a process of storing and managing data from different sources in a centralized location. A data warehouse expert is someone who specializes in this process and helps companies to effectively store and manage their data. A data warehouse is a central repository of data that is used for reporting and analysis.
Data warehousing experts typically have a strong background in database development and administration. They also have experience working with business intelligence tools and reporting platforms.
Data warehousing experts have a deep understanding of data management principles and methods. They also have experience working with different types of data warehouses and know how to effectively use them to store and manage data. In addition, data warehouse experts are also familiar with data mining and business intelligence tools and techniques.
To build and maintain a data warehouse, you need a specialized skillset. In this article, we'll recommend some of the best data warehouse courses to help you get started. These courses cover all the basics, from design and architecture to ETL and data modelling.
Our product recommendations are unbiased and based on an independent review process. We may receive a commission for links to recommended partners. See our advertiser disclosure for more information.
---
Best Data Warehouse Courses, Certification, Tutorials, Training, Classes Online
Data Warehousing for Business Intelligence Specialization by University of Colorado

[Coursera]
This data warehousing for business intelligence specialization comes with five courses and the data architecture abilities covered by this Specialization are becoming more and more important in a wide range of technological sectors. The fundamentals of structured data modelling, actual SQL coding skills, and in-depth knowledge of data warehouse design and data manipulation will all be covered in this course. You'll have the chance to construct dashboards and Visual Analytics with massive data sets in a data warehouse environment.
The course is offered by the University of Colorado System with Michael Mannino – Associate Professor at Business School of the University of Colorado Denver, A.W. Lukens – Course Developer, and Jahangir Karimi – the Professor of Information Systems at the University of Colorado Denver serving as its instructors.
Key Highlights & USPs
For designing data warehouses and developing data integration workflows, you will master fascinating concepts and abilities.


For maintaining summary data frequently utilised in business intelligence reporting, you'll master aspects of relational database management systems.


Learn about the various company areas that can benefit from the use of business intelligence tools.


Working with huge data sets in a data warehouse setting will provide you the chance to practise creating visualisations and dashboards using MicroStrategy's OLAP and Visualization tools.


You'll design and construct a small data warehouse, develop data integration workflows to update the database, write SQL statements to meet analytical and etc.


Benefit of taking a specialization course is that it provides a Hands-on Project and a peer learning experience. After completion of the Capstone Project get the completion certificate.  
Who is it for?
This online data warehousing course heps learners to analyze the business architecture and data warehouse maturity of a company. It also intriduces you to use well-known open source tools to perform operations on pivot tables to meet common business analysis requirements.
Rating: 4.6/5
Students Enrolled: 53,826
Duration: 8 Months
Modernizing Data Lakes and Data Warehouses with GCP by Google Cloud

[Coursera]
In this Data warehouse course the use cases for each form of storage are highlighted in this course, which also delves deeply into the technical aspects of the Google Cloud data lake and warehouse solutions. Additionally, this course discusses the function of a data engineer, the advantages of a strong data pipeline to business processes, and the justification for doing data engineering in a cloud setting.
The course is brought to you by Google Cloud itself! With cutting-edge technology developed in—and for—the cloud, they have assisted millions of organisations in empowering their workers, providing for their consumers, and developing what's next for their enterprises. Google Cloud Training has 1,804,911 learners from 966 Courses gain them instructor rating of 4.63/5.
Key Highlights & USPs
Learn the two essential elements of any data pipeline, data lakes and data warehouses, should be understood in their respective contexts.


Examine use cases for each form of storage and get into the technical specifics of the data lake and warehouse solutions that are offered on Google Cloud.


Recognize the functions of data engineers and the advantages of a strong data pipeline for company operations.


Consider the benefits of performing data engineering in a cloud setting.
Who is it for?
Data warehouse tutorial course is for Intermediate level learners where they can learn essential principles of Data Lakes, Data Warehouses, Schemas, ETL/ELT/EL, and specific Google GCP Technologies that help execute these concepts are provided in a great course.
Rating: 4.7/5
Students Enrolled: 42,085
Duration: 7 Months
Data Warehouse Fundamentals for Beginners

[Udemy]
This data warehouse course teaches you data warehouse implementation, learn the basics of data warehousing as well as best practises for the architecture, dimensional design, and data exchange that you'll need to execute data warehousing in your company in this course. There are numerous examples that make the fundamental ideas and methods covered throughout the course very clear.
Alan Simon, Business intelligence and enterprise data thought leader is the instructor for this course. Alan Simon has extensive experience in coordinating programmes for improving company processes with cutting-edge data and analytics technology. He is the managing principal of the boutique consultancy Thinking Helmet, Inc. He has gained 4.5 instructor rating with 76,362 students from only 2 courses on the platform.
Key Highlights & USPs
Learn the methods required to construct a data warehouse for your company.


Choose an architecture for your data warehousing environment based on your alternatives.


How to set up and construct your Extraction, Transformation, and Loading (ETL) capabilities to maintain the accuracy of your data warehouse.


Use the dimensional data modeling's fundamental design concepts.


Utilize a variety of models and methods to combine and load data into your data warehouse.


The primary relational database features you'll use to create your dimensional data models.


Different methods for managing the history of changing data in your environment, and how to choose which ones to use and when.


Get free lifetime access to course and its materials along with a shareable course completion certificate.
Who is it for?
By the end of this data warehouse beginners tutorial course, you'll be prepared to put the learnt concepts into practise as well as to make the crucial architectural and design choices necessary for the "art" of data warehousing, which go beyond practical procedures and design patterns. This course is for you if you're a working or aspiring IT expert looking for reliable, doable methods for organising, designing, and constructing a data warehouse or data mart.
Rating: 4.5/5
Students Enrolled: 58,883
Duration: 5 Hours

Valid till: 30th September
Implementing a Data Warehouse with SQL Server 2012

[Udemy]
The course teaches students to create and use a data warehouse on a great platform. All data professionals, including data analysts and other aspiring professionals, are the intended audience for this course, which will help them prepare for the exam 70-463, also known as Implementing a Data Warehouse with SQL Server 2012.
Compaq Learning began its tutoring journey in 2013 with a simple mission: to improve students' skills from high school graduates to professionals. But in just two years, a project by three IT experts that began as a blog grew into one of the top course development businesses in the e-learning sector.
Key Highlights & USPs
Describe how to work with variables in detail and discuss the ideas that go into implementing a data warehouse using SQL Server 2012.


Get to know what are data warehouses? and Explain the significance of the Fact Table.


Sort the many components of Control Flow into categories and also sort the many SSIS transform types into categories.


Demonstrate how to protect and debug packages and find out the functions of dimensions.


Along with learning how to deploy and manage packages, you will learn about the various types of transforms that SSIS offers in this course.


Get free lifetime access to full course and its materials with access on mobile and TV and also get course completion certificate.
Who is it for?
The course is made for all despite of of beginner or advance caliber. By completing this course learners will have a thorough understanding of data warehouses and the applications of dimensions by the end of the course. In addition, our student will comprehend the significance of fact tables and the numerous ideas involved in the development of a data warehouse using SQL Server 2012.
Rating: 4.5/5
Students Enrolled: 7,921
Duration: 5 Hours
Data Warehousing and BI Analytics

[edX]
This course will give you practical experience working with data warehouses through practise labs and a project that is inspired by real-world situations and can be put to your portfolio. Building data warehouses, Star/Snowflake schemas, CUBEs, ROLLUPs, Materialized Views/MQTs, reports, and dashboards are among the skills you'll learn.
Rav Ahuja and Ramesh Sannareddy are the two instructors who will be teaching learners this data warehouse architecture course. Rav has given presentations at events all around the world and written a tonne of papers, articles, books, and courses on managing and interpreting data. Ramesh Sannareddy has 2.5 decades of expertise in information technology infrastructure management, database administration, information integration, and automation.
Key Highlights & USPs
Identify the most well-known manufacturers of data warehouse systems and describe the design, characteristics, and advantages of data warehouses, data marts, and data lakes.


Build CUBEs, ROLLUPs, and Materialized Views by designing and populating a data warehouse and modelling and querying data with SQL.


Create reports and dashboards by analysing warehouse data with well-known Business Intelligence (BI) solutions like Cognos Analytics.


Show how to create materialised query tables, load data into a data warehouse, write aggregation queries, and construct an analytics dashboard.


edX courses comes with various materials and resources that can be made to use during and after course completion. The platform also provides a certificate after successful completion.
Who is it for?
It for intermediate level leavers who have some relevant basic knowledge as this course will help them to hone their ability to create, implement, and maintain business intelligence tools and corporate data warehousing systems.
Rating: 4.7/5
Students Enrolled: 2,040
Duration: 6 Weeks, 2-3 hours/week
FAQ
What do you mean by data warehouse?
A database used for reporting and data analysis is known as a data warehouse. It is a centralized repository for all the data that an organization collects from its various business processes.
A data warehouse typically contains data from multiple sources, including transactional systems, operational databases, and external data sources. The data in a data warehouse is typically organized into subject-oriented, integrated, and time-variant data.
What is data warehouse with example?
A data warehouse is a large, relational database that is used for reporting and data analysis. The data in a warehouse is typically gathered from multiple sources, such as operational databases, flat files, and other external data sources. Once the data is gathered, it is then cleansed, transformed, and loaded into the warehouse.
A data warehouse's primary goal is to give users access to a single, accurate version of the truth. As a result, users will find it simpler to create reports and conduct analyses because the data in the warehouse is reliable and consistent.
Amazon Redshift is among the most well-known examples of a data warehouse. Organizations of different sizes utilize the data warehouse service Amazon Redshift to store and analyze their data.