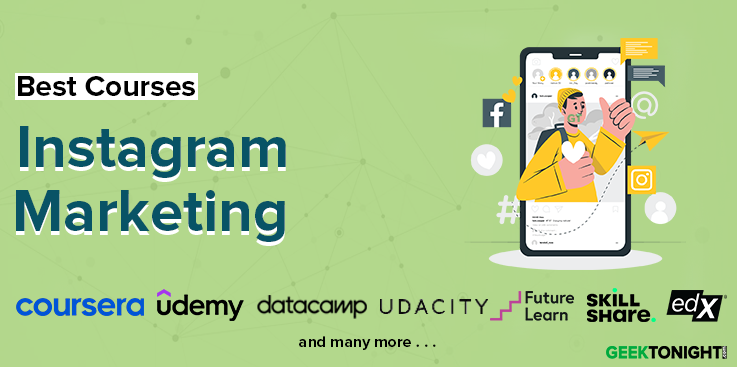 If someone asks the present generation, "Tell me you are a millennial without telling me you are a millennial", I assure you they'll do that by mindlessly scrolling Instagram. With millions of active monthly users, it's a shame not targeting the platform for your business opportunities.
Advertising on Instagram is one of the simplest, yet effective strategies to escalate your brand. However, it possesses a challenge to the new marketers as some still find it new and less guidance is available around it compared to other platforms.
But like we always say, leave the research on us. Here are the best Instagram Marketing Courses to get on with your advertising campaign. Let us help you make impeccable money from your business.
Our product recommendations are unbiased and based on an independent review process. We may receive a commission for links to recommended partners. See our advertiser disclosure for more information.
---
Best Instagram Marketing Courses, Certification, Tutorials, Training, Classes Online
This Instagram Marketing course is one of the best for beginners out there. It includes the primary necessities for an impeccable Instagram presence, like optimizing an account and setting up a content strategy. This course also teaches the practical ways of content batching and using automation into content production, posting and outreach. This course also instructs about the proper usage of Final Cut to edit and export professional Instagram videos for your ads.
This top-notch Instagram Marketing tutorial is taught by Evan Kimbrell who demonstrates how he used these techniques and grew his Instagram account to 140,000 followers with a kickass 7% engagement rate. Evan has also been featured in the Entrepreneur magazine and is immensely popular for taking his following from 0 to 40k on his @innovationstation insta handle in four months using Instagram Marketing techniques.
Key Highlights & USPs
Learn how to create a successful themed, business, or personal account and an effective username on Instagram.


Understand the platform specific and growth marketing jargons associated specifically with Instagram.


Create your own first batch of high quality content optimized for attention on Instagram.


Use Final Cut Pro and adobe Premiere to successfully put together and export Instagram videos.


Navigate the Facebook advertising platform and use it effectively for Instagram and run successful competitions that are legal and cost effective.


Get a lifetime access to 23 hours in demand video, 18 articles, 165 downloadable resources along with a completion certificate
Who is it for?
If you are a total beginner in the world of Online Marketing and want to leverage instagram for your business, or your clients, this certified Instagram Marketing course is suitable for you. The certification adds value to your resume as well so you can go ahead and apply for those high paying Digital Marketing jobs.
Rating: 4.6/5
Students Enrolled: 82,205
Duration: 23 hours
You can Sign up Here

Valid till: 30th September
Content Marketing is a top-notch and long-term strategy to leverage potential clients, and this awesome Instagram Certification Course on Skillshare teaches the same. This course focuses on building an Instagram presence that embodies the personal story behind your brand and attracts followers who generally care about what you have to offer. This course incorporates the creative ways of growing your business through Instagram.
The instructor for this amazing course is Cat Coquillette, who is not only a well-known instagrammer, but an artist, entrepreneur and educator. With over 60k followers on her Instagram Page, Cat has transformed her passion for art into a profitable business and in this online Instagram Marketing tutorial, she teaches the same. No matter what your niche is, content marketing dominates on Instagram, and Cat will teach you how to leverage that.
Key Highlights & USPs
Tips to use the visual centric platform and tips to click pictures that work on Instagram.


Learn how to create a successful themed, business account with an effective username, and leverage that to drive sales through Instagram


Learning the art of writing the most amazing captions that boost engagement and hence reach

 
A toolkit to help you strengthen your branding and makes you a professional


Understand the platform specific and growth marketing jargons associated specifically with Instagram


Get a lifetime access to 23 hours in demand video, 18 articles, 165 downloadable resources along with a completion certificate.
Who is it for?
This Skillshare Instagram course is specially catered to visual creatives who are trying to build a business with their art. So, if you are an artist, a designer, an illustrator, a photographer or any form of a content creator, and want to use Instagram to build an audience which can later be your target audience, then this course will be of tremendous worth for you.
Rating: 4.6/5
Students Enrolled: 16, 664
Duration: 2 hours
This online Instagram course by Udemy is here to make you an Instagram Leader in your niche. This course incorporates a content master plan to generate the desired results and spread your brand all across the world with the platform. You also learn about the niche strategies that don't work and how to not fall in the trap of implementing those futile techniques. The unique element in this tutorial is that it focuses equally on organic methods, as it does on the paid ads feature.
The Instagram Marketing course is taught by Diego Davila, an entrepreneur and a social media innovator who has helped more than 600,000 students with their online business. He is an Instagram pinnacle who combines organic strategies with the paid ads which has led to impeccable growth for his students. The fact which makes his course stand out is that after every lecture, the students have to take immediate action and they start seeing the results during the course itself.
Key Highlights & USPs
Learn to become an Instagram Leader by dominating your niche or market on Instagram and practical techniques to overshadow competitors


While taking the course, create a raving fans community of people that are addicted to your Instagram content, thus creating unique business opportunities from your Instagram presence


Implement ways to create content to build a trustful relationship with your Instagram fans, customers and business partners, which helps in booming a loyal-follower base


Use Instagram to increase traffic to your website, your stores, or other social media channels. Learn how to run Instagram Ads like a Pro


Learn what's working and what the top players on Instagram are doing right now, and how to overpower them with unique and consistent strategies


Get a lifetime access to 8 hours in demand video, 5 articles, 10 downloadable resources along with a certificate of completion
Who is it for?
This eight-course professional certificatIf you are ready to take action to grow your Instagram account, then you need no prior knowledge౼and this one of the best Instagram courses will take you places. If you want to be a successful freelancer and want to run ads for clients, or want to get a high-paying job at a Digital Marketing Agency, then this course adds a feather to your cap, and a star to your resume.
Rating: 4.1/5
Students Enrolled: 9,704
Duration: 8 hours
You can Sign up Here
Instagram Marketing Course

[LinkedIn

]
For a complete beginner still skeptical about investing in a paid marketing course, this LinkedIn Instagram Marketing course is a must for you. Specially targeted to the newbies, this course Instagram marketing opportunities and built-in tools for marketing. The best part about this course is that after certain lessons, there is a chapter quiz to test your grasp over the concepts.
Taught by Anson Alexander, a digital marketer who has been in the industry since 2011, this course is one of its kind. He is an author, blogger, SEO expert and Tech Geek. He has a kickass online presence, with over 180,000 Youtube subscribers, he has been helping people in the digital domain for a decade. In this free resource, he dives deeper specifically in the world of Instagram Marketing.
Key Highlights & USPs
Learn the built-in tools for Instagram Marketing, and the benefits of converting your Instagram into a business account


Learn to develop the perfect marketing strategy for your Instagram specifically oriented to your business


Competition research and developing a posting schedule for Instagram and understanding the advertising opportunities on the platform


Learn compelling Marketing techniques using Reels, Insta stories, Highlights and some business insights features Instagram offers to track your performance and ways to emerge better


Learn to fine-tune your Instagram content to create advertisements that your potential audience loves


Get a lifetime LinkedIn Learning Certificate to feature in on your LinkedIn profile to increase your chance at finding clients, or jobs in the industry
Who is it for?
This online Instagram Marketing class is specifically for beginners. If you want to learn the art of creating better content specially catered to your audience, or you want to take up marketing courses but want to learn the basics before investing in a paid course, you can check this course out. This covers all the basics of the optimization techniques, so after you take this one, you can go for the other advanced-paid courses for a better understanding.
Rating: 4.7/5
Students Enrolled: 76,973
Duration: 3hours
Anyone who has a loyal following on Instagram is an influencer, and that comes with several perks. The best part about having an audience is that they can be leveraged when you decide to take advantage of your platform to offer products/services. If you decide to be a content creator, then this Instagram course with a certificate is a blueprint of how exactly you can do that.
The instructor is Sean Dalton, a top-teacher on Skillshare. Sean is a travel and lifestyle photographer himself and has leveraged Instagram to build his successful online business. Sean teaches the art of creating content with authenticity that resonates with the audience. Sean went from 0 to 25k followers in just 9 months and he teaches the exact ways how you can do that too.
Key Highlights & USPs
Learn the tools for Instagram Marketing, the benefits of having a consistency theme and how to do that


Learn to define quality content and posting the ones which adds value in some form or the other to the consumers


Select the perfect targeted hashtags for effective reach and engagement


Learn the process of photo editing, and utilization of Instagram pods for better reach
Who is it for?
Whether you are an instagrammer who has been on the platform for quite some time, and is not satisfied from the growth, or you are a moderate user who wants to showcase your talent to a major audience, or you are brand new on the platform and figuring out the ways to do it best, this best Instagram course covers everything you need to know about the platform from a business standpoint.
Rating: 4.7/5
Students Enrolled: 24,682
Duration: 3 months, 12 hours/week
For entrepreneurs, influencers and professionals who aspire to make six figures from their business, this updated in 2021, certified Udemy Instagram Marketing course will hold your hand while you make your way towards the riches. Not only does this course encompasses the techniques of creating high-value content, but also discusses the features that help discover you or your business on the platform.
This amazing Instagram Marketing course with certification is taken by none other than the legendary Nik Swami. Nik is an entrepreneur with online companies to his name that bring $45,000 per month in revenue, out of which a major chunk comes from Instagram. With live on-screen video demonstrations, Nik teaches the art of supercharging your Instagram account.
Key Highlights & USPs
Learn the 10 best Instagram marketing strategies to gain thousands of followers every month, and hundreds of thousands of dollars per year on Instagram


Implement techniques to supercharge your Instagram profile by posting high performing content on Instagram



Grow fast with Instagram  and get discovered with features on the platform


Use an Instagram hashtag framework and techniques to get shown on Instagram's explore page


Launch Instagram competitions that people go wild for and get huge results with Instagram ads and master the art of networking


Get a lifetime access to 3 hours in demand video, downloadable resources along with a completion certificate.
Who is it for?
This course is ideal for Social media influencers, Entrepreneurs, Businesses and any other organizations who want to absolutely crush it on Instagram. The Instagram marketing strategies covered are perfectly suitable for both beginners and experts, so it does not matter what stage of learning you are in, this amazing Instagram Marketing Course will serve you well. You can also onboard clients for whom you can run ads on Instagram and get rewarded for bringing them business.
Rating: 4.5/5
Students Enrolled: 8,743
Duration: 3 hours
You can Sign up Here
If you are in need of a comprehensive solution for all your problems related to Instagram content and ads, this is by far the most exhaustive, and comprehensive Instagram course that leaves no stone unturned. This course will teach you how to monetize your Instagram account and start getting paid in no time.
Instructed by António Araújo, a Digital Marketing specialist and Marina Arantes, a Social Media Influencer, this online Udemy Instagram tutorial is one of the most value-packed courses available. Together, these amazing mentors teach a proven system of approaching Instagram sponsors and companies to get partnerships and paid jobs, including an automated system to send custom emails to thousands of brands per day.
Key Highlights & USPs
Basic introduction to Instagram, overview of the Instagram platform for influencers and the skills required to succeed on Instagram as an Influencer or as a Instagram Marketing specialist


Instagram Identity and niche selection and learning recent Instagram Updates, Marketing tips and how to use them efficiently


Learn the art of Becoming an Instagram Influencer and Figuring out your value and planning your approach and Instagram Marketing Strategy


Methods to Make money on Instagram and How to find sponsors and brand deals on Instagram


Access to an exclusive list with over 1500 Brands that work with influencers on a regular basis saving you hundreds of hours of research


Get a lifetime access to 2.5 hours in demand video, 1 article, 17 downloadable resources along with a certificate of completion
Who is it for?
This Instagram Training course is for anyone who wants to make a living doing what they love using Instagram. For all the Entrepreneurs, Freelancers, Influencers, Creatives and Business owners who want to monetize their audience on Instagram, this course brings in tremendous merit. Apart from them, people who want to build their personal brands on Instagram and become an Instagram Influencer will also benefit hugely from this course.
Rating: 4.3/5
Students Enrolled: 6,772
Duration: 2.5 hours
You can Sign up Here
---
FAQ
Can I learn Instagram Marketing on my own?
Yes, you can definitely learn digital marketing, especially Instagram Marketing on your own. But remember, do not keep yourself constrained with merely the theoretical concepts.
Take one or two courses, you can start with the free ones, and then jump into your career. A lot of the courses incorporate hands-on experience so not only do you get more experience to build your marketing portfolio, you are also able to apply what you've learned, real time.
How can I learn Instagram Marketing?
There are a lot of ways in which you can learn Instagram Marketing. Here are a few of them.
• Enroll in free and paid digital marketing courses, especially the ones which takes the Instagram platform into consideration
• Read more books and blogs on digital marketing
• Watch videos on YouTube if top digital marketers, take notes and apply the techniques 
• Do an internship in any esteemed Digital Marketing Agency
• Follow influencers on social media and see the kind of content they create, the kind of ads they use to leverage the platform efficiently
Is Instagram/Digital Marketing a good career?
Traditional Advertising is having a major shift and with billions of monthly users, Instagram has more people than ever. The Digital era is here to stay, and with thousands of brands approaching the platform every day, the growth on Instagram is not only substantial but inevitable.
So whether its growing your own brand or implementing marketing for your clients, Instagram/Digital Marketing is a viable and rewarding career option.
Where can I learn Instagram Marketing for free?
There are various platforms that offer Digital Marketing, and Instagram Marketing courses for free. Various YouTube channels offer these courses. LinkedIn also has brilliant Instagram Ads courses free of cost, so you can make most of these platforms and learn the art of advertising on Instagram absolutely free.