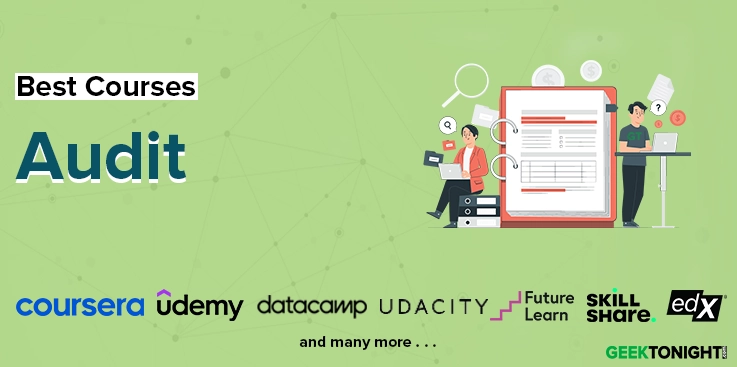 You've found the ideal place if you're seeking the best audit courses. In order to assist you to develop your accounting and auditing skills, Universitas offers a number of audit courses.
We cover a wide range of topics in our audit courses, from fundamental accounting concepts to sophisticated auditing procedures. We offer a course that's appropriate for you whether you're a novice or a seasoned pro. So why are you still waiting? Enroll right away to begin mastering auditing!
---
Best Audit Courses, Certification, Tutorials, Training, Classes Online
This online audit course focuses on ideas and applications associated with the professional duties of financial-statement auditors as well as significant elements of the audit process, such as risk assessment and audit reporting. From this course, you will come across an extensive conceptual and practical introduction to auditing in society.
The course is offered by the University of Illinois by Mark E. Peecher – Associate Dean of Faculty and Deloitte Professor of Accountancy. His areas of expertise are financial accounting research and behavioral auditing. The instructor has 2 courses with 36,401 students combined gaining him an instructor rating of 4.72/5.
Key Highlights & USPs
Learn why to study Assurance and Attestation and identify the Need for Excellent Auditing.


Learn Obtaining Reasonable Assurance and Material Misstatements.


Gain the skill of risk assessment and how to go about using the Audit Risk Model.


Go through Financial Statement Audit and learn how auditors audit statements under guidelines.


Take a self-paced course with lots of practice tests, graded assignments & quizzes, video lectures, and reading material, and when you're done, get a shareable certificate.
Who is it for?
The courses are very much perfect for beginners in the auditing area as they can make use of the various reading materials and quizzes to learn the best knowledge in the field. It is the top-listed course since it includes the perfect balance of theory and practical aspects of auditing.
Rating: 4.7/5
Students Enrolled: 39,057
Duration: 28 hours
Coursera's continuation in the Auditing series has come up with this part two of the auditing training course where you will learn the practice of auditing. This course through its 8-week plan focuses on a conceptual framework that audit professionals use to gauge, analyze, and handle audit evidence and risks.
The instructor for this course remains the same Ph.D. holder Mark E. Peecher. Mark is a distinguished professor who enjoys instructing undergraduate, graduate, and doctoral students. He has won the Audit Section's Innovation in Auditing and Assurance Award in the past. His scholarly works have been published in AOS, AJPT, CAR, IJA, JAR, OBHDP, and TAR.
Key Highlights & USPs
Learn about the idea of strategic systems auditing in this module (SSA) and discover the SSA approach and how it affects the audit.


Identify the three sources of evidence – entity business states, management information intermediates, and management business representations.


Get to know how to apply evidence triangulation to the WorldCom affair. 


You will discover many auditing techniques for controls: Reliance strategy versus substantive strategy


This business strategy certification course comes with videos, lectures, readings, and a Hands-on Project for you to actively get involved in. Also, get a certificate in the end.
Who is it for?
The course is catering to individuals who have completed the 'Part I' of this series which is aimed at beginner-level difficulty. By the end of this course, you will be fully equipped with the daily working of an auditor and will be ready with entry-level skills to get a starting job.
Rating: 4.9/5
Students Enrolled: 15,548
Duration: 24 hours
There are several auditing courses on this platform like Lead Auditor Tools for a Professional Internal Audit, Certified Quality Auditor Training, Management System Auditor Training (ISO 19011), Internal Auditing Part I, Internal Audit: a Guide for Management, etc.
The courses on this platform are taught by the best audiots, professors and industry experts in auditing filed with names like Vlad Karols, Adrian Resag, Danielle Volski, Sandeep Kumar, Cristian Lupa among many other individuals.
Key Highlights & USPs
Know how to define and communicate risks, controls, and other key words in internal auditing.


Learn about the audit report, the audit plan, the opening and closing meetings, the techniques used to gather information, conducting interviews etc.


Conduct an internal/external quality management system audit with assurance.


How to conduct management system audits and What you need to understand to pursue a profession in auditing.


Get full lifetime access to the course, tons of articles, and tons of downloadable resources, along with a completion certificate for your resume.
Who is it for?
This course would be beneficial for students who are studying Accounting and Auditing and also the owners and managers of businesses that are interested in learning about measures that can be utilized to safeguard their companies and assets.
Rating: 4.7/5
Duration: Self-paced

Valid till: 30th September
You will learn about information system risks in this auditor training program and how to reduce such risks with effective IS controls. Additionally, you will become acquainted with the IS Audit methods and how they are used throughout the Systems Development Life Cycle when developing IS (SDLC).
The Hong Kong University of Science and Technology offers this course with an Associate Professor of Business Education serving as the instructor. He has gained an instructor rating of 4.64/5 from 53,749 students gained through 3 of his courses on the platform.
Key Highlights & USPs
Get to learn the 3 step risk management process to better  understand the risk involved and how to counter it.


Learn about two significant tests that IS auditors and compliance officers must conduct, as well as general IS audit procedures.


Gain the skills of Information Security, Change Management, Risk Management and IT Management.


Once the course has been fully finished, You will receive a completion certificate and lifetime access to the course.
Who is it for?
A course made for beginners or students pursuing information systems, computer science and information technology who are seeing IS auditing as a future job option for themselves. It helps you to develop your IS auditing skills to make full use of information systems for auditing.
Rating: 4.7/5
Students Enrolled: 65,462
Duration: 9 hours
FAQ
What qualifications are needed to become an auditor?
An auditor is a specialist who examines organisations' financial statements to see whether they are accurate and consistent with regulations. You require a bachelor's degree in accounting or a closely related subject to work as an auditor. In addition, you must have years of experience working in auditing or accounting. A professional credential, such as a Certified Public Accountant (CPA) licence, could also be required by some employers.