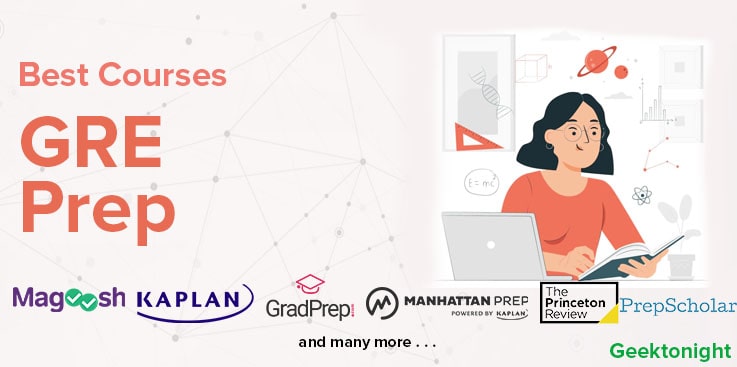 The GRE Test is one of the most popular examinations for students who want to study MS or Graduate studies abroad. It is regarded as one of the most prestigious exams, and it is conducted several times around the year. In this article, we have compiled the Best GRE Prep Courses where you can prepare for this exam and study abroad.
Our product recommendations are unbiased and based on an independent review process. We may receive a commission for links to recommended partners. See our advertiser disclosure for more information.
---
Best GRE Prep Courses, Certification, Tutorials, Classes
GRE Test Prep by Grad Prep is the most affordable GRE course available online. It is specially designed to improve your GRE scores as it covers all the essentials you need to learn in order to ace GRE. It also helps you gain mastery in all of the subjects and score high in GRE. The Practice Bundle which comes alongside the main material includes 7 exclusive and full-length GMAT practice tests and in-depth answer explanations for each question.
GradPrep.com is the new online test prep experience from EBSCO LearningExpress™, a trusted source for admissions test preparation used by over 16,000 schools, colleges, public libraries, and other organizations for decades.
Key Highlights & USPs
Use 7 exclusive and full-length GMAT practice tests which cover all the required concepts of GMAT.


Get access to Assessment Score Predictor which helps in estimating the clarity of concepts


Assured Satisfaction Guarantee or 100% Money Back


Get 3 different Test Modes to help you learn, prepare and simulate the test day experience


Learner mode helps view the answers to each question as you go along to help you study.


Practice mode lets you see answer explanations after you have finished. If the test is timed, the timer will display but will not be enforced.


Simulation mode is exactly what you'll experience on test-day; the test will stop when the timer stops.
Who is it for?
The GRE Practice Test is an amazing course for people who want to crack the GRE with top scores. It is a highly flexible and affordable course which can help you improve your scores dramatically. As the GRE Practice Test is self-paced, you can easily build upon your overall score. GRE Practice Test is powered by GradPrep.com, which is a trusted source for admissions test preparation used by over 16,000 schools, colleges, public libraries, and other organizations for decades.
Rating: 4.8/5
Duration: Self-paced
The GRE Prep Course offered by Magoosh is an excellent resource for the preparation of GRE. It makes it simple for anybody to prepare for the GRE and understand complex topics with ease. With Magoosh, you'll always be studying with the most updated, tried-and-tested materials based on careful analysis of millions of students' answers. Follow targeted study schedules and gain real test experience for the exam. Keep track of your progress with an intuitive dashboard that estimates your score, compares your pace with other students, and tracks your learning.
Key Highlights & USPs
Top-quality study materials continually updated based on millions of students' answers


Study on your own with self-study prep or with others in an online live class


Most ambitious score improvement guarantee: +5 score or your money back


Smart feedback and progress tracking to turn your weaknesses into strengths


Unbeatable price in test prep: ¼ the price of competitors
Who is it for?
Anybody who wants to prepare for the GRE and score high can take this amazing course. This course is designed for students who want an affordable yet effective GRE course. 
Rating: 4.7/5
Duration: Self-paced
GRE Test Prep Online Course

[Princeton Review]
Princeton Review GRE Course is one of the most popular courses on our list. You will find most similar GRE tests to prepare for the real GRE paper. Since this course is very flexible, you will be able to test your performance and choose by time, difficulty, and subject. You'll be able to pick an initial practice paper and according to your results, you'll get a follow-up practice test that is at the right difficulty for you. These tests will Keep track of your completion using the intuitive dashboard and also interactive score data.
This course is taught by highly qualified teachers like Tony P BA, (MBA, Loyola University). Christopher K (BA, Mathematics, University of Central Florida). Krissi S, (BA English, St Mary University), These instructors are heavily demanded in the industry.
Key Highlights & USPs
Progress Yourself by using an Intuitive dashboard and Interactive score reports which will make you aware of where you stand


Practice with beginner tests which will give you tests according to your level


Attempt similar GRE Exam-Style Questions and Experience to improve your skills and time management considerably
Who is it for?
This course is best suited for those students who want to clear the GRE Exam with high grades which will help them secure a good university for popular exams.
Rating: 4.7/5
Duration: Self-paced
GRE Prep Courses and Test Prep

[Kaplan]
Kaplan GRE Prep Courses are one of the best courses you can find in the market right now. It will provide you with an online course which includes personal tutoring and live classes which will help you clear the GRE exam with ease.
These courses are instructed by highly educated teachers like Dennis Yim who has been teaching GRE for more than 15 years, and Craig Harman who has been leading the GRE and changing the curriculum for more than 12 years.
Key Highlights & USPs
Get more than 40 hours of special live and recorded classes on the GRE Channel which will give you clarity on important concepts


Experience Official Test Day that creates a real-life test day simulation so you can ace the exam without anxiety experienced for the first time


Achieve one on-screen instructor which will lead the class and a group of teachers staying off-screen will answer queries privately so you can ask questions without hesitation


Get facilitated with a complete GRE On-Demand course, which will be available to you anytime, anywhere so you can save your time and access the course easily


Proceed with one on one instruction with a highly qualified teacher so you will get an advantage over other GRE aspirants
Who is it for?
This course is perfect for those people who want to get exclusive benefits and easy access to the learning concepts to clear the GRE exam with proper guidance.
Rating: 4.7/5
Duration: Self-paced
GRE Classes and Training Online

[PrepScholar]
GRE Classes and Training by PrepScholar is one of the best on our list. This will help you acquire your best performance in the least time possible. You will be getting more than 2000 practice questions and comprehensive lessons that will help you understand the key concepts of GRE.
These classes are taught by brilliant instructors with a great amount of teaching experience like James and Corey who have scored 99 percentile in GRE. Also, Corey has studied Ph.D. in Chemical Engineering at MIT.
Key Highlights & USPs
Use the GRE program online anytime and anywhere you like, so you can use the course with more flexibility


Get comprehensive and original GRE questions that get regularly updated to the latest GRE.


Utilize full accessibility to queries and lessons of all difficulty levels, which will diversify your concepts and make you  GRE Ready!


Learn unique ways the GRE will check your skills and concepts so you can understand the algorithm of the GRE


Get guided by PrepSchool about what you require to study next, or whether you are learning the correct things
Who is it for?
This course is ideal for everyone looking for a course which tells them exactly what to do and how to do it. Since this course is accessible 24/7, it gives the user a lot of flexibility to study according to their schedule.
Rating: 4.5/5
Duration: Self-paced
GRE Online Prep Course & Classes

[Manhattan Prep]
GRE Prep Course and classes by Manhattan Prep is one of the brilliant courses available on our list. This course helps to understand all the subjects in GRE with a little more focus on quantitative aptitude, this course comes with 1 on 1 personalized prep which will be evaluated and guided by an expert GRE teacher.
It is instructed by test prep masters, creators of curricula, and MBA and Ph.D. graduates. Loaded with experience, and a friendly attitude which helps to communicate with students in a great way.
Key Highlights & USPs
Get help from experienced and friendly teachers in an entertaining way since all the instructors are very down to earth.


Access smaller classes which will help you achieve the right balance of attention and active participation in the course.


Utilize the curriculum which is written by the instructors, established on real exam questions, and optimized constantly.


Acquire video lessons when needed, trackers which will keep your progress in check, complete practice tests, and much more.
Who is it for?
This course is a must for those who are applying for MBA after GRE, or for those who want an extra focus on quantitative aptitude to master their weak areas. This comes with personal instructors who will guide them in every step towards the preparation for GRE.
Rating: 4.6/5
Duration: Self-paced
Ignite your GRE Quant Score

[Target Test Prep]
Ignite your GRE Quant Score By Target Test Prep is one of the most Quantitative focused tests in nature. It will help the users to learn every single concept of Quants, as well as the other subjects such as verbal, and the course takers will be provided with more than 3500 GRE practice questions so that one can become familiar with the difficulty of the questions in GRE.
Key Highlights & USPs
Keep an eye on your Learn all basics and strategies you need to clear the GRE verbal and math sections, which will drastically increase your percentile.


Get 30 chapters that will teach about high-value GRE quant and verbal topics, provided by study plans, and check with smart analytics, so your GRE prep is less time-consuming and effective.


Access the platform which adjusts to your individual requirements and lets you study anywhere, anytime, creating and giving high scores.


Create a strong foundation with more than 600 clear, easy-to-understand lessons compiled to maximize your understanding.
Who is it for?
This course is best for those people who need more focus on quants since this course is quant intensive. It is a must for people with these needs, However, it also focuses on subjects like Verbal so you can overall improve your GRE score and percentile. This course is easily accessible so the users can learn the concepts easily.
Rating: 4.5/5
Duration: -paced
GRE Score Improvement Course

[The Economist]
The GRE score improvement Course offered by The Economist is one of the most technologically advanced courses on our list. It uses advanced technology to distinguish your understanding habits and patterns. Its comprehensive courses will make you ready for all sections of the GRE which will be changeable according to your own learning habits through the unique credit system.
Key Highlights & USPs
Get incorporated in machine learning and crowdfunding algorithms to discover the best way for you to solve all questions


Access Premium and Genius plans which offer a 6 or 7-point score improvement


Get provided with AWA essay marking, which also includes 1 on 1 tutoring sessions and assessments


Take advantage of examPAL's award-winning education technology
Who is it for?
This course is best for those people who want a good futuristic technological-driven course that will help them to clear GRE and its concepts without any difficulty. Its flexibility in accessing the content and assessments will be a game changer for many people.
Rating: 4.7/5
Duration: Self-paced
Prepare for the GRE Test

[ETS GRE]
Prepare for the GRE Test By ETS GRE is one of the most affordable and less expensive courses on our list with lots of free content that any individual can access. This course focuses on subjects like Verbal Reasoning, Quantitative Reasoning, and Analytical Writing. It also includes various practice tests which will test your ability to score on the GRE.
Key Highlights & USPs
Improve your skills with more practice than ever with excellent test prep offerings from the test organizers.


Practice for exam day with exclusive books and services from ETS, the organizer of the GRE General Test.
Who is it for?
This course is best for those people who want to get a course that will not make a hole in their wallet, which also provides them good quality resources for study with low or no cost at all. Since this course focuses on all three subjects of GRE, users will be able to master these subjects with high-quality practice papers which makes this course a fantastic choice.
Rating: 4.7/5
Duration: Self-paced
FAQ
What is GRE Exam?
The Graduate Record Examination (GRE) is a standardized test that is often required for admission to graduate school in the United States. The GRE is administered by the Educational Testing Service (ETS) and is used by graduate programs to assess the readiness of applicants for graduate-level coursework.
The test is divided into six sections: Analytical Writing, Verbal Reasoning, Quantitative Reasoning, and an unscored Experimental or Research section, as well as an unscored Verbal or Quantitative section.
The Analytical Writing section measures critical thinking and analytical writing skills, while the Verbal and Quantitative sections measure verbal and mathematical abilities, respectively.
The Experimental or Research section is used to test new questions or to evaluate existing questions.
The Verbal or Quantitative section is used to evaluate new questions, but the scores for this section are not included in the final score. The GRE is a computer-based test and is offered year-round at testing centers around the world.
How long should I take to prepare for the GRE?
The GRE exam is a test of patterns and not facts, that is why you need to prepare thoroughly in order to get good grades. It is recommended that you take anywhere between 4 and 12 weeks for the GRE preparation.
Is it worth it to take a GRE prep course?
Are GRE prep courses worth it? Yes, GRE prep courses are worth it. They are one of the best ways to make sure you study the right material and memorize the correct answers.
How Long is the GRE Exam
The GRE General Test is approximately 3 hours and 45 minutes long and consists of six sections.
The test begins with the Analytical Writing section, which consists of two tasks that you must complete in a total of 60 minutes.
The next two sections are the Verbal Reasoning and Quantitative Reasoning sections, which each consist of 40 questions and are given in a 35-minute time frame.
After a 10-minute break, you will then complete two unscored sections, which can be either Verbal or Quantitative in nature.
The final section is the Experimental or Research section, which is also unscored and can be either Verbal or Quantitative. This section is used to test new questions or to evaluate existing questions and is 35 minutes long.
The total testing time for the GRE General Test, including breaks, is approximately four hours.
How Hard is the GRE Exam?
The difficulty of the GRE exam can vary depending on an individual's background and strengths. Some people may find the verbal reasoning section particularly challenging if they have not had a lot of exposure to reading and analyzing complex texts, while others may find the quantitative reasoning section more difficult if they have not had a lot of math training.
Overall, the GRE is a challenging exam that tests a wide range of skills and knowledge. It is designed to be a general test of graduate-level aptitude, and it covers a variety of subjects such as verbal reasoning, analytical writing, and quantitative reasoning. To do well on the exam, you will need to have strong critical thinking, analytical, and problem-solving skills, as well as a solid foundation in math and English.
That being said, the GRE is not an impossible exam, and with adequate preparation and practice, you can improve your chances of doing well. It is important to familiarize yourself with the format and content of the test and to practice with sample questions and full-length practice tests to get a sense of what to expect on test day.
Can I Reschedule My GRE Exam
Yes, it is possible to reschedule your GRE exam. If you need to change the date, time, or location of your exam, you can do so through your ETS account online or by contacting ETS customer service.
To reschedule your exam online, log in to your ETS account and select the "Reschedule" option from the "My Tests" section. From there, you will be able to select a new date, time, and location for your exam. You will need to pay a rescheduling fee to confirm the change.
If you are unable to reschedule your exam online or prefer to speak with a customer service representative, you can contact ETS customer service by phone or email. Be sure to have your registration number and other identifying information ready when you contact them.
It is important to note that you must reschedule your exam at least four full days before your original exam date, and you may be required to pay additional fees to do so. Be sure to carefully review the rescheduling policy and fees before making any changes to your exam date.