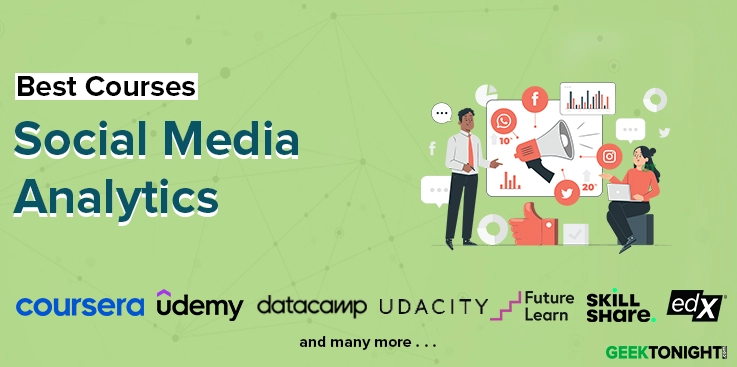 With the use of social media analytics, businesses and organizations may better comprehend their online presence. Businesses can learn more about their customers, their marketing initiatives, and even their competitors by studying data from social media sites.
Numerous excellent online courses are available if you want to learn more about social media analytics. We'll list some of the best social media analytics courses in this article. You will learn the fundamentals of social media data analysis in these courses, which will also provide you with the ability to begin utilizing social media analytics in your company.
Our product recommendations are unbiased and based on an independent review process. We may receive a commission for links to recommended partners. See our advertiser disclosure for more information.
---
In this online social media analytics course, Learners will be made aware of the advantages and constraints of using social media data in place of conventional techniques of marketing research in Introduction to Social Media Analytics. With the help of a top social media listening platform, this course teaches students the fundamentals of social media listening, such as how to create monitors and understand basic social media data.
The course is brought to you by Emory University with David Schweidel serving as the instructor for this course. David is an Asscociate Professor of Marketing whose expertise involves the areas of social media analytics and customer relationship management. On Coursera, he has gained 55,153 students from only 5 courses with an instructor rating of 3.75.
Key Highlights & USPs
Learn to analyse the data and messaging on social media.


Talk about how to assess and judge contributions on social media. You will have a better understanding of what information is beneficial or not.


Learn how to use social media monitoring in your business decisions.


Examine several social media indicators to track and spot changes from customary social media behaviour.


You will learn how to "listen" to the data through viewing video lectures and doing tasks, practise quizzes, discussion forums, and peer evaluations after completion in addition to having full access to the course.
Who is it for?
This social media analytics course teaches students how to use social media data to gain understanding of market dynamics and consumer impressions of a business. It easily solves the painpoint of social media beginners by teaching how raw present data can be looked in a different way to turn the same data into insight.
Rating: 4.2/5
Students Enrolled: 21,129
Duration: 9 hours
This social media analytics training course uses R, a programme that analysts frequently choose since it provides a wide range of libraries relevant to every single task in data analysis. This course will teach you to segment and categorise your website traffic and also learners will be required to identify repeat visits and the effects of social media on their audience.
The course is taught by Packt Publishing, Packt is a well-known, dependable, and creative global technical learning publisher with over 18 years of experience delivering premium content from trailblazing authors. They have around 404, 299 students from 1,167 courses with an instructor rating of 3.9/5.
Key Highlights & USPs
Gain understanding of the functionality of your website through practical assignments.


Use key performance indicators (KPIs) and Make an efficient analytics measurement model.


Create comprehensible PDF reports and dashboards using the R-markdown language.


Plot cumulative transactions to gauge the success of your marketing initiatives.


Utilize social media analytics to help your website or business succeed.


Get free lifetime access to the course and its materials along with downloadable resources to help you in reference.
Who is it for?
It is most suitable for Professional developers and analysts who want to learn and investigate web analytics methods using R and require a learner of intermediate caliber who basically have some knowledge of R as well as familiar with social media.
Rating: 3.9/5
Students Enrolled: 200
Duration: 6 hours

Valid till: 30th September
This social network analytics course provides a good introduction to understanding the fundamentals of data analytics and visualization for social media. It teaches learners how to extract, collect, analyse data from social media and convert it into useful information for your business.
A course provided by The University of Washington with its then faculty member, Dr. Chirag Shah. He oversees the InfoSeeking Lab at Rutgers, where he does research on interactive information retrieval, social media, and information seeking topics with funding from the National Science Foundation (NSF), Google, and Yahoo! He has an astonishing instructor rating of 4.17 with 38k+ students from only 1 course.
Key Highlights & USPs
Use multiple Application Programming Interface (API) services to get information from various social media sites, like YouTube, Twitter, and Flickr.


Process the gathered data, which is mainly organised, using correlation, regression, and classification techniques to learn more about the sources and individuals that produced the data.


Analyze unstructured data, typically text comments, to determine the attitudes reflected there.


Utilize a variety of methods to gather, examine, and explore social media data for research and development needs.


The course along with completion certificate also provides number of brief assignments or mini-projects that will help learners in sharping their social media analytics skills.
Who is it for?
An intermediate level course that requires very basic prior knowledge of social media analytics and helps in building the technical knowledge required to asses data from social media. The course helps in providing a systematic way through which individuals can collect, store, and analyze raw inputs collected.
Rating: 4.1/5
Students Enrolled: 38,819
Duration: 13 hours
FAQ
Social media analytics is the process of measuring, analyzing, and interpreting the data and insights from social media platforms. This data can be used to inform marketing decisions and help businesses understand the performance of their social media campaigns.
There are a variety of social media analytics tools and techniques that businesses can use to collect and analyze data from social media platforms. Some common methods include looking at engagement rates, analyzing sentiment, and tracking social media reach.
Social media analytics can be used to track a variety of metrics, including brand awareness, customer satisfaction, and leads generated. By understanding the data and insights from social media platforms, businesses can make better-informed marketing decisions that help them achieve their goals.
The procedure of gathering, measuring, and evaluating data from social media platforms is referred to as social media analytics. Tracking other metrics, including engagement, reach, and conversions may be done with this data.
Social media analytics can be used to track a wide variety of topics. Among the most popular metrics are:
– Reach is the total number of people who view your content. 
– Engagement is the total number of people who engage with it. 
– Conversions is the total number of individuals who act after viewing your content (such as subscribing to your newsletter or making a purchase)
You may gain a better grasp of how your social media material is performing and what areas you can improve by tracking these and other indicators.