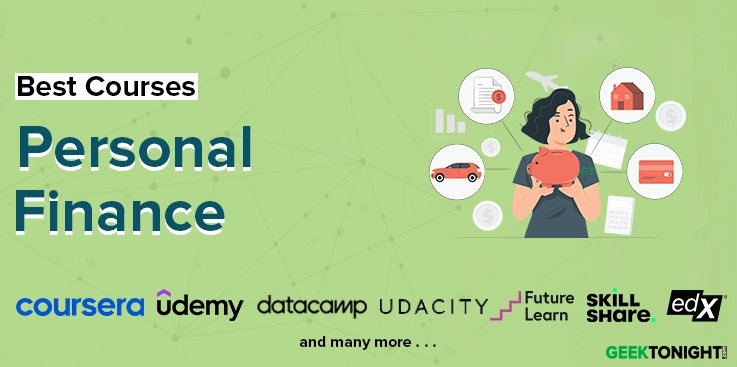 There are numerous options for 'best personal finance course', but which is 'the best'? Finding the ideal course for you might be challenging, but there are a few factors you can consider to guide your choice.
Think about the course's price first. We have also included free courses but you might want to think about a premium option if you're searching for a more in-depth education. Examine the curriculum next. Make sure the course is presented by knowledgeable faculty and that it covers the areas you are interested in.
Finally, think about the course's structure. Others are taught in a regular classroom format, while some courses are self-paced, supporting both online and offline hybrid modes. Select the format that best suits your needs and learning preferences start away!
---
Best Personal Finance Courses, Certification, Tutorials, Training, Classes Online
In order to help you develop responsible habits both in school and throughout your life, Personal and Family Financial Planning will cover a wide range of important personal financial management subjects. There are nine modules in the course, each covering a different idea related to managing your money to meet future demands.
University of Florida brings you this personal finance training with Michael S.Gutter serving as the instructor for this course. He has a PhD in Family Resource Management with a focus on Finance, and also BS in Family Financial Management. Michael has gained an instructor rating of 4.68/5 from his 148,966 students on Coursera with only 1 course!
Key Highlights & USPs
Learn risk management to correct errors or stop upcoming financial uncertainties.


Review the basics of investing, mutual fund investing, and developing a personal action plan.


Get to know the guided way to financial stability and temporal value of money.


Go over the "Rules of Investing," "Debt and Equity," and "Investment Fundamentals" sections.


Self-paced course with plenty of practice tests, video lectures, and reading materials; upon completion, receive a shareable certificate.
Who is it for?
This personal finance for beginners course is aimed towards individuals who are more in their initial stages of life mostly in 18-40 years where individuals work and try to save as much as possible for personal investments or for family.
Rating: 4.6/5
Students Enrolled: 148,966
Duration: 15 hours
All of the important concepts in a full semester of MBA-level finance are addressed in this quick advanced personal finance course. Additionally, the course also prepares you to develop the fundamental capital budgeting tools and get a mindset of that of a head corporate financial manager.
The personal finance training course is brought to you by Rice University with Professor of Finance, James Weston hailing from Jones Graduate School of Business. James regularly lectures at conferences and professional seminars, and he has presented his research papers at more than 40 universities throughout the world.
Key Highlights & USPs
Learn some of the fundamental concepts of the time value of money, compound interest, and discounting the future.


You will learn how discounted cash flow (DCF) valuation differs from other approaches.


Understand the types of spending habits and learn how, when, and where to spend money.


Come across various key conceptual levers that influence financial decision-making.


You are entitled to a coursera verified certificate and resources to use in the future after finishing the course.
Who is it for?
A beginner level course which requires no prerequisite knowledge of finance making it perfect for beginners. Instead, it serves as a starting point for anyone interested in learning about stock markets, valuation, or corporate finance.
Rating: 4.8/5
Students Enrolled: 139,794
Duration: 14 hours
The aim of this personal financial management course is to introduce young adults to the fundamental ideas of financial planning. The course is divided into eight distinct modules over the course of a 4-week period. It plays an essential role in helping individuals to analyze each situation critically and determine how you may handle it in a similar circumstance.
The course is offered by the University of Illinois with its Associate Professor – Nicholas Paulson, Consumer Economics Educator – Kathryn L. Sweedler and Director of Academic Programs and Initiatives – Charles R Chaffin.
Key Highlights & USPs
Learn about the fundamentals of budgeting, and participate in a panel discussion with actual financial advisors.


Get to develop a saving habit and identify potential obstacles to saving.


Learn Mental accounting and how it might influence people's saving habits.


Go through Personal risk tolerance, risk management and overview of potential careers in financial planning.


Get lifetime access to the course and its material along with a completion certificate once successfully finishing the course.
Who is it for?
The course helps you to identify your own financial goals and offers tools that can be used to help you achieve those goals. It is an entry level course helping you to gain the skills of risk management, investment, budget and savings.
Rating: 4.6/5
Students Enrolled: 119,956
Duration: 20 hours
This Udemy personal finance course offers a road map for your personal financial success. It also includes a thorough Complete Personal Finance Excel dashboard exercise file that will help you in managing your finances from a saving and spending point of view.
The instructor for this course is Chris Haroun, Founder and CEO of Haroun MBA Degree Program. His instruction is based on his own, practical experience. On the platform, the instructor has 1,228,989 students enrolled in 68 of his courses, and they have given him a 4.6 out of 5 instructor rating.
Key Highlights & USPs
Utilizing insurance products to safeguard your loved ones and your property.


Increase your knowledge of your net worth and create an ideal budget and learn to file taxes most effectively.


Learn how to reducee your tax obligations in order to significantly boost your long-term net worth.


How to calculate your mortgage payments and how much you should spend on a home.


Get a completion certificate, lifetime access to the course's contents, and access to the course on TV and mobile devices after successfully completing the course.
Who is it for?
The course is made for all individuals regardless of their caliber of a beginner or an expert everyone will benefit from this course as they will learn everything about personal finance, including how to increase their savings, protection, and income.
Rating: 4.6/5
Students Enrolled: 125,566
Duration: 16 hours
You can Sign up Here
The course taker will learn how to manage their finances, increase their income, pay off debt, create a sensible budget, invest their money, and much more in this online personal finance class. The course outlines the route to financial independence for learners by teaching them the abilities and information necessary to comprehend money in its truest form.
The instructor list includes Phil Ebiner – a top rated instructor with 2 million+ students from only 173 courses on the platform, Michael Moyer owner of 'Mike and Lauren' Youtube Channel and Video School.
Key Highlights & USPs
Gain an understanding of how items like credit, compound interest, taxes, and investment accounts operate.


Learn the #1 rule top financial wisdom tip for being financially smart and helping you to achieve early retirement age.


Recognize why taking loans can benefit you and the basics 101 of taking a debt.


Also, get to know various alternatives for investing other than regular old stocks and bonds.


Get free lifetime access to course material along with 14 articles, 2 downloadable resources, and a certificate upon successful completion.
Who is it for?
During the course of time, you will understand the steps that one should take to achieve financial freedom. The ultimate goal of this personal finance certification course is to make you aware of how to invest wiser for a better future financial position.
Rating: 4.6/5
Students Enrolled: 37,113
Duration: 7.5 hours
Recognize the effects that financial planning has on your lifetime fortune. With the help of this course, you may improve your ability to use income statements, balance sheets, budgets, and taxes to help you reach your financial objectives.
The course instructors are from Kelley School of Business, Indianapolis Executive Associate Dean of Faculty and Research and Professor of Finance – Kenneth Carow, and Senior Lecturer – Professor Todd Roberson.
Key Highlights & USPs
Recognize the fundamentals of financial planning, such as income statements, balance sheets, and budgets.


Learn to create a financial strategy using a step-by-step process to achieve your own financial goals.


Recognize how timing and planning affect your lifetime personal fortune and understand the theoretical knowledge that will help you in taxes management.


Understand the implications of personal financial planning and its impact.


Practically structured course includes assignments and tests, plus after the competition, a shareable certificate.
Who is it for?
This personal finance 101 is made for individuals to develop their financial literacy. By the end of this course, beginners level learners will easily be equipped with a SMART financial planning method which in turn will help them to make progress toward their financial objectives and stay away from typical blunders.
Rating: 4.7/5
Students Enrolled: 24,682
Duration: 4 week, 4-6 hours/week
edX provides both paid and free online personal finance courses which aim at individual at teaching basics of finance, budgeting, savings, accounts and everything remotely close to finance. There are various courses present on this platform like 'Personal Finance', 'Accounting for Decision-Making', 'Finance', 'Foundations of Modern Finance II' and many more.
The personal finance courses are taught by professionals in finance field with instructors names including such as Gautam Kaul, Leonid Kogan, Egor Matveyev, Jiang Wang, S.G. Badrinath among many other expertise in finance.
Key Highlights & USPs
Learn how to use various decision-making tools, and how to make wise financial decisions for both your personal and professional life.


Learn the fundamentals of finance so that you may use them everywhere, in both personal and professional settings.


Identify to create and use financial analysis tools for assessing a company's fundamentals.


Get Knowledge of capital budgeting, real and financial alternatives, capital structure, yield curve research, and corporate risk management are fundamental.


How to plan, control, and make choices with accounting information.


Apply asset pricing models, risk analysis, portfolio theory, the theory of market efficiency, valuation theory, financial securities etc.


The courses are infused with practical exercises for experience building and quizzes to test your knowledge and after completing the course in its entirety be entitled to shareable certificate.
Who is it for?
This free online personal finance courses is made for all levels of learners helping them to acquire and improve knowledge of the basic ideas behind financial markets and market players.
Rating: 4.7/5
Duration: Self-paced
FAQ
What is the best way to learn about personal finance?
The ideal technique to learn about personal finance relies on your unique requirements and learning preferences, thus there is no universally applicable answer. To make sure you are getting the most out of your learning experience, there are a few fundamental guidelines you can adhere to.
First, be sure the sources of information you are using are trustworthy and current. It is crucial to conduct thorough research on the subjects you wish to learn about because there is a lot of false information out there.
Second, don't try to learn everything at once; instead, take your time. Because personal finance is a complicated subject, it's crucial to take it slowly and concentrate on one aspect at a time.
Finally, make sure to apply what you have learned. Make sure you are actively applying yourself because doing is the greatest way to learn.
Why is personal finance important?
There are several reasons why personal finance is essential. You may be able to save money, improve your financial situation, and perhaps put off retirement longer.
You can take a number of actions to enhance your personal finances. You can start by making and following a budget. By enrolling in classes and increasing your knowledge of financial management, you can also invest in yourself. Additionally, you can manage your finances wisely by contributing to a Roth IRA or 401k, for example.
Making wise financial decisions can significantly improve your life. You can safeguard your future and have a happy, stress-free life by taking charge of your finances.