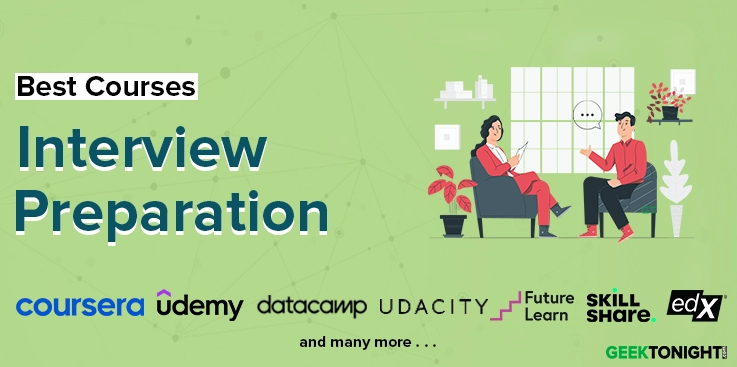 Interviews can prove to be intimidating. It's not always enough to just have the required technical skills. You also need to be capable of performing under pressure and being clear with your tech vocabulary and communication. Most importantly, you need to be prepared beforehand for all the challenges during the interview.
Our product recommendations are unbiased and based on an independent review process. We may receive a commission for links to recommended partners. See our advertiser disclosure for more information.
That is why we have listed the Best Interview Preparation Courses & Certification available online, where you can learn the best tips for Interview Preparation.
---
Best Interview Preparation Courses, Certification, Tutorials, Training, Classes Online
The interview Training Course offered by Udemy is one of the best-selling online courses for interview preparation. The course will make you aware of how the modern job applicant today is preparing to outsmart you during the interview. You'll learn how to properly greet a candidate and then quickly transition into setting expectations and gaining control of the interview.
You'll learn the difference between a great interview question and a bad one. At the end of the course, you'll learn some advanced techniques used by some progressive hiring organizations to add more structure to their hiring decision process.
Rating: 4.4
Students Enrolled: 20,018
Duration: 1hours 38m
Interview Courses offered by Coursera are an amazing resource for interview preparation. This library of courses will be teaching you everything you need to know about the ins and outs of interview preparation. It is suitable for students and learners of all levels: from beginners to advanced. You'll learn how to prepare for different types of job interviews, and how to answer some of the most common interview questions recruiters and hiring managers will most likely ask.
Key Highlights & USPs
Discover the interests that you can use and do work that leverages your strengths


Use strategies for handling the salary question


Use persuasive speech techniques to convince a potential employer of your interest


Identify what the organization is looking for in asking situational interview questions


Perform successfully in telephone interviews
Who is it for?
It is suitable for anybody who wants to prepare for interviews and learn the basic strategies for interview questions and their answers.
Job Interview Skills Training Course is one of the top-rated free courses for Interview Preparation. In this course, you will learn what to do before your interview is scheduled, specific interviewing techniques such as mirroring body language, and you will have the opportunity to practice the most common interview questions. Whether you are completely new to the job market or looking to advance your career, this course will empower you with the knowledge and skills necessary to dazzle during your next interview.
It is designed by TeachUcomp Inc, which is a software training centre in Holt, Michigan – providing instructor-led, classroom-style instruction in over 85 different classes, including Microsoft Office, QuickBooks, Peachtree, and web design.
Key Highlights & USPs
Learn what to do before you have an interview scheduled


Answer the 15 most important interview questions


Understand how to follow up after an interview


Learn the importance of staying healthy and grooming for success


Understand how to Handle Illegal Questions
Who is it for?
Anyone who wants to sharpen their interview skills can take this course and prepare effectively for interviews.
Rating: 4.5
Students Enrolled: 178,498
Duration: 1hours 34m
Hiring and Interviewing Courses offered by LinkedIn Learning is an amazing resource for interview preparation. It will be teaching you everything you need to about hiring interviews. This library of courses is suitable for all learners, irrespective of their previous experience in the subject. The tips provided in this course will help you craft authentic answers that showcase your experience and your enthusiasm for an organization. Get insights on how to dress for your interview, project confidence with your body language, negotiate your salary, and more.
Key Highlights & USPs
Understand salary negotiation approach and tips


Improve your body language in a hiring interview


How to research a company before your interview


Learn how to handle radio silence after the interview


Follow-up effectively after each successful interview
Who is it for?
Whether you're looking for a new job or want to switch from your previous job, this course will help you prepare efficiently for your next hiring interview.
How to Succeed at Interviews by FutureLearn is a top-rated course for interview preparation. Offered by the University of Sheffield, this excellent course will be teaching you the best tips needed to succeed at interviews and land your dream job or course place. Learn to deal with nerves, research practical details and anticipate key questions. Apply best practice techniques to enable you to tackle interviews for jobs, apprenticeships, placements, and university courses more effectively.
It is taught by Pamela Hafekost, Alison Clay, Marcus Zientek, and Katie Casserly. Pamela is responsible for developing the Careers Service website, Alison is the Careers & Employability Consultant at the University of Sheffield while Marcus is a Careers Service Co-ordinator.
Key Highlights & USPs
Identify what recruiters are looking for by researching an organization or institution


Gain a better understanding of your key selling points to tackle interviews effectively


Understand different types of interviews and how to tackle them


Apply best practices for tackling interviews for jobs, apprenticeships, placements 


Improve your chances of getting a job or securing a place on a university course
Who is it for?
This course is designed for anyone applying for jobs or courses and will help those in the early stages of their career, or those who are out of practice and need to update their skills.
Rating: 4.7
Students Enrolled: 275,731
Duration: 3 weeks
FAQ
How do you start preparing for an interview?
Here are some of the essential steps for pre-interview preparation:
1. Review the job description
2. Examine your eligibility for the job
3. Learn more about the company
4. Make a list of expected interview questions
5. Practice mock interviews
6. Organize your documents
7. Review your social media profile
What are the top 10 questions to ask in an interview?
Some of the most common questions asked during an interview are:
1. Tell Me About Yourself
2. Why Are You the Best Person for the Job?
3. Why Do You Want This Job?.
4. How Has Your Experience Prepared You for This Role?
5. Why Are You Leaving Your Job?
6. What Is Your Greatest Strength?
7. What Is Your Greatest Weakness?
8. How Do You Handle Stress and Pressure?
9. What Are Your Salary Expectations?
10. What Are Goals for the Future?