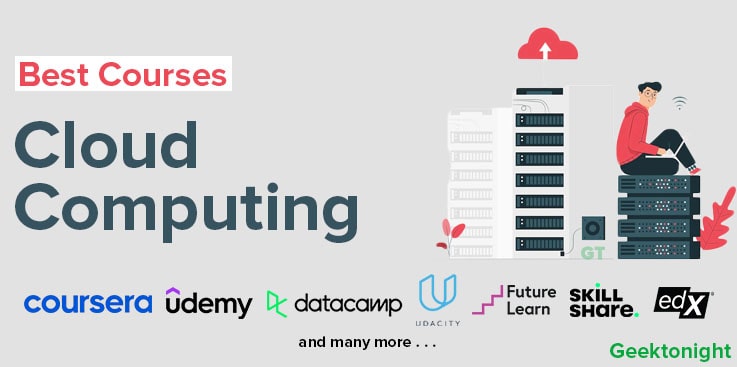 Cloud Computing is rapidly becoming an essential skill for IT professionals and software developers alike as more and more companies are migrating to Cloud for their necessary infrastructural as well as service-based needs. With the rise in cloud implementation, cloud engineers have become one of the most in-demand roles in the IT industry.
In this article, we have compiled a list of Best Cloud Computing Courses & Certification, where you can learn the essential concepts of Cloud Computing and get a rewarding career ahead
Our product recommendations are unbiased and based on an independent review process. We may receive a commission for links to recommended partners. See our advertiser disclosure for more information.
---
Best Cloud Computing Courses & Certification
The Cloud Developer Nanodegree program offered by Udacity is one of the most comprehensive cloud computing courses available online. In this course, you will get hands-on experience building and deploying full-stack apps, converting monolith to microservices and developing serverless apps on the cloud, and more. Udacity provides high-quality support as you master in-demand skills that will qualify you for high-value jobs in the cloud computing field and help you land a job you love
It is taught by Kesha Williams, Gabriel Ruttner, Justin Lee, and Ivan Mushketyk. Kesha is a software engineering manager at Chick-fil-A, while Gabriel is the CTO at Ursa & Tech Advisor for Start-Ups. Justin is an engineer specializing in designing modern data platforms and Ivan has formerly worked at Amazon Web Services (AWS).
Key Highlights & USPs
Learn the fundamentals of cloud development and deployment with AWS


Understand how to design and deploy scalable full-stack applications using modern cloud architecture


Become fluent with best practices of developing microservices, with a focus on different microservice architecture patterns


Understand the theory of serverless technologies with the help of developing a complex serverless application


Learn advanced serverless features such as implementing WebSockets and stream processing
Who is it for?
This program is designed to prepare students to become Cloud Developers. This includes several job titles such as cloud developer, full-stack developer, cloud engineers, and others. Cloud development skills are also helpful for adjacent software engineering roles. The prerequisites for this program include proficiency in JavaScript and Web development (HTML, CSS).
Rating: 4.5/5
Students Enrolled: 760
Duration: 4 months

Cloud Computing Courses on Udemy also are a great online resource for learning Cloud Computing. The library of courses offers excellent support for all levels of students, whether you are a beginner or a professional. You'll find several courses recommended for your learning experience, from the essential computing fundamentals to advanced tutorials that dive into complex concepts of Cloud Computing.
Key Highlights & USPs
Learn the essential fundamentals of Cloud Computing


Learn the basics of Amazon Web Services (AWS)


Develop hands-on skills using core Amazon Web Services (AWS) services


Understand how to secure your infrastructure by using appropriate Virtual Private Cloud (VPC) components


Become familiar with complex computing topics like VPC, Subnets, Route Tables, Security Groups, NACL, and NAT Gateway
Who is it for?
The courses are ideal for learners of all levels, starting from beginning students to experienced cloud professionals. These courses are designed to give you hands-on Cloud training and take your Cloud Computing skills to the next level, so you can get started on your Cloud Computing journey.
Rating: 4.5
Students Enrolled: 1,153,030 Students
Post Graduate Cloud Computing Certification Program [Caltech CTME]
The Post Graduate Program in Cloud Computing, designed in collaboration with Caltech CTME, helps you become an expert in Azure, AWS, and GCP. This in-depth cloud computing certification course will let you master the key architectural principles and develop the skills needed to become a cloud expert.
It will help you become an expert in designing, planning, and scaling cloud implementations. Master the core skill sets required to design and deploy dynamically scalable and reliable applications on three popular cloud platform providers: Microsoft Azure, AWS, and GCP.
It is designed by Rick Hefner and John R. Wetsch. Dr. Rick Hefner is the Program Director for Caltech's CTME and has over 40 years of experience in systems development, while John has served as a Program Director for Cloud Computing and has over 30 years of experience working in the industry.
Key Highlights & USPs
Learn the essential fundamentals of Cloud Computing, Technical AWS and Microsoft Azure


Understand how to design, plan, and scale AWS implementations utilizing over 70 Cloud Computing services


Learn how to manage Azure resources, configure and deploy virtual machines, and master Azure Cognitive Services


learn how to identify data storage options, integrate SaaS service on Azure, and author deployments


Learn how to solve real-world, industry-aligned Cloud problems
Who is it for?
It is designed for students who want to learn Cloud Computing from scratch and improve their Cloud skills through hands-on learning and experience. It is also helpful for people who want to land their dream job and have a rewarding career in Cloud Computing. There are eligibility criteria however for joining this course, which includes having a bachelor's degree in any discipline with an average of 50% or higher marks.
Rating: 4.5/5
Students Enrolled: 760
Duration: 4 months
Cloud Computing by University of Maryland

[edX]
The Cloud Computing course offered by the University of Maryland will be providing you with an excellent tutorial on the essential features and concepts of Cloud Computing. Gain an understanding of cloud technologies such as AWS, Azure, Google Cloud, OpenStack, and vSphere and learn how to leverage them to increase business productivity and effectiveness.
You will receive key foundational knowledge about security and risk mitigation and how to follow industry standards and best practices. You will also gain hands-on experience in implementing, configuring, and managing cloud technologies.
It is taught by Charif El MaMouni, Jarrod Jordan, and Patrick Appiah-Kubi. Charif is a Cloud Computing professional with over 15 years of experience in the Telecommunications and Finance industries, while Jarrod is a Cybersecurity Manager for the United States Army Cyber Protection Brigade (USACPB), and Patrick is the Program Director of Cloud Computing at the University of Maryland.
Key Highlights & USPs
Understand various Cloud computing foundations and models


Become familiar with several types of cloud computing technologies (ie: AWS, Azure, IBM)


Learn how to design a cloud-computing infrastructure or service



Become fluent with Deployment and configuration of cloud-computing systems

Learn how to ensure cloud security and mitigate online risk
Who is it for?
It is designed for students who want to enter or advance their careers in the exciting and well-paying field of Cloud Computing. People not already working with cloud technologies will gain a solid foundation, while those with experience will gain an in-depth understanding of other cloud technologies
Cloud Computing for Business Leaders is a nanodegree program offered by Udacity, which focuses on the unique knowledge and skills that business leaders need to unlock the value of cloud technologies in their organizations. It enables a more cloud-native department that leverages cloud computing to drive growth and create operational efficiencies.
The goal of this course is to equip learners with the technical understanding to make tough, IT-driven decisions. The program helps executives with the knowledge and skills necessary to implement cloud computing initiatives across their businesses.
It is designed by Sanjay Agrawal, who is the founder & CEO of Troposcale LLC. He has over 20 years of experience with companies such as AWS, Microsoft, and Sun Microsystems building engineering teams, defining products, and founding new businesses.
Key Highlights & USPs
Understand the Business Case for Cloud Computing


Learn the major migration strategies suited for businesses migrating to Cloud


Understand how to use the target state model to help determine your current state


Learn how to maximize business value while minimizing risks to your organization


Become fluent with fundamental cloud innovations such as Serverless, Containers, IoT, AI, Data Analytics, Edge computing, and Blockchain
Who is it for?
This course is designed especially for business leaders who are looking to advance their careers by unlocking the value of data in the cloud. It may be helpful for experienced professionals as they will gain a better understanding of the cloud and help them make higher-stakes decisions for their organization.

Cloud Computing courses offered by Pluralsight are an excellent online resource for understanding Cloud Computing. With their library of expert-led courses, you can learn everything you need about the Cloud and cloud computing.
Create a successful cloud strategy and give your team the skills they need to tackle modern cloud roles, with broad and deep skills coverage in Microsoft Azure, AWS, and Google Cloud. The best thing about these courses is that you can learn at your own pace and master the essential concepts required for Cloud Computing.
Key Highlights & USPs
Learn the essential basics of Cloud Computing


Understand various concepts related to Cloud such as Virtualization, Virtual Machines, and Containers


Become fluent with the security principles of cloud computing and discover how to evaluate cloud providers


Understand the different Cloud Computing Deployment Models


Learn how to migrate your Kubernetes app to the cloud
Who is it for?
It is ideal for students of all levels, regardless of their expertise or experience. The library has several courses ranging from beginner-friendly fundamentals for Cloud Computing to complex and in-depth guides related to advanced Cloud Computing concepts.
Cloud Computing with AWS Academy is another great online course for learning Cloud Computing. This micro-credential course will help you develop the cloud skills needed to add value on the job and break into the cloud computing sector while earning academic credit from Coventry University, which is an Amazon Web Services (AWS) Academy member institution. Within the duration of over 12 weeks, this introductory course will provide you with a detailed overview of cloud concepts, AWS core services, security, architecture, pricing, and support.
It is designed by Jens Soeldner and Nick Romney. Jens is a professor for IT Security and Information Systems at Ansbach University of Applied Sciences, while Nick specializes in helping companies move to the cloud securely.
Key Highlights & USPs
Discover the fundamental business case for cloud computing


Learn how to critically evaluate use-cases of cloud computing products


Become fluent with advanced cloud concepts like cloud architecture and databases


Understand the design implementation plans for the cloud-based deployment business functions


Learn to apply the principles of cloud computing to a defined organizational problem
Who is it for?
It is primarily designed for people who are looking to accelerate their career progression by developing the theoretical understanding and practical skills related to Cloud Computing as well as cloud technologies. It is also relevant for business development professionals working in technology sales roles.
---
FAQ
Is cloud easy to learn?
The short answer to this question is that yes, cloud computing can be very difficult to learn unless you have proper and step-by-step guidance.
Is coding required in cloud computing?
Coding skills are not necessary for anyone who wants to use or work in cloud computing. So, can non-coders have a career on Cloud? They can, but it won't be as easy as it would be for a developer or administrator.