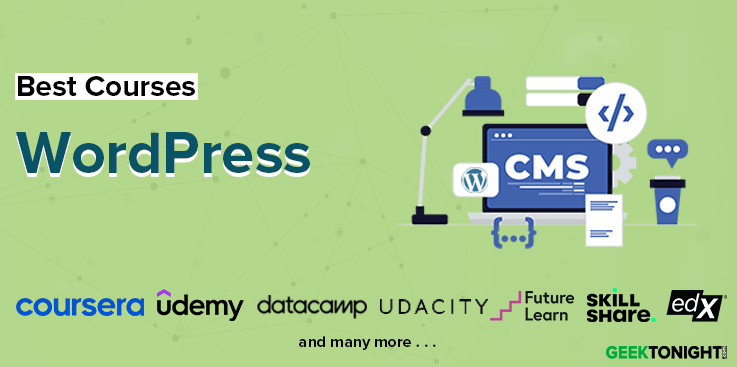 The world's most popular website building platform, WordPress is on the epitome of a list of things that has helped many businesses and individuals take off in the digital era. If you want to have a career in website development or even in digital marketing, knowing the basics of WordPress can really help you a lot.
This list of 8 best WordPress courses will give learners the understanding of the famous website development platform. The usage of WordPress platform is only going up, about 43% of total websites on the internet are the users of WordPress!
And this is not surprising if you really see the potential of the services that it offers. It's about time to understand this revolutionary platform and how things are done on it even for free!
---
Best Productivity Courses, Certification, Tutorials, Training, Classes Online
A complete A to Z course on WordPress cms (Content Management System) offering a complete package covering the various wp tools, themes, dashboards, customization and editing the entire site. It follows more of a practical approach and starts directly with a building and editing website and how to get it going.
The instructors for this online WordPress course are Gregg Davis, an Expert in teaching and a WordPress website professional along with Rob Percival who is also a teacher and a web developer. Both are widely recognised on the Udemy platform and have 4+ instructor ratings.
Key Highlights & USPs
You will learn WordPress website development with the latest useful tips and tricks.


Get to know the three types of emails that help in supporting a wordpress website.


Delevelop payment gateways in your websites, and set up ecommerce functions to earn online.


Learn the basics of how to migrate a website from staging to live or from live to staging for development purposes.


Fundamentals of how things are carried on from server set up to hosting and securing your website from malicious attacks.


Receive a variety of downloadable resources and several articles for lifetime access along with a certificate of course to prove your completion of the program.
Who is it for?
A wordpress beginner to advance course that includes the latest information regarding the landscape and how things can be done differently than others on WordPress. A complete compackage that can help beginners to get familiar with wordpress in the easiest way possible.
Rating: 4.5/5
Students Enrolled: 2,104
Duration: 18.5 hours

Valid till: 30th September
The course offers a good, fast WordPress tutorial that is good for individuals looking for a direct, straightforward course with no technical jargon to hinder your learning process. The WordPress Development Course takes individuals from each and every simple steps to the utmost heights of what WordPress can offer.
Andrew Williams, an author, teacher, WordPress, SEO & self-publishing expert is the instructor for this course. Andrew has 145,939 students from 30 of his courses on Udemy and earned an instructor rating of 4.6 out of 5 making him one of the best teachers on the platform.
Key Highlights & USPs
Learn to install WordPress on a Web Host, finding the ideal domain and optimizing pre installed WordPress plugin, themes and library.


Develop understanding of Gutenberg Editor from adding blocks, sections, columns to optimizing the entire interface.


Create the essential legal pages that are very important for any operating website to have.


Learn how to schedule a post, create content and determine what works better for your website Pages or Posts? In the end you will get a very detailed WordPress Q&A where all of the questions will be answered.


Get lifetime access to the course, the downloadable resources and the articles. Also achieve a certificate at the successful completion of the course.
Who is it for?
As the name suggests it is a beginner wordpress course very helpful to extreme starters of WordPress. The course solves the pain point of a beginner by eliminating the technical jargon and only providing the content that can help your website to give great results.
Rating: 4.6/5
Students Enrolled: 99,247
Duration: 9.5 hours
You can Sign up Here
Linked Learning WordPress courses are more than 50 in number on the platform. It includes some of the courses that are very specific to WordPress development like the course 'Learning Elementor for WordPress Design' which focuses on elementor development. The platform offers many great courses like 'Building a Small Business Website with WordPress', 'First Look: WordPress Full-Site Editing and many more.
The authors of these courses are Allie Nimmons – Owner of Beedia Productions, Morten Rand-Hendriksen – a Software Developer, Carrie Dils – WordPress Developer, Emily Kay – Web Developer and Graphic designer, Jen Krame – Web Design and development teacher among many others names.
Key Highlights & USPs
Find courses that help you in WordPress Content Creation, publishing and posting accurately for better SERP ranking.


Learn about taking hosting decisions, what hosting to take, php version and what server location to look for.


Completely learn of the popular WordPress drag and drop website builder Plugin: Elementor


Get to know WordPress database tables and WordPress database structure along with WordPress database settings.



Identify plugins that can help you to be efficient and help your websites in achieving desired results.



Get lifetime access to completed courses, and also get a shareable certificate on mostly all of the courses.
Who is it for?
The whole platform contains WordPress beginner guide courses aiming to help new beginners of digital marketing in helping them to build and optimize their own site without the need of going to a third party.
Rating: 4.5/5
Duration: At your own pace
Bootstrap is the common design framework which helps in development of websites and ensures that websites are responsive and mobile friendly. This course is developed to help individuals in modern website development in less time while maintaining the integrity of the process.
The instructor of the course is Brad Hussey, a web designer and marketing consultant having more than a decade of experience. Brad has gained an instructor rating of 4.6 from 563,070 students from 12 of his courses on the platform.
Key Highlights & USPs
Learn how to develop responsive WordPress created websites, and to convert static websites into dynamic ones.


Best part of the course is that it teaches you to practice WordPress website development OFFLINE! Thus avoiding monthly hosting charges and domain charges.


Go through basics of Object-Oriented Programming (OOP) and get involved with coding for creating your own widgets in Elementor.


Build knowledge of Custom posts types and Advanced Custom Field in WordPress.


Be entitled to receive a course completion certificate once the course is finished along with an article and downloadable resources for your reference.
Who is it for?
A wp beginner course that helps freelancers or anyone who wants to start a profitable side business from which they can earn a good substantial amount. It can easily solve the problems of beginners in understanding the integration of elementor and gutenberg in designing websites.
Rating: 4.6/5
Students Enrolled: 51,802
Duration: 22.5 hours
There are 15+ WordPress courses on this platform offering all the courses on 'all things WordPress' like 'WordPress as a Network: Mastering WordPress Multisite', 'WordPress Fundamentals: WP_Query and the Loop', 'Working with JavaScript and WordPress', 'Designing Custom Sites Using Child Themes in WordPress and CSS' etc.
The courses are brought by instructors who are relevant to the WordPress industry like Chris Reynolds, Pariah Burke, Brian Hogg, Jay Boucher and many others.
Key Highlights & USPs
From courses on this platform learn to create custom personalized site designs by interpreting CSS code.


Learn JavaScript website development with WordPress while avoiding the common pitfalls.


Get to know about query strings and their use in WordPress, theme and plugin development and how to create custom Loops that meet your requirements & needs.


Learn some best practices for WordPress for choosing plugins, content format, themes etc.


Also know how to create a themed blog and webpage development.


After successful completion of the course, you can apply for a certificate that you get instantly and link in your CV.
Who is it for?
The courses offered here are a bit complex in nature requiring a pre-understanding of some of the tools and methods in operating the world's biggest cms but the courses are a true fit for experienced individuals helping them to strengthen their technical knowledge.
Rating: 4.5/5
Duration: At your own pac
This Udemy WordPress course aims to provide learners with the basic as well as advanced side of WordPress. You will go through PHP, JavaScript programming languages and learn how to code custom websites powered by WordPress. Overall learn to be a WordPress developer and create a functional website that meets every criteria of perfection.
The course is brought by Brad Schiff, a front-end developer and designer having experience of teaching web development training sessions to many companies. Brad has gained a good instructor rating of 4.7 from 7 of his courses on the platform while having 195,250+ students in the process.
Key Highlights & USPs
Learn PHP Programming Language to know how to manipulate data of WordPress sites.


Create custom block types for Gutenberg wordpress block editor.


Learn to write JavaScript to create more interactive sites using WordPress.


Build Experimental WordPress website along with the instructor including Blog sections, developing posts and pages, and WP Rest API plugin.


Also get to learn user specific actions – User accounts on the website, Heart, Likes, Dislikes and etc functions.



Get free full lifetime access to the course along with 160 downloadable resources, 23 articles with access on TV and mobile and a completion certificate.
Who is it for?
The course is listed as an 'all level' indicating the content is suitable for all beginner to advanced learners. This WordPress classes for beginners mainly contribute learners the knowledge of how to build a site that is interactive and supports users account and actions features.
Rating: 4.7/5
Students Enrolled: 79,216
Duration: 42 hours

Valid till: 30th September
One of the different courses that focuses on SEO for WordPress websites, it tackles the problems of how to get good ranking on search engines, what factors affect your ranking capabilities, making your WordPress website SEO-friendly and How and when to use SEO factors. Basically this course offers a fool proof SEO tactics guide for websites that work in 2023 helping you to learn and implement various tricks for higher traffic and performance.
Arun Nagarathanam, a Digital Marketer and a SEO Expert is serving as the instructor for this WordPress online course. He is one of the top instructors on the Udemy platform for the last 7 years and his areas of expertise include WordPress, Web development, Graphic Designing and animation. He has an instructor rating of 4.3 from his 159,978 students which he has gained through only 6 of his courses on the platform.
Key Highlights & USPs
Learn White Hat Backlink Techniques to help your site in improving its authority.


Acquire Trend Analysis skills to come up with content that picks up as soon as trend goes up.


Leverage your efforts in creating a WordPress Sitemap page helping to get indexed by search engines faster.


Go through fundamentals of SEO i.e. On-Page SEO, Off-Page SEO, Keyword Research etc.


Learn how to speed up your website loading time, decrease bounce rate and improve conversion on the website.


Essentially get to know the out-dated SEO techniques that can hamper your marketing efforts on the SERPs.


Be entitled to receive a course completion certificate once the course is finished along with 15 articles and 10 downloadable resources for your reference.
Who is it for?
It is a full beginner friendly course catering to solve the problems of ineffective SEO strategies on WordPress websites. The learners will get to develop their SEO skills and will be in a better position to carry out digital strategies to meet proposed goals.
Rating: 4.4/5
Students Enrolled: 83,421
Duration: 12.5 hours
Skillshare WordPress courses like 'WordPress Academy: Learn WordPress step by step', 'How to make a personal blog in WordPress with Elementor Pro', '2023 WordPress for BEGINNERS – Build a Pro Website in 50 minutes', 'Website Creation Masterclass 2023 : Using WordPress & Elementor' etc. cover various aspects of website development on WordPress.
The platform includes courses from individuals who are Digital Marketing Mentor, Web Developers, Designers, Content Creators etc. Some of the names of the authors of WordPress courses offered on the platform are Rahul Arora, Darrel Wilson, Maja Ferina Shapteva, Rino De Boer, and Lindsay Marsh.
Key Highlights & USPs
Learn how to deal with products, categories, shipping methods, taxes on WordPress.


Gain the skill of Web development, HTML, Responsive Web design, Blogging, UI/UX Design etc.


Go through some of the productivity tools of WordPress. It introduces a buying guide of how to buy a domain, hosting and setting it up with your website.


Also Learn Image Optimization, Yoast seo WordPress plugin, homepage developing and structuring.


Every course offers its materials present on the platform for lifetime access and some also include Hands-on Class projects to help in understanding the techniques better.
Who is it for?
Skillshare has courses on all possible WordPress topics, It offers beginners WordPress courses and even has Copywriting and Graphic Designing for WordPress which can help newbies to sell their services more effectively.
Rating: 4.7/5
Duration: Self-pace
FAQ
Is WordPress still worth learning?
First, let's talk about realistic figures. Of the entire websites made on the internet WordPress has more than 40% of share in it meaning more than 40% of the world's websites created on the internet is made using WordPress Content Management System. Some of the famous websites like Microsoft News, Ted Blog, BBC America, Playstation, Skype, The Disney website all are made using the famous CMS.
And now getting to the ' is it worth learning' part of the question. WordPress is a Mega giant helping companies and individuals to create their own websites or even to say helping people in starting their own online businesses.
It is totally worth it learning WordPress development since it is one of the major platforms that people use to make websites! And this creates a huge job opportunity for the position of WordPress developers. Job sites, freelancing sites are always posting requirements for WordPress developers.
In short, learning WordPress development is a skill and a very essential one if you are hoping to work for the digital world today, as equipping this skill in your repertoire can make you a good amount of money.