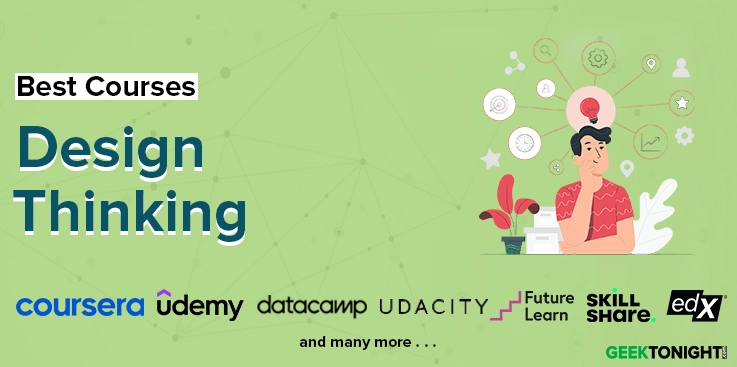 Design thinking started out as a creative process for making novel technology and products, but this approach is now widely used across several industries all around the world. It enables organizations to create lasting value for their consumers. That is why we have compiled the list of Best Design Thinking Courses & Certification, where you learn the essentials of Design Thinking.
---
Best Design Thinking Courses, Certification, Tutorials, Training, Classes Online
Design Thinking Certification offered by Coursera is one of the best-rated online courses for understanding Design Thinking. In this course which is taught by top-ranked faculty, you will be provided an overview of design thinking and work with a model containing four key questions and several tools to help you understand design thinking as a problem-solving approach. We also look at several stories from different organizations that used design thinking to uncover compelling solutions.
It is created by Jeanne M. Liedtka, who is a Professor of Business Administration at Darden School of Business. She was responsible for overseeing all activities associated with corporate learning and development for the Fortune 50 corporation.
Key Highlights & USPs
Understand what design thinking is and when to use it


Prepare to see and take action when the opportunity arises


Use design thinking to generate innovative ideas


Learn how to take various ideas you generate and determine which ones are feasible


Understand how to use the Mind Mapping tool
Who is it for?
This course is ideal for anybody wanting to learn the underlying fundamentals of Design Thinking. It is also helpful for people who want to understand what Design Thinking means and its uses.
Rating: 4.7/5
Students Enrolled: 379,252
Duration: 6 hours
You can Sign up Here
Designing Thinking in 3 Steps offered by Udemy is the best-selling online course for Design Thinking. In this interactive course, you'll learn a different approach to strategic problem solving so that you can create experiences customers love. You'll practice design thinking on a real-life project and equip yourself with a powerful set of tools to become more collaborative, innovative, and effective.
It is taught by Designit Strategic Design and Alan Cooper. Alan is widely known for his role in humanizing technology through his groundbreaking work in software design. He is also the author of the book About Face: The Essentials of Interaction Design (editions 1-4).
Key Highlights & USPs
Apply the design thinking framework to solve problems more creatively


Create prototypes to test your idea before making a big investment of time and money


Understand problems from the customer's perspective


Guide groups to effectively brainstorm innovative ideas


Use a storyboard to communicate your design ideas
Who is it for?
It is ideal for individuals who have heard about design thinking but don't know exactly what it is or how it works. It is also helpful for Business leaders wanting to better understand what the designers at your company do, or how design can help your company achieve its goals.
Rating: 4.3/5
Students Enrolled: 97,754
Duration: 1.5 hours
You can Sign up Here
Managing Innovation and Design Thinking offered by Coursera is an amazing library for learning Innovation, Leadership, and Design Thinking. It features several courses, degree specializations, and training for learning about the essential skills that are required in modern corporate organizations. These courses will be teaching you resources for both new and seasoned leaders to become more adept at developing employees, inspiring and guiding teams and effectively influencing stakeholders across an organization.
Key Highlights & USPs
Build the analytical skillset necessary to advance your career


Use leadership skills to work more effectively with others


Apply the foundations of effective leadership skills to everyday situations 


Organize teams to work more effectively together


Cultivate an authentic, trustworthy, and compelling narrative
Who is it for?
It is excellent for anyone with a desire to inspire their team to work smarter and think outside the box. It can also help business leaders, corporate managers, and other team leaders to sharpen their communication and leadership skills.
Design Thinking for Beginners offered by Udemy is an excellent online course for learning about Design Thinking. This course will be serving as an introduction to the principles of design thinking and touch on several ways you can implement it in your workplace. The material is best suited for students who are new to design thinking or want a refresher on the core concepts. Luckily, design thinking can be applied to almost any field; no matter what your profession, design thinking can help you discover and implement the best solutions to problems you encounter.
It is created by Laura Pickel, who is a Learning Experience Designer at Lyft. She has worked as a User Experience Designer at SAP, taught at the Stanford d.school, and has conducted hundreds of design thinking workshops.
Key Highlights & USPs
Apply the 5-step design thinking process to a design challenge in your organization


Empathize with your user through interviews and observations


Define your core problem by analyzing the information gathered during your work


Prototype your ideas rapidly to identify the best possible solution for your problem


Test your prototypes with users to gather feedback on your proposed solution
Who is it for?
It is beneficial for Employees looking for a structured way to develop innovative ideas, HR employees looking to develop a more human-centered approach to their workplace training, and Product Managers looking to push their teams to focus on the user experience.
Rating: 4.3/5
Students Enrolled: 56,980
Duration: 1 hours
You can Sign up Here
Design Thinking Certification for Business Strategy by Coursera is an amazing online course for learning about Design Thinking. This course will be helping you address the constant pressure managers face to be innovative and introduce novel products and services for their customers. However, many creative ideas get 'stuck' in the boardroom or are subject to intra-organizational tensions or group thinking. This course provides methodologies to break through these challenges.
It is made by Eric Knight, who is a Professor of Strategic Management. He has published widely in prestigious journals such as the Strategic Management Journal, Journal of Economic Geography, and Economic Geography, and has received several awards and fellowships for his research.
Key Highlights & USPs
Explore how design strategy can be used as a vehicle to communicate corporate strategy


Conduct primary market research and analyze the results


Create usable models and frameworks for gathering user feedback and testing solutions


Gain effective insights by understanding Corporate case studies
Who is it for?
It is made for intermediate-level professionals wanting to understand the essential concepts of Design Thinking. It is also helpful for people who want to become experts in their level of Design Thinking.
Design Thinking Certification Program by Rochester Institute

[edX]
The Design Thinking Certification Program offered by edX is an excellent online course on Design Thinking. In this MicroMasters program, you will learn how to use the design thinking process to solve problems creatively, collaboratively, and empathetically. Earning the MicroMasters program certificate will equip you with knowledge of the processes and techniques used to solve problems and innovate in the workplace.
It is created by Dan Harel, Lorraine Justice, Mike Johansson, Melissa Dawson, and Jennifer Englert.
Key Highlights & USPs
Learn User-centered research skills to gain user empathy through observations


Gain strategies to understand user context to identify and verify business problems


Understand Ideation and visualization techniques to generate creative solutions


Use Methods for evaluating user feedback from testing models and prototypes
Who is it for?
It is ideal for employees who want to enhance their problem solving, creativity, critical thinking, and analytical skills for leading their companies into a successful future. It is also excellent for those who want to improve their existing Design Thinking skills.
Rating: 4.7/5
Students Enrolled: 24,682
Duration: 8 months, 8 – 12 hours/week
Agile Meets Design Thinking offered by Coursera is a top-rated online course for learning about Design Thinking. This course offers a different and effective approach to product development, one that results in valuable solutions to meaningful problems. You'll learn how to determine what's valuable to a user early in the process to frontload value by focusing your team on testable narratives about the user and creating a strong shared perspective.
It is created by Alex Cowan, who is a Faculty & Batten Fellow at the University of Virginia. Before that, He was an entrepreneur, starting and selling two companies. He's currently on the faculty at UVA Darden where he focuses on digital innovation.
Key Highlights & USPs
Evaluate the relevance of concepts from the agile development methodologies


Create a strong shared perspective to value using design methods like personas


Facilitate narrative collaboration with user stories and prototypes


Diagnose what software will be valuable to the user and test your ideas using prototypes
Who is it for?
This is ideal for people who want to understand Design Thinking at a deeper level. It is also helpful for those who want to learn the basics of Design Thinking and its essential uses.
Rating: 4.7/5
Students Enrolled: 142,889
Duration: 10 hours
You can Sign up Here
Learning Design Thinking by LinkedIn Learning is a top-rated online course for Design Thinking. In this course, you will learn how to be a good design thinking leader, with specific advice on topics from setting goals to engaging the different skill sets and personalities in the room (introverts and extroverts alike). Next, you will be understanding creative collaboration: the heart of design thinking. It covers planning, research, concept creation, and how to create a "service blueprint" that will help make the design a reality.
It is designed by Turi McKinley, who is the Executive Director at frog design. She also serves as Global Practice Lead.
Key Highlights & USPs
Learn what is design thinking and its approach


Understand the skills of a design thinking leader and how to align the team


Manage the creative flow and set a shared goal for a smoother team experience


Create the journey map and User-centered design overview


Understand the essentials of Prototyping and Lo-fi prototyping
Who is it for?
It is ideal for business leaders, corporate employees, and managers who want to help their teams adopt a design thinking mindset. It also helps those who want to understand the essential features of Design Thinking as well as innovation.
Rating: 4.6/5
Students Enrolled: 10,239
Duration: 2 hours 8 min
FAQ
How do you become an expert in design thinking?
Here are the tips to get started with design thinking:
• Make sure you are asking the right questions. 
• Stay flexible. 
• Up your empathy. 
• Get help from domain experts. 
• Build co-creation spaces. 
• Work design thinking into your agile process. 
• Invite both designers and engineers. 
• Practice addition by subtraction.
Is design thinking a good skill to have?
Design thinking is a robust skill all professionals can benefit from in their careers. By developing critical design thinking expertise, one can become a more agile problem-solver, regardless of their role. This empowers you to embrace innovation within your organization to effect real, and effective change.