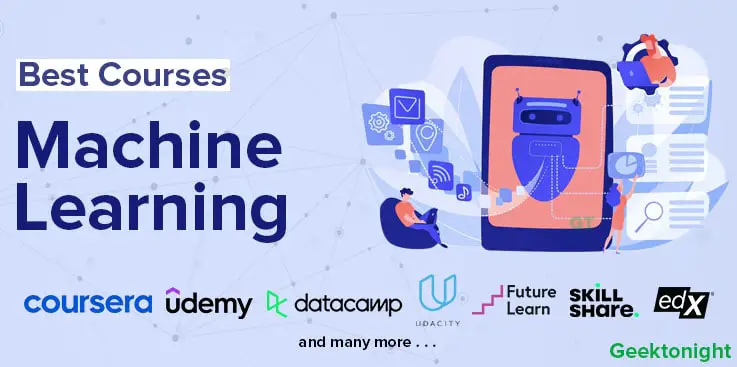 Have you heard a lot about machine learning? Do you get to listen to how machine learning is impacting our daily lives? As a programmer or developer, if you are curious about this highly in-demand technology and looking for the best machine learning course to teach yourself, then you have come to the right place.
In the past, I have shared the Best Data Analysis Course. In this article, I am going to share the best machine learning certification courses and programs.
Our product recommendations are unbiased and based on an independent review process. We may receive a commission for links to recommended partners. See our advertiser disclosure for more information.
---
Best Machine Learning Courses, Certification, Classes, Tutorials
These are our picks for the best machine learning courses:
This Stanford Machine Learning Course is the most highly-rated course on Coursera. It introduces key topics such as machine learning, data mining, and statistical pattern recognition. You'll gain a practical approach to learn the machine learning techniques and practice to implement them effectively. Machine learning has become a critical component to build progress towards Human-level AI.
This Andrew Ng Machine Learning program is probably the best machine learning certification taught by AI & ML pioneer and Co-founder of Coursera, Andrew Ng, to simplify the complicated machine learning concepts for the students. That's also an excellent tool to test your algorithms.
Key Highlights & USPs
Get to learn theoretical topics of machine learning and gain practical experience by applying those techniques to solve complex problems.


Understand the core concepts of how to use mathematics behind all the Machine learning programs.


Enables you to practice Silicon Valley's best innovation that pertains to machine learning and AI.


Test all the learning algorithms before implementing them for building robots, web search tools, medical informatics, audio-based applications, etc.


Provide full lifetime access to video lectures, notes, and assignments to enhance your knowledge.
Who is it for?
This Certificate in machine learning adds value to your resume. Both beginners and data scientists can opt for the course to set them out. With the completion, your knowledge gets tested on each topic. Based on the final score, you get a certificate.
Rating: 4.7/5
Students Enrolled: 4,307,632
Duration: 61 hours
This Machine Learning udemy Program is the best way to learn Machine learning algorithms. It will teach you how to create algorithms in Python and R. You will gain in-depth knowledge of complex algorithms from tutorial videos and develop skills to write them. It opens the best way to learn machine learning online and enables you to use techniques for personal purposes. It provides lessons to create added value for the business.
Curators of this machine learning course are two data scientists who shared their pool of knowledge to simplify the subject and make it easy for the participants to walk into the world of machine learning. You will get to understand from A to Z of this high-tech technology.
Key Highlights & USPs
Learn complex theory, algorithms, and coding libraries in the simplest way.


Get the full support of the instructors to master the skills of building machine learning models and know how to use them for solving problems.


Enables you to make accurate predictions using data science and analytics.


Guide your way through the course to handle specific topics like NLP ( Natural Language Processing) and Deep Learning.


Get hands-on projects based on real-life examples to develop the skills.


Get full lifetime access to 73 articles, 38 downloadable resources, and code templates to use for your projects.
Who is it for?
This top machine learning course is available for all the students and intermediate-level professionals who have at least high school knowledge in math and computers. Having no interest in coding but can opt this course to boost your career. In the end, you will get the certificate of completion.
Rating: 4.5/5
Students Enrolled: 793,712
Duration: 45 hours
This Coursera Machine Learning Certification program is the ultimate course for you to get an idea about machine learning and how it works. You will learn machine learning using Google cloud platform and do experiments on real-world examples. This machine learning specialization course guides through the key concepts and what kinds of problems can be solved using ML techniques.
The Machine Learning with TensorFLow Course promises to teach you the importance of Machine learning and assist you to build machine learning models. This Google cloud training course was created to let the learners know how Google thinks about machine learning. It's not only about data, but logic.
Key Highlights & USPs
Learn how to write machine learning models in tensorflow and train those models with high-performance predictions.


Gain a deep understanding of how to convert raw data in such a way that allows machine learning to extract useful data and brings out insights to solve specific h problems.


Get the chance to experiment with end-to-end machine learning, i.e Building an ML-focused strategy and progress into model training, optimization and productionalization with Google cloud platform.


Five courses of machine learning syllabus are available to prepare a candidate into a data scientist.


Chance to perform with hands-on labs using Qwiklabs platform and let you apply the skill learned from the video tutorials.


Self-paced learning option provided with free lifetime access to quizzes, programming assignments, and study materials.
Who is it for?
This machine learning online program is all designed to give a broad perspective of machine learning and where it can be used. Any person who is willing to learn machine learning online can opt for this specialization course to boost their career. Enroll now and complete it to earn a shareable certificate.
Rating: 4.6/5
Students Enrolled: 78,126
Duration: 5 months, 5 hours/week
If you are searching for how to get into machine learning and become a machine learning engineer, this course is all you need to know. It is the best way to learn and strengthen machine learning skills using Microsoft Azure. This Udacity machine learning program enables the students to build advanced machine learning models and deploy them using open source tools and frameworks.
The Machine Learning Engineer for Microsoft Azure provides the best learning experience to enhance their skills and apply them on hands-on projects inspired by real-life examples. This nanodegree machine learning program was created by data scientists and software developers.
Key Highlights & USPs
Learn to run complex machine learning tasks with accessible in-built Azure labs inside the Udacity classroom.


Get to know how to design, evaluate and validate machine learning models. This machine learning curriculum covers the fundamentals of shipping machine learning models into production.


Develop your practice skills by performing on real-world projects and get feedback from experienced reviewers.


Knowledgeable mentors are always available to give full-time technical support and keep you on track.
Who is it for?
This Microsoft machine learning certification course is to help you advance your career and land a high-paying job. This nano degree program is the best choice for learners with prerequisite knowledge in Python, Machine learning, and Statistics.
Rating: 4.6/5
Duration: 3 months, 5 -10 hours/week

This Udemy machine learning Bootcamp is the best online machine learning course to kickstart your career. You will learn the powerful Python programming language to analyze and visualize data and then use machine learning algorithms to get valuable insights into problems. This comprehensive course is the fastest way to learn Python and solve world problems as a data scientist.
The author of this course is Jose Portilla, a professor of Data science and programming. It will teach students how to use NumPy, Pandas, Matplotlib, Plotly, Scikit-Learn, Machine Learning, and more. You will get to perform tasks with Machine learning using Python.
Key Highlights & USPs
Learn how to program with Python.


Know how to create data visualizations and use machine learning algorithms.


Understand the use of pandas data frames for data analysis and seaborn for statistical plots.


Create interactive dynamic visualization using Plotly.


Develop deep knowledge of the key concepts like Linear and Logistics Regression, K Means Clustering, Decision Trees, NLP, and Deep Learning.


Get full lifetime access to 13 articles, five downloadable resources, and over 100 HD video lectures to master machine learning.
Who is it for?
This top machine learning certification course is ideal for professional tech experts and students with programming experience. With the completion, you get certified and add unique skill sets to set yourself out.
Rating: 4.6/5
Students Enrolled: 468,736
Duration: 25 hours
You can Sign up Here

Offer Till: 31th March | $14.99 | AU$19.99 | ₹525 | Rp 129 | SGD 19.99
A tricky question has a complicated answer. This Pluralsight machine learning online course brings you the magic of machine learning. You will learn about the basics of machine learning and also understand in-depth knowledge of identifying the right machine learning questions. This machine learning class provides an approach to find out the right machine learning questions for real-world problems.
When you read the title how to Think about Machine Learning algorithms, what comes to your mind? Now, you'll have to think about ML algorithms and how they will work for complex tasks. This machine learning curriculum created by Swetha Kolapuddi enables you to know when to use machine learning.
Key Highlights & USPs
Learn to model real-world situations into well-understood machine learning problems.


Develop the understanding of four basic ML approaches for solving the problem: classification, regression, clustering, or recommendation.


Gain knowledge on how to determine which one of four is the right approach.


Next, learn how to set up the problem statement and its features. Then, write an algorithm for that particular problem.


Upon completion, Grasp the knowledge required to validate a machine learning opportunity.
Who is it for?
This machine learning course for beginners requires no prior experience to enroll. Just make sure you are familiar with mathematics and statistics for a better understanding.
Rating: 4.6/5
Duration: 3 hours
Machine Learning Data Science Certification from Harvard University

[edX]
Advance your career with this Edx machine learning course, the best way to learn machine learning. This Harvard Machine learning certification introduces real-world case studies to apply machine learning algorithms. It comprises nine skill-building courses that include R basics, statistical concepts, and data analysis techniques.
The creator of this professional certificate in Data Science, Rafael Irizarry, is a professor of biostatistics from Harvard University. This best machine learning program prepares you with the necessary skills and enhanced knowledge to tackle real-life data analysis challenges.
Key Highlights & USPs
Learn the fundamentals of R programming and how to apply them.


Develop an essential skill set that includes data wrangling with dplyr, data visualization with ggplot2.


Know the role and use of analytical tools such as Unix/Linux, git, and GitHub


Use R software to solve specific problems and ask machine learning questions.


Build a better understanding of the basic operation of data science through motivating real-world case studies.
Who is it for?
Students who wish to take this best machine learning certification should have basic coding and mathematics knowledge. In the end, You will receive a professional certificate that adds value to your job profiles and can be shared with potential employers.
Rating: 4.6/5
Duration: 1 year, 5 hours/ week
Machine Learning by datacamp is the top online machine learning course that requires no coding experience. Machine learning becomes hype and the quickest growing sector in the IT industry. This comprehensive course gives you the best introduction to machine learning and its relation to data science, artificial intelligence. You will get to unpack the machine learning jargon and build machine learning models.
Datacamp presents you with an online machine learning course for everyone. It gives you a chance to dive into the hottest technologies. You will get thorough knowledge of the basics of machine learning.
Key Highlights & USPs
Learn how this exciting technology programmed everything from self-driving cars to your favorite browser Google to provide you with valuable suggestions.


Answer the following questions: How does machine learning work, when should we use it, and what's the exact difference between AI and machine learning?


Get to perform hands-on exercises to improve your skills in this hugely in-demand field.


Take a closer look at Deep learning with neural networks that comprise two use – cases: computer vision and Natural language processing.


Discover why machine learning is a must-learn opportunity with 12 videos and 37 practice exercises.
Who is it for?
This free machine learning course makes the machine learning syllabus easy to grasp and practice. No coding knowledge is required. Having prior knowledge of computer science and programming will be beneficial.
Rating: 4.6/5
Students Enrolled: 81,202
Duration: 2 hours
Offer Till: 30th March
Master the machine learning skills with the best deep learning certification program. You will get to learn about the capabilities, challenges, and consequences of deep learning. This deep learning specialization course will prepare you to participate in the development of AI technology. It provides a pathway to understand both theoretical and practical concepts of deep learning using Python and Tensorflow.
The Author of this deep learning course is Andrew Ng, founder, and instructor of deeplearning.AI. Along with two other experts, he designed this deep learning curriculum to give the students an overview of how deep learning with AI is transforming many industries.
Key Highlights & USPs
Learn to build neural network architectures such as Convolutional Neural Networks, Recurrent Neural Networks, LSTMs, Transformers.


Practice to train and develop test sets for building deep learning applications. Run machine learning algorithms and construct neural networks in Tensorflow.


Improve machine learning models with better strategies and reduce errors in machine learning systems.


Know how to construct CNN and apply it to tackle real-world challenges such as speech recognition, chatbots, music synthesis, and other 2D/3D data.


You'll need to complete hands-on projects to gain technical knowledge and level up your career.suitable.
Who is it for?
The Deep learning specialization is a good training online course for software developers or tech experts who are looking to strengthen their portfolio by learning machine learning and deep learning skills. Learners should have intermediate-level experience in Python and mathematics. In the end, you'll receive a certificate to share with your resume.
Rating: 4.9/5
Students Enrolled: 620,782
Duration: 5 months
Machine Learning: From Data to Decisions

[MIT Professional Education]
The best online machine learning course makes you a machine learning expert in a few weeks. The MIT profession program prepares you to harness the power of machine learning. You will learn how to use machine learning models and algorithms to make better decisions using data insights. You will understand the process of transforming the raw data to inputs for making decisions by machine with no manual programming.
The Curator of this online machine learning course, Devavrat Shah , a director of Statistics and Data Science at MIT. He will guide students through the pathway and teach them about the machine learning tools and how to use them on real-world examples such as which marketing platform is best ? or to predict whether the borrower will pay the loan or not ?.
Key Highlights & USPs
It gives an overview of the four building blocks of machine learning: regression, classifications, predictions, and decision making.


Understand the basics of data analysis and how to use data for building machine learning models to predict future outcomes.


Understand how neural networks work with machine learning algorithms to program machines to solve complex problems.


Focus on machine learning approaches the situation and makes optimal decisions in uncertainties.


Gain a practical understanding of how machine learning applications work.
Who is it for?
The MIT professional education provides the best machine learning tutorials to learn everything at one stop. You don't have to be a math genius to understand this course, although professional experience in information technology is helpful. It grants a certificate of completion to enhance your job profile.
Rating: 4.6/5
Duration: 2 months, 6 -8 hours/ week
Machine Learning Crash Course — Google AI

[Google]
If you are looking for a crash course, then you are welcome here. Google launched its own machine learning crash course for those who are ready to start practicing machine learning. Anyone can learn and apply core principles of machine learning concepts with the help of this Google machine learning crash course.
This best machine learning program introduces you to the best practices of machine learning. This Google AI online crash course provides a platform to explore the real-world exercises from Google experts. You can learn how machine learning algorithms program AI applications.
Key Highlights & USPs
Google's fast-paced course teaches you the difference between machine learning from traditional programming.


Know how to identify appropriate machine learning problems and measure them.


If you build machine learning models, here you will learn how to improve their effective performance.


How to represent data so that the program can learn from it.


Build deep neural networks using a series of video lectures from Google researchers.


Perform algorithms and visualize them in action on interactive dashboards.


Get access to 25 lessons, 30+ practice exercises, and dozens of real-world case studies to advance your skills.
Who is it for?
This machine learning tutorial with Tensorflow APIs does not require any prior knowledge in machine learning. However, Students must be comfortable with algebra, calculus, and Python programming language to understand the fundamentals and complete exercises. A free course for everyone.
This udacity machine learning course will boost your abilities through innovative learning techniques. To join the path for machine learning, Udacity recommends you go for its Intro to Programming course to learn to program and covers all the prerequisites for machine learning.
Learn the course under the guidance of industry experts. The Intro to machine learning course is the perfect course for starting to learn machine learning. It covers the fundamentals of machine learning and prepares you for future job opportunities.
Key Highlights & USPs
Covers Python and SQL-related topics for data analysis.


Build predictive machine learning models using supervised and unsupervised machine learning algorithms.


To deploy models using Amazon SageMaker and evaluate their performance.


Using Tensorflow API for deploying a model to a website and check its response to user input.


In-depth knowledge of creating real-life projects and developing expertise in the field of machine learning.


Full lifetime access to rich learning content, interactive quizzes, and expert feedback.
Who is it for?
This machine learning course for beginners requires no experience. It is one of the best machine learning online programs. Don't know where to start machine learning, then enroll in this course.
Rating: 4.5/5
Duration: 1 week

Machine Learning with Python: A Practical Introduction

[edX]
This machine learning edX course brings you tools and techniques to learn and enhance your skill sets. It has become an incredible technology to uncover data insights and predict an uncertain future. You will introduce the supervised and unsupervised learning and Python libraries for creating machine learning algorithms.
Saeed Aghabozorgi, a senior data scientist in IBM, created the IBM machine learning with Python program to teach you how to use the powerful and flexible programming language Python and understand how to implement algorithms for production use.
Key Highlights & USPs
Learn two types of machine learning methods: Supervised and Unsupervised Learning


Understand the supervised learning algorithms that include classification and regression.


Check the unsupervised learning algorithms include clustering and dimension reduction.


Build models from statistics to dynamics using machine learning and evaluate them.


Practice real-life case studies and understand how to identify machine learning problems.
Who is it for?
This Edx machine learning Python offers courses to learners who have a little bit of knowledge of Python and data analysis. This course is available to some of the countries and regions. Learners who will complete this IBM course earn a skill badge that verifies the knowledge they've acquired during the course.
Rating: 4.5/5
Students Enrolled: 106,307
Duration: 5 weeks, 6 -8 hours/week
---
Frequently Asked Questions
What is Machine Learning?
Machine Learning is a part of artificial intelligence that allows computer programs to discover how to perform tasks without being explicitly programmed.
It is a method to teach machines and computers to perform advanced jobs by developing their algorithm without any interference from humans. In brief, Machine learning is the concept of training machines to do a job that was only possible by humans before.
Why should you  learn machine learning?
Machine learning has already become part of our everyday lives. There are many top-notch institutions and organizations using machine learning. Such as content-based platforms Facebook, Twitter, LinkedIn for user feeds,shopping malls like Walmart adapted machine learning for product recommendations, and many more.
Studying machine learning provides you better opportunities, career growth, high-paying jobs, plenty of vacancies, and hence, machine learning engineers are the future of businesses
How to Become a Machine Learning Expert?
The answer to this question is the above-mentioned list of machine learning courses. Few of them are beginner-oriented courses to answer the question, " Where to learn machine learning".
By choosing any particular course, I would like to suggest that some of them are intermediate-level machine learning courses, where you need to have coding experience and advanced mathematics skills.
Can I learn ML by myself ?
Yes, You can learn machine learning by yourself. However, there are different skills to learn in machine learning. Geektonight brings you the best online courses to self-teach topics like artificial intelligence, data analysis, machine learning, and data science.
Doing courses online is the efficient and fastest way to learn Python and other programming languages.
Is Machine Learning Hard?
Machine Learning is not a relatively 'Hard ' subject to understand. But one should consider Machine Learning Courses and Certifications Programs to master the skills under the guidance of data science and machine learning experts.
It requires a lot of maths and programming knowledge. Machine learning can be quite hard for a beginner-level developer or software engineer.
Final Words
I hope you find this article suitable for your needs and answer some of your questions about machine learning. There are plenty of machine learning courses out there. You can enroll in one of them and start your journey as an ML engineer.