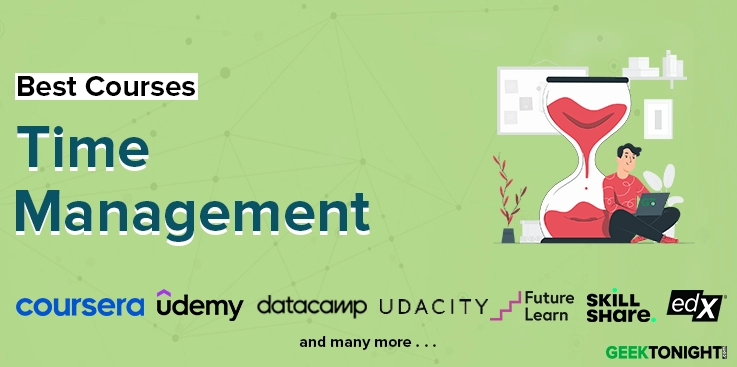 Time management is the art of taking charge of your time and creating an effective daily schedule. In other words, it is a decision-making process that helps you in creating a disciplined lifestyle while enhancing daily productivity.
By managing time more effectively you get an impression of increased free time. In this article, we'll be compiling the list of Best Time Management Courses & Certification, where you can learn efficient time management skills and manage your time more effectively.
Our product recommendations are unbiased and based on an independent review process. We may receive a commission for links to recommended partners. See our advertiser disclosure for more information.
---
Best Time Management Courses, Certification, Tutorials, Training, Classes Online
Time Management Courses offered by Udemy are an excellent resource for learning about effective time management. This library of courses will be teaching you everything you need to know about efficient time management tips. It is suitable for everybody, with no prior expertise or experience in time management. By the end of these courses, you will have mastered the art of management and grown more productive.
Key Highlights & USPs
Prioritize your to-do list to get more done every day


How to stop second-guessing yourself when you aren't sure what to do next


Learn the simple and effective ABC prioritization strategy you'll actually us


Stay motivated to get what you want to be done with 3 pillars of motivation


Condition yourself to make urgency in getting things done a habit


Eliminate roadblocks such as procrastination, perfectionism, and distractions
Who is it for?
It is ideal for anyone concerned with saving time and money, including students and job seekers.
Rating: 4.8/5
Duration: Self-paced
Time Management for Personal & Professional Productivity is a top-rated online course for learning effective Time Management. In this amazing course, you will be able to gain and apply your knowledge and understanding of personal and professional awareness, organization, and commitment, and use the tools, methods, and techniques that you have learned in goal setting, prioritization, scheduling, and delegation to overcome time management challenges and enhance productivity.
It is designed by Margaret Meloni, who is the President of Meloni Coaching Solutions Inc, and holds a B.S. in Business Administration and an M.B.A. from California State University, Long Beach.
Key Highlights & USPs
Learn to plan effectively to achieve your personal and professional goals


Recognize and overcome barriers to successful time management


Identify specific time management tools and use them effectively


Manage resources both effectively and efficiently


Keep your sense of perspective to prevent and manage crises
Who is it for?
It is suitable for students, business professionals, or anybody wanting to learn effective time management and save time as a result.
Rating: 4.5/5
Students Enrolled: 416,810
Duration: 10 hours
Time Management Courses offered by LinkedIn Learning are an excellent resource for learning about time management. The library of courses is suitable for students and learners of all skill levels and will be teaching you everything you need to know about efficient time management. The courses are effective, easy to follow, and will be teaching you how to craft your daily schedule for peak productivity.
Key Highlights & USPs
Learn how to create a productive workspace


Craft your schedule effectively and keep work hours in balance


Find your peak productivity time and plan meaningful breaks


Learn how to build boundaries with loved ones and when to delegate personal tasks


Understand the three principles of productivity


Reduce the costs of switch tasking
Who is it for?
It is ideal for students and employees working at home who want to learn the fundamentals of effective time management and design a productive work schedule.
Rating: 4.7/5
Duration: Self-paced
Online Time Management Classes by SkillShare platform are an amazing library of courses designed for efficient Time Management. These courses are step-by-step guides, easy-to-follow, and highly intuitive. They will be teaching you everything you need to make an effective time management schedule and become super productive. It will help you in developing healthy productivity habits, breaking the cycle of procrastination, and achieving more with less.
Key Highlights & USPs
Manage your tasks, set up your calendar, and take notes effectively


Organize Your Files and Get Better at Email


Create daily routines to simplify your workflow


Time-theme your days to work more efficiently


Utilize tools like Todoist to support your daily goals


Understand the basics of Digital and physical file organization
Who is it for?
Whether you're a freelancer aiming to streamline your project process, a grad student balancing a full-time job, or a hobbyist looking to carve out time for a passion project, these courses are for you.
Rating: 4.8/5
Duration: Self-paced
Time Management offered by Dale Carnegie is an excellent online course for learning efficient Time Management. This course is packed with ideas to help you manage yourself in relation to your time more effectively and achieve more work-life balance. You start by identifying where your time goes and your most important priorities. This leads to the essentials of prioritizing and managing competing priorities. You will learn several tools to monitor your time and get organized including a model for organizing and prioritizing.
Key Highlights & USPs
Leverage best practices for organizing your work, your schedule, and your life.


Follow an 8-step process to improve prioritizing your projects and tasks.


Use additional tips and digital tools for sustaining your time management goals


Discover a new mindset to help manage your time effectively


Learn secret productivity tips and tricks for efficient time management
Who is it for?
Anyone who is interested in improving their time management and reducing stress from competing priorities and procrastination can take this course and improve their overall productivity.
Rating: 4.8/5
Duration: Self-paced
FAQ
What are some good time management skills?
Some of the most important time management skills are:
• Organization: Staying organized can help you maintain a clear picture of what you need to complete.
• Prioritization: It is also necessary to prioritize your overall work so you can make a clear list.
• Goal-setting: The same thing applies when you are trying to come up with different items for your daily plan.
• Planning: Another important thing to keep in mind is efficient planning, which enables you to make versatile daily routines.
How can I learn time management?
There are a few tips that can be followed for better time management:
• Start your daily tasks early
• Give yourself breaks
• Prioritize your tasks
• Schedule your deadlines
• Organize your workplace
• Use technology to help keep you accountable