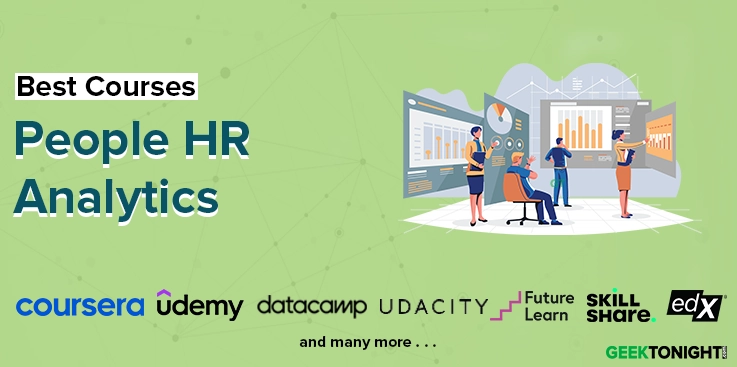 The Human Resource department or dubbed as 'the most hated department' do more than just recruiting and staffing of talent, their work also involves them going beyond any or everything to study people's aspect in a work environment.
This list of best hr analytics course involves the top courses there are for 'people management': an aspect of Human Resource Management. From these courses one will get to go through what makes employees, employers and all the stakeholders to be in good relations with the company.
According to studies and surveys conducted, the annual average salary of HR in India is ₹7 Lakhs, so if you are someone who likes administrative roles and a good salary then be sure to check out this list along with our best human resource courses.
---
Best HR People Analytics Courses, Certification, Tutorials, Training, Classes Online
This Coursera people analytics course is an approach in managing people at the workplace with the help of data. The course contains the essential fundamentals that will help individuals in learning decision making skills, stakeholders relationship management and what really constitutes the Human Resource department. This course comes as a part of Business Analytics Specialization, which we have covered over —> here.
This top hr analytics course is offered by the Wharton School from the University of Pennsylvania. The instructors of the course include names like Cade Massey, Martine Haas, and Matthew Bidwell all hailing from the Wharton School as practice and assistant professors.
Key Highlights & USPs
Develop data analysis skills to better understand the staffing role i.e. hiring, intern mobility and career development stages in hrm.


Learn the process of Performance Evaluation helping you to be better at giving feedback and in deciding whether to reward or punish an employee.


Use of people analytics in helping teams and staff to work together as a team.


Understand Talent Analytics to scrutinize the best of talents to your team.


Experience the theoretical knowledge that helps in  measuring performance


Get to equip yourself with skills of Talent Management, Collaboration, Performance Management, Analytics etc.


After successful completion of the course be entitled to receive a shareable certificate, lifetime access to the course and its materials.
Who is it for?
This beginner HR course will assist students with distinguishing how to take talent and business relationship choices in light of present data and analytics. The course surely helps HRM competitors to get the comprehensive information on the different fields of HR and stand apart from the contest.
Rating: 4.5/5
Students Enrolled: 115,640
Duration: 9 hours
This online talent analytics course becomes a very imperative course for individuals looking to master HR analytics. From the course you will get the complete understanding of some of the very common yet essential Hr functions like hiring, recruiting, talent development, employee retention, satisfaction, engagement etc. The course has 59 lectures divided in 20 sections making sure that learners experience HR in its entirety.
The course is taught and brought to you by Unlock HR. Unlock HR – means unlocking the HR potential within you. The course instructors are industry experts and professionals in HR field forming an association i.e. Unlock HR. On Udemy platform they have 13,543 students with 9 courses earning them a 4.2 instructor rating.
Key Highlights & USPs
Learn how to use people analytics in 'Employee life cycle'


Get to know the concept of Machine Learning and various supervised and unsupervised learning techniques to help in analyzing HR data.


Understand data and identify business problems to convert it into statistical problems.


Go through  various methods to compute Central Tendency, Shape of Data and Variability.


Collection of data for solving business problems and developing understanding of the hypothesis testing process.


Get full lifetime access to the course, 6 articles, and up to 12 downloadable resources, along with a completion certificate for your resume.
Who is it for?
This human resource management certificate course is for the first time students or even experts hoping to amend and revive their HR information. The course is heavily infused with data analytics helping individuals to understand how data can play a valuable part in people management or in any HR function.
Rating: 4.3/5
Students Enrolled: 5,378
Duration: 9 hours
The HR course online contains content that is very informative helping you in decision making skills, human resource management skills among many other things. From the course you get to experience the vast variety of things that are very important for an HR to know.
Josh Bersin, Board member of Berkeley Haas School of Business Executive Education, founder of The Josh Bersin Company – The company helps HR professionals to face the new challenges of the HR industry. The instructor is an expert industry analyst, technology analyst, educator, Researcher in the various areas of Corporate HR.
Key Highlights & USPs
Learn to gather the best team for people analytics.


Understand how knowledge of people analytics helps an HR, learn about various tools and platforms.


Also get to learn if People Analytics is a career for you and how to merge financial analytics.

 
Get lifetime access to the course along with a shareable LinkedIn Learning certificate to show your credibility.
Who is it for?
It is a beginner HR certification course laid out in a very easy to understand language which acts as a perfect introduction to the people management function of an HR.
Rating: 4.6/5
Duration: 35 min
It is a HR Workshop that focuses on building the foundations of hrm and use of workforce analytics that help in performance management. The course includes 31 lectures divided into 5 sections each going through how to implement and work with various metrics that help in hiring, recruiting top level talents for the business while also helping in making firm workplace decisions.
The instructor of this course is Jeff Higgins, founder of Human Capital Management Institute. The instructor of this workforce analytics course is famous for helping global companies in converting value from their raw data. Mr. Higgins has an instructor rating of 4.3 gained from 2,295 students from 4 of his courses.
Key Highlights & USPs
Learn the skills to generate fundings from various options after honing your communication and personal skills.


Along with practicals also understand the theoretical foundation of HRD.


Also learn the AACEE maturity model i.e. Awareness, Action, Competence, Effectiveness, and Excellence.


Get the chance to learn various concepts through case studies and real life examples from the HR industry.


Come across various challenges that act as a barrier in human capital measurement and learn ways to overcome them.


Receive a variety of downloadable resources and several articles for lifetime access along with a certificate of course to prove your completion of the program.
Who is it for?
A beginner level course helping newbies to understand the workforce analytics planning which can help an executive level HR employee in understanding data and help organizations in 'where to invest' 'where to cost cut' decisions making.
Rating: 4.3/5
Students Enrolled: 1840
Duration: 3 hours

Valid till: 30th September
Leverage the power of HR data

[AIHR Academy]
The world's leading HR Academy – AIHR provides an array of Human resource analytics courses like People Analytics, HR Metrics & Reporting, Full Academy Access, HR Data Analyst, Strategic HR Metrics, HR Analytics Leader, HR Data Visualization, Statistics in HR among many other courses. The main aim of the platform is to help individuals in learning the curriculum of Human resource management that is not touched upon at many places.
The instructor for the course on this platform includes individuals having reputed professions in the HR field like Erik van Vulpen, Bastiaan Stokkel, Lyndon Sundmark, Mark Lawerence, David Creelman, Alysaa Ruff etc being HR Data Scientist, HR Analyst or People Analytics Leader.
Key Highlights & USPs
Learn to formulate a detailed implementation plan for conducting data-driven HR practices that help you in understanding futuristic trends.


Gain the statistical skills needed to understand and interpret data of an organization.


Become efficient in reading data and creating reports that help in understanding the proposition of a company and give a way to enhance it.


The courses on this platform come with Case studies and real life projects thus helping in better understanding of the Human Resource department.


Become entitled to receive a certificate after successful completion of the project along with lifetime access to the course.
Who is it for?
The courses on this platform range from beginner to expert level in other words indicating the platform has courses for everyone whether if you are a beginner or an already qualified HR you are most likely to find things on this platform.
Rating: 4.5/5
Duration: Self-paced
You can Sign up Here
FAQs
What is People or HR Analytics?
At its core, people or HR analytics is the utilization of data-driven strategies to study of people in companies. By investigating information on variables like worker conduct, commitment, and maintenance, HR analytics can assist associations with bettering comprehend and deal with their workforce.
HR analytics can be utilized to respond to an assortment of inquiries, for example,
– How might we attract and hold the best workers?
– What are the imperative drivers of employee satisfaction?
– What are the early signs that an employee is going to leave?
By understanding the responses to these inquiries, companies can settle on better conclusions about how to deal with their work staff force.
What is included in people analytics?
People Analytics is the utilization of information to comprehend and optimize the performance of individuals at work. It is a moderately new field that combines information from different sources, including Talent securing, employee engagement, and performance management, to make a complete image of the workforce.
People analytics can involve the use of data from a variety of sources, including employee surveys, job postings, resume databases, and social media. The data is then used to identify trends and patterns in employee behavior.
This information can be used to make decisions about a variety of HR issues, such as which recruiting methods are most effective or which employees are at risk of leaving the company.