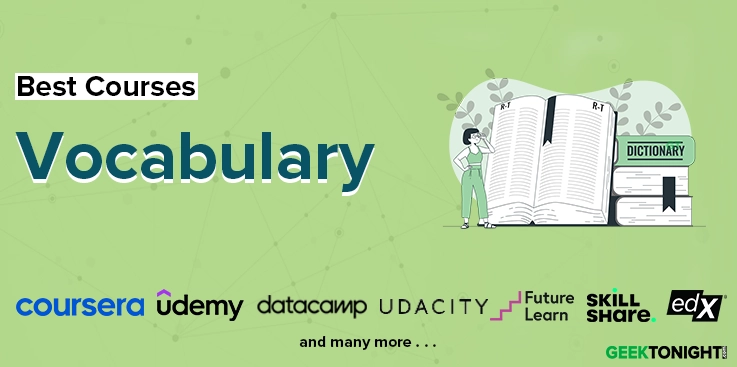 Do you get blank when you hear any new words? If your answer is yes, you are at the right place. Today, I'll tell you how to learn new words and upgrade your vocabulary. Whenever you see any person speaking English with a strong vocabulary, you feel a little afraid to speak. To communicate confidently, you want to work on your English vocabulary and learn to pronounce them.
Our product recommendations are unbiased and based on an independent review process. We may receive a commission for links to recommended partners. See our advertiser disclosure for more information.
So, I have put together all the Best English Vocabulary Courses in a list. All the courses are ratings and listed as per their reviews from the enrolled students.
---
Best Vocabulary Courses, Certification, Tutorials, Training, Classes Online
It's time to enhance your communication by learning Vocabulary. Udemy offers you the Vocabulary Course to speak English with fluency. English Vocabulary Launch will learn the target English Vocabulary at a deep level. It will teach you how to speak English with creativity and a variety of vocabulary. Each lecture will teach the five target words to master each one and use them accurately while speaking. This English Vocabulary and Pronunciation Course is perfect for students preparing for IELTS, TOEFL, or TOEIC exams.
Anthony Kelleher is the instructor and creator of this Udemy English Vocabulary Course. He has taught half a million students through Udemy Courses. Anthony will always focus on teaching vocabulary, English Grammar, pronunciation, phrasal verbs, and Idioms. He has a high rating as an Instructor of 9 English Courses on Udemy.
Key Highlights & USPs
Learn the target vocabulary and master each one for accuracy.


Develop good pronunciation skills and understand the meanings of every single word.


Practice speaking and listening practice of every single word.


Able to produce the target vocabulary confidently and accurately.


Master the art of understanding more English vocabulary as a native speaker.


Get full lifetime access to 7 hours of on-demand video, one article, and 60 downloadable resources to strengthen vocabulary.
Who is it for?
Whether you want to master English Vocabulary or upgrade your speaking skills, this Best English Vocabulary Course can be the ideal choice for you. If you are looking for a beginner English Course, it is the right course to improve your spoken English. Upon completion, you will receive a certificate to show the skills you've gained.
Rating: 4.7/5
Students Enrolled: 37,734
Duration: 7 hours
You can Sign up Here
Do you want to teach vocabulary? Just want to know how to become a vocabulary expert. This English Language Course Free is the way to explore vocabulary and develop the strategies for teaching. You will understand the fundamentals of teaching vocabulary. As a professional tutor, you will build confidence in teaching vocabulary to the students. This Teaching Vocabulary Course covers the topics which prepare you for reading, writing, and speaking English confidently.
This FutureLearn Vocabulary Course is designed for educators and teachers. Rebecca Cosgrave, Alisa Jones, Rebecca New, and Jenny Core are the English Advisors at Badcock Education. This Education English Team will support teachers to develop their practice including their work with children.
Key Highlights & USPs
Get a chance to explore some of the research focused on vocabulary teaching.


Discuss the outcomes of your work and reflect on your performance.


Understand the role and importance of metacognition in vocabulary teaching.


Learn to identify the effective strategies for teaching vocabulary.


How to help students with pronunciation of different vocabulary.


Get access to google docs and resources for practicing.
Who is it for?
This Best English Vocabulary Course Online Free is for educators involved in teaching vocabulary. It is designed for all levels of school leaders, English tutors, literacy coordinators, teaching assistants, librarians, and those currently in teacher training. You need to complete 90% of the course steps and all of the assessments to earn your certificate.
Rating: 4.7/5
Students Enrolled: 42,576
Duration: 4 weeks, 2 hours/ week
Your search ends here! Udemy brings you a wide range of English Vocabulary Courses to develop your vocabulary. You can upgrade your vocabulary with the best vocabulary courses on Udemy. Improving English vocabulary means preparing yourself to speak and write English confidently. It is time to learn something extraordinary to make you stand out in the crowd. These Udemy Vocabulary Courses will help in preparing for TOEFL or IELTS exam.
Udemy is one of the top-rated e-learning platforms to help you achieve your goals. Native-English Speakers and English teachers will become your partner in studying vocabulary to master the language. Learning English vocabulary makes your conversation smoother and more accurate.
Key Highlights & USPs
Learn English Vocabulary for speaking and listening skills.


Improve your English Grammar, Vocabulary, and Language Skills.


Learn English Idioms and slang to sound better and more comfortable.


Master the skill of memorizing 500 + words with meanings.


Prep yourself for all advanced English tests such as SAT, GRE, GMAT, and TOEFL.


Understand how to use English for business and law.


Get full lifetime access to video sessions, downloadable resources, quizzes, and assignments.
Who is it for?
A list of comprehensive English Vocabulary Courses is available on Udemy. Whether you are a native or non-native speaker, take a plunge to enroll in the best English vocabulary course. With each course of completion, your skills will be recognized with certifications from Udemy to showcase whatever you've learned.
Rating: 4.5/5
Students Enrolled: 817, 357
Duration: Self-paced
Skillshare is gaining popularity amongst millennials as a creative e-learning platform. It is the place where you can improve your vocabulary with the best experts. There are plenty of Online English Vocabulary Classes available for you. Every English Course will fascinate you to learn many essential English words and vocabulary at different levels. Skillshare provides you with a series of English Vocabulary Courses Online for Free.
Course Creators will help you to memorize and learn more than 500 words and vocabulary used in our everyday life. Each instructor of the Academic English Courses will help you in preparing for advanced exams such as IELTS, TOEFL, TOEIC, FCE, CAE, CPE, PTE, etc. The main goal of Skillshare English Courses is to polish up students' writing, speaking, and understanding in English.
Key Highlights & USPs
Learn how to communicate accurately using vocabulary.


Understand how to memorize each vocabulary with meanings.


Learn English idioms, phrases, and pronunciation to make the conversation interesting.


How to use English vocabulary and grammar to talk confidently.


Build your vocabulary to impress people and speak like a professional in business meetings.


Get unlimited access to every video lecture and hands-on project.
Who is it for?
Anyone can enroll in any vocabulary course for free. You don't need to have any prerequisites to attend many English courses and specializations from Skillshare. It is the right time to take award-winning classes to upgrade your English vocabulary. Just download the Skillshares app and start taking classes from anywhere and anytime.
Rating: 4.5/5
Duration: Self-paced
---
FAQ
How can I improve my English Vocabulary?
Improving English Vocabulary is so easy when you have so many resources and websites on the Internet. Reading is the common way to learn new words and upgrade your vocabulary knowledge.
If you want a little help from experts, check out the English Words and Vocabulary Courses from popular websites. In this way, you can build a strong grip on the usage of the right vocabulary in a suitable context.
Learning with the help of English professionals can help you to work on your speaking skills and gain a better understanding of difficult vocabulary.
How can I learn 100 English words a day?
It is possible to learn 100 English words in a day. You can create a word family which includes verbs, nouns, adverbs, and adjectives. Some words have different meanings and are suitable for different situations, which leads you to learn a word in different ways. You can associate the words to familiarize yourself and memorize them instantly.
How many vocabulary words can you learn in a day?
Normally, you can learn 50 words in a day. Each word will take about 10 seconds of yours. In one hour, you can practice a lot of vocabulary to become confident and fluent as a Native English speaker. You can also learn some new words while watching English movies and videos on social media channels.
Final Words
Hopefully, your questions get answered in this article. Take any one course as per your requirements and start learning from today to become a pro in vocabulary. Learning English is the better option than sitting idle for hours. Be a better English speaker by enrolling.
While enhancing your vocabulary, you can also check out the Best English Speaking Courses for upgrading your communication skills. Don't wait for the ideal time, go and perfect your English Now!