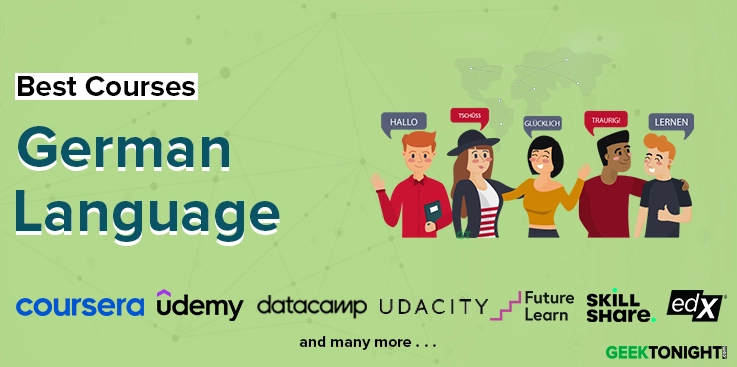 You clicked on this article to know how to speak German, but the idea of taking expensive classes makes you quit. There are unlimited resources out there, however, you are confused… which ones are worth your time? Here, we got you!
Today, we have prepared the list of the Best German Language Courses and Certifications. It will guide you on the best way to learn the German language. Regardless of your reasons to learn German – whether you are traveling abroad or fell in love with German shows, you can learn the language at your own pace.
---
Best German Language Courses, Certification, Tutorials, Training, Classes Online
Time to upgrade your German with this Udemy German Course. You will learn German vocabulary, grammar rules, and pronunciation. This Complete German Program will teach you a brief history of Germany, German dialects, writing, and famous German personalities. It has prepared to help the visual learners with the strategic training method to speed up the learning. By the end, you will be able to speak German fluently in public.
This German Language Course was created by AbcEdu Online Interactive Board. Instructors have more than 30 years of experience in teaching foreign languages virtually. This video language course is incorporated with various teaching methods to fit with the different learning styles of students.
Key Highlights & USPs
Learn the German language to increase your opportunities for both personal and professional success.


Understand how to use German grammar rules, including verbs, tenses, German syntax, and many more.


Improve your German pronunciation and German dialects.


Enhance your German-speaking skills to become a confident and fluent German speaker.


Build listening and comprehension skills through native German training and visual learning.


Get lifetime access to 7 hours of on-demand video, 30 downloadable resources, and pdf materials.
Who is it for?
This Best German Language Course is for Intermediate learners who have prior knowledge of German. It is an ideal certification for those who want to learn intermediate-level B1. You can advance your German grammar and vocabulary with this German Course. You will receive a certificate of completion to showcase whatever skills you've gained.
Rating: 4.4/5
Students Enrolled: 20,106
Duration: 7 hours
You can Sign up Here

Valid till: 30th September
The German Language becomes easy to learn when you take one of these best German Language Courses. Udemy has a set of German Classes and Courses to teach you German-speaking skills. All the courses are engaging and interactive for learning grammar, vocabulary, and speaking in German. You can learn how to spell and pronounce words in the German Language. There are intensive German Courses for Beginners to express themselves in the German Language accurately.
Top-rated German-speaking instructors will teach you German quickly and help you achieve your professional goals. Practical Conversational Courses are available to express yourself accurately in typical everyday situations. With this German Course Online, you can practice German with Native and Experienced teachers.
Key Highlights & USPs
Learn to speak, write, and understand German easily.


Learn to speak German clearly, eliminate your accent, and sound like a native speaker.


Get trained with comprehension skills with authentic dialects and accents.


Learn A2-B2 German for formal and business.


Develop German skills from beginner to advanced level.


Get free access to downloadable resources, video lectures, and reading materials to practice more.
Who is it for?
If you are a non-native speaker, you can take this top German Language Course to add one more skill to your resume. There are no prerequisites to take any of these Online German Courses with a Certificate. You need to complete each course to be recognized by the certificate.
Rating: 4.5/5
Students Enrolled: 1,084, 975
Duration: Self-paced
Learn German with Skillshare! It is one of the best German learning platforms, where you can get free and paid classes. You will not have a hard time learning basic skills, such as Speaking, Reading, and Listening. This German class has been created for students to learn this language and have some fun as well. It will teach you to meet and greet someone, introduce yourself, and other hacks. At the end of the course, you become confident in making a simple conversation in German. You do have a simple conversation in German.
Instructors will prepare you well with this German for Beginners course. Their expertise and teaching abilities help you to improve your knowledge and skills. Skillshare has highly experienced and qualified teachers who are open to discussions and any questions and answers from students.
Key Highlights & USPs
Learn to introduce yourself and others


Able to say answers or ask questions like where you are from. 


Ask someone how they are and answer the question


Use important phrases like thank you or please.


How to build and use the present tense


Many words and phrases to get you started with your German-speaking!
Who is it for?
If you are a beginner, Skillshare German Classes are the best fit for you. Whatever your reason for studying German online, it is the right place to start your journey. You will get a list of courses that can be selected based on your goals and knowledge level. Each German Class receives good marks from past students. You can examine them and enroll if necessary.
Rating: 4.5/5
Duration: Self-paced
Online German Tutors & Teachers [Preply]
Preply brings an ideal platform to find the right private German tutor suitable for you. A qualified teacher can help you through the confusing language challenges. It provides an effective and efficient way to learn to speak German. You can set your schedule to take lessons with an online German teacher.
Whether you're an entrepreneur who wants to build language abilities or a Student to explore more educational opportunities, this best online German language program helps you go beyond grammar and vocabulary. You can book your private German tutor to get a perspective on how to use German naturally in conversations.
Key Highlights & USPs
Learn German one-on-one tutoring through video calls.


Tailored German lessons to teach beyond Grammar rules and vocabulary.


Able to understand how native speakers use the German Language.


Private tutoring available to help the students to reach their goals.


Freedom to find a virtual German teacher as per your budget


Get 100% money back guarantee If you're not happy with the course.
Who is it for?
If you want to jump into a new linguistic experience, this best Online German Course is perfect for you. You can make progress at your pace and learn in a relaxing environment. Preply team will assist you throughout the online course and help you achieve your goals.
Rating: 4.6/5
Duration: Self-paced
German Classes and Lessons Online [Lingoda]
Lingoda offers German Classes to learn German from the comfort of your home. This comprehensive German Course focuses on German grammar, vocabulary, and pronunciation. It will prepare you with useful topics so that you can speak confidently in any everyday situation. Online German Language Courses can train you from beginner to advanced level. It will help you gain international friends and feel confident while traveling in Berlin or other parts of Europe.
German Classes and Lessons Online will be taught by 1500 + German-speaking teachers. Lingoda Teachers are highly qualified professionals with an overall rating of 4.7 out of 5. They will help you acquire better communication abilities to live a comfortable life abroad.
Key Highlights & USPs
Learn to speak with correct grammar and vocabulary.


Learn idioms, a brief of German culture, history, and local expressions.


Understand German used in real-life situations.


Gain a firm grasp on action-oriented topics and know how to use relevant vocabulary.


Effective way to speak in German easily with the locals.


Get free access to 50 classes for each learning level in German.
Who is it for?
Any German language lover can opt for this Online German Course. There is no basic knowledge of German Language required to enroll in this course. Lingoda will give you the certificate of completion after you pass the test to check your performance. You can also use a certificate to show off your skill on LinkedIn and attach it with your CV.
Rating: 4.7/5
Duration: Self-paced
Learn German in just 5 minutes a day [Duolingo]
Are you searching for a free platform to learn German? Duolingo is the best language app to learn German free. As you know, German is a popular language in Europe. Over 200 million people speak German from around the world. Duolingo created a German-language Course to teach you High German or Hochdeutsch, it is the most widely used version of German in the world.
The app is designed to cater to every student from different parts of the world and makes it easy for learners to achieve both personal and professional goals. By the end, you will visit Berlin and sound like a German Native Speaker with all your learned skills from Duolingo.
Key Highlights & USPs
Build on-site language skills with natural approaches.


Enhance your communication skills in real-life every day situations.


Able to apply learned knowledge about German Culture in conversations.


Learn basic phrases, vocabulary, grammar, and greetings.


Improve your German vocabulary and pronunciation to express yourself in simple sentences.


Assess your acquired skill by joining in the discussions and sharing your experience in German.
Who is it for?
There are no prerequisites for taking this Beginner German Language Course. If you are willing to learn German, this Free German Course is best suited for you. While using the app, you can ask a few questions to know your level and end goal.
Rating: 4.5/5
Students Enrolled: 9.47 Million
Duration: self-paced
---
FAQ
How hard is it to learn German?
German is not as hard as you think. If you are an English speaker, German is somewhere easy to learn. For some people, German is a hard nut to crack in terms of new languages. However, it is not as difficult as many think. Whether a language is difficult depends on the language and the learner.
How long does it take to learn German?
As per a survey from the foreign service institute, you need to spend around 30 weeks getting familiar with German. You should spend 300 hours learning from German lessons to become proficient in reading and speaking German.
Can I learn German Online for Free?
Yes, you can learn German Online for Free. I have mentioned a couple of platforms, such as Duolingo, which provides free German classes with fun elements.
Whether you are a beginner starting with the basics or just looking for ways to practice your writing, reading, and speaking, Duolingo and other free German courses are worth trying.
Final Words
Hopefully, you liked this article. The German language can be challenging in the beginning, but it will be fun to learn If you are curious enough. You can choose any suitable one to begin with, from basics to advanced. You can take courses to learn other languages, including English, Korean, Spanish, and so on. Thanks for reading!