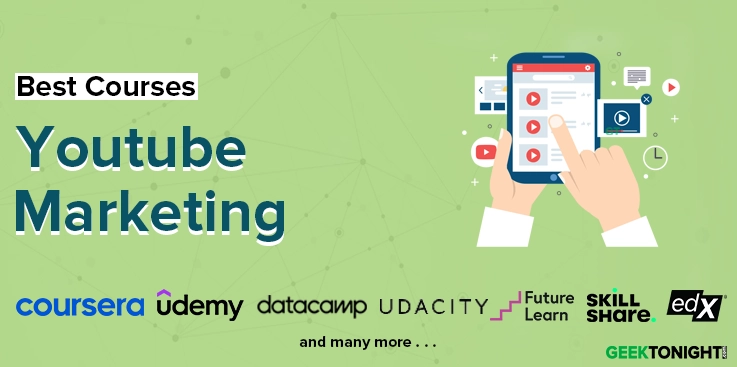 There are 2 billion active monthly subscribers on the YouTube network. It is widely known that YouTube has evolved into one of the most effective advertising platforms of the twenty-first century.
As a result, many companies are now looking to engage YouTube marketing specialists. But what are the requirements for being a productive YouTube marketer?
The solution is straightforward: you must understand how to provide interesting content, expand your channel, and turn visitors into clients.
Fortunately, there are many top-notch YouTube marketing courses available that can teach you everything there is to know about the site. The best YouTube marketing courses that will enable you to succeed as a YouTube marketer are listed in this blog post.
Our product recommendations are unbiased and based on an independent review process. We may receive a commission for links to recommended partners. See our advertiser disclosure for more information.
---
Best Youtube Marketing Courses, Certification, Tutorials, Training, Classes Online
Youtube is the ideal platform for promoting your products and services, building your brand, and driving visitors to your website. And this youtube marketing training is ideal for you to launch your YouTube channel. It is the only place where you can get everything you need to start creating professional videos that get thousands of views, subscribers, and eventually money!
The YouTube Masterclass course is a quick and efficient course that will take you from having no prior knowledge to having a fully functional YouTube channel with premium videos, views, and followers. It is taught by Phil Ebiner, Michael Moyer and Video School – where each course has been specifically designed to educate a certain talent, whether it be in art, design, business, or photography and video.
Key Highlights & USPs
Learn what makes a YouTube channel effective so that you may create one to market your company, impart a skill, or simply to vlog about your life.


Get to know how to build a fully functional YouTube channel with premium videos, views, and followers without having prior knowledge.


You will discover how to create excellent videos using both expensive and professional equipment.


Learn to use any camera to capture high-quality video and audio, how to put up a low-cost DIY lighting setup for videos, and how to edit videos effectively.


Find out how to upload them to your YouTube channel with excellent, SEO-friendly titles, descriptions, and tags to receive the most views.


Upon finishing the course you will receive a completion certification along with some course materials for reference. 
Who is it for?
This udemy youtube course is listed as 'All levels' thus making it clear anyone from a total beginner or someone with a channel that needs assistance can benefit from this course as this course provides a thorough solution for the problem of creating a completely new profitable Youtube Channel.
Rating: 5.5/5
Students Enrolled: 175,270
Duration: 6 hours

Valid till: 30th September
The YouTube online courses on this platform includes some of the best efficient training programs that are short in duration, very concise but very impactful as they directly teach you what is essential for your channel and help you in developing your 'How to YouTube like Pro' skill. Some of the courses on the platform include YouTube for Beginners – How to Start & Grow Your YouTube, YouTube Success: Script, Shoot & Edit with MKBHD, Storytelling through Film etc.
The creators of the courses on this platform are among the best youtubers out there today! Choosing a courses from this courses gives you options to learn from some well known Youtube personalities like Marques Brownlee, Lily Singh, Sorelle Amore, Rob (Harun Robert), Ali Abdaal and the list goes on and on!
Key Highlights & USPs
Popular YouTubers will walk you through each stage of content creation step by step.


Learn how to make videos that resonate, whether you have one follower or 100,000. 


Get to know everything you need to know to get started as a YouTuber, including how to plan, shoot, and edit your first video.


You'll discover how a viral video is produced, from ideation and scripting to shooting and marketing, and you'll acquire the knowledge and resources to make your own, regardless of the platform.


Learn to make content like digital content makers, regardless of whether you've just started making videos or want to expand your audience.
Who is it for?
By the time you're done with this platform, along with fundamentals of YouTube you'll also be equipped with the skills necessary to blend strategy and storytelling and spread your passion throughout the world, one video at a time!
Rating: 4.7/5
Students Enrolled: 24,682
Duration: 3 months, 12 hours/week
Udemy platform is known for having good selection of courses in any niche and so is the case with YouTube courses available on this platform. Learners get to learn from masterclasses that teach Youtube in its entirety! Courses are available that traces learners how to make, edit videos along with how to make it rank on YouTube!
Some of the instructors for the courses are Alex, Genadinik, Nick Nyxson, Chris Haroun, Sacha Stevenson, Diego Davila, Max Willhard among many others.
Key Highlights & USPs
Learn about the advantages and disadvantages of various YouTube advertisements kinds for various scenarios.


Get to know the penny-per-view concept of YouTube.


Make the creative titles possible to increase your subscriber and viewer counts.


Understand how to edit your videos with Premiere Pro and Final Cut Pro (no prior experience required)


Utilize PowerPoint, Photoshop, Gimp, Pixelmator Pro, and more to produce stunning thumbnail images.


Discover how to use a variety of cameras to produce stunning YouTube videos and also learn how to make use of audio equipment for recording sound.


The courses on Udemy give out tons of downloadable resources, course materials and course completion certificate for your CV.
Who is it for?
It is a perfect youtube beginner course that aims to help individuals in learning how anyone can earn a profit, boost subscriptions, improve branding, and advance their business from YouTube. And the platform offers a plethora of courses that cover any and every YouTube-related topic.
Rating: 4.7/5
Duration: Self-paced
YouTube Creator Academy Lesson

[Youtube]
This is rather a free initiative taken by YouTube where they have a Channel called 'YouTube Creators'. This channel will keep viewers up to date on all things YouTube and provide them with the greatest advice and strategies for expanding their audience on the platform.
One of the best parts of learning from YouTube is that they have multiple playlists that include multiple famous content creators that expose their processes and teach you how to tackle the problems that you may face during your YouTube journey.
Key Highlights & USPs
Learn how to make money on YouTube through their extensive playlist on Making Money on YouTube along with Making Money with Ads and Beyond Ads!


Learn from the very basics of YouTube from how to build a channel to YouTube's Guidelines, Copyright, and Monetization.


Get a chance to learn with YouTube Contributors and Partners who help you to start a channel as well as give Production Tips.
Who is it for?
YouTube is for all and so are YouTube Creators. There are numerous detailed playlists that venture into how to build a successful channel from customization to monetization, community policies, guidelines, tips from experts, and what not!
Rating: 4.2/5
Duration: Self-paced
The Linkedin Learning platform is known for providing short-duration courses so that you can learn them on the go or whenever you get a bit of free time from your daily lives. Here you can find courses like 'Developing a YouTube Strategy', 'Learning YouTube Analytics', 'Learning YouTube SEO', 'How to Monetize on YouTube' etc.
You will get to learn from industry experts in Anson Alexandr, Richard Harrington, Ash Blodgett, Martin Waxman and more who are well-versed with video content and how it can be put to use on YouTube to make money.
Key Highlights & USPs
Discover key tactics for increasing viewership and engagement with your videos.


Start watching and gaining the knowledge you need to turn a YouTube channel into a profitable enterprise.


Discover many ways to make money on YouTube to help you build up your channel to make money.


Learn how to create tags, descriptions, and keyword-rich content for your YouTube videos.


Find the SEO tools that your instructor has recommended to help you rank your videos and get them in front of the viewers you want.


Learn how to specify the kind of content to produce, strike a balance between quantity and quality, and uphold consistency.
Who is it for?
These online youtube classes on this platform are perfect for beginners as they will understand the processes that are required to be done before and after publishing the video.
Rating: 4.1/5
Duration: Self-paced
FAQ
How can I learn YouTube marketing?
You'll need to invest some time and energy in your learning if you want to understand YouTube marketing. You can do this in a number of different ways, like by reading articles or viewing videos from YouTube itself! about the subject. Once you have a solid grasp of the fundamentals, you can start experimenting with various marketing techniques to find which ones are most effective for your company.
Marketing on YouTube is a fantastic way to showcase your goods and services to a large audience. It's crucial to keep in mind nevertheless that mastering a skill requires time and effort. You can succeed with YouTube marketing if you are prepared to put in the effort.
Is marketing on YouTube effective?
The second-largest search engine in the world is YouTube, which is also the third-most-visited website. Over a billion individuals visit the website daily, watching more than a billion hours of video. Undoubtedly, YouTube is a strong platform with a tonne of marketing potential.
So, is YouTube marketing successful? Yes, but it depends on how you go about doing it. A video can't merely be uploaded and hoped that people will find it. Make sure you are reaching your target demographic by giving your marketing approach some attention.
The most effective method of marketing on YouTube will depend on your industry, your goods or services, and your objectives. However, if you put in the work, your YouTube marketing will undoubtedly produce results.
How do you become a YouTube specialist?
Many aspiring YouTubers wonder how they can specialize in YouTube. As the platform continues to expand and change, the solution is getting more and more complicated. Anyone with a camera and an internet connection could start a YouTube channel in the early days. That's not the situation anymore.
As a result of intense rivalry, YouTube has developed into a very complex platform. You must have a thorough understanding of the platform and how it functions in order to succeed on YouTube. Additionally, you must be able to create top-notch material that draws people in and keeps them coming back for more.
You must put in the effort if you want to become an expert on YouTube. But if you're prepared to work hard, you can succeed on this platform.