What is Group Discussion?
Group Discussion (GD) is a technique where the group of participants share their views and opinions on a topic for a specific duration. Companies conduct this evaluation process because business management is essentially a team activity and working with groups is an essential parameter in organisations.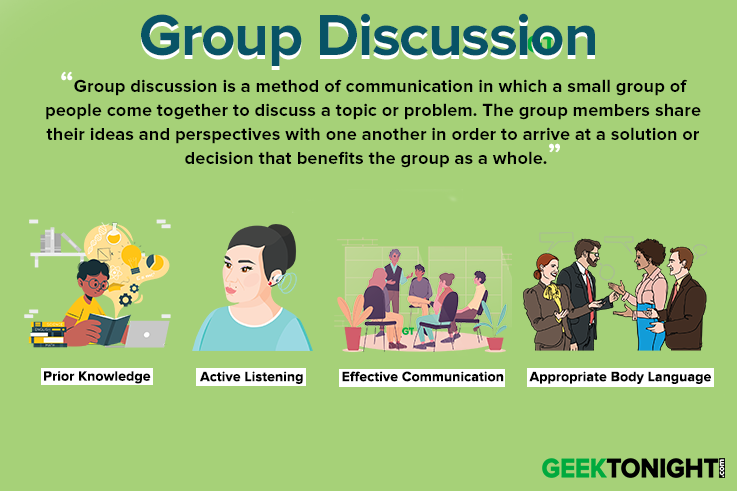 GD is an opportunity for an organisation to evaluate a candidate's communication skills, knowledge, leadership skills, listening skills, social skills, ability to think on the spot and improvise. A typical GD has about 8-12 participants and 2 or more assessors. The assessors sit where they can clearly see and hear all the candidates.
They record the behaviour of participants during the group discussion. Then, they evaluate the recorded observations against the desired traits and finalise a few candidates from the group.
---
Group Discussion (GD) Definition
Group discussion is a communication process that involves the exchange of ideas, information, and opinions among a group of people. It is a powerful tool for problem-solving, decision-making, and generating new ideas. – Stephen P. Robbins, author of "Organizational Behavior"
A group discussion is an interactive process where a group of individuals come together to exchange ideas, opinions, and information on a specific topic. The goal of a group discussion is to arrive at a collective decision or solution that is acceptable to all members of the group." – The Indian Institute of Technology (IIT)
Group discussion is a method of communication in which a small group of people come together to discuss a topic or problem. The group members share their ideas and perspectives with one another in order to arrive at a solution or decision that benefits the group as a whole." – The American Psychological Association (APA)
Group discussion is an effective means of exploring and analyzing complex issues, generating creative ideas, and arriving at consensus among participants. It provides a platform for individuals to express their views, clarify their understanding, and learn from the perspectives of others." – The National Institute of Standards and Technology (NIST)
---
Objectives of Group Discussion (GD)
Group discussions are conducted to serve various purposes. It is a two-way communication process through which recruiters get to assess the soft skills of candidates, while the candidates can gain clarity about their own thoughts, opinions and views.
The following are some of the objectives of a group discussion activity:
To collect data


To breed fresh ideas and take inputs from a particular group


To perceive the common ideas of people on a particular topic


To identify the solution of a specific problem or issue


To select a candidate for hiring in a company


To select candidate for admission in an educational institute


To arrive at a consensus regarding a common concern
---
Types of Group Discussion (GDs)
A group discussion delineates how a candidate participates, behaves and contributes in a group. There are three main types of GDs:
Topic-based GDs
These are based on certain practical topics, such as the harmful effects of plastics on the environment or the need of college degree for entrepreneurship. These GDs can be further classified into:
Factual GDs: These are informative GDs that require comprehensive knowledge about a subject. For example, the economic growth of India since independence.


Controversial GDs: These GDs are based on controversial topics, which test the ability of a candidate to handle a situation, control anger, display patience and think critically. For example, arranged marriage vs. love marriage.


Abstract GDs: These GDs are based on certain conceptual topics that are used to evaluate a candidate's creative thinking and analytical ability. For example, challenges before humanity.
Case-based GDs
In these GDs, a case study is presented to group members to read and analyse in a given period. Candidates need to discuss the case study among themselves and reach on a com- mon consensus to solve the given situation. This helps to evaluate their problem solving, analytical ability, critical thinking and creative thinking skills.
Article-based GDs
Candidates are presented with an article on any field, such as politics, sports, or technology, and asked to discuss the given situation.
---
Prerequisites of Group Discussion (GD)
There are some essential requirements for gaining success in a group discussion. The following are some important requirements to be fulfilled by a candidate in order to ensure a successful GD:
Prior knowledge
A candidate with in-depth knowledge and command over the topic initiates the discussion. He/she gets noticed and usually selected in a group discussion. However, starting the discussion does not guarantee the selection and also it does not show the leadership qualities.
Therefore, one should start a discussion only when he/she is well acquainted with the topic. In case, one is not well acquainted with the topic, he/she should first listen to others and then speak.
Active listening
Only good listeners can be active participators in a discussion. Such persons listen to others and remain attentive and active throughout the discussion. Therefore, a listener is more likely to imbibe knowledge than a speaker. By listening carefully, a candidate can contribute by formulating his/her own thoughts that can be verbally delivered.
Effective communication
Candidates should have good communication skills and they should take care of the overtones. One should be able to understand other participants' perception and thoughts. Then, accordingly, Agree to or refute the ideas or viewpoints presented by other candidates.
Therefore, healthy and clear thoughts should be exchanged while pursuing a group discussion to gain attention of the assessors.
Appropriate body language
Gestures, facial expressions, eye contact and tone of voice show the amount of interest a candidate has in a group discussion. It is important to maintain eye contact with the evaluator(s) when starting a discussion. The coordinator notices the body language of the candidates to assess their confidence level.
---
Steps of Effective Group Discussion
A GD is a method used by organisations to analyse the skills of candidates and decide whether their personality traits are desirable for the job or not.
While facing a GD, the following steps should be performed:
Initiate
If you want to quickly grab the attention of assessors, then start the GD. However, you must have good knowledge or understanding of the subject being discussed. To make your speech more interesting, you can start with a relevant quote or a short/interesting story; but keep track of time.
Lead
There might be a situation when you do not have enough knowledge to start a discussion. In that case, wait, watch and listen to others. As soon as you get an opening, jump in and take charge. Move the conversation forward to make it impactful. However, remember not to over-drag the topic. Sometimes, less is more.
Summarise
Closing a GD is another opportunity to get the attention of the evaluators. Recap the discussion, connect the dots, highlight the key points and summarise them. Make sure that the summary includes both the positive and negative viewpoints on the topic presented by the candidates.
---
Do's and Don'ts of Group Discussion
In this section, we will discuss some Do's and Don'ts to be taken care of by all the candidates who wish to perform well in a GD.
Some Do's to be kept in mind during a GD are:
Be a good listener by being patient.


Acknowledge everyone else and what they say.


Articulate views in a way that is comprehensible to others.


Structure your thoughts and present them logically.


Read newspapers, current affairs, essays and articles to develop thought structuring.


Respect others for what they are.


Be open-minded and acknowledge the fact that people think differently about issues.


Train your mind for analytical thinking by taking all aspects into consideration.
It is also important to avoid doing certain things while participating in a GD. Some Don'ts to be aware of while pursuing a GD are:
Avoid irrelevant talk.


Avoid interrupting others while they are talking. If you need to cut short a speaker, then do so politely and with due apology.


Avoid dominating the conversation. Ask others to contribute. Acknowledge their viewpoints.


Avoid getting into an argument. Try to express clearly in a healthy manner.


Do not show lack of interest and negative attitude.


Avoid stating only your viewpoint.


Avoid dwelling only on one aspect of the GD.
---
Group Discussion Evaluation Criteria
Each group discussion exercise is assessed by one or more individuals who are trained to observe and assess behavioural traits relevant for a specific job. The four main behavioural traits assessed through a group discussion are shown in Figure
Let us discuss these behavioural traits in detail.
Communication skills
These skills are judged on the basis of how a participant is getting his/her message across, how he/she is using his/her body language and also listening skills.
Analytical and interpretative skills
Assessors draw conclusions about a participant's interpreting and analysing skills by observing how he/she uses facts and data, considers complex problems and issues, suggests solutions, etc.
Interpersonal skills
Assessors observe the participants' interactions with one another, how they allow one another to express themselves, etc.
Persuasive skills
The influencing skills of participants are as- sessed based on how well they are able to persuade one another, convince others about a viewpoint or impact others' behaviour.
---
Organising a Group Discussion
A Group Discussion generally involves a group of 8-10 participants who are evaluated by a selection panel. GDs are used to evaluate whether a candidate is a perfect fit for an organisation or not. Be it college placements, MBA courses, job interviews or general researches, GDs are conducted almost in every field to gauge whether the candidate possesses the required skills and personality traits to be a part of the concerned institution. A facilitator has to take care of all the nitty-gritties of organising a GD.
In order to conduct a successful GD, the following aspects need to be taken into consideration:
Objective of conducting a GD
Every GD has a specific purpose such as selecting deserving candidates for admission in professional course or gaining new talented employees in an organisation. Therefore, the objective of a GD should be clear to all the members of the selection panel in order to select the most deserving candidate.
Venue setup
An appropriate venue should be set up to conduct a GD. The venue should not be overcrowded, which may make the participants feel uncomfortable. The space selected for conducting the GD should be well-ventilated, equipped with proper lighting and should have a proper seating arrangement.
Time
A stipulated time limit should be set for each participant to present his/her views. Firstly, participants are given a topic and some time to understand the topic and organise their thoughts. Thereafter they start presenting their views and opinions over the given topic. The time provided to the participants should be logical and it should start at that time only with no delay and waiting.
Pre-instructions for participants
Prior communication with the participants should be properly conducted along with mentioning the time allotted to one participant to speak. The topic of discussion should be specified clearly along with the instructions and timings of when to start and stop. Big MNCs have their well-panned GD guide that provides instructions to the participants.
Defined parameters for selection
There are various parameters based on which a candidate is evaluated. Some of these parameters are listening power, level of confidence, decision-making ability, analytical skills, leadership skills, etc.
Role of assessor/evaluator
Candidates can speak whatever they like on the subject under discussion. The assessors note down their observations for each candidate. Once the discussion is over, the assessors review the information recorded against the desired behaviour. Therefore, a proper evaluation sheet should be maintained for writing down observations so that no errors occur while the selection of candidates.
Clear communication of results post GD
The results should be announced clearly post the GD. The facilitator should ensure that the participants should not be made to wait for too long for the results.
The following are some points that you should take care of while preparing for a group discussion:
Ensure your contribution to the group: Candidates need to make sure that they contribute to the conversation. Candidates having avoiding behaviours or actions do not contribute to the discussion's outcome. Such behaviours need to be avoided and involvement in the GD is necessary to make a mark.


Manage conflicts effectively: In case of any disagreement with members of the group, ensure that you persuade them without getting rude and aggressive. Assessors will pick such arrogant behaviour and highlight it as your negative aspect.


Manage your time: Candidates need to stick to the timeline al- lotted for the discussion as the same would suggest that they are punctual and follow the timeline persistently.


Include others: Encourage those who do not speak up during the discussion and urge them to give their opinions. This will gain assessors' praise and group members appreciation.


Be a team player: Generally, group discussion exercises require that the members come to an agreement on the topic being discussed. However, ensure that you do not impose your ideas on others. A better way is to include everyone's ideas and centre it around the organisation rather than express something that might only benefit one member.