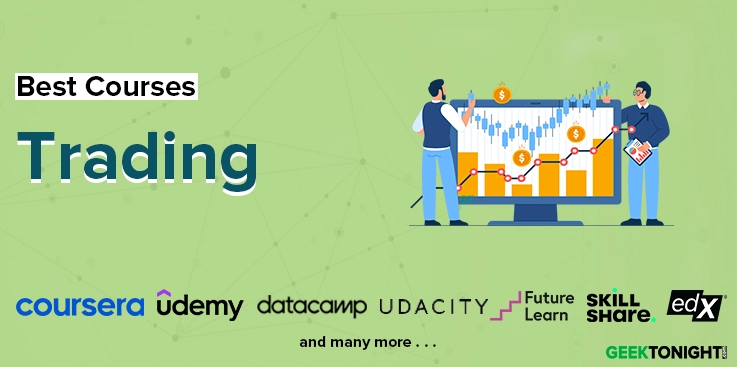 Trading involves transactions such as buying and selling commodities, stocks, securities and other instruments for the purpose of investment and generating returns. Trading is done in many ways and the style often depends on factors like the amount of investment, level of experience, holding period, etc.
According to a survey, 80% of traders quit within the first two years because they lack the proper knowledge required to practice profitable trade. Thus we've covered the best trading courses and certifications available online to save you from such complications and set you on the right track.
Our product recommendations are unbiased and based on an independent review process. We may receive a commission for links to recommended partners. See our advertiser disclosure for more information.
---
Best Trading Courses, Certification, Tutorials, Training, Classes Online
These Coursera trading courses include a practical guide to trading, financial markets, trading strategies in emerging markets, basics, machine learning for trading, investment management and so much more. They will help you master skills like accounting, business analytics, corporate bond, data analytics, economics, algorithms and analysis.
These Coursera trading classes are offered by industry leaders and experts from reputed institutions like Yale University, Indian School of Business, Google Cloud, Princeton University, University of Geneva, etc.
Key Highlights & USPs
Understand the interconnectedness of the global capital markets with a practical emphasis on trading along with the interweaving of several capital markets.


Provides an overview of the ideas, methods, and institutions that permit human society to manage risks and promote enterprises and emphasises on financially-savvy leadership skills.


Contains a description of practices used today and an analysis of prospects for the future. It introduces risk management and behavioural finance principles to understand the real-world functioning of securities, insurance, and banking industries.


Design a new trading strategy and evaluate it using the tools learned in the course. Integrate it with the existing portfolio and also develop a plan to start a hedge fund.


Equips individual investors and money managers with the skills required to develop their own trading strategies and test them and apply eight ready-made trading strategies, based on rigorous academic research.


Get the knowledge required to comprehend the financial statements of a company and understand the various transactions that take place in the stock market so that you can replicate the strategies discovered by the extant academic literature.
Who is it for?
These Coursera trading courses have something to offer to all levels of students and learners. These classes cover the basics to advanced levels of concepts, so you have a variety of specialized topics to choose from.
Rating: 4.7/5
Duration: Self-paced
These udemy stock trading courses are the perfect guide on trading in stocks and technical analysis. They take you through the basics of trading to trading like a pro with knowledge-packed interactive sessions. Udemy also has classes on swing trading, trade NASDAQ like big banks, hedge funds and much more.
These udemy trading certifications are offered by great professional traders and institutions like Frank Bunn, Luca Moschini from SharperTrades LCC, Corey Halliday, Indian Insight, and Steve Ballinger along with others who have spilled their secrets on conducting profitable trades.
Key Highlights & USPs
Learn the secrets of professional trading from a former stockbroker, and make profits investing today.


Calculate support & resistance to measure risk and reward. Identify the four stages of a trend and avoid the common mistakes that new traders tend to make.


Trade a low-risk, high-probability mean-reversion setup generates 50-100% annual returns. Create a simple quantitative analysis model to target securities with massive upside potential.


Learn how to tactically trade mean-reversion reversals with the primary trend. Study basic charts and technical analysis. Have a basic understanding of technical analysis and technical tools.


Learn acute hacks for the Nasdaq market which many don't know about


You will learn how to trade when to trade Nasdaq and accurate entry levels that will give you confidence in the market.


Gain enough confidence in what works and does not work on the market. You will minimize the risks of losing unnecessary trades or capital.
Who is it for?
These udemy trading classes are perfect for the Beginner or Newer Investor who wants to learn all the key practical aspects when investing in stocks. It is also very good for more experienced investors who want to improve their skills, learn new insights, or gain more confidence when it comes to investing in stocks.
Rating: 4.6/5
Duration: Self-paced

Valid till: 30th July
This udemy stock trading course will make you completely understand how the stock market works and teach you how to trade in the stock market. This bestseller will also take you through the history of the stock market and its evolution.
This udemy trading course is offered by Mohsen Hassan from Bloom Team. Mohsen has a deep passion for finance and computer science. Having studied and worked in the field, he has developed a deep understanding of the financial industry's many facets. He started Bloom Trading because of his passion for the financial field and for teaching others about the financial markets and programming.
Key Highlights & USPs
Filter out the noise, and get to know what techniques traders use and how they think. Get insight from a professional trader's standpoint and learn how to manage risk in each position, how many shares to buy, and where to take a loss.


Become an expert in human emotions and the different biases that affect people when Money is involved. Also know the process that a company goes through to become a Publicly Traded Company.


Master Technical Analysis: Candlestick Patterns, Chart Patterns, Volume and Technical Indicators. Understand how to send orders and different order types.


Learn how to reduce losses and manage overall portfolio risk. Analyse how to short-sell so you can make money if the market goes down.


Covers one of the most important aspects of trading: Risk Management and Money Management. Dive deep into how to protect your account from major losses.


Technical Indicators like Bollinger Bands, Relative Strength Index, and the Average True Range. Learn about orders to buy and sell stocks and how they determine the price of a stock. Furthermore, you will get a list of recommended resources.


Get full lifetime access to 9.5 hours of on-demand video on mobile and TV, 1 article, 32 downloadable resources, and a certificate of completion. 
Who is it for?
This udemy trading class is for beginners who want to decrease their learning curve, traders who are starting out at an intermediary level, and who want to learn more. It is basically for anyone who wants to trade the stock market. The class is also for people who want to learn the most important concepts that are needed in trading and traders who want to better time their entries and exits.
Rating: 4.6/5
Students Enrolled: 45,095
Duration: 9.5 hours
These udemy forex trading courses will teach you how to make a living out of online trading forex, algorithm trading, forex strategies to trade like a pro, and so much more. This will help you master skills like financial trading, stock trading, price action, MQL, Technical analysis, etc.
These udemy trading classes are instructed by professional traders and industry experts like Federico Sellittti, Mohsen Hassan, Yasin Marco, and Thomas Boleto along with others to spill their years of trading secrets that will aid you in conducting profitable trades.
Key Highlights & USPs
How to make money reading and analyzing volume signals which is something that 99% of forex traders cannot do. Learn about the no demand entry, the supply/demand line entry and the test of the supply line entry.


Understand how to spot market manipulation, giving you an edge over most traders and learn how to draw trend lines and trade trend line breaks and bounce.


Grasp how to create, test, and optimize algorithmic trading systems and elementary concepts of forex trading system design. 


Limit the risk by a portfolio of different Forex Robots, on different currency pairs, on different time frames and trade with the 5 Robots (Expert Advisors) and lower the time to stay in front of the screen.


Build the skills on how to be on the profitable side in nowadays volatile Financial Market. 


Know how to place the Forex Robots properly on the Meta Trader, and test them on a Virtual Account.
Who is it for?
These forex trading courses are for people that want to benefit from Expert Advisors from Forex, traders that don't have profitable Forex trading strategies, and for people that wish to trade manually or automatically. The courses are also suitable for beginner traders, who are looking for profitable strategies.
Rating: 4.5/5
Duration: Self-paced
This Coursera trading certification will help you understand what is special about Bitcoin, and how it works at a technical level. It addresses the important questions about Bitcoin, such as: How does Bitcoin work? What makes Bitcoin different? How secure are your Bitcoins? etc.
This Coursera trading class is offered by the associate professor of Princeton University, Arvind Narayanan. He leads the Princeton Web Transparency and Accountability project, which aims to uncover how companies are collecting and using our personal information. He also studies the security and stability of Bitcoin and cryptocurrencies.
Key Highlights & USPs
Learn about cryptographic building blocks and reason about their security. Work through how these primitives can be used to construct simple cryptocurrencies.


Learn Bitcoin's consensus mechanism and reason about its security. Appreciate how security comes from a combination of technical methods and clever incentive engineering.


Learn how the individual components of the Bitcoin protocol make the whole system tick: transactions, scripts, blocks, and the peer-to-peer network.


Explore how using Bitcoins works in practice: different ways of storing Bitcoin keys, security measures, and various types of services that allow you to trade and transact with bitcoins.


Bitcoin relies crucially on mining. Analyze who are the miners. How did they get into this? How do they operate? What's the business model like for miners? What impact do they have on the environment?


Look at all the ways that the world of Bitcoin and cryptocurrency technology touches the world of people. Discussion on the community, politics within Bitcoin and the way that Bitcoin interacts with politics, and law enforcement and regulation issues.


Start this 100% online course instantly and learn at your own schedule. Reset deadlines in accordance with your timetable.
Who is it for?
This Coursera trading tutorial is for anyone willing to dive into the world of bitcoin, cryptocurrency and blockchain. It covers everything you need to know about these prominent topics to start your journey as a trader.
Rating: 4.6/5
Students Enrolled: 6,83,831
Duration: 23 hours
This LinkedIn trading class will help creators that are interested in NFTs to protect and monetize their original work. This course explains exactly what NFTs are including their basis in a blockchain, and how you can create your own NFTs using a cryptocurrency platform like Ethereum.
The instructor of this LinkedIn trading tutorial is PhD holder award-winning technology leader Jonathan Reichental. He is also a bestselling author professor and advisor, and he talks about blockchain, smart cities, emerging technologies and so on.
Key Highlights & USPs
Learn about fungibles and non-fungibles and how bitcoin paved the way for NFTs. 


Includes sections on challenges and risks of NFTs, their future and chapter quizzes to test and apply what you have learnt. 


Understand how the NFTs are powered by blockchain technology. 


Know how to support an NFT on Ethereum. 


Learn how to buy and sell an NFT. 


Get access to 45 minutes of video lessons on table and phone, 3 chapter quizzes and a certificate of completion.
Who is it for?
This LinkedIn trading course is a comprehensive option for anyone looking forward to having a deep understanding of NFTs and their working. It contains all the information you need on this subject, all in one place.
Rating: 4.7/5
Students Enrolled: 53,197
Duration: 47 minutes 25 seconds
This udemy stock trading course will simply teach you how to trade the stock market. It is for Stocks, Day Trading, Swing Trading and Financial Trading. You will understand how to Track, analyze, and identify trading opportunities for different trading strategies.
This udemy trading class is taught by Mohsen Hassan from Bloom Team. Mohsen has studied and worked in the field and has developed a deep understanding of the financial industry's many facets. He started Bloom Trading because of his passion for the financial field and for teaching others about the financial markets and programming.
Key Highlights & USPs
Evaluate different financial statements and how to use them to your advantage. Learn about two different Trading Strategies.


Apply different valuation methods under different strategies and formulate your own trading plan to help you trade with confidence.


Fully understand the market's micro-structure, ECNs and Dark Pools. Understand the philosophy behind different trades.


Develop and implement your own trading strategies. Analyze and understand company fundamentals and fundamental ratios.


Interpret the use of technical analysis, charts and indicators under different circumstances.


This course also includes comprehensive, advanced material that is helpful in trading confidently and effectively. Get an excellent understanding of what makes a great trading strategy and how to test and develop your own strategy.


Get full lifetime access to 9.5 hours of on-demand video on mobile and TV, 1 article, 35 downloadable resources and a certificate of completion.
Who is it for?
This udemy trading certification is for intermediate traders who want to improve their performance and build a strong foundation on how to plan and execute their trades. It is for individuals who want to learn advanced concepts in order to have a more comprehensive knowledge of the financial markets. And finally, it is also for beginner and intermediary level traders looking for more tools and techniques.
Rating: 4.6/5
Students Enrolled: 12,365
Duration: 9.5 hours
FAQ
How do I start trading?
Before following the general formalities like opening an account, the trader should be well versed in his practices. One should know the trading basics and the techniques to minimize losses and risks while implementing approaches that will yield high returns.
After which the procedure of finding a broker, opening a trading and Demat account and transferring of funds can be followed.
How do beginners learn to trade?
Practicing can help you master any skill, but trading involves frequent use of money and people are generally not willing to risk their hard-earned capital.
So the solution to this would be first to gain knowledge on this skill which can be through learning from experts and observing the market and its trends. Finally, after you feel confident in yourselves start with smaller amounts and note your progress.
Can trading make you rich?
Trading is not a secret to overnight success. The trader needs to put in time and effort to understand various trends and techniques to master this skill. Eventually, the consistency will pay off because there is a lot of scope here to make money and earn regular returns.