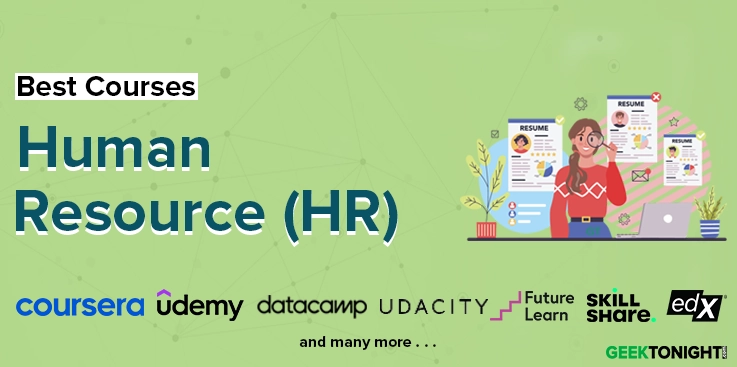 What is an organisation if not a bunch of employees working in coordination to achieve a goal. And finding these well suitable employees, coordinating their work process, attracting, retaining, and keeping them motivated is the work of a Human Resource Manager commonly known as an HR
Companies appoint HR as they are not only good in people management but also strategic management and can easily help an organisation reach its objectives with less wastage of resources. Moreover, with the job growth rate for Human Resource managers is set at 9% for 2020-30, the chances of landing a good job position are better than ever. That is why we have made this list of the best human resource management courses for you to start your HR journey!
Our product recommendations are unbiased and based on an independent review process. We may receive a commission for links to recommended partners. See our advertiser disclosure for more information.
---
Best Human Resource (HR) Courses, Certification, Tutorials, Training, Classes Online
Managing the 'people aspect' is as important as if not more than managing any other management area. This Coursera HR specialization consists of abundant strategies and skills for taking control of the employee force and motivating them to perform better. This specialization is made up of 5 courses that teach you to be fluent at your Hr duties of hiring, managing, and rewarding employees.
The IBM Data Analyst Offered to you by the University of Minnesota, the instructors for this HR specialization course include names of highly qualified Professors, Assistant Professors, and Senior Lecturers such as John W.Budd, Amy Simon, Stacy Doepner-Hove, Larry Bourgerie, Alan Benson, and Mike Davis.
Key Highlights & USPs
Identify and acknowledge a variety of approaches to managing the workforce and different motivator factors for different people.


Gain the skill of identifying & hiring the right candidate for the right job, thus ensuring maximum efficiency.


Learn to create a pay structure plan that is technically and strategically sound for both management and the employee.


It includes a hands-on project which will help you to understand the learnt concepts and theories in a practical manner with application in real life/workplace.


Get access to this course and its materials for a lifetime, Earn a Coursera verified specialization certificate for our resume.
Who is it for?
This human resource management certification program is tailored specially for managers, entrepreneurs, or even beginners with no prior knowledge of HRM as they can learn from the very basics to profound knowledge that goes into managing staff at an organisation. After taking this course, individuals will have equipped a deep understanding of various practices followed in the entire employee life-cycle.
Rating: 4.8/5
Students Enrolled: 112,216
Duration: 6 Months, at 4 hours per week.
You can Sign up Here
Udemy HR courses provide learners with all the general and core topics of HRM by providing courses such as 'Administrative Human Resources (HR) for Beginners,' 'Learn HR Fundamentals for a Career in Human Resources,' 'Effective Human Resources Administration' etc. In addition, the platform also provides a Diploma course in HR online for individuals who are dead set on making a career in the HR field.
A total of 320,277 students are enrolled for courses in HRM, Business section of Udemy, making it a reliable place to pursue a course. The list of instructors' names includes Donna Galatas, Jackie Torres, Akaaro Consulting and Training, Josh Bersin, Christina A. Danforth, and many more
Key Highlights & USPs
Learn to integrate Analytics with your organisation's operations in order to study your firm's position in the market.


Identify various management styles and learn retention of employees through various methods.


Get to know the concepts of Pluralism & Unitarism and how performance management can help you maintain a productive work environment.


Follow a holistic approach in studying Human Resource Management and learn to use HR concepts in your workplace.


Solve case studies to understand the concepts and challenges faced by the HR team at a more realistic level.


Get plenty of downloadable resources, articles, and more for lifetime access along with unlimited access to courses and earn a shareable certificate after successful completion to showcase your learnt skills.
Who is it for?
The platform offers the best online HR certificate programs suitable for beginner to advanced level students, perfect for an HR employee who wants to grow in their field. Learners can easily acquire all the versatile skills required for being a proficient HR manager.

Offer Till: 31th March | $14.99 | AU$19.99 | ₹525 | Rp 129 | SGD 19.99
The Human Resources LinkedIn learning courses are one of their kind as you get a selection of rich content driven courses that focuses on important areas of HR. Some of the Human Resources courses on the platform include 'Human Resources Foundation,' 'Strategic Human Resources,' 'Human Resources: Compensation and Benefits,' 'Certification Prep: Professional in Human Resources (PHR)®,' etc.
Linkedin is a respected brand that resembles professionalism thus, even the HR online courses provided by the platform are of optimum quality with authors like Catherine Mattice Zundel, Wayne Cascio, Joanne Simon-Walters, John Boudreau, and more.
Key Highlights & USPs
Learn strategic human resource planning by interrelating your duties to the organisation's missions.


Develop a compelling compensation strategy to retain your workforce and keep them happy.


Gain the skill of conflict management to peacefully manage employee conflicts with some help by building a 'process' to solve the arising problems between the staff members.


Learn to develop employees by carrying out job analysis, job description, onboarding, and performance management in the right manner.


Mark your course completion with a LinkedIn Learning certified certificate to improve your CV/Resume, get exercise files in every course, project files for lifetime access
Who is it for?
The platform's HR section of courses can easily be said to be dedicated to those individuals who want to start (beginners) or advance (expert) their career in HR. Another gain of taking up a course from this website is that it teaches you various skills of workforce management/planning, Human Resources metrics, Hiring, and interviewing, among other skills.

Duration: At your own pace.
People Management by Indian Institute of Management Bangalore

[edX]
People Management is much more than just maintaining a happy work environment. It also encompasses all the process that involves dealing with people, even in the littlest form that an HR has to go through, and this HR training course in people management shows you exactly how to be a professional in it with some personal development and growth
These HRM online classes are brought to you by IIMB, with the instructor for the course being a Professor of Organisational Behaviour and Human Resource Management at IIM Bangalore, Vasanthi Srinivasan. Prof. Vasanthi is also known for providing Indian and International companies with Leadership Development Programs.
Key Highlights & USPs
Learn self-development, build a road map for yourself to follow in order to become an ideal people manager.


Develop the skill to take, handle, and potential assessments. Motivate employees, give feedback for betterment, etc.


Engage in why communication should be given prioritization and go through why effective communication is crucial in a firm.


Learn how to assign work to individuals who can get the most out of it for both organisation and themselves.


Enhance your learnings with graded assignments and exams and achieve a shareable certificate upon completion of the course and the Edx support team to assist you with your difficulties.
Who is it for?
This Human resource certification course is for budding entrepreneurs, managers, or anyone leading a group who had trouble in getting their point across. With the application of the methods mentioned in this course, they will learn communication and leadership skills that will help them to put forth and communicate their ideas in a convincing manner
Rating:
Students Enrolled: 131,390
Duration: 6 Weeks, at 4 hours per week.
You can Sign up Here
This HRM program is very attractive as it offers training to individuals for becoming a Chief Human Resources Officer (CHRO). The course will include all the hardships, day-to-day challenges, workings of a CHRO from an executive level. Other than that, this hr training online classes incorporate the various tasks and strategies that the officers have to deal with/ make for swift conduct of business operations.
Faculty names consist of three Professors and one Associate Professor of Management at The Wharton School – Matthew Bidwell, John Paul Macduffie, Nicolaj Siggelknow, and Andrew Carton, respectively.
Key Highlights & USPs
Learn the importance of organisational change and how to drive & manage a change.


Study about Diversity, Equity, and Inclusion (DEI) and learn how you can practice this concept in your organisation.


The program also offers to select any three online electives from eight crucial electives for studying in depth, such as 'Corporate Governance,' 'Executive Presence and Influence in the C-Suite,' etc.


Learn from solving realistic case studies, challenges faced by business, and by interacting with the peers of the program.


Two days of 'On Campus Networking & Graduation Event.'


Get a certified digital certificate from The Wharton Executive Education with acceptance to an exclusive LinkedIn group for increasing your network.
Who is it for?
This HR program is strictly for working professionals or for individuals with some experience in the HR field. The courses give opportunities for professionals to get some exposure by connecting them to the faculty, industry experts, and others from different parts of the world.

Duration: 9 Months (Online + On Campus)
---
FAQ
What are HR courses?
Human Resources Management courses are courses that focus on the working areas of HR and show you how to manage the human resource in an organisation.
The courses usually consist of studying topics such as Talent Acquisition, Training & Development, Career Planning, Workforce Management, and much more.
What education is needed for HR?
To become an HR manager, an Individual has to pursue education as mentioned in the following steps:
1. High School: Choose subjects relevant to the duties of an HR, such as Business, Economics, Banking, Accounts, etc.
2. Bachelor's Degree: So here you have the best two options:
2.1 Individuals can do a Bachelor of Business Administration (BBA) and get a Human Resource specialization. Sometimes this, along with adequate experience in the field, is enough to land an HR manager job.
2.2 Do BCom with management subjects and apply for a master's degree with HR specialization.
3. Master's Degree – Not always needed, but adds more prestige to your title. Individuals can do MBA, MCom, or MA in Human Resource management.
4. Get an Internship/ gain practical knowledge of the subject.