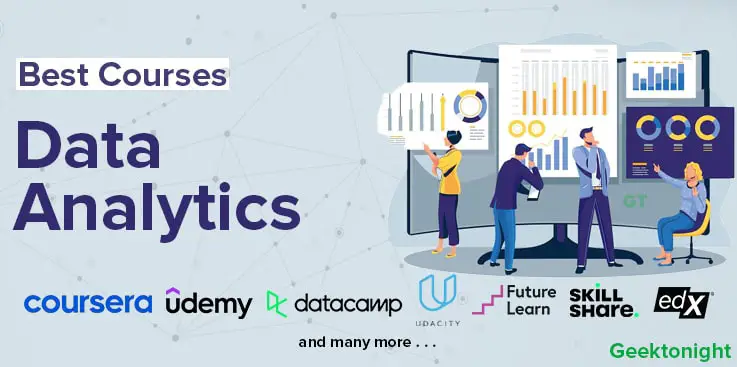 There has never been a better time to upgrade your career. Nowadays, there is a high demand for data analysts, as they become a crucial part of any business to flourish and turn valuable data into revenues. With ever-growing datasets, more and more companies started hiring data scientists and analysts to organize their data and analyze them for business strategies.
As per the U.S Bureau of labor statistics, there will be a 20 % rise in data analytics jobs in the market. To become a data analyst or start this lucrative career, work your way through the list of top 10 most popular data analytic courses for beginners.
Our product recommendations are unbiased and based on an independent review process. We may receive a commission for links to recommended partners. See our advertiser disclosure for more information.
---
Best Data Analytics Courses, Certification, Tutorials, Training, Classes Online
These are our picks for the best data analytics course:
This Data Analyst program will help you to gain job-ready skills to get an entry-level job. This online data analytics course provides data analysis tasks such as data mining and data wrangling, analyses data using tools and frameworks, including Python, SQL, Jupyter Notebooks, and develops knowledge of IBM Cognos Analytics to create interactive dashboards.
The IBM Data Analyst professional course from Rav Ahuja (IBM Global Program Director) and 8+ instructors is a top-notch choice to power your data analyst career.
Key Highlights & USPs
This data analytics certificate course is for beginners who do not require any prior programming knowledge. Any learner with or without a degree is suitable.


You will learn to implement technical skills with hands-on projects and soft skills to engage your audience by storytelling with data. It also helps you to build a strong portfolio.


You will get the chance to implement your analytical skills on the Capstone project and complete it with the help of instructors.


Develop deep knowledge to effectively millions of data, wrangle them using excel spreadsheets, and visualize data.


In the end, you will get a certificate to share with your professional network.
Who is it for?
This eight-course professional certificate is the best data analytic certificate program to enrich your profile. Upon completion of this data analytic course, you will grasp a firm hand to analyze real-world databases and gain practical experience to manipulate data and apply analytic techniques. If you have basic computer literacy and are comfortable with maths and numbers, then enroll now.
Rating: 4.7/5
Students Enrolled: 24,682
Duration: 3 months, 12 hours/week
This Edureka Data Analytics online course covers Business Analytics and Business Intelligence to solve analytical problems with the R programming language. This program will teach you R programming, Data manipulation, Data mining, exploratory Data Analysis, and Data visualization using R studio. Learning R is the most popular way to improve your knowledge and become a Data Analyst.
This Data Analytics course is taught by Data Scientists who have a deep understanding of using R tools. It is one of the best data analytics training programs on Edureka to master this most preferred tool for entry-level Data Scientists.
Key Highlights & USPs:
You will learn the concepts around Business Intelligence and Business Analytics. Also, you will get to explore various machine learning techniques.


R programming gets a firm grasp to use algorithms such as decision trees, Logistic Regression, Support Vector Machines, and derive business insights.


This well-designed course is for students and professionals to enhance their analytical skills and technical skills.


You will perform R using the IDE R studio and an approach to understand the GUI. Whatever you learn allows you to apply to case studies from social media, Retail.


With the completion of this program, you get a completion certificate to get a job as an associate analyst in 1000 + companies like DELL, CISCO.
Who is it for?
This top data analytic course is a must-learn opportunity for professionals with degrees in mathematics, economics, and Business statistics and are ambitious enough to build a strong resume for better job opportunities.
Rating: 4.8/5
Students Enrolled: 25K+
Duration: 5 weeks, 4 hours every day
This Udemy Data Analytics course is one of the most comprehensive courses to kickstart your career in Data Analytics. You will learn to build interactive dashboards to publish on Tableau. This program prepares you to master analytical skills. It will help you to understand how to connect data sources from Excel files to SQL data servers. Data experts will teach the core principles of data analysis and using analytics tools such as Tableau, Jupyter notebooks.
The Complete Introduction to Data Analyst Course is taught by Dee Naidoo, a tableau enthusiast and technical architect at Vintage Data. This platform is a golden opportunity to enrich your resume to showcase your skills to potential employers.
Key Highlights & USPs:
Develop interactive dashboards that update daily via google sheets and share online.


Get the understanding to create charts, maps, donut charts, tables, and dual-axis charts.


Develop an understanding of how to connect a variety of data sources to Google sheets and cloud servers.


Get the chance to work on five real-life case studies and projects to understand the practical aspects.


Create sets, hierarchies, groups, and parameters to understand the level of detail calculations.


Get full lifetime access to 32 downloadable resources, articles, assignments, and certificates of completion to strengthen your resume.
Who is it for?
Any professional or student who can opt for with or without a degree wants to be a Data analyst and learn more about Tableau. You will need to have a basic knowledge of computers and the Internet. After the completion of this data analytic program, You will become a highly proficient tableau user.
Rating: 4.6/5
Students Enrolled: 50,541
Duration: 7 hours

Offer Till: 31th March | $14.99 | AU$19.99 | ₹525 | Rp 129 | SGD 19.99
This Coursera Business Analytics specialization program is the best choice for beginners who want to learn how to drive business insights and work on business strategies to grow. You will learn to frame business issues as data operations, run them to explore and visualize datasets. This specialization course is to set yourself in the competitive market and a deep understanding of how to use powerful and analytical tools such as Excel, MySQL, and Tableau.
Daniel Egger and Jana Schaich have designed this Excel to MySQL Business Analytic Specialization course. They will guide you through all the five courses available in this specialization to understand the analytic techniques used to make strategic business decisions.
Key Highlights & USPs:
In this specialization, you will learn how data analytics works for any business and generate more revenue.


You will get the process of analyzing data, create forecasts, models to design visualization, and turn data into profits.


It also includes a chance to do hands-on projects such as the Capstone project to apply your skills and justify improvements on real-life businesses.


Learn how to use spreadsheets for analyzing datasets and run database queries to communicate with valuable insights.


Full lifetime access to this course and earn a shareable certificate upon completion.
Who is it for?
This best beginners data analytics course is available for those who want to start a new career as a Business analyst. One can instantly enroll in this for free and learn on their schedule.
Rating: 4.6/5
Students Enrolled: 177,927
Duration: 7 months, 4 hours/ week
This Wharton Business Analytics Course is professionally designed for tech leaders and managers who want to learn how to drive strategies to make better decisions. Business Analytics is an opportunity to dive into datasets and turn them for value. The Business Analytics program gives a better learning experience to look at large datasets and identify valuable business insights to improve their performance.
Companies like Netflix use business analytics to recommend shows to their audience. Business analysts have the analytical abilities for long-term predictions and prepare an organization for future actions.
Key Highlights & USPs:
You will learn the complete business analytics course via live videos and online lectures from Industry Experts.


Get to understand the concepts through individual assignments and valuable feedback.


There will be four live teaching sessions by Wharton Faculty.


Gain firm grasp on the business implication of analytics by applying analysis on real-life examples.


Get the chance to run one data analytics simulation.
Who is it for?
This program is for professionals who are in a high position in any organization. CEO managers, senior-level managers, and consultants can opt to keep pace with current trends and use business analysis as a strategic tool to improve business performance while growing in their roles.
Rating: 4.8/5
Duration: 9 weeks, 6- 8 hours/week
This LinkedIn Data Analyst Learning Path program is all you want to know. This learning program is easily accessible to professionals and students to explore this high-demand career path. You will get the chance to know about the data analysts, what they do and how they apply their analytical knowledge to visualize the data on dashboards. It presents you with a learning path to dive into the basics of data analytics.
Become A Data Analyst Course is taught by Barton Paulson ( Developer and Data Analytics Expert ) and other 5 + experts to guide their deep knowledge. It is one of the best free data analyst courses to learn data analyzing, mining, and visualization.
Key Highlights & USPs:
Learn technical skills by using analytical tools and developing data insights.


Guide you to use Microsoft Excel to perform data analysis and turn the information into artwork.


Work on complex ideas to visualize the data on dashboards and engage your audience. It will help to strengthen your communication skills, teamwork, and problem-solving skills.


Get full lifetime access to a 24-hour long course and get the certification of completion of this course.
Who is it for?
This best data analytic certification is for those who have a keen interest in becoming a high-proficient Data Analyst. It is a beginner-level course that works with data and numbers. You need to have profound knowledge of mathematics, computers, and statistics.
Rating: 4.8/5
Students Enrolled: 550K learners
Duration: 24 hours
This Udemy Data Analysis online course is the bestseller course to learn data analysis with Python. You will find this course easy to understand how to analyze data easily and quickly using powerful pandas libraries. This program will give a chance to perform data operations in Python's library Panda. It includes grouping datasets, pivoting, and joining them. You will get to work with exciting tools such as Jupyter notebooks to run cod
The Ultimate Pandas and Python Data Analysis Course is taught by Boris Pashkaver. He guides his students with comprehensive approaches to understand the concept of data analytics. It is the best comedy course to expand your knowledge of the most popular libraries.e and manipulate the datasets.
Key Highlights & USPs:
It has designed for beginners who want to become data analysts.


Learn to resolve common issues in broken datasets and possess the knowledge of 1D, 2D, and 3D datasets manipulation.


Get a firm grasp of the python programming language and improve the performance by performing coding exercises.


It is a quick Bootcamp to learn the fundamentals of the Python programming language. It is for those who lack knowledge of Python.


You will get full lifetime access to 11 articles, four downloadable resources, and eight coding exercises.


In the end, you will get a completion certificate to add to your resume and circulate to get a high-paying job.
Who is it for?
This data analytics class is one of the most popular Data Analysis courses on Udemy. Any person can enroll into this who has basic or intermediate experience with Excel or spreadsheets. You will be familiar with the fundamentals of the Python programming language and strong knowledge of data types.
Rating: 4.7/5
Students Enrolled: 151K
Duration: 24 hours
This Pluralsight Data Analytics tutorial course introduces you to the basic concepts of data analysis. It will brush your knowledge through data mining to data visualization. This course provides all you need to know about the world of transforming data into value. You will get easy access to real-life case studies to collect the data and visualize it using Excel spreadsheets.
Ben Sullins guides you through this most popular Data Analytics course on Pluralsight. He works with companies to improve business performance using their data. This training program will develop your technical skills and light a spark to dig into the deep data-driven culture.
Key Highlights & USPs:
Learn all the fundamentals and improve your hands-on skills.


Even if you have no to less experience with data analysis. This course will teach you what, why, and how to use the concepts.


Understand how to collect data insights and view them using tools like excel or google sheets.


This short course is to prepare you for a new career path as a data analyst.


Get full lifetime access to this course.
Who is it for?
If you're looking for a job change or career change, then this data analytic certification course is a perfect choice for you. Getting knowledge of data analysis will help you to explore more opportunities in the job industry. Any student or professional can apply who has basic knowledge of computers and mathematics.
Rating: 4.7/5
Students Enrolled: 10K
Duration: 5 hours
This Udemy Data Science Training course is an entire toolbox to prepare you as a data scientist. You will get an overview of data science and chapters to let you through this subject. This complete training program covers all the topics such as Python, mathematics, statistics, and machine learning. It guides you through understanding the mathematics behind machine learning to perform algorithms in Python.
Under the guidance of talented experts, you will study this Complete Data Science Bootcamp program. Any Professional that has no prior degree in data science can enroll in this. The motto of this course is to make you a highly skilled data scientist. So you can apply your deep understanding of analytical skills to real-life business cases.
Key Highlights & USPs:
It fills you up with skills that are in high demand that includes statistical analysis, machine learning, Data Analysis, pandas, seaborn, and more.


You have a chance to learn how to process data and code in the Python programming language.


You will grasp the concept of how to use Deep Learning frameworks such as Google TensorFlow to develop business insights and solve tasks with big data.


Work on real-life projects and get more practical exposure to brush your skills.


It gives full lifetime access to 501 downloadable resources, 90 articles, and a certificate of completion to share with your potential employers.
Who is it for?
This online data analysis course is the latest one among all where you have no requirement of any prior experience to start. Any student or professional can opt for this complete package. You only need to have a basic knowledge of installing programs and Microsoft excel.
Rating: 4.5/5
Students Enrolled: 413,912
Duration: 28 hours
This Futurelearn data analytics course online is to learn the fundamentals of data analysis using Python and statistics. You will grasp the idea of how to collect data, organize and manipulate datasets using databases and other technologies. This data analytics course will teach you how to use Python programming codes confidently for analyzing large datasets and support data wrangling and ingestion. After the completion, you will get a deep understanding of different analytic techniques.
Ed Marks has been teaching this Data Analytics and Fundamental Python course to take you on a journey of learning a range of beginner and advanced techniques. It enables you to find out the different analytic methods to turn data into value.
Key Highlights & USPs:
It gives you a chance to boost your career while solidifying your knowledge of Python.


Gain the job-relevant skills to stand out from the crowd.


Develop critical employability skills and strong knowledge to set yourself apart from the candidates when applying for any job.


Learn to use Jupyter Notebook to organize and structure them to use for analysis.


Work on real-life cases.


Upon the completion of this course, Earn a digital certificate to share with your network or employers.
Who is it for?
This intermediate data analytic course is suitable for business analysts or junior data analysts looking forward to improving their data analytic skills and programming capabilities to achieve a promotion. Any student who lacks an understanding of Python language and data analytics can also join this course. This Data Analytics using Python training program is one of the best data analytic courses to boost your career.
Rating: 4.7/5
Students Enrolled: 24,682
Duration: 3 months, 12 hours/week
Learning a skill is the best way to enter a new profession. Skillshare understands the value of the right education. It offers you a list of the best online analysis classes to learn data analysis. Beginners and intermediates can take any data analysis course that teaches how to use techniques and tools. Different levels of data analytics courses are available for learning the fundamentals of data analytics. You will understand how its key concepts can solve real-life issues. Each topic includes illustrations, photography, design, and more.
Skillshare Online Data Analysis Courses are well-designed and structured to build a solid understanding of data analytics. Analysts and working professionals will teach this analytical course. By the end, you will gain confidence to kickstart your career and become a good data analyst.
Key Highlights & USPs
Learn how to use Excel, Tableau, and other tools for data analysis.


Build data analytical habits to personalize your work. 


Explore how to understand Data analytics with pivot tables and charts. 


Learn to apply data analytics in everyday life.


Understand how to use interactive dashboards for data visualizations. 


Gain knowledge of Python Bootcamp for data analysis with Pandas.


Able to download short video lessons and work on the hands-on project to boost skillsets.
Who is it for?
Beginners can take free data analysis online classes to learn from scratch. Intermediate and working analysts can enroll to advance their knowledge. It is easy to master the data analysis concepts when you study with experts. Take data analysis classes online from anywhere and at any time with the Skillshare app. Enroll now to learn any course for free.
Rating: 4.4/5
Students Enrolled: 5,000
Duration: Self-paced
SQL MasterClass: SQL for Data Analytics

[John Academy]
This John Academy SQL Masterclass is a perfect course for those who want to become a SQL developer. You will learn how to create databases, write SQL queries, and confidently use SQL server management studio to manipulate the data. This Data Analytics program will enable you to know how to use SQL for analyzing data and visualizing them.
Data Analysts and SQL Developers designed this SQL Masterclass to prepare you with the abilities and acquired skills. This course will enable you to build analytical skill sets and apply them in real-life scenarios.
Key Highlights & USPs:
Get a chance to start your career as a SQL Developer or achieve career progression.


Develop a deep understanding of SQL for Data Analytics by creating constraints and views.


It has three parts, Beginner, Intermediate and Advanced level. That will let you through from the fundamentals of SQL to advanced Analytic techniques.


This course has a few multiple-choice quizzes to check your knowledge and a final exam to know proficiency in SQL.


Upon completion, you will obtain an Accredited Certificate of achievement.
Who is it for?
This SQL masterclass is affordable and engaging to get the benefit of career advancement. There is no prior need to have a certain degree. Any learner can join this course who should be 16 or above. It only requires a good understanding of English, mathematics, and computers. You can Enrich your skill sets and resume by enrolling in this course.
Rating: 49/5
Students Enrolled: 557
Duration: 24 hours
Post Graduate Certificate Program in Data Analytics

[Purdue University]
This PG certificate program in Data Analytics is one of the most comprehensive courses to fast-track your career in Data Analytics. This data analytics course follows a data analytics Bootcamp which runs in partnership with IBM. Simplilearn platform offers this program to give broad exposure to key concepts such as Python, Statistics, SQL, and R programming language.
This Data Analysis Master Class is delivered by Patrick J.Wolfe. It covers a range of topics that include data analysis using Excel, regression techniques, data visualization using Python, and understanding the machine learning concept using R languages.
Key Highlights & USPs:
Get a Deep understanding of how to interact with databases using SQL and visualize data using Tableaus and Power BI.


Purdue post-graduation program provides eight times higher live interaction and industry experts to guide you through the learning path.


You will build a strong foundation by using in-depth learning on three Capstone projects and 14+ data analytics projects from the world bank, Google Playstore. Etc.


You will get recognized by Purdue Post Graduation Program Certificate and Alumni associate membership.
Who is it for?
This SimpliLearn PG Data Analytics course is ideal for all working professionals from any academic background. It will assist you to get hired by top companies in the market. Become a part of this thriving job market and enroll now.
Rating: 4.5/5
Students Enrolled: 10K
Duration: 10 months, 5- 10 hours/week
Edx is one of the most popular platforms for online courses. It is the perfect place to look for data analysis courses from top-notch institutions and universities like IBM, Harvard, and Microsoft. It is for any person who is looking for a career change. It has both paid and unpaid courses to explore your knowledge and boost your career.
If you are willing to learn data analysis and data science, you can begin with Edx data analysis courses. Some of the courses are Data Analysis with R, Excel, Python programming language, SQL Databases, and Tableau.
Key Highlights & USPs:
You will get the best opportunities to learn from world-recognized leaders and universities to help you through every stage of learning.


It provides free online courses so any person can upgrade their knowledge regardless of their background and learn new skill sets for the betterment.


It's a golden chance to add skills to your resumes such as data analytics, Big data, data science, Business Analytics, Algorithms and Data Structures, and more.


The courses will cover a wide range of topics such as C++, R programming language, Data Mining, Deep Learning, Data management, and many more.


All the online classes and courses meet the expectation of the end-user requirements.


You will get a digital certificate If you opt for paid courses. That will help you to go for big companies and land an entry-level data analyst job.
Who is it for?
Free Data Analysis courses on Edx are easily accessible video lectures to learn everything you want to. You can enroll now to become an analyst with no practical experience in data analytics.
Rating: 4.6/5
Duration: Self-paced
Frequently Asked Question
What is Data Analysis?
Data Analysis or Analytics is the process of arranging raw data, analyzing them to find trends, and answer questions. It enables any data analyst to discover patterns to extract valuable business insights. It helps to study billions and trillions of raw data to get information.
What does a Data Analyst do?
A Data Analyst takes these large datasets to increase efficiency and improve the performance of any business. They are like a gatekeeper for any organization that helps stakeholders to make strategic decisions. They collaborate with engineers, programmers, and organizational leaders to work on systems and policies to modify them for companies.
How Do I Become A Data Analyst?
The above-listed online course is for all learners from any academic background. If you want to become a data analyst, you can check out online platforms such as Udemy, Coursera, Geektonight. If you enroll in any course from the above list, you get an accredited certificate to get an entry job as an associate or junior analyst.
Is Data Analytics a Good Career Option?
Data analytic has become one of the most highly-paying professions in 2020. In the digital era, people spend every single minute sending an average of 200 million emails, watching 5 million videos, and exchanging 20 million messages.
In short, you can get the idea that we generate over quintillion bytes every day. An overgrowing pile of data needs someone to analyze it and make sense. Companies are hiring to handle and manipulate their data to find trends and patterns to grow their businesses. So In India, millions of data analytic jobs are waiting for talented data analysts.
Final Words
After reading this blog, are you getting a vibe to pursue data analytics? Then, Geektonight is the right place to help you. I hope you can find a suitable course to enroll in.