The SAT is one of the most important exams that a student will take in their high school career. This standardized test is required by most colleges and universities as part of the admissions process and can play a critical role in determining which school a student will attend. That's why it's important to take the time to prepare for the SAT and ensure that you score as high as possible.
One of the best ways to prepare for the SAT is by taking a prep course. These courses are designed to help students understand the format of the test, learn strategies for answering questions, and practice taking the test under timed conditions.
In this blog post, we will be discussing some of the best SAT prep courses that are currently available. Whether you're a high school student looking to boost your college admissions chances or an adult looking to improve your test-taking skills, this guide will provide you with all the information you need to make the best choice for your needs.
With the right SAT prep course, you'll be well on your way to achieving your best possible score on the test and reaching your academic goals.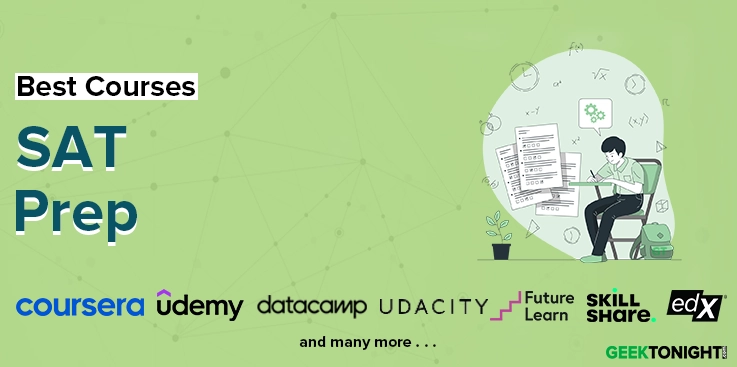 Our product recommendations are unbiased and based on an independent review process. We may receive a commission for links to recommended partners. See our advertiser disclosure for more information.
---
Best SAT Prep Courses, Certification, Tutorials, Training, Classes Online
The Magoosh SAT prep course includes two plans i.e. Self paced and Guided Study both of which come at different prices and different features. The course contains a nearly 2000 practice questions, each with an explanation to assist students fully comprehend the questions.
The platform has Chris Lele, Mike McGarry, Lucas Fink, Kristin Keating, Kevin Rocci, and Bhavin Parikh as the instructors for the test prep, all of whomare speciliased in various areas of SAT helping course taker to prepare  
Key Highlights & USPs
The platform offers 1,750+ questions, 3 practice tests, 200+ video lessons and study schedules based on personlaized plan.


Receive email assistance from expert instructors in anyone the difficulty faced during the course.


You can access the course from their App or a mobile browser to study on an Android or iOS device.


Come across there data driven score forecasting that helps in identify the potential score of a person.


It also offers Money-back guarantee.
Who is it for?
Magoosh SAT prep class is for anyone! It ideally aims for Individuals those who lack the time or flexibility for in-person instruction. Pupils who like to prepare alone and with the assistance of tutors as needed and Students that prefer watching videos to reading are known as video-lovers.
Rating: 4.7/5
Students Enrolled: 24,682
Duration: 3 months, 12 hours/week
Online SAT® Prep Classes Online

[Kaplan]
The three SAT prep options offered by Kaptest are On Demand, Live Online, and Unlimited Prep. With on-demand classes, you may watch at any time, On Demand enables you to study for 30 minutes each day. Live online classes enable people to get immediate answers to their questions, and Unlimited Prep allows you to enrol in as many ACT, SAT, AP, and PSAT seminars as you choose.
A group of SAT professionals, including Michelle Hunt, Ged Helm, Aeri Kim, and Hafeez Khan, teach you the necessary material and success tactics in the SAT Prep sessions. The test professionals at Kaplan are skilled at energising a classroom and sharing important techniques for raising test scores.
Key Highlights & USPs
All three course selections will give students a unique and in-depth method for SAT preparation.


Flexible, expert-led instruction with quizzes and more than 1,000 practise questions interspersed throughout each lesson so you can always see where you stand.


You can interact with a group of teachers through interactive learning to get better results.


In live classes as one teacher runs live class other one run a group conversation and even answer questions one-on-one in a private chat. If you become lost, they'll also try to help you find your way again.


More supervised practise makes topics stick. Every Live Online course includes 16 hours of extra on-demand information via the SAT Channel, taught by only the best professors.
Who is it for?
The platform itself is absolutely beginner-friendly, as the course contents and teaching style of the SAT expert teachers are entirely one that will help people in excelling in their SAT scores. For students and individuals, this website provides some of the best online SAT prep courses that provide results and nothing more.
Rating: 4.7/5
Students Enrolled: 24,682
Duration: 3 months, 12 hours/week
Test Prep SAT

[Khan Academy]
The Khan Academy platform provides you with a comprehensive and effective way to prepare for the SAT. It includes a free and accessible SAT prep program that is tailored to aspirants' needs. The program includes practice tests, interactive lessons, and personalized study plans to help you achieve your best possible score on the test. The course also provides detailed explanations for every question so learners can understand how to approach each problem and improve their score.
The Khan Academy SAT prep course is led by a team of experienced educators who are dedicated to helping students succeed on the test. These instructors have a wealth of knowledge and experience in teaching the material covered on the SAT, and they are committed to providing students with the resources and support they need to succeed. They use a variety of teaching methods to make the material engaging and easy to understand. 
Key Highlights & USPs
Khan Academy has a system where it figures out what skills you need and help you to devote your time on focusing on those.


The platform also has full length exams from College Board to help students get ready for real exam.


The Khan Academy Prep offers a number of diagnostic tests from which it can identify a student's weak areas and suggest areas for work.
Who is it for?
Khan Academy Sat Prep is designed to be self-paced and flexible, allowing students to study on their own schedule whether they're high school students looking to boost college admissions chances or an adult looking to improve their test-taking skills, this SAT prep program is here to help. 
Rating: 4.7/5
Students Enrolled: 24,682
Duration: 3 months, 12 hours/week
SAT Prep (160+ Point Guarantee)

[PrepScholar]
This online prep course for the SAT is reasonably priced, and it bills itself as the only one that is scientifically created to identify students' areas of strength and weakness and help them work through them until they are proficient. It does this by utilising teaching methods that are at the forefront of the industry. The SAT product includes the essay in addition to the three SAT subsections (Reading, Writing and Language, and Math).
Names like Eric, Kristen, Dean, and Diana are among the names of some of the platform's instructors. While Kristen has taught test preparation in a variety of settings, including big classroom settings and one-on-one private tutoring, Eric started his own test prep businesses to help students ace the SAT and ACT. Diana has been a teacher for more than 12 years and has assisted hundreds of students in achieving their SAT and ACT score goals. Dean, like Kristen, has expertise in individual tutoring and is good at adapting to students' learning styles.
Key Highlights & USPs
With more than 7100 realistic practise questions and more than 100 hours of sessions, you can be sure that you're continually getting new, in-depth practise for the actual SAT.


Videos are included in a number of our SAT preparation classes to further explain the ideas you'll need to ace the test.


Learn from professionally produced films that meticulously explain the trickiest concepts so you can fully grasp them.


Watch a video or interact with an expert lesson to learn material. Utilize actual SAT test questions to put your knowledge to use.


Master techniques that aid in comprehension and plan creation for enhancing one's capacity for thought in order to tackle SAT questions with ease.
Who is it for?
The course is for people wishing for a classroom-like experience while studying for the SATs from the comfort of their homes. The platform offers a live teacher and a limited number of live students, making the course time more dynamic and engaging.
Rating: 4.7/5
Students Enrolled: 24,682
Duration: 3 months, 12 hours/week
Online SAT® Prep Courses

[The Princeton Review]
The site offers both the SAT and the Digital SAT; in the former, students can select from four options, while the latter offers three. The majority of tutoring choices are offered both in-person and online. This online SAT prep course also guarantees a tuition refund if students don't achieve higher test scores. Or, if after the first session, students are not completely satisfied with their instructor, they will find you a better match and students will receive another session.
The courses on this platform are instructed by very exerieced and veteran teachers like Chris A., Jimmy B., Shaina B., Kenneth B., Jonathan D., Kyle F., Jay H., Christopher K., Lawdon, Janet L., Aaron L., Leah M., Sang P., and Tony P. All of the names have one thing in common i.e. their expertise when it  comes to SATs.
Key Highlights & USPs
The courses make the most of every minute you spend preparing by being planned and effective.


The platform doesn't believe in the concept of "one size fits all," so this self-paced lessons have been created specifically for online learning.


Platform ensures on quality we put them through 37 hours of training, we look for demonstrated expertise and a sense of humour.


Platform ensures If learners don't achieve a higher score, they'll refund their tuition, or if one is not happy, an another free prep session will be given.
Who is it for?
The platform is a perfect remedy for individuals who are thinking of taking SAT exam in next fe months and have very short time to prepare as this course with their tutors and customized prep plan will ensure that you score the highest possible score.
Rating: 4.7/5
Students Enrolled: 24,682
Duration: 3 months, 12 hours/week
There are multiple SAT preparation courses available on Udemy, taught by various instructors. These courses typically cover the various sections of the SAT exam (reading, writing, and math) and provide test-taking strategies and tips. Some courses may also include practice tests and quizzes to help students prepare for the actual exam. Some popular SAT courses on Udemy include "New SAT Reading 800: Guaranteed Results" and "SAT Digital | Math Master Course | 2023 Updated | Target 800". It's worth checking out the reviews and ratings of the courses before enrolling to make sure it's a good fit for you.
SAT courses on the platform are made by instructors like Philip Lee – A specialist in SAT and ACT, Huzefa Kapadia – Test Prep Visionary and Education Specialist, Nadeem Arain – MBA in finance with 10+ years of experience of teaching various maths courses, Jesse Patrick – A teacher with 10+ years of experience tutoring for the SAT etc.
Key Highlights & USPs
Understand the technique so that every issue can be approached methodically and strategically.


Answering every type of math question on the SAT helps students develop abilities that they can use in their normal education classes as well as the ACT and other exams.


Learn the components of the reading exam and know where to go in the text for the answer.


Get to learn from various range of tools, including worksheets, quizzes, video lectures, and handouts.


Get free access to the course's materials for the rest of your life and a completion certificate for your resume.
Who is it for?
There are various courses available on the platform ranging from Beginners to expert level difficulty as some require knowledge of algebra etc. Ideally the platform offers a little something for everyone to learn and gain from so any individual coming to these courses will do nothing but develop their mastery in SAT.
Rating: 5/5
Students Enrolled: 186,790
Duration: 8.5 hours