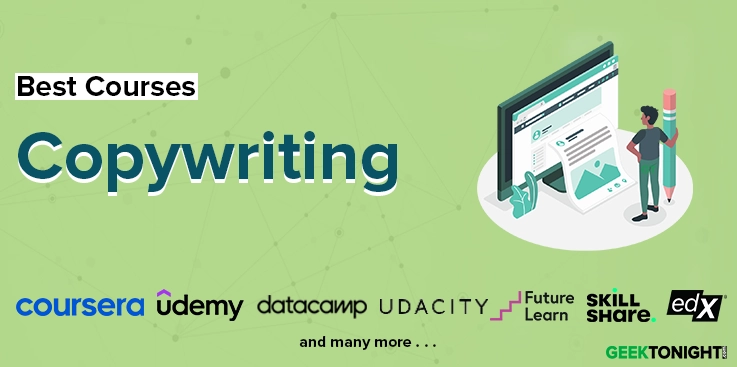 Copywriting is the art of writing and framing content in order to advertise a product or service and target a specific audience. This form of writing compels the customers to take action and get things done from their end which can be anything from subscribing to an email list to buying a particular product.
Copywriting involves the power of persuasion which makes it an extremely in-demand skill because businesses are always in need of promoting their services with the help of powerful content. According to Hubspot, personalised calls to action are 202% more effective. Listed below are some of the best copywriting courses online.
---
Best Copywriting Courses, Certification, Tutorials, Training, Classes Online
This udemy copywriting certification will help you discover the secrets of copywriting success from the master. It will take you from novice to pro in easy stages. This top copywriting course has covered all the basics you need to enter the world of writing selling copies including compelling sales copy structures, powerful calls to action and much more.
This online copywriting tutorial is offered by Len Smith, a freelance copywriter and communications consultant along with Sean Kaye, an Enterprise Technologist and Online Marketing Expert. These specialists have years and years of experience and will spill their life secrets about writing selling copies.
Key Highlights & USPs
Structure and write compelling sales copies while beating run-of-the-mill writers who just focus on needs.


Understand how to leverage features, benefits and advantages and know how to become a Voice in your Industry.


Learn how to interview end customers with confidence to create persuasive case studies.


Glean from a wealth of real-life examples. Apply the power of emotional drivers and similar elements, even when writing in a B2B environment and write powerful calls to action.


Learn how to Craft professional press releases that get published and use the power of words to generate leads.


Master White Papers – the most powerful way to generate sales leads bar none.


Get full lifetime access to 3 hours of on-demand video on TV and mobile, 2 articles, 43 downloadable resources, and a certificate of completion.
Who is it for?
This copywriting course is for aspiring copywriters wanting to master their skills and entrepreneurs, start-ups and business people wanting to punch above their weight. It is for web designers seeking an extra revenue stream from existing clients and graphic designers willing to understand the role of copywriting. So it is basically for anyone aspiring to reach new customers and improve sales conversion and also marketing professionals looking to develop their career.
Rating: 4.6/5
Students Enrolled: 40,775
Duration: 3 hours

Valid till: 30th July
LinkedIn Learning's 'Marketing Copywriting Course' makes the users understand that copy is the heart and soul of every marketing endeavour. This copywriting class will serve as a great foundation for all your campaigns.
Ian Lurie, the founder and CEO of Potent (a marketing agency) shows us how to write copy that tells your story and sells your product or brand. Ian also shows students how to manage a copyediting team, a brand voice, and an editorial calendar, making it one of the best copywriting certifications online.
Key Highlights & USPs
Learn what is copywriting, use exercise files and become a great copywriter.


Understand the types of marketing copywriting and prepare yourself to write such copies. Take quizzes to help you apply concepts.


Assemble your tools, create a plan, free-write to get ideas down and write your first draft.



Observe general rules, write headlines, test them, sell the page, rewrite existing copies and use typography effectively.


Structure the content for print and online. Write copies for web pages, social media and product descriptions.


Set an editorial calendar, manage brand voice, and take copywriting to the next level.


Get access to approximately 1.5 hours of video lecture on phone and tablet, 1 project file, 3 chapter quizzes and a certificate of completion.
Who is it for?
This online copywriting course is absolutely beginner friendly which will help you learn about the different types of copywriting, the benefits of drafting on paper, observing general rules, writing headlines, selling the page, and rewriting existing copy to optimize it for different outlets and platforms.
Rating: 4.7/5
Students Enrolled: 1,72,974
Duration: 1.7 hours
This digital copywriting course will teach you how to web copy that sells by communicating your message effectively and without being cheesy. This class is for beginners, experienced writers and anyone who wants to learn the fundamentals of writing for the web.
This online copywriting certification is taught by Jessee Forrest, a Copywriting Veteran. He is the founder and chief copywriter at www.StartCopywriting.com. He is regarded as one of Australia's leading copywriters with 14 years of experience in writing for hundreds of satisfied clients from over 153 different industries.
Key Highlights & USPs
Learn what is web copywriting, the difference between content and copywriting, and how to understand your audience and speak their language.


Includes 5 tips for writing for the web, the 5-second test, and how to write headlines to capture attention.


How to write meaningful sub-headlines, call to action, and great testimonials. Turn boring features into irresistible benefits.


11 ways to answer "Why choose you?", 3 ways to get visitors to trust you, and 3 tips for overcoming writer's block.


Understand the power of demonstration and build trust with visual elements.


Fill in the blank templates, stand out with a competitive edge, and come up with the right words to describe your business.


Get access to this 60 minutes class lecture, delivered in 16 short video lessons.
Who is it for?
This online copywriting course has something to offer for every level of student. No matter if you're a complete beginner, who wants to learn everything from the basics or an expert willing to polish his/her skills.
Rating: 4.5/5
Students Enrolled: 31,160
Duration: 1 hours
FAQ
What skills are needed to be a copywriter?
Copywriters need the skills to persuade potential customers with their writing. Thus strong writing, communication, technical, creative thinking, research, problem-solving, and interpersonal skills are required to write selling copies.
Do I need a degree to be a copywriter?
One does not need a degree mandatorily to practice copywriting. If you have the relevant skills and the willingness to improve, the art form can be self-taught. However, if you are able to identify your interest at a young age you can definitely acquire some relevant degrees. Online classes and tutorials also work just fine for gaining extra knowledge.
Are copywriters in demand?
Copywriting is one of those skills which will always be in high demand because businesses will always need content to market themselves. And not just any ordinary content, it should be strong enough to convince people to buy whatever they're offering.
How to become a copywriter?
The first step in learning any skill or art form is to understand its basics. Study the fundamentals, research niches and industries, take courses, create samples/portfolios and practice every day to improve and establish yourself as a professional.