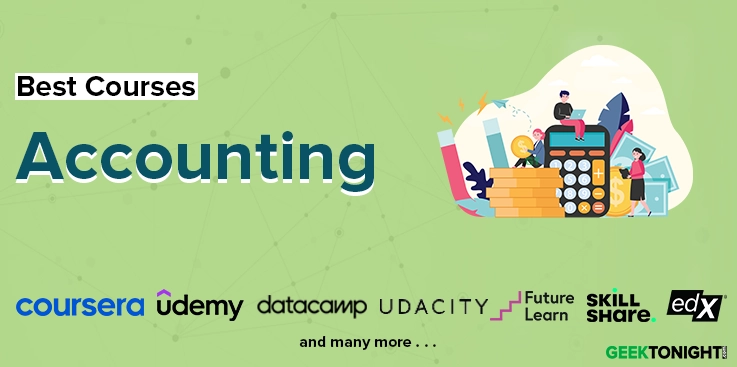 Accounting is measuring, summarizing, classifying, and communicating financial and non-financial information about businesses and corporations. It is a given that accounting has been around since the origin of money. It became an organized profession in the nineteenth century with local bodies merging and forming the Institute of Chartered Accountants in England and Wales in 1880.
Accounting is a well-sought-after domain for studies and occupation thus we have discussed the best accounting courses and certifications that will help you step in and understand the world of accounting.
Our product recommendations are unbiased and based on an independent review process. We may receive a commission for links to recommended partners. See our advertiser disclosure for more information.
---
Best Accounting Courses, Certification, Tutorials, Training, Classes Online
This Coursera accounting course will let you master the technical skills that are needed to analyze financial statements and disclosures used in financial analysis. Learn how accounting standards and managerial incentives affect the complete financial reporting process.
Brian J Bushee, accounting professor at the University of Pennsylvania is the instructor of this Coursera accounting course. Penn is a private university, located in Philadelphia, Pennsylvania, United States. A member of the Ivy League, Penn is the fourth-oldest institution of higher education in the States.
Key Highlights & USPs
Practice the basic foundations (grammar, syntax, idioms, etc.) with this material which is absolutely essential for being able to read and understand books written in the financial language.


Discussion of Accrual Accounting and how it affects the recognition of the Income Statement accounts. Also covers adjusting entries, which are needed to prepare internal books for the upcoming financial statements.


Classification of cash flows into operating, investing, and financing activities. Prepare and analyze the Statement of Cash Flows.


Define and discuss different ratios, involving dividing one accounting number by another. Examination of what those ratios mean will involve a deep understanding of the Balance Sheet and Income Statement accounts.


Set flexible deadlines for this 100% online course, complete it at your own schedule, and earn a shareable certificate upon completion.
Who is it for?
By the end of this Coursera accounting course, you'll be able to read the three most common financial statements: the income statement, balance sheet, and statement of cash flows. You will be able to apply these skills to a real-world business challenge as part of the Wharton Business Foundations Specialization.
Rating: 4.7/5
Students Enrolled: 2,73,096
Duration: 13 hours
These udemy accounting courses cover topics like Accounting: beginner to advanced, business cashflow forecasting, simplified financial accounting, how to read an accounting balance sheet, bookkeeping, finance and banking, accounting basics for business success, and financial modelling.
These udemy accounting classes are offered by industry experts like Vincent Turner, Boomy Tokan, Stefan Ignatovski, Norm Nemrow, Majo Jacinto, Raja Nataranjan, Chris Haroun, and Uday Gehani.
Key Highlights & USPs
Apply the basic accounting formula, and identify assets, liabilities, and equity. Learn how the income statement and balance sheet are connected and recognize why profit does not equal cash.


Interpret a balance sheet, identify specific items on the Financial Statements and analyze business transactions.


Understand the basics of accounting, single entry system, the rectification of errors, depreciation, time value of money, cash flow analysis, fund flow analysis, cost of capital, capital budgeting, working capital management, banking, and much more.


Use modeling best practices to create financial models, know where to get data to build a financial model, and create a financial model for an income statement.


Understand valuation best practices and create target prices based on your financial models. Use Discounted Cash Flow (DCF) and create the Weighted Average Cost of Capital and Terminal values in order to pick target prices.


Analyze the total addressable market for a company you are doing research on and examine financial statements using profitability ratios: Gross Margin, Operating Margin, Net Profit Margin, Return on Assets, and Return on Equity.
Who is it for?
After taking these udemy accounting courses should be able to create your own cash flow forecast and understand how your cash position can be improved. You will learn about the different sections of the cashflow template and how they relate to each other, you will know how much you need to start your business and whether your start-up is a viable proposition and so much more.
Rating: 4.7/5
Duration: 3 months, 12 hours/week

Valid till: 30th September
These Coursera accounting certifications cover aspects like Financial accounting, intuit bookkeeping, fundamentals of accounting, bookkeeping basics, excel skills, financial reporting, and data analytics.
These Coursera accounting classes are offered by the University of Pennsylvania, Intuit, University of Illinois, University of California, University of Virginia, Macquarie University, Coursera Project Network, and the Association of International Certified Professional Accountants.
Key Highlights & USPs
Introduction to corporate finance and accounting, emphasizing their application to a wide variety of real-world situations spanning personal finance, corporate decision-making, and financial intermediation.


Dive deep into realistic customer scenarios to apply your knowledge of bookkeeping and accounting and review and reconcile accounts, record business transactions, and balance books to produce key financial statements for a variety of business types.


Develop advanced Excel Skills for Business and design sophisticated spreadsheets, including professional dashboards, and perform complex calculations using advanced Excel features and techniques.


Focus on the role of financial accounting principles and processes in creating and reporting an organization's financial statements.


Develop knowledge of data analytics tools and techniques by first introducing an analytic mindset, data preparation, visualization, and analysis using Excel. 
Who is it for?
These Coursera accounting courses are for anyone willing to learn about accounting concepts, excel for business, data analysis, and related topics. These are beginner-friendly classes that will help learners start from scratch.
Rating: 4.7/5
Students Enrolled: 24,682
Duration: 3 months, 12 hours/week
Free Accounting Courses

[edX]
These free accounting edX tutorials have dedicated courses on Financial Accounting, Management in Engineering, Accounting for decision-making and planning, finance, management accounting, accounting system structure and information management, reporting firm resources, obligations, performance and taxation, Project Finance and Public Private Partnership Fundamentals, Derivatives, etc.
These free edX accounting courses are offered by reputed institutions like the New York Institute of Finance, Imperial College London, ACCA, Massachusetts Institute of Technology, IIMBx, BabsonX, Indiana University, UBCx, IMFx, and LinuxFoundationX.
Key Highlights & USPs
Rigorous introduction to the principles of financial accounting. Know the basic structure of financial reports and the process of recording transactions and learn how investors, creditors, and other users analyze financial statements to assess corporate performance.


Combine learned heuristics and techniques for effective decision-making while leveraging technical knowledge which is a highly in-demand skill by employers at technical companies.


Apply financial decision-making, the theory of efficient markets, valuation theory, financial securities, risk analysis, portfolio theory, derivatives pricing, hedging strategies based on duration and convexity, and asset pricing models.


Use accounting and federal income tax principles to project earnings and cash flows, specifically of the post-combination entity. Includes real world examples and journal entries for common to complex M&A; accounting treatments


Examine the conceptual and practical elements of compiling and disseminating fiscal statistics according to international standards, useful to assess the impact of government activities on a country's economy and to facilitate international comparisons.
Who is it for?
These free edX accounting classes are for students looking for specialized courses on distinct topics. These theories are intermediate to advanced levels and are suitable for a deep understanding of typical concepts.
Rating: 4.7/5
Students Enrolled: 24,682
Duration: 3 months, 12 hours/week
These LinkedIn Learning accounting tutorials have touched upon topics like becoming a financial analyst, financial accounting, modeling and forecasting financial statements, managerial economics, excel for accountants, corporate financial statement analysis, payroll essential training, etc.
These LinkedIn Learning accounting courses are taken by industry experts like Jim and Earl Stice, Stefan Michel, Yash Patel, Michael McDonald, Justin Valley, Denise Probert, Bonnie Biafore, Madecraft and Steve Friedman, Curt Frye, Rudolph Rosenberg, etc.
Key Highlights & USPs
Gain the skills that make a successful financial analyst, including understanding financial statements, working with economic data, and analytical analysis skills.


Learn how to use past data such as cost of goods sold, depreciation expenses, and levels of inventory, and understand what caused those numbers to fluctuate over time.


Perform key accounting tasks in Excel, including small business and corporate record-keeping, and importing and exporting data from QuickBooks to Excel.


Includes the pros and cons of different business models, shares the profitability and challenges of the type of business, and offers resources for more information.


Dives into the foundations of business taxes, detailing what needs to be submitted to the IRS, when it needs to be submitted, and the essentials of completing these tax forms.
Who is it for?
These LinkedIn Learning accounting certifications offer a mixed and wide variety of classes to choose from depending upon the level and requirements of the learner.
Rating: 4.7/5
Students Enrolled: 24,682
Duration: 3 months, 12 hours/week
Start this skillshare accounting course with a straightforward walkthrough of income statements, balance sheets, and cash flow statements. Key lessons include cash vs accrual accounting, calculating topline revenue, balancing statements, and key terms and basic equations. Explains each spreadsheet in plain language, ensuring you walk away with the ability to understand essential financial information. After taking this class, you'll be able to fully participate in any organization, no matter your role.
Matt Cooper, CEO of Skillshare is the instructor of this accounting class. They believe that learning is transformative – individually, socially, economically – and their mission is to connect life-long learners everywhere and build a more creative and prosperous world.
Key Highlights & USPs
Includes a mock spreadsheet to let you practice what you learn.


Practice your financial knowledge by filling out the financial spreadsheet for your business. 


Explore the financial statements of public companies, and test out different revenue lines. 


Experiment with how different amounts of assets and liabilities affect your cash flow. 


Learn more by reading financial reporting from real companies like Google.
Who is it for?
This skillshare accounting certification is perfect for anyone looking to learn accounting fundamentals. It gives you everything you need to be aware of your personal finances and understand how accounting works.
Rating: 4.7/5
Students Enrolled: 24,682
Duration: 3 months, 12 hours/week
FAQ
What are the basics of accounting?
Accounting is built on the basic concepts of the business world. These include revenues, expenses, assets, and liabilities. The fundamental principles are debit and credit. It deals with the inflows and outflows of money. This is tracked by balance sheets, income statements, and cash flow statements.
What is the debit and credit rule?
The famous accounting saying goes like 'debit what comes, credit what goes out'. Thus all the expenses and losses are debited and all the incomes and gains are credited. The receiver is debited and the giver is credited.
What are the types of the accounting profession?
Some of the professions in the accounting industry include chartered accountant, certified public accountant, cost accountant, auditor, forensic accountant, investment accountant, and much more.