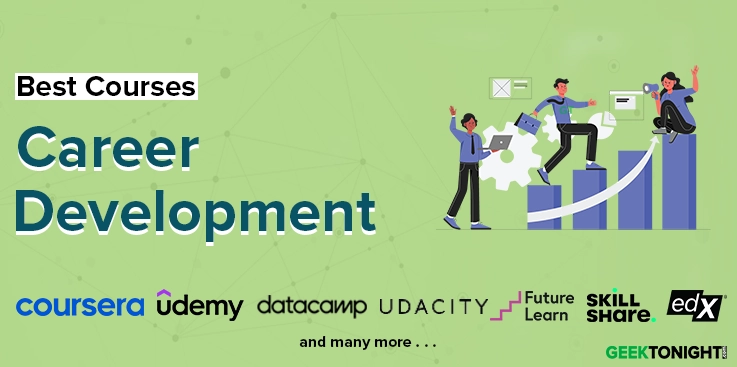 Career Development is one of the critical aspects of career planning. Career development can help improve overall communication within an organization. It is also an important factor in determining your career advancement as well as searching for a new job.
In this article, we have compiled a list of the Best Career Development Courses & Certification where you can learn the essentials of Career Development.
Our product recommendations are unbiased and based on an independent review process. We may receive a commission for links to recommended partners. See our advertiser disclosure for more information.
---
Best Career Development Courses, Certification, Tutorials, Training, Classes Online
Career Success Specialization offered by Coursera is one of the top-rated online courses for Career Success. This course will help you build, develop and hone the essential skills needed to improve your employability and advancement in today's dynamic environment. The Specialization concludes with a Capstone project that will give you the opportunity to integrate and apply the skills you have gained throughout the courses to your individual and organizational needs.
It is taught by Rob Stone, Margaret Meloni, David Standen, Diane Spiegel, and more.
Key Highlights & USPs
Apply management principles and problem-solving skills


Communicate with co-workers for clear and concise writing


Manage your time and plan projects effectively


Understand finance and use winning negotiation strategies


Identify specific time management tools and use them effectively
Who is it for?
It is suitable for beginners who are interested in learning more about career development and levelling up their self-improvement skills.
Rating: 4.6
Students Enrolled: 169,097
Duration: Approximately 11 months
Career Development: Skill for Success by Fullbridge

[edX]
Career Development: Skill for Success by edX is an amazing online course for learning about career development. This course is designed to help you build in-demand workplace competencies that will ensure you stand out as an applicant and employee. It helps you create a marketable personal brand as well. Through innovative and engaging online learning techniques, you will build and enhance the critical hard and soft skills that will help you stand out in your current or future profession.
It is designed by Jim Pautz, who is a coach at Fullbridge. He was a senior admissions officer for Harvard College. In addition to his coaching experience with Fullbridge participants, Jim serves as a resident tutor focusing on career advice at Currier House.
Key Highlights & USPs
Communicate and collaborate effectively with colleagues


Approach complex workplace problems using problem-solving frameworks


Enhance your analytical and communication skills through data mining and data sets


Inventory your professional hard and soft skills to build a career roadmap


Use design thinking principles to develop business intelligence and strategy
Who is it for?
It is ideal for professionals as well as experts who wish to polish their existing career development skills and stand out as an ideal employees among the rest.
Successful Career Development offered by Coursera is a top-rated career development course available online. Whether a well-seasoned professional, a management trainee, or a service level employee, this course will help you enrich your career by honing your professional behaviour and networking. Through industry expert support and resources, this course is designed to prepare you for success in any chosen career. You will identify a mentor to add value to your career, analyze your relationships and develop a practical approach for engaging your LinkedIn network.
It is offered by the University System of Georgia and taught by Dan Stotz who is a Director of Education at Kennesaw State University; Ana T. Baida, Director of the Department of Career Planning and Wes Rhea who is a Senior Lecturer for Information Systems.
Key Highlights & USPs
Develop the kind of habits and attitudes you need to succeed at any career stage


Learn the key concepts and principles for developing career-enhancing "habitudes"


Understand how to establish a relationship with a mentor


Create trusted relationships both internally and externally within the business community


Learn best practices for enhancing your career (and your job search) via LinkedIn
Who is it for?
Whether you are a young professional just starting out, a mid-career manager, a pre-launch executive, or a seasoned professional seeking to re-purpose a career, this course can help you in upgrading your career development skills and increasing your overall employability.
Rating: 4.6
Students Enrolled: 64,079
Duration: Approx. 20 hours
Career Development Courses offered by LinkedIn Learning are an excellent resource for learning about career development. This library of courses will be teaching you everything you need to know about the bare essentials of career development and self-improvement. Learn how to manage your career, from your first job search to moving up in your career to switching careers. Get the skills you need to grow your network, write a resume, interview, get a job, and get promoted.
Key Highlights & USPs
Learn the art of negotiating: bluffing and being bluffed


Master common interview questions


Connect to opportunities with LinkedIn


Explore the elements of an exceptional cover letter and craft a killer lead


Write a successful resume that lands you a job


Learn what is a career plan and how to create your own career plan
Who is it for?
It is suitable for any business professional or employee looking to level up their career development skills and increase their employability.
English for Career Development is one of the best-rated online courses for learning career development. This course is designed for non-native English speakers who are interested in advancing their careers in the global marketplace. In this course, you will learn about the job search, application, and interview process in the United States, while comparing and contrasting the same process in your home country. It will also allow you to explore your global career path and achieve your professional goals.
It is offered by the University of Pennsylvania and taught by Brian McManus and Robyn Turner, both of whom are Language Specialists in English Language Programs at the University of Pennsylvania.
Key Highlights & USPs
Learn about the steps in the job search process.


Understand how to describe yourself and your experiences in a résumé.


Write a clear cover letter that tells employers why you are the right person for the job


Get insights on meeting new people and making small talk


Prepare for the QnA process of job interviews and present well in interviews
Who is it for?
This course is ideal for non-native English speakers who are interested in advancing their careers in the global marketplace.
Rating: 4.8
Students Enrolled: 1,684,553
Duration: Approx. 40 hours
FAQ
How can I choose my career?
In order to choose a suitable career, you can answer these questions and evaluate your answers for an ideal job.
1. What are my interests?
2. What are my skills?
3. What are my talents and strengths?
4. What is my personality?
5. What are my values?
6. What education or training do I need?
7. Are there jobs available in this career?
What does a career development program look like?
A career development plan contains short-term and long-term goals related to an employee's job, including their strengths and future career aspirations. An intuitive way to discover which of your employees want to prioritize their career development is through a self-assessment or an employee satisfaction survey.