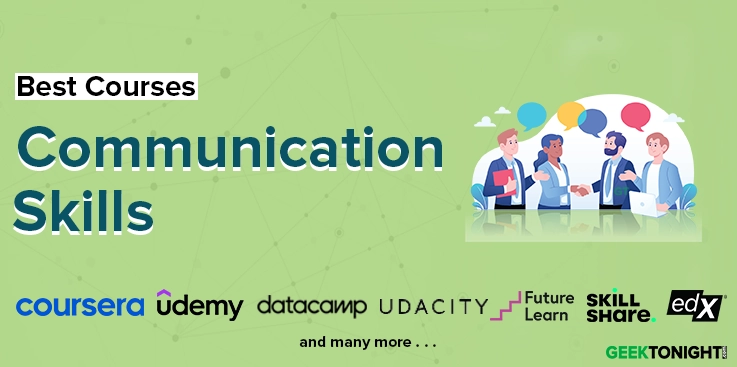 Communication Skill is probably one of the most important skills for a person to succeed in personal and professional life. It has immense uses and helps you not only in the professional sphere but also in social gatherings and public occasions. To converse effectively is to understand and be understood, and it's not an easy skill to master.
In this article, we have listed some of the Best Communication Skills Courses & Certification online, where you can learn the amazing art of communication.
Our product recommendations are unbiased and based on an independent review process. We may receive a commission for links to recommended partners. See our advertiser disclosure for more information.
---
Best Communication Skills Courses, Certification, Tutorials, Training, Classes Online
Improving Communication Skills course by Coursera is a top-rated online course for Communication Skills. Offered by the University of Pennsylvania, Improving Communications Skills is an essential course designed to give you both the tools you need to improve your communication skills, and the most successful strategies for using them to your advantage.
You'll learn how to discover if someone is lying (and how to react if they are), how to develop trust, the best method of communication for negotiation, and how to apologize. You'll also learn when to cooperate and when to compete, how to create persuasive messages, ask thoughtful questions, engage in active listening, and choose the right medium for your messages.
It is taught by Maurice Schweitzer, who is a Professor of Operations, Information, and Decisions at The Wharton School. His research focuses on emotions, ethical decision-making, and the negotiation process.
Key Highlights & USPs
Understand when to compete and when to cooperate to achieve success


Explore key principles of competition: scarcity, sociability, and dynamic instability


Use comparisons to provide motivation, and how to avoid "invidious" comparisons


Attain a better balance between competitive motivation and cooperative satisfaction


Learn how to gain and built trust for developing cooperation
Who is it for?
It is suitable for beginners as well as intermediate students who want to improve their Communication Skills and increase their overall confidence in communication.
Rating: 4.7/5
Students Enrolled: 102,765
Duration: 10 hours
English Communication Skills Certification offered by Coursera is one of the best-rated online courses available online for communication skills. It will help you improve your professional communication in English for successful business interactions. Each course focuses on a particular area of communication in English: writing emails, speaking at meetings and interviews, giving presentations, and networking online.
Whether you want to communicate to potential employers, employees, partners, or clients, better English communication can help you achieve your language and professional goals.
It is designed by Gerry Landers, Amalia B. Stephens, and Karen Peterson, all of whom are lecturers at the Georgia Tech Language Institute.
Key Highlights & USPs
Improve your overall written English skills and study tone and level of formality in emails

 
Understand how culture affects what is appropriate in business emails


Improve your pronunciation and fluency, and increase your English vocabulary


Write an effective summary about yourself and your work


Practice and Demonstrate fluent and accurate spoken English
Who is it for?
It is ideal for beginners who want to increase their confidence level during conversations and improve overall communication skills.
Rating: 4.8/5
Students Enrolled: 511,404
Duration: 5 months, 3 hours/week
Complete Communication Skills Master Class offered by Udemy is one of the best online courses for learning Communication skills. This bestseller course will help you get a Master's level education on how to communicate effectively. It is designed to be a one-stop-shop for all your communication training needs and covers a vast array of communication needs and scenarios from how to communicate during a job interview, pitching investors, asking for a raise, speaking one on one, or to large groups.
Your leadership abilities will expand dramatically as your social skills grow to allow you to communicate effectively in every situation.
It is created by TJ Walker, who is a bestselling Personal Development & Habits Expert. He has created numerous Udemy best-selling courses in the fields of personal development, public speaking, presentation skills, media training, and communication skills.
Key Highlights & USPs
Communicate confidently in all business and personal situations


Understand how to communicate and influence people


Learn how to master every communications opportunity


Converse in a memorable way and make an everlasting impression


Communicate in an effective and understandable manner
Who is it for?
It is designed for people who want to be outstanding communicators in their business and personal lives.
Rating: 4.4/5
Students Enrolled: 116,171
Duration: 31 hours

Valid till: 30th September
Top Communication Skills Courses offered by Udemy are an excellent resource for learning about communication skills. This library of courses offers several top-rated and step-by-step courses for learning the essentials of communication.
It is suitable for students of all levels, regardless of their prior experience or expertise in communication and soft skills. It will be teaching you everything you need to know about the effective art of communication, and by the end of this course you will have improved your communication skills considerably and leveled up your confidence.
Key Highlights & USPs
Speak smoothly so that both you and listeners feel relaxed, tuned in, and focused


Learn to speak confidently so that listeners trust you, and believe what you are saying


Understand how to speak more fluently so that your thoughts stream together in sync


Improve your awareness, think more clearly, and communicate more concisely


Use communication skills to improve implementation & performance
Who is it for?
It is ideal for all students who want are interested in improving their communication skills and increasing their conversational confidence.
Online Communication Classes offered by the SkillShare platform are an amazing library of courses for communication skills. These courses are well-designed, easy to follow, and highly educational for anybody looking to brush up on their communication as well as conversation skills.
It is suitable for people of all levels: from beginner to advanced, and will be teaching you everything you need to know for leveling up your communication game and increasing your overall confidence.
Key Highlights & USPs
Learn how to communicate with concise messages and sentences


Speak with clear points, confident pauses and eliminate filler words


Use confident nonverbal communication for effective speech


Understand how to approach anyone and be liked even before you approach


Connect with people fast and never run out of things to say
Who is it for?
These courses are suitable for students of all levels of expertise, from humble beginners to advanced communicators who want to level up their communicational skills and learn the art of effective conversation.
Communication Courses by LinkedIn Learning are an excellent library of courses for learning about Communication skills. These courses will provide you with simple communication tools, strategies, and tips that are easy to use and produce immediate results. It will help you sound more confident, use body language to better express ideas, and overcome anxiety. After completing these courses, you will feel much more confident and sound more interesting.
Key Highlights & USPs
Learn to hone your message and say it like you mean it


Understand the Four Communication Building Blocks and why they are important


Socialize more effectively in professional settings


Project power with body language and align your body, tone, and words


Learn how to communicate efficiently in tricky situations and handle anxiety
Who is it for?
It is suitable for professionals and business individuals who are interested in learning more about the art of public and personal communication and improving their conversational skills.
Rating: 4.7/5
Students Enrolled: 24,682
Duration: 3 months, 12 hours/week
Effective and Authentic Communication by Robin Roberts is an amazing online course for learning communication skills. In this course, Robin Roberts will be teaching you her techniques for powerful communication, building strength from vulnerability, and connecting with any audience.Learn how to communicate effectively, whether it's in front of an audience, at work, or with those you love. Start embracing vulnerability, building resilience, and living life with optimism.
It is taught by Robin Roberts, who is a renowned broadcaster and Emmy-winning "Good Morning America" co-anchor. She is an excellent communicator and has a great personality.
Communication skill program is designed for business professionals and commercial employees wanting to increase their overall confidence in conversations, as well as improve their communication skills.
Key Highlights & USPs
Learn to make an Authentic Connection with people


Make the most out of your situation and communicate Your Value at Work


Understand how to communicate for TV including effective storytelling


Learn to Live Life With Optimism and Resilience for increasing confidence


Understand why sharing and embracing Vulnerability is good in conversations
Who is it for?
Communication Skills Certification Courses is designed for business professionals and commercial employees wanting to increase their overall confidence in conversations, as well as improve their communication skills.
---
FAQ
How can I improve my English vocabulary and communication skills?
• Smoothen your speaking speed
• Practice with a conversation partner
• Record the conversations
• Learn with videos and music
• Improve pronunciation
Can anyone be a good communicator?
Communication is a skill, and anyone can become a great communicator with training and practice. The very best communicators spend their time developing, practicing, and incorporating feedback into their communication skills.