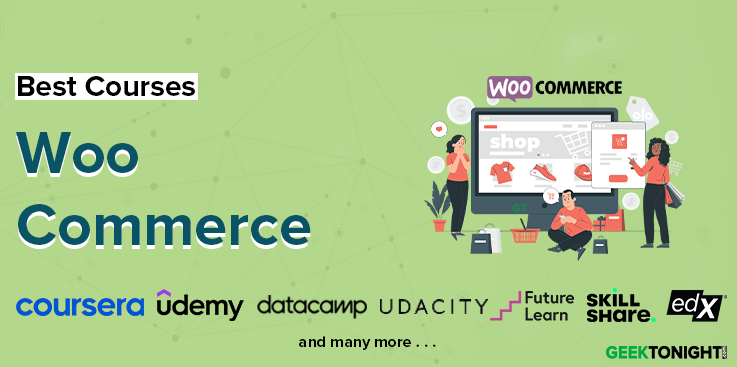 If going by statistics WooCommerce is downloaded about 30,000 times in a day! But what makes WooCommerce so special? Why is the download rate of this WordPress plugin so high? Well, WooCommerce is a tool that eases your website making efforts and helps you to deliver a solid user experience to your customers by creating a versatile website that meets their needs.
We have brought you the best WooCommerce courses that you can learn from and apply in your real life to take the benefit of this blooming digital tool to gain success in your digit journey.
Our product recommendations are unbiased and based on an independent review process. We may receive a commission for links to recommended partners. See our advertiser disclosure for more information.
---
Best WooCommerce Courses, Certification, Tutorials, Training, Classes Online
Udemy's WooCommerce online course shows you exactly how you can build a fantastic eCommerce website without prior knowledge of programming, just you and your web browser is needed. You will learn all sorts of things like WordPress Development, WooCommerce, StoreFront, etc., with the primary aim being to provide a good user experience to your customers and grow your estore splendidly.
The author of this WooCommerce developer course, Tim Sharp, is a successful online entrepreneur and a veteran of Affiliate Marketing and Database Development. Tim Sharp has around 194,703 students across his 12 courses on Udemy, making him one of the best-selling authors on the platform with an instructor rating of 4.7 out of 5.
Key Highlights & USPs
Learn how to build the credibility of your website so users trust and believe in your website.


Gain the skill to develop websites from scratch using WordPress and WooCommerce for enhancing the website.


Develop backup of your site, secure your site from any kind of cyber-attacks, and use of SSL.


Get the knowledge of how to go about web hosting decisions, taxes, shipping options, setting up the site, building pages, logo development and much more.


Learn how to automate the process of importing products, which saves a lot of time and effort.


Get lifetime access to the course and its materials along with seven downloadable resources, two articles and a completion certificate to prove your credibility to the higher-ups.
Who is it for?
This WooCommerce for beginners course is a good guide for anyone, even a complete stranger with no knowledge of e-commerce can start making money if they follow this step-by-step method mentioned by the author. The content of the course covers all the problems faced by a beginner and their solutions, providing a smooth experience to the learners in their learning and achieving journey.
Rating: 4.7/5
Students Enrolled: 18,612
Duration: 3 Total Hours
You can Sign up Here

Valid till: 30th September
This DThis WooCommerce Udemy course teaches you the fundamentals as well the advanced usage of the famous plugin, which helps to establish your own online store. The course is divided into five sections combining 28 lectures, during the period of this course, you will go through basics/introduction/setup, and many technical sound topics explained in an easy manner.
The instructor for this WooCommerce plugin development course is Fatah Gabrial. He practices what he preaches to others, he himself is a Digital Marketer, Web Designer, among many other things. The Author has 10+ years of experience teaching people and helping 100's of people in setting up their own business and has earned a combined instructor rating of 4.4 by his 241,114 students.
Key Highlights & USPs
Learn to manage customers and their orders, setup of variable products, descriptions, import sample data etc.


Create grouped products in WooCommerce, know how to generate weekly or monthly sales reports easily.


Manage your Sales Tax according to your legal jurisdiction on WooCommerce itself with several options suiting your needs.


Develop Digital and Physical products, shipping details for the product, get to know the advanced side of WooCommerce.


Achieve a shareable certificate along with lifetime access to the course and its materials.
Who is it for?
The course is listed as 'All Levels' that means it contains content that is understandable by beginners and even has something new for intermediate and expert level learners. The course easily provides the learners to make an online store without missing any essential stepping stone as it also helps you to maintain records post sales.
Rating: 4.2/5
Students Enrolled: 31,235
Duration: 1 Total Hour
You can Sign up Here
WooCommerce LinkedIn Learning serves as a kickstarting point that briefs you on the idea of how to go about making your online store dream a reality by primarily using WordPress and WooCommerce plugin. Individuals get a limited but good collection of courses to choose from such as 'WordPress Ecommerce: WooCommerce,' 'WordPress: Customizing WooCommerce Themes,' 'Building a WordPress Membership Site with Ecommerce,' and 'Choosing an Ecommerce Platform for Developers.'
Just like the limited courses, the author list is very minimal and yet effective with both the instructors having good experience of years with WordPress and WooCommerce. The two instructors of the WooCommerce training courses are Patrick Rauland and Carrie Dils providing all the courses in the WooCommerce section of the platform.
Key Highlights & USPs
Learn to create and maintain paid membership websites, with taking in note formulation of membership plans and type of memberships as well.


Gain the skill of Front-End Development, Content Management Systems (CMS), Magento and more.


Learn about filtering products by adding attributes and widget and placement of filters on your webpage.


Learn to install Google Analytics, Mailchimp, Facebook for WooCommerce helping you to track your record and drive more conversions.


Get a LinkedIn Learning certified course completion certificate to improve your CV/Resume, get exercise files in every course, project files for lifetime access.
Who is it for?
The WooCommerce courses at LinkedIn Learning is very beneficial to the beginners & the intermediates as it teaches one on what factors you should choose the ecommerce platform, the products to sell, the payment methods and all other factors that matter for the successfulness of your site.

Duration: At your own pace
This WooCommerce plugin development course includes a good understanding of ecommerce sites, fundamentals of building an online store, different online stores for different types of products and many more things. The course is divided into 3 main sections the first of the three being WooCommerce Section, second is Virtual Store Section and last being 'Building a DropShipping Site'.
Alexander Oni, the author of this course is a Best Selling Instructor on Udemy with having his 25 Courses on the platform combined gathering him around 134,007 students and earning him an instructor rating of 4.6 out of 5, being quite an accomplishment for an author who started online teaching only 5 years back.
Key Highlights & USPs
Master the skills needed to build a fluent website for physical as well as for selling digital products.


Learn to create bundled virtual products and handle the digital downloads of the customers.


Learn to use the plugin called 'WR MEGA MENU' for structuring a good menu for your users that is easy to follow.


Get to know a few extra plugins that go along with WooCommerce thus enhancing the website to greater form.


Learn how to set up the payment gateways, set up the shipping options, manage customer orders and also look into handling refunds.


Upon Completion of the course be entitled to receive a Certificate for your CV/Resume, downloadable resources and articles for lifetime access.
Who is it for?
Beginner level course that teaches learners how to fully utilise 'WooCommerce Plugin' to its maximum capacity. It is a good overall course for learners who were offering premium quality content but weren't getting quite as good earnings. By taking this course you can make a compatible membership site with subscription options so that your selected content can be viewed only by paying customers.
Rating: 4.6/5
Students Enrolled: 6,858
Duration: 11 Total Hours
You can Sign up Here
This WooCommerce WordPress course covers four basic prime spots, i.e., Installation of WordPress, Settings – Deals with Tax rates, shipping rates, payment, etc., Design – Create attractive pages for your website and lastly, Market that is making your website ready for search engines. Moreover, this course follows the idea of making a website that is productive as well as being stylish.
The instructor of the course is Tanzeel Ur Rehman, a WordPress enthusiast, SEO Expert, and a Full-stack Web Developer himself. The author is certified in WordPress and also pursues Web designing too. Till now, he has around ten courses listed on Udemy and has gained 123,872 students that have earned him the instructor rating of 4.5.
Key Highlights & USPs
Learn about SEO tips and tricks, its settings, plugins, the product SEO settings, etc. ,for better visibility of websites in the Search Engine Results Page (SERPs).

Learn Elementor for easy and effective customization of your theme, widgets, and proper mobile & tablet rendering.


Learn various general and advanced settings of E-commerce functions in detail, such as Image Flipper, Infinite Scroll, WishList, Product Slider, Currency switcher, etc.


Get to know how to transfer the website from your computer or local host to an online server.


Once completed, receive a course completion certificate and 11 downloadable resources, three articles, and much more for lifetime access.
Who is it for?
This course is accurate for beginners as it includes a detailed explanation of everything that one has to keep in mind while making any online eCommerce store. It can be a great help to business owners to transfer their business in online mode as it comes with proper maintenance of taxes, refunds, shipping details, and other essential things.
Rating: 4.5/5
Students Enrolled: 11,922
Duration: 15 Hour
You can Sign up Here

Valid till: 30th September
A complete package of a platform offering various WooCommerce training courses such as 'WooCommerce Theme Development,' 'WordPress E-Commerce Development w/ WooCommerce & Storefront,' 'Build an Amazon Affiliate ECommerce Store from Scratch,' and much more. All of the courses stated introduce you to the general concept and use of the WooCommerce plugin in making a successful website, with even some courses going beyond that.
With Udemy's best seller WooCommerce courses, you also get the instructors of the top-class category. Some of the names from the list of expert instructors include Samarth Agarwal, Marcelo Xavier Vieira, Juan Pablo De la torre Valdez, and Atil Samancioglu.
Key Highlights & USPs
Learn how to self-host your eCommerce store for free with the help of WordPress and WooCommerce.


Get to know the fastest way to drive traffic and start your earnings from your newly formed eCommerce website.


Learn to use the WooCommerce plugin (over 30+ plugins) to its fullest, using it to develop optimum websites and even Mobile Apps!


Get to know the fastest way to drive traffic and start your earnings from your newly formed eCommerce website.


Go through concepts of theme internationalization, theme security, coding standards of WordPress.


Learn Customization of WooCommerce templates, themes to meet the suitability of your choice.


Get plenty of downloadable resources, articles, and more for lifetime access along with unlimited access to courses and earn a shareable certificate after successful completion to showcase your learnt skills.
Who is it for?
It offers various beginner, intermediate and expert level courses for an individual to learn from. All the courses serve the purpose of letting the users learn and gain proficiency in WooCommerce, an individual taking up any Udemy WooCommerce course can easily learn to create a responsive website that is optimized for mobile, has a good presence on the internet, and is easy to surf.
---
FAQ
How do I learn WooCommerce?
Learning the WooCommerce plugin can be done through 'How to' articles, videos, and online courses. The latter provides in-depth information on all aspects of WooCommerce, covering every plugin corner.
Furthermore, other than just taking an online course, article, or watching youtube videos, try to work with WooCommerce plugin as that will help you to explore the plugin more and give you full exposure to all its functions.
Is WooCommerce Difficult?
No, WooCommerce is not difficult at all. Nevertheless, having a knowledge of WordPress development makes the understanding process of WooCommerce a much simpler one. Any beginner can install and start making their own customizable website without any hassle.