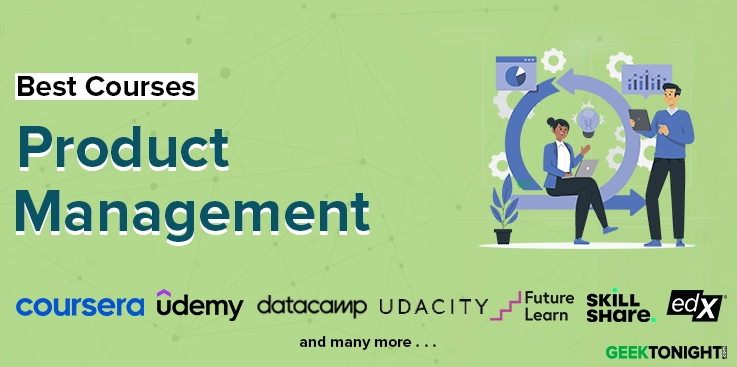 Product Management, a very important job position emerging nowadays. Businesses who are product centric look deeply in maintenance of their product and this has led to huge demand in Product Managers all over the world. Researches have shown that having product managers in an organization increases the profits of the company by a mile comparing ventures without one.
Whether digital product management or traditional product management this list has everything that will keep you on the holistic route to start or advance your career in product management, as this list helps you to find your best product management course.
Our product recommendations are unbiased and based on an independent review process. We may receive a commission for links to recommended partners. See our advertiser disclosure for more information.
---
Best Product Management Courses, Certification, Tutorials, Training, Classes Online
Coursera Digital Product Management course shows you the daily digital robes of being a product manager. The course contains the skills and syllabus of what is said to be as a daily routine in the life of a digital product manager. This course acts as a centerpiece which will help you to distinguish between the work of a product manager and what extra responsibility comes with the position of Digital Product Manager.
The course is brought to you by the University of Virginia with the instructor of the course being Alex Cowan who is a Faculty at the Darden School of Business. Alex is a veteran with 19 of his courses published on Coursera from which he has earned the instructor rating of 4.74 out of 5.
Key Highlights & USPs
Learn to create actionable focus effectively while interacting with all of your stakeholders.


Experience the complexity that goes behind in analyzing and understanding your customers and your management team.


Get to know the modern methods to incorporate in your product management process and learn to study your growth, engagement and monetization through quantitative and qualitative measures.


Learn the skill of exploring and finding new products and product ideas.


Learn the various Business Model types and design your own business model with Value Proposition, Customer Journey, Cost, Revenue etc.


After successful completion of the course be entitled to receive a shareable certificate, lifetime access to the course and its materials.
Who is it for?
This product management for beginners course is very good in showing ways for traditional product managers to bring change in their daily processes and cope up with the latest technologies that will help them to perform well in today's digital way of conduct.
Rating: 4.7/5
Students Enrolled: 137,507
Duration: 11 hours
You can Sign up Here
This online product management course focuses on teaching you the versatile skill of being a product manager. In this course you get to go through the elements involved in creating a successful product strategy, designing a product, the constant product development involved which ends with learning how to do a proper product launch.
Udacity's product management course is taught by a trio of experts in the product management world. The instructors are well qualified as two of them are Product Managers at Google – Anastasia Root & Yuva Murugan and Alex King as Product Manager at Uber.
Key Highlights & USPs
Learn the skills of product designing and create a design by taking into consideration various design-thinking methodologies.


Know how to develop any idea from its initial stage to developing a concept around that idea to making the idea a reality.


Get to know the necessary soft skills required to manage teams, customers and stakeholders that will help you in product's life span.


Learn to solve right problems through market research, create a product strategy fully based on essential information and facts.


The course includes support for you in LinkedIn profile optimization, Github Review and resume support to showcase your credibility online.


Achieve a lifetime access to this course and its materials, complete it in your own time with technical mentor support, career services etc.
Who is it for?
As a Product Manager you'll be learning to be tactful in nature to tackle opportunities and lead your product in whatever business environment you may face. It is an all round course about product lifecycle management made for beginners with no knowledge of product management so after completing the course you will be thorough with what goes into the life of managing a product.

One of the best courses available on Udemy platform that teaches you product management fundamentals, modern needed skills of product management with knowledge on how to answer a product management job interview. This course more or less focuses on the new methods of product management, its integration with technology, using metrics, UX wireframing and what not!
The instructors of this course come with great knowledge and specialization on the subject as Cole Mercer, Head of academy at Semrush, An Ex Senior Product Manager at SoundCloud along with Evan Kimbrell – Founder of Sprintkick are teaching this product management online training course. With their knowledge and love for teaching Cole has maintained an instructor rating of 4.6 and Evan an instructor rating of 4.5 showing that they are well preferred by their students.
Key Highlights & USPs
Learn various frameworks such as AARRR framework, HEART framework along with conceptual knowledge of software development.


Get to learn various product manager types and see which one best suits your personality.


Learn to collect primary data directly from customers through interviews by structuring user tests, interviews, and exploratory interviews.


Gain competition insights by comparing competitors and their products and identifying the marketing into direct, indirect & potential competitors.


Also get to know the 'dos' and 'don'ts' of product management jobs and how to build a portfolio that will have clients raining on you.


Get free full lifetime access to the course along with 120 downloadable resources, 25 articles with access on TV and mobile and a completion certificate.
Who is it for?
A product management certification course that includes A-Z of product management, especially a total package or a complete guide for individuals who are interested in becoming Product Manager as the course includes everything that a product manager should know whether speaking traditionally or new methods it has it all.
Rating: 4.6/5
Students Enrolled: 40,106
Duration: 13 hours
To have a successful market impact you and your product should be aligned with product marketing strategies and this course helps you to do so. This short course includes how you take an idea from initial level to great success by managing its marketing activities like creating a marketing plan, studying customer base, coordinating with marketing team, effectively communicating your products with all the stakeholders and customers etc.
Jillian Kaplan, the instructor of this product management class is currently leading the 'Telecom + 5G Thought Leadership Lead' at Dell Technologies with also having experience as the Senior Product Marketing Manager at the same organization. She has a lot of experience in Product Marketing and also teaching as she has about 12 courses published on Pluralsight.
Key Highlights & USPs
Learn to develop and design a marketing plan, understand the role that product marketing plays in your product's life.


Go through basic marketing fundamentals and terminologies that will stay with you during your product management career.


Learn the concepts of Marketing Mix or the 4Ps of marketing, 'Business vs Consumer Marketing', 'The Go-to-market plan' and how all of this is essential during product launch.


Pluralsight also offers a completion certificate once successfully completing watching the course videos.
Who is it for?
It is a quick short product management marketing course helping beginners with little basic knowledge of marketing as they can quickly grasp the holistic background of product marketing and integrate it with managing a product leading to successful launch of the product.
Rating: 4.5/5
Duration: 37 Minutes
As the name of the course says it is a professional course offering you the opportunity to experience a complete product manager experience through its content. This Kellogg product management course is divided into 20 modules in which each module offers rich content that will help you to strengthen the base of your product management knowledge while also learning the new processes involved in it.
The author of this course is a well recognized top mind in the field of product management, Mohanbir Sawhney. Mr.Sawhney has done Ph.D. in Marketing from the Wharton School and the list of his accomplishments is something that speaks for itself as he has helped numerous well known companies like McDonald's, Dell, AT&T, Sony, Microsoft over the number of years. Mr.Sawhney is accompanied by Steven Benario, Tamara Sanderson, and Tami Reiss as the instructor of the course.
Key Highlights & USPs
Learn Agile product development, the principles of it, explore the agile methodologies used for building a product.


Learn product innovation and factors contributing to innovating a new product, mapping customer experience overall how customer insights play a huge role in understanding the need for innovation.


Utilize the concepts of financial analysis such as Net Present Value (NPV), Product Profitability, and Internal Rate of Return.


Develop skills such as Communicating skills, Reading customer insights, Assessing the market data using various tools, relationship management etc.


Gain a course completion certificate from Kellogg Executive Education with lifetime accessibility to the course and its materials.
Who is it for?
This course is for individuals who are looking for getting expertise in the product management field or want to advance in their product management career. The course can easily help learners to understand the product management process and activities in a much more clearer way.
Rating: 4.7/5
Duration: 6 months, 15-20 hours/week
In this brand and product management Coursera course you will also get to learn brand development while learning product management and development. You will come across various brand strategies and learn how to successfully apply them to your business. If you want to try up Brand Strategy then do check out our article on it here. Other than this the course also covers the generalized aspects of product management and teaches you all the necessary methods and concepts required.
The course is offered by IE Business School with their Marketing Professor Luis Rodriguez Baptista teaching the entire course. Prof. Luis has experience of 20+ years in building brand strategies and has worked for established companies such as AT&T, P&G and Chicco. Prof. Luis only has 2 courses on Coursera with 97,379 students and instructor rating of 4.75.
Key Highlights & USPs
Learn to estimate market demand for your product, how to extend your product offering and to state your product pipeline.


Get to know the elements of winning brand strategy and develop your own branding strategy that gives out a good value proposition.


Learn conceptual knowledge of managing & creating product strategy, 'The Touchpoint concept', 'Purchase funnel' and form factual support to support your product strategy.


The course comes with a shareable course completion certificate along with practice exercises & readings in each module helping you to understand the module in a better way.
Who is it for?
This product management online certification course will help beginner level learners in becoming an expert in analyzing their brand – its working, communication system, brand portfolio among other things. Learners will become fluent in identifying and understanding any product or brand related deviations instantly.
Rating: 4.7/5
Students Enrolled: 80,313
Duration: 14 hours
You can Sign up Here
Digital Product Management by Boston University

[edX]
A Micromasters program which focuses on infusing leadership with the digital world in an effort to make learners a proficient leader of tomorrow in the challenging business environment. This product management tutorial course provides learners with the skills and abilities to thrive in the digital field while maintaining the leadership style that will distinguish you from your competition.
The course is taught by a panel consisting of seven professors, three lecturers at Boston University and a CEO. The instructors list include names such as Kristen J.McCormack, Darrell Griffin (CEO), N. Venkat Venkatraman, Matthew J. Reis, Varun Nagaraj, Marshall Van Alstyne, John W.Byers, Chris Dellarocas, Sandra Deacon Carr, Nitin R. Joglekar and Lloyd Baird.
Key Highlights & USPs
Learn the 'Three winning moves' that will take your business success to new heights in the digital economy.


Be in virtual teams and learn the strategies that go into managing virtual teams.


Look after your own personal development plan, making you a better individual in today's competitive world.


You will learn the product life cycle and various actions you have to take during various stages to maintain a healthy product life.


Get lifetime accessibility of the course and its materials along with a MicroMasters program certificate after completing all five courses under the program.
Who is it for?
An expert level edx product management course, very good for individuals with operations management knowledge. The course provides the solution to leadership related problems in the digital way of conduct along with teaching learners risk management in an uncertain business environment.
Rating: 4.7/5
Duration: 9 months, 4-7 hours/week
From this product management program you'll gain understanding of how to maintain and develop product strategies to meet the requirements of your customers while fulfilling your business goals. The aim of this course is simply to help you in framing your own successful product strategy which acts as a competitive factor for your business. If you want more product strategy courses then check out our list of five best product strategy courses from here.
Another product strategy course on the list by the Clinical Professor of Marketing at Kellogg School of Management, Mohanbir Sawhney. Prof. Sawhney is an Associate Dean, a director and an Author with books like 'The Sentient Enterprise: The Evolution of Business Decision Making' under his belt and has also carried out research that has been published in famous journals such as Hard Business Review, MIT Sloan Management Review, California Management Review etc.
Key Highlights & USPs
Learn the JTBD framework or 'Jobs-to-be-done' framework to evaluate new opportunities by understanding customers' buying objectives.


Taking your product to the market effectively and choosing the best route for your product while also getting to know how to maintain partnerships in business.


The course offers various exercises, applications and real life industry examples of 10+ companies with names including such as Apple, Microsoft, Uber etc.


Be entitled to receive a course completion certificate from Kellogg Executive Education along with lifetime accessibility to the course and its materials.
Who is it for?
A product management online certification course for intermediates, especially the ones dealing with product and/or product strategy development as it can help them to be profound in their management work. The course along with offering managerial content also offers three real-life based exercises from which you can solve and derive your learnings from.
Rating: 4.7/5
Students Enrolled: 24,682
Duration: 2 months, 4-6 hours