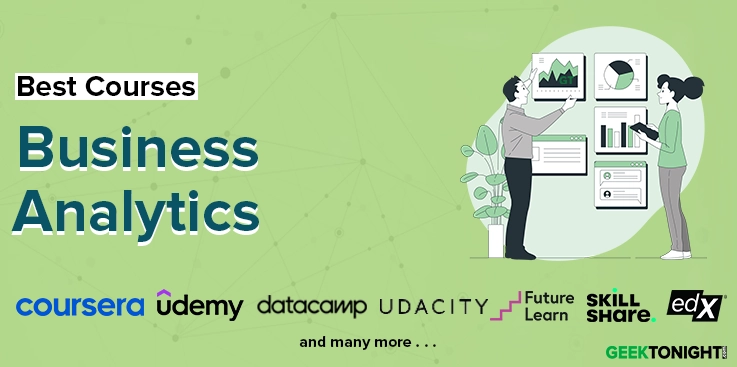 Telling a story with data is not only something that is very unique but also it helps in the daily formulation of strategies that work like a charm for your business. This article gives you the best business analytics course that helps you to develop an overall understanding of the modern era of big data analytics.
Achieving fluency in anything is hard, it indeed requires years and years of practice and knowledge that sets you apart from others in your field fluency cannot be achieved if you don't try, one has to get started at some point and if you are that 'one' who is looking to step feet in the data world, then this article is for you.
By taking this course one thing is guaranteed and that is that you will be one step closer to achieving fluency in understanding, analyzing and thoughtfully presenting data.
---
Best Business Analytics Courses, Certification, Tutorials, Training, Classes Online
The plus point of this course is that it is one of the top business analytics programs having four detailed systematic courses developed in the areas of Customer Analytics, Operations Analytics, People Analytics, and Accounting Analytics. It is a business analytics specialization that offers more than meets the eye with a stronghold on the basics and core of the data analysis world.
This is a business analytics certification course offered by the University of Pennsylvania taught by professional instructors like Eric Bradlow, Peter Fader, Raghu Iyengar, Ron Berman, Senthil Veeraraghavan, Sergei Savin, Noah Gans, Cade Massey, Martine Haas, Matthew Bidwell, Brain J Bushee, and Christopher D. Ittner.
Key Highlights & USPs
Get to thoroughly understand descriptive analytics, predictive analytics and prescriptive analytics and go through various models and data gathering/ data collection methods.


Learn how to form and evaluate business decisions during low and high uncertainty.


See how data can be used to analyze the staffing cycle which starts with hiring, inner mobility and career development.


Finally, you will also get to develop your practical skills by working on a business analytics capstone project.


Upon successful completion of the course be entitled to receive a Coursera certified shareable certificate, lifetime access to the course and its materials along with quizzes & exercises to enhance your learnings.
Who is it for?
This Business analyst certification for beginners will help newbies in this field to learn to identify problems and solutions with the help of building optimization models to solve business challenges.
Rating: 4.6/5
Students Enrolled: 141,342
Duration: Approx 6 Months – at 3 hours/week
You can Sign up Here
Udacity's nanodegree business analytics course is all about developing the data skills to encounter the problems of managing and interpreting data of today. From the course, you will focus on Introduction to Data, SQL for Data Analysis and Data Visualization.
The faculty includes names like Josh Bernhard, Dana Sheahan, Mat Lenord, Derek Steer and Sam Nelson all of them being very supportive during the course of this program. It is not only their presence that is the highlight of the course but is also equally important content that they bring to this very beautiful course.
Key Highlights & USPs
Improve your data interpreting skills and data visualization skills.


Build an interactive dashboard for visualizing various data coming from various companies.


Learn how to perform financial metrics forecasting on the companies for three scenarios.


Gain practical learning from projects offered in this course which will build business analysis skills.


Get lifetime access to this course and complete it in your own time with technical mentor support on all of your projects, on your resume and also on your Linkedin profile.
Who is it for?
This course is completely based on business analytics for beginners and offers real-world projects which serve as the most essential part of the course helping learners to experience the working of a data analyst.
Duration: 3 Months – at 10 hours/week

This Data Science online course is a professional certificate course offering the aspirants to dip their toes into one of the most trending jobs of today. The course is enough for beginners to start their journey in the data science world and will help learners to qualify themselves with entry-level skills to meet the data scientist job profile. If you are thinking of taking this wonderful course then go through our list of best data science courses that offer nothing but premium knowledge of the field.
The instructors of this IBM offered data science certification course are Rav Ahuja, Alex Aklson, Aije Egwaikhide, Svetlana Levitan, Romeo Kienzler, Polong Lin, and Joseph Santarcangelo among many others hailing from Data Science and related fields.
Key Highlights & USPs
Learn how companies can make use of data science and different approaches that can help in understanding data.


Get TEN Courses! This specialization offers and covers every aspect of data science knowledge areas.


Develop an understanding of data science methodology and its process, the major steps that help in finding solutions for problems.


Learn why machine learning is really needed and how it can be applied to your business's operations.


Understand the use of data science tools like GitHub, Git, IDE, RStudio, Watson Studio, Jupyter Notebooks, and JupyterLab.


On completing the course receive a Coursera certified shareable certificate, lifetime access to the course and its materials along with quizzes & exercises to enhance your learnings.
Who is it for?
A complete beginner-friendly data science certification course that aims at making learners ready for entry-level jobs in the data analysis field. The content of the course tackles the basics of data science and data analysis, which doesn't require any prior experience in both of the stated fields.
Rating: 4.6/5
Students Enrolled: 103, 063
Duration: Approx. 11 Months – 4 weeks/hour.
A specialization course which lends a helping hand to learners in building their Data analysis skills and presentation skills. The aim of this specialization program is solely to help individuals in making sound and firm business decisions and putting and presenting those decisions and thoughts in a way that communicates with the stakeholders of the business.
This data analysis specialization course is offered by Pwc where the instructor, Alex Mannella was one of the founding members. His areas of interest/ expertise include database marketing, data mining, response modelling and customer value management (cvm). His Coursera feat includes having 289,649 learners from only 5 courses on the platform.
Key Highlights & USPs
Grasp the knowledge & understanding of big data analytics, technology advancements and the various types of data.


This course shows you how to come up with business solutions using logical functions and pivot table in excel.


Learn the essentials of presentation i.e. how to structure a presentation that includes rich data driven content and how to present – the public speaking skill.


Determine which data analysis technology best suits your business needs and get to know some of the new tools.


Get Hands-on project, quizzes, exercises and with its completion of the course get a Coursera verified certificate for your CV.
Who is it for?
The course is for beginners, helping individuals to get started in data analysis and interpretation while also teaching learners how to present their findings.
Rating: 4.7/5
Students Enrolled: 134,803
Duration: Approx. 6 Months – at 3 hours/week
Business Analytics is a complicated area and it requires a person to be logical and analytical in their thinking – and this is what this advanced level course is focusing on to make individuals a better fit for extracting data from their surroundings and making use of it for better understanding of the market and its conditions. Since it is a specialization program it comes with five courses: Introduction to Data Analytics for Business, Predictive Modeling and Analytics, Business Analytics for Decision Making, Communicating Business Analytics Results and Advanced Business Analytics Capstone.
Offered by the University of Colorado Boulder, the instructor of the course is David Torgerson from the University of Colorado Boulder, with two professors i.e Dan Zhang and Manuel Laguna from Leads School of Business with all combined having more than 290,000+ students across 10 courses.
Key Highlights & USPs
Learn to command, combine and stack data from various tables and also know how to extract data from various relational databases through SQL.


Gain the skills to present your data in a meaningful way and focus on exploratory data analysis.


From this course, you will equip the skills that will help you towards your personal development helping to climb the rankings in the organization.


Operate different predictive modelling software and learn predictive models of trees and neural networks.


Complete this course at your own pace and get access to it for a lifetime along with its resources and earn a certificate at completion.
Who is it for?
The content of the course is well suited for data analyst intermediate who likely have some foundational knowledge of analytics. Taking this course will help learners to identify how to use quantitative and qualitative analysis to come to a solution.
Rating: 4.4/5
Students Enrolled: 47,952
Duration: Approx. 5 months – at 3 hours/week.
You can Sign up Here
Post Graduate Certificate Program in Business Analysis (IBM – Purdue University)
A post-graduate program in business analytics that helps you to kickstart your new career or give your old business analysis career a big boost. This pgp business analytics course helps you in basic and complex understanding of the underlying situations, and problems that affect day to day business operations and give you the insight to correct the deviances and overcome business affecting problems.
The online business analysis course is brought to you by Purdue University with Dr Zhiwei Zhu, Bryan Campbell, Jeff Allen, and Susan David as the program advisor for this course teaching you and helping you to develop the realistic problem-solving skill that will help you for your personal & professional development.
Key Highlights & USPs
Learn the skills of Business Analysis, Requirement Analysis,  Strategy Analysis, Wireframing, and Solution Evaluation among many other skills.


Enhance your Excel skills and incorporate Excel in your day to day data analysis which in turn helps you to make firm decisions.


Get trained in Tableau Desktop 10 to dashboard design, visualization building and data organization.


Learn to create visualization and conduct statistical analysis using Python.


Relevant Capstone & Hands-on projects to hone your skills as business analysts.


Once completing this course, the learner is entitled to a certificate from Purdue University and IBM Certificate.
Who is it for?
It is perfect for beginners looking to get started in a data analyst role, the course is a good place for learning the complicated skills of data analytics along with the theoretical knowledge learners also get a chance to solve real-life business/industry problems.
Duration: 6 Months – at 5 to 10 hours/week
FAQ
What is business analytic course?
Business analytics is all about solving business problems using various statistical, and analytical methods and models to come up with the best possible solution that is effective and will improve your business's operations.
That makes Business Analytic course a course that includes content like algorithms, analytical tools, statistical tools, technological tools and various methodologies helping you to do nothing but analyze data for making better and successful business decisions.
Is business analytics a good career?
Well first off if you have an eye for finding out the meaning from random data then business analytics is a wonderful career for you. The career becomes a good option for individuals who are good at problem-solving, interested in research, programming languages, and a bunch of other things that involve individuals thinking critically.
And on the plus side, It is a career that is picking up a lot of pace during recent times and is expected to grow 14% (2018-2028) and this is not all!
On average annually a business analyst earns around $81k+ in the United States.
Considering the growth rate and market demand for data & business analysts the timing to pursue a business analyst as a career option is absolutely a good one.