Simply put, child development is the practice by which children gain knowledge, etiquette and expertise from various transformative childhood experiences. The analysis of child development focuses on investigating the changes in particular abilities like social, motor, physical, communication and adaptive skills.  
It is even backed by UNICEF, that early childhood which spans 8 years from birth is absolutely crucial for the child's cognitive, social, physical and emotional development. So let us have a look at the best child development courses and certifications that will prove to be immensely useful in your knowledge journey.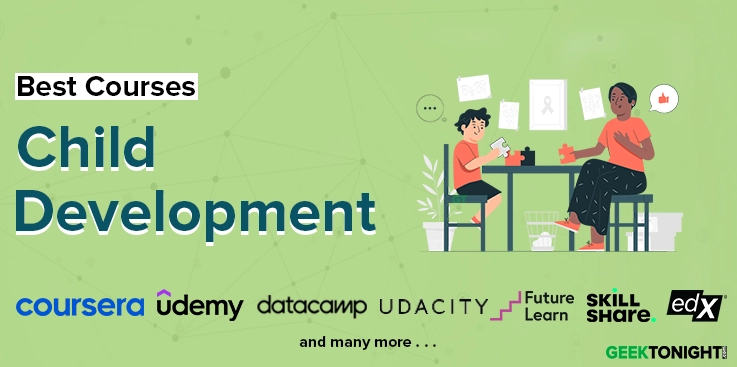 Our product recommendations are unbiased and based on an independent review process. We may receive a commission for links to recommended partners. See our advertiser disclosure for more information.
---
Best Child Development Courses, Certification, Tutorials, Training, Classes Online
Child Development Courses

[Coursera]
These coursera child development courses cover a variety of topics ranging from understanding child development, introduction to early childhood, everyday parenting, children acquiring literacy naturally, foundations of teaching for learning, supporting parents of a newborn baby, child care as a business and overcoming dyslexia. 
These coursera child development certifications are offered by prominent educational institutions like The State University of New York, Utrecht University, Yale University, the University of California, the University of Colorado System, Deep Teaching Solutions, and Commonwealth Education Trust. 
Key Highlights & USPs
Learn the basics and significance of early childhood development, play and prior education programs.


As you start learning you will comprehend that child development is a complex subject and is controlled by a variety of factors at many different organisational levels.


Provides step-by-step directions and demonstrations to refine your further action track with both children and adolescents. Includes techniques to help you realise that even small changes in voice tones and phrasing can affect compliance.


Experience various relevant sides of behavioural science and technology. Get an opportunity to analyse the cognitive, neurological, and perceptual capabilities of children during their early years of life.


One of the courses will teach you how to be the best support parents, partners, and caregivers and some of the best [ratices for what to expect in the newborn exam. It also examines postpartum depression and unconventional concepts like early bonding and touch.


Further, you can also learn about the how brain functions and uses two entirely different learning modes whilst encapsulating information chunks.


Illusions of learning, memory techniques, tips for dealing with procrastination and best practices are also covered to help you master tough subjects. 
Who is it for?
These coursera child development courses are ideal for a variety of audiences. If the above-listed topics interest you then surely go ahead and choose the one most specific to your needs. Learners will understand child development from society's perspective. The instructors will share their knowledge and illustrate the theory in a way to provide practical knowledge as well. 
Rating: 4.7/5
Students Enrolled: 24,682
Duration: 3 months, 12 hours/week
Child Development: Behavior and Mental Health Course

[Stanford Center for Health Education, Stanford University]
With this Stanford university child development tutorial,  you will grasp a practical and scientific approach towards helping children in being happy and healthy. Do this with the tools suggested for handling challenging behaviour, supporting mental health too and encouraging social relations. 
Dr. Grace Gengoux, Clinical Professor, Department of Psychiatry and Behavioral Sciences, Stanford University School of Medicine has covered this Stanford university child development class. The course is designed by the health department of the university along with industry experts who share their in-depth knowledge and experiences throughout.
Key Highlights & USPs
Includes rational and scientific strategies that will be the foundation of the development of happy and healthy kids. 


Look at some productive mediations and interventions that will assist you in managing the challenging behaviour of children along with skills that will help in recognising and supporting mental health issues. 


Provides an important insight into the significance of social relationships that will help you in encouraging a child's healthy social growth. 


Create a space with boundaries that encourages healthy positive interactions and productive learning. Look at rational and scientific approaches to enhance child's learning skills and positive behavioural discipline techniques to not only avoid but also handle children acting out. 


Explore the effects of parenting and study the importance of a child's social connections with others like adults or peers. The course will take you through the steps you can take to hold up a child's mental well-being for developing them in a happy and healthy way.
Who is it for?
This Stanford university child development certification is for professionals who interact with children in educational or healthcare spheres. Individuals can also benefit from this study and gain techniques and knowledge to support children's development while working in medical or healthcare domains.
Parents, teachers, caretakers and counsellors will also find this coursework beneficial. Basically, all learners will carry an in-depth understanding of child support and encouragement.
Rating: 4.7/5
Students Enrolled: 24,682
Duration: 3 months, 12 hours/week
Online Child Development Courses

[edX]
Early childhood experiences are life-shaping and have a major impact on brain development. It influences learning and behaviour that leads into adult years. With these edX online child development courses learn more about the topic and gain a deep understanding of the growth in children. 
The edX child development classes are delivered by institutes like ColumbiaX, NUS, St. Margaret's Episcopal School, University of Cambridge, HarvardX, CurtinX, etc. The topics range from protecting humanitarian settings, learning and memory in the brain, psychology child protection and much more. 
Key Highlights & USPs
Protect and promote the wellness of children in a humanitarian society using recent evidence on childhood adversity and learning from the experiences of child protection practitioners. 


Instructive teaching on normal child development and crucial concepts of behaviour management in paediatric patients is included. 


Substantial content for making learners understand human conditions and to inspire them to continue learning and growth. A salient topic includes learning, behaviour and dysfunction. 


Discover how neuroscience and psychology paired can help students learn effectively. Throws light upon the process of storing long-term memories. 


Examine the best practices in policies of child and family, advocacy, financing, etc. Generate great innovative strategies that support early childhood development.
Who is it for?
These edX child development classes are extremely specialized and focus on technical and specific concepts. The subject-oriented courses are great for students looking for a deep understanding of particular subjects.
Rating: 4.7/5
Students Enrolled: 24,682
Duration: 3 months, 12 hours/week
Child Development and Guidance Courses

[Care Courses]
This care courses child development and guidance course is indeed a popular and informative lecture with which you can learn the classic developmental traits of children from birth to 6 years of age. The course also covers guiding recommendations on using daily routines and schedules to meet the developmental needs of children and techniques to manage changes easily.
This child development certification is offered by Care Courses. The platform presently has over 40 professional development courses and one non-credit training tutorial on the CDA process. The paid courses include an official certificate of completion. 
Key Highlights & USPs
Plan proper curriculum for progress and promote the development of children with the help of interesting and interactive activities. 


Study the fundamental principles of children's development and describe mileposts that represent various stages in every developmental level. 


Also explain the significance of nutrition in the development of children, the opportunities in the domain, and the lack of opportunities which can be a risk resulting in developmental delays. 


Identify strategies for perceiving and communicating the characteristics linked to developmental delays and disabilities.


Know how children develop and study typical developmental characteristics. The needs of infants, toddlers, preschoolers, and school-going children are also covered. 


The course includes checklists that can be used for examining the developmental progress of each child.


Topics include: Ways in which caregivers can meet the needs of the little ones, positive guidance and its techniques, why children need guidance, the meaning of terms relating to guiding children's behaviour, and ways to help children develop a positive self-concept.


More subheads under the course are strategies for dealing with disruptive, non-compliant, and aggressive behaviours, routines, schedules, and transitions between activities, elements of a typical daily schedule for early childhood programs and why routines are important for children's development.
Who is it for?
This care courses child development tutorial is a very vast course that includes a variety of topics. The detailed description of the curriculum presented is helpful in analysing what all concepts are touched upon. So if such minute details are important in your learning journey, then this would be a suitable choice. 
Rating: 4.7/5
Students Enrolled: 24,682
Duration: 3 months, 12 hours/week
FAQ
What are the main factors of child development?
Ans: Some of the factors that affect the growth and development of children include environment, heredity, gender, physical and mental exercise, gender, hormones, and nutrition, etc.
What is the importance of child development?
Ans: Undoubtedly, the early years of a child are some of the most crucial years of health and development in his/her life. An overall healthy development ensures that the children meet all of their needs and grow abilities including the ones with special needs. This means meeting the social, emotional, physical and educational needs. 
Why is it important to study child development?
Ans: Child development is an important subject because this study of children helps us learn more about how children develop, why they do that in a certain way, and what are the most effective ways of development. This ensures a responsibility towards society allowing us to make positive contributions.