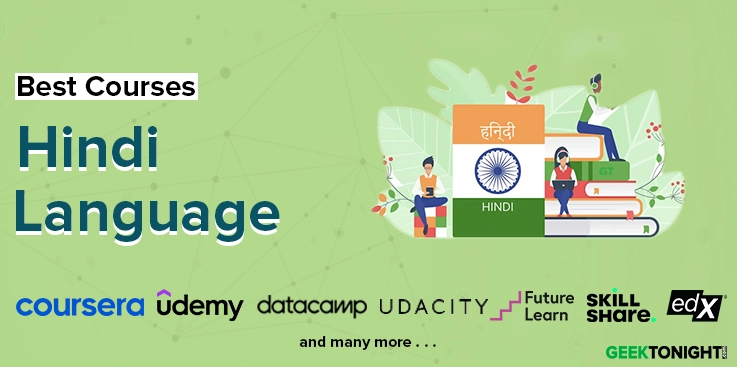 Over 600 million people around the world speak Hindi. It is almost 10% of the world's population. Hindi is spoken by the people of Fiji too. Sanskrit is the language of origin for Hindi. Indian culture, heritage, delicious cuisines, and Bollywood movies are world-renowned. It is the most popular destination among travelers.
Learning Hindi can be helpful for not only travelers but also working professionals from different countries. Many Hollywood celebrities and famous people worldwide love to speak in Hindi. It is a fun language to learn and speak. Even listening and speaking the Hindi language can give you an advantage.
So, whatever your reasons for learning the language, we have organized a list of the best Hindi online courses to expand your knowledge. Scroll now!
Our product recommendations are unbiased and based on an independent review process. We may receive a commission for links to recommended partners. See our advertiser disclosure for more information.
---
Best Swedish Language Courses, Certification, Tutorials, Training, Classes Online
Learning Hindi is now easy with this Udemy Hindi Course. It will teach you the basics of Hindi grammar with simple examples. To understand Hindi completely, learn Hindi rules and expressions in this course. It is easy to take this Hindi language course with translated sentences in English. You can mug up the language with a different layout. This bestseller Hindi course allows you to practice by listening to short stories and scenario conversations. The instructor will teach the Hindi script, Devanagari, in a separate section.
Shachi Chotia is the creator of this Learn Hindi in 3 weeks course. She is also the co-founder of Hindi Hour, a leading Hindi language school for foreigners in Jaipur, India. She has been teaching other languages like French & English. Shachi has an incredible track record of delivering over 5000 online lessons over the last five years.
Key Highlights & USPs
Learn Hindi Grammar with sufficient examples and exercises. Improve Hindi using lesson-wise quizzes and get a better understanding.


Develop knowledge of sufficient vocabulary to take part in daily life conversations


Available English and Roman translations so learners can read Hindi with ease.


How to read and write Hindi script 'Devanagari' by joining letters to make words.


Learn how to greet and use common introductory sentences in conversation.


Gain lifetime access to 21 downloadable practice resources, 2 tests, and over 5 hours of video content.
Who is it for?
Beginners who do not know Hindi or advanced beginners who would like to get an explanation of difficult concepts can take this course. This Hindi online course creates a solid foundation for your long-term goal. There is no requirement to have basic knowledge of Hindi to start this course. The medium of instruction is English. You will earn a certificate of completion to show what you've learned.
Rating: 4.4/5
Students Enrolled: 5,000
Duration: 5 hours 17 minutes

Valid till: 30th September
This Hindi speaking course is the best pick to learn the Hindi language. It will teach how grammar, sentence structure, verbs, tenses, and phrases. This Hindi online course will provide real-time scenarios to practice Hindi conversations. You will get to work on Hindi vocabulary every day. Also, there is a series of 14 videos to teach about Indian culture. They conduct all the progressive and comprehensive lessons in English.
GyanHindi has created this Super easy complete Hindi speaking course. This institute was established in 2004. The primary goal is to teach the Hindi language to non-Hindi speakers on Udemy. For the last 12 years, it has received thousands of students from all over the world. The qualified Hindi teachers have successfully trained hundreds of students offline.
Key Highlights & USPs
Learn to speak like a native Hindi speaker.


How to express your desires, needs, and wants in Hindi.


Build knowledge of tenses and how to use them for the right situations.


Work on basic and advanced Hindi vocabulary, grammar structure, and pronunciation.


Master your Hindi language skills by applying them in real-life situations.


Get lifetime access to 4 hours of video content and resources.
Who is it for?
This best Hindi speaking course is for complete beginners. You do not need any prior knowledge of Hindi to enroll in this course online. It may be convenient to take this course if you are an English speaker since it is presented in English. If you are interested in making a career in the Bollywood Industry, this is the best chance to take the Hindi course. You will receive a certificate after completing the course.
Rating: 3.1/5
Students Enrolled: 1,000
Duration: 4 hours/week
Hindi Courses Online

[Duolingo]
If you want to learn Hindi for free, install the Duolingo app. Because it gives the best chance to start with basic Hindi. You don't need to pay to learn this beautiful language. All you have to do is log in and create your profile. There are fun and interesting visual elements to help you learn Hindi. This free Hindi online course will teach you the basics, including the alphabet, numbers, etc. You can learn new skills like writing Hindi and pronunciation. It will build confidence to speak Hindi, even if you are a non-native speaker.
Key Highlights & USPs
Master on-site language skills using visual and audio elements.


Work on your communication skills to use Hindi in daily life situations.


Learn how to pronounce words, alphabets, and count.


Build basic knowledge of phrases, vocabulary, grammar, and greetings.


Learn how to express yourself in simple sentences.


Give tests to assess your skills and also allow you to join in the discussions.
Who is it for?
They divided this best online Hindi course free for beginners into units. After completing all 5 units, you will gain the knowledge you've gained equal to a university student in the fourth semester. After covering 7 units, you will become proficient in Hindi. No prior knowledge is required for this Duolingo Hindi language. If you will learn, this Free Hindi Course is the right choice.
Rating: 4.7/5
Students Enrolled: 6.07 Active Learner
Duration: Self-paced
You can Sign up Here
Udemy Hindi Writing Course is well-structured for non-Hindi speakers. It will teach you how to write in Hindi. It is one of the best Hindi courses online, where you will get introduced to the Devanagari script. You will learn through a series of 60 lectures to get a deep insight. Online Hindi course with a certificate helps you with grammatical concepts. There are some examples available to explain the culture and Hindi literature. It covers all the basics, such as alphabets, phrases, vocabulary, and pronunciation.
Jyoti Pandey has designed this Hindi writing course to share her learning tips and techniques. She has been teaching Hindi and English for the past 17 years. Her vast experience in Hindi as a Native speaker can help her acquire expert knowledge. By the end, you will ‌write Hindi in the Devanagari script.
Key Highlights & USPs
Learn to read and comprehend basic Hindi literature.


Able to enjoy music, Hindi movies, and TV programs.


Build your writing style and ability to communicate with people.


Express your thoughts in daily expressions and other academic writing.


Understand the Hindi Devanagari script and the phonic sounds of vowels and consonants in Hindi.


Learn simple Hindi words and phrases to use in day-to-day affairs.


Get access to 54 downloadable resources, including PDFs, word files, and practice worksheets for vowels and consonants.
Who is it for?
Any linguistic scholar, enthusiasts, and explorers are eligible for this online Hindi writing course. Non-native speakers can take to learn HINDI as a second or foreign language. This Hindi certification course can help to explore rich Indian culture and heritage. You don't need to know basic Hindi to take this course. In the end, the certificate of completion will recognize your Hindi skills from Udemy.
Rating: 4.0/5
Students Enrolled: 500
Duration: 6 hours
You can Sign up Here
Frequently Asked Questions
How can I learn Hindi ‌easily?
You can learn Hindi by watching Bollywood movies and listening to songs. You can talk to your Indian friends and ask them to teach you Hindi words. One of the Hindi courses will help you speak the language. You practice speaking and reading Hindi even if you know basic grammar and vocabulary.
Is Hindi an easy language to learn?
Learning Hindi is easy if you have a little knowledge. But it is more difficult for an English speaker to learn. It is the toughest in most other languages, based on writing and pronunciation. Hindi is also a fairly gendered language that could be complex for you. However, it is easy to write and read in Hindi than writing in the Chinese language.
How long does it take to learn Hindi?
It will take around 1,100 hours to master the skills of Hindi. It could be one of the difficult languages for non-native speakers and English speakers. But it is worth trying. While learning Hindi, you can explore the custom and culture of India. For travelers who visit India soon, Hindi can help them talk to the local people.
Can I learn Hindi in 30 days?
Yes, you can learn Hindi in just a month. If you have a strong desire and spend more hours regularly, you can achieve mastery in Hindi. All the online Hindi language courses can help you achieve your goals in 30 days. Duolingo is the free Hindi learning app to practice grammar, words, alphabets, and counting numbers. There are other plenty of resources available to become proficient in Hindi.
Over to you
I hope you find these Hindi courses helpful to kick-start your learning journey. After all, they are the best Hindi Courses. All 4 of them have made a list for different reasons, and they have something to offer you. You can choose the suitable one as per your personal goals. Try them out based on their reviews and ratings. In this way, you can learn Hindi faster and more efficiently.