Coding is the language of computers that is used to curate websites, apps, and softwares. Everything we see on our devices has been written in code and developing new technologies would not be possible without such programming. 
Some studies show that coding will be as essential as reading in the upcoming times. There is a lot of scope and earning potential in this industry so it becomes absolutely crucial to learn coding at a young age. For that very purpose, we have mentioned a list of the best kids coding courses and certifications for youngsters to begin their journey.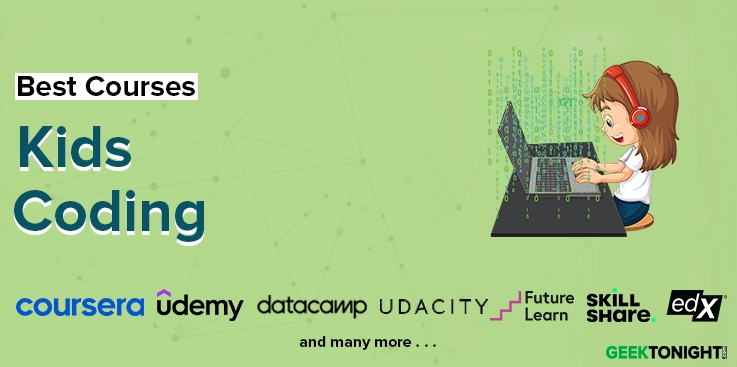 Our product recommendations are unbiased and based on an independent review process. We may receive a commission for links to recommended partners. See our advertiser disclosure for more information.
---
Best Kids Coding Courses, Certification, Tutorials, Training, Classes Online
Top Coding for Kids Courses

[Udemy]
These Udemy kids coding courses include topics like Introduction to HTML, CSS, Javascript and Robotics, programming python at any age, making games, programming with Minecraft, advanced scratch programming with kids, image processing and computer vision. 
These udemy kids coding classes are taken by industry experts like Daniel Ciocirlan, Bryson Payne, John Bura, Mickey Bluemental, Robolabz Stem School, Larry Coding School, Dr. Chris Mall, and Kevin Kennedy along with others.
Key Highlights & USPs
Starting from the fundamentals learn to code with ease from scratch. MIT develops the programming language used in the course and it makes the process seem like a game. Also, learn to create animations with cool effects and clones of popular games as well. The games are specially picked to enhance the learning experience.  


Teachers can take these courses and teach their students to code amusing and vivid apps and games using Python which is a powerful programming language used in tech companies and colleges globally.


These courses are designed in a way for learners to create games and apps on their own. The teaching methods are tried and trusted for several years and are proven to give excellent results. 


Kids can build several three-dimensional shapes, print them with 3D printers and programming, and build two-dimensional games from scratch and other shapes on Python.


Administer electronic and robotic devices whilst learning mathematical operations with Python. Master other programming basics from scratch programming. Create and design websites using HTML, CSS programming and WordPress. 


One of the courses covers the major facets of neural networks and deep learning. It will form a foundation for other courses and create a self-understanding for books on data science.
Who is it for?
These udemy kids coding certifications are ideal for young kids starting out their coding career. The courses cover the most basic fundamentals that set strong grounds for lifelong learning.
Rating: 4.7/5
Students Enrolled: 24,682
Duration: 3 months, 12 hours/week

Valid till: 30th September
Teach your Kids to Code: Python Programming

[Udemy]
With this udemy kids coding class teach your kids to draw vibrant shapes and spirals with Turtle graphics in Python, code engaging and interactive apps and develop entertaining and playful games like rock paper scissors, war and much more. Learn concepts like variables, loops and functions whilst preparing for advanced concepts.  
Dr Bryson Payne has covered this udemy kids coding tutorial. He is a cyber coach, author, TEDx speaker, professor and founding director of the Center for Cyber Operations Education at the University of North Georgia. 
Key Highlights & USPs
Now includes coding for Chromebook users! Teach yourself (and your students) to code fun, colourful apps and games in Python, the powerful programming language used at tech companies and in colleges worldwide. Learn coding step-by-step from Computer Science Professor.


Grasp the latest problem-solving skills in Python quickly and easily with the help of colourful and fun examples. 


A beginner-friendly course that will teach you how to code with turtle illustrations, text-based games and apps for mature learners as well.


Develop your own playable games and create amazing graphics. Study the fundamentals of coding including variables, loops, and functions with interactive and engaging apps. 


Bundle of fun examples, lively graphics and easy-to-follow-through steps. The course can be beneficial for parents and teachers apart from children for building job-ready skill sets. 


In the end, the curriculum is completed with working code downloads and HD videos. Work with a professor with 22 years of teaching experience and more than 30 years of programming expertise providing you with hands-on lessons for coding apps from scratch. 


Get full lifetime access to 6.5 hours of on-demand video on mobile and TV, 5 articles and a certificate of completion. 
Who is it for?
This udemy kids coding course is for teachers, parents and beginner students of any age. It is ideal for parents homeschooling kids or parents and teachers willing to give their kids an edge by making them learn about coding. 
Rating: 4.4/5
Students Enrolled: 36061
Duration: 6.5 hours

Valid till: 30th September
FREE Programming for Kids – How to Make Coding Fun

[Udemy]
Grab a firm and thorough understanding of the mindset and attitude needed to encourage your kids to learn to program with this kids coding tutorial. It includes the tools and links to some of the best websites and apps for introducing coding to kids. 
Fractus Learning has provided this kids coding course that works with educators around the globe to nurture great technological skills, tools and resources. The focus is on improvements by technology in the learning experience, intellectual outcomes and making education joyful for all students.
Key Highlights & USPs
Includes all the tools and resources you needed to take your kids' learning to next level and continue to provide them with future building challenges. 


The course understands the current and future prospects in the programming domain. It is predicted that there would be more jobs than students in this industry so enrolling your child early is a great option. When taught correctly with the right techniques and mentors coding is an amazing, practical and rewarding skill for all ages.


The focus is on tools tricks and ideas that can be used to instil fun and creativity in programming. Applications are emphasised as the course moves towards code syntax without any prior knowledge. 


Games, exercises, apps and more are covered as the course is divided into four distinct sections to guide students from introduction to complex programming. 


So if your kids, class or school are excited about using technology to change the world, this course has everything required for you to provide the rational and entertaining foundation for kids to fall in love with coding.
Who is it for?
This udemy kids coding course is for parents willing to encourage children to pursue programming skills, teachers wanting to introduce coding in their classes, and schools that want to embrace programming in a lively manner.
Rating: 3.8/5
Students Enrolled: 65,427
Duration: 1 hour 7 minutes

Valid till: 30th September
Programming for Kids and Beginners: Learn to Code in Scratch

[Udemy]
With this udemy kids coding course create smart and fun games, animations and cool visual effects, learn to code, grasp complex computer science concepts by applying them in games and study text-based programming languages quickly. 
Daniel Ciocirlan a software engineer with a passion for teaching is the instructor of this udemy kids coding class. He has a Master's Degree in Computer Science and has written his theses on Quantum Computation. 
Key Highlights & USPs
Learn to code, starting from the basics. The programming language used is developed by MIT which makes learning seem like a game.


These courses are designed in a way for learners to create games and apps on their own. The teaching methods are tried and trusted for several years and are proven to give excellent results. 


These carefully designed lessons will help train our intuition to figure out what we want to achieve and how to get there. Quickly master the fundamentals and then learn text-based programming languages.


The content is designed to be fun. Learn animations, and cool effects, and create clones of popular games. The games are handpicked to enhance learning computer science concepts in a fun manner. 


Get full lifetime access to 7.5 hours of on-demand video on mobile and TV, 9 downloadable resources and a certificate of completion
Who is it for?
This udemy kids coding certification is for parents/teachers who want to teach their kids (8+ years) to code and it can also be taken by absolute beginners in programming and computer science.
Rating: 4.7/5
Students Enrolled: 33,254
Duration: 7.5 hours

Valid till: 30th September
Kids Coding – Introduction to HTML, CSS, and JavaScript

[Udemy]
With this udemy kids coding class learn the basics of computer programming, HTML, CSS and JavaScript. The course gets kids acquainted with coding by adapting the material to their learning styles. 
John Bura, a best-selling instructor, and web, app and game developer with over one million students, is the instructor of this udemy kids coding certification. He has been programming games since 1997 and is the owner of the game development studio Mammoth Interactive. 
Key Highlights & USPs
Includes animated lectures, informative screencasts and tests for a better learning experience. Introduction to data and terminology is also provided in this action-packed and captivating course.


Most employers look for coding skills and applicants with technical skills have a competitive edge over those who do not possess such skills. Whether artists, marketers, or editors programming experience is preferred. The course recognises this need is suitable for young learners.


If your kids spend too much time on electronics and you wish they could do something productive then enrol them in this course for a lifelong valuable skill that pays.


Programming is an in-demand skill with a lot of earning potential but the problem arises when courses are not tailored according to the learning styles of children. This course makes sure the learner is on the right track. 


Get full lifetime access to 7 hours of on-demand video on mobile and TV, 1 article and a certificate of completion.
Who is it for?
This udemy kids coding class is for learners aged six or above. Apart from them every one and anyone can take the course if they're interested in child-oriented products. After completion, students will be entitled to the foundation of a lifelong skill.
Rating: 4.4/5
Students Enrolled: 9483
Duration: 7 hours

Valid till: 30th September
Online Learning & Virtual Tech Camps

[ID Tech]
This iD Tech kids coding course helps build evergreen STEM skills. The classes are guided by their tech mentors from prominent universities like Stanford, Caltech, and NYU. Spark new passions, enjoy advancing new in-demand skills, and build confidence altogether.
iD Tech has offered this kids coding certification. With a strong passion for tech, unmatched expertise and a substantial experience of 23 years, they bring out the best in your child and realise the importance of great teachers be it online or offline.  
Key Highlights & USPs
Get one on one attention from certified experts as they build sought-after skills while creating a totally custom project from the comfort of your own home.


These hour-long sessions come with utmost schedule flexibility and the extremely personalised syllabus tailored to your child's skills and interests is a major advantage. 


There are project-based course stocks that help in fast advancement leading to increased confidence. Progress reports after sessions are sent via email to track your child's performance.


Get a portfolio boosting certificate endorsed by the organisation upon successful completion of this each 10-week session. Apart from this exclusive video insights from the best faculty are included. 


There are great portfolio projects designed to help your kid stand out to colleges and employers. With this, there are job-ready tech skills and tools needed to prepare for market growth.
Who is it for?
This iD Tech kids coding tutorial is highly specialised and comprehensive. It follows an extremely focused curriculum that will guide your child in his coding journey. It is future-oriented and gets the learners' profile ready for potential institutions and organisations.
Rating: 4.7/5
Students Enrolled: 24,682
Duration: 3 months, 12 hours/week
FAQ
What age should kids start coding?
There is no fixed age for kids to start coding but with the advent of technology kids have become advanced for their age and have started interacting with devices in their early years. So kids as young as 7-10 years of age can start learning coding with programming basics. Learning to code from such early years children are open to lifelong opportunities. 
Is coding for kids hard?
Coding is not hard as it is perceived to be even for kids. When studied from the right place and practise with the right techniques it is a smooth sail. People hesitate to take this up because of completely unfamiliar subjects but with good mentors, it is not difficult to grasp.